In June of 2013, Peterborough hosted a three day celebration, for the greatest lacrosse players who have played Peterborough lacrosse.
A tribute to the 1966 Pepsi Petes, 1969 pro Lakers and the 1973 Peterborough Lakers.
Organizer Ernie Ellement, nephew of John "Shooter"Davis (dad) and Terry "Spitz" Davis, spent countless hours organizing the event.
Ellement stated" the gathering is about bringing back the greatness. These gentlemen are legends of our sport. They were all champions and are a big part of why Peterborough is know as the lacrosse capital of the world ".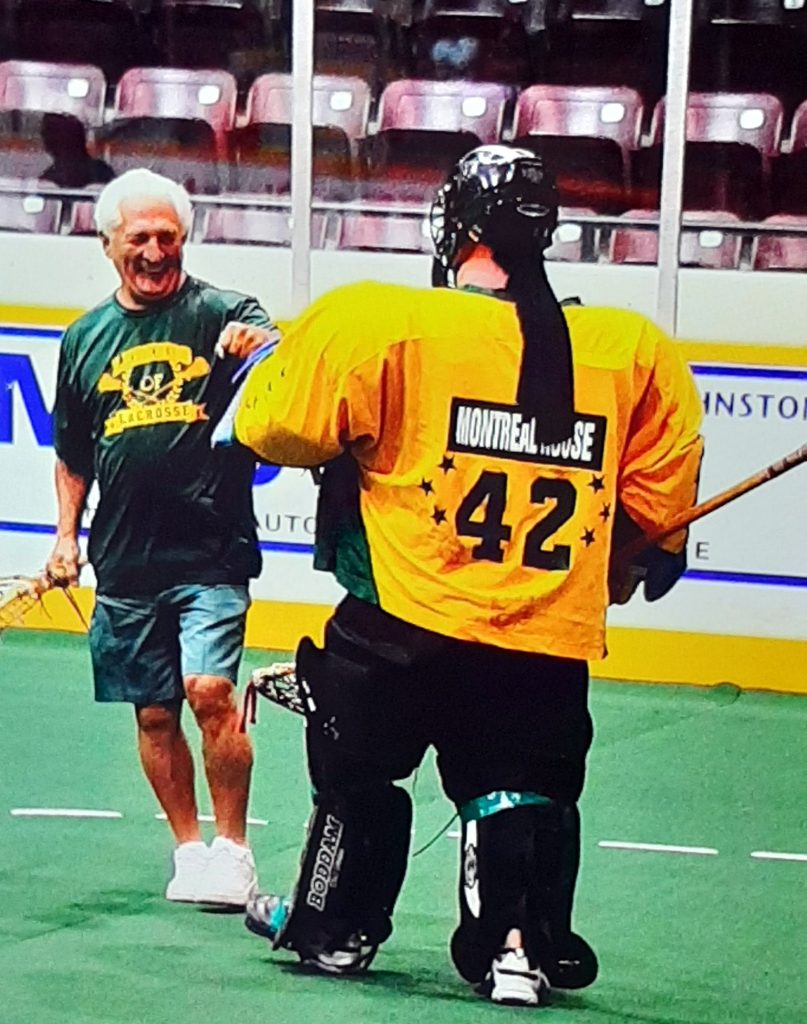 At the traditional Thursday night Lakers game, the players from those teams were introduced on the floor. Six Nations were in town and were fortunate to be there for this memorable moment.
Renowned Peterborough artist Murray Henderson donated a print to lacrosse great Ken Ruttan and the Peterborough and District Sports Hall of Fame titled..Champions: " The Lacrosse Greats ". It was presented on the floor during the introduction of the greats. 
On Friday night, the boys picked up their sticks and stepped back on that floor for a great evening. Over 200 people watched a great game and a shootout featuring some father/son combos. Just some of the names taking part in the game were John "Shooter" Davis, Roy Wood, Larry Ferguson, Bobby Allan, John Grant Sr, Jimmy Wasson, Len Powers, Jim Johnston, Peter Guerin, Dan Dunn, Tim Barrie, Darren Axford, Bobby Curtis, Joe Todd and Terry Downer- to name only a few.
Before the game. the introductions took place.
Gary Dalliday, Peterborough's voice of sports, announced every player's achievements as they were being called on to the floor. All of that history. All of those moments in time gathered in the Memorial Center, on that floor, lined up to have another go. As i was called, all I could do was look around, surrounded by greatness. I was humbled. Then we played..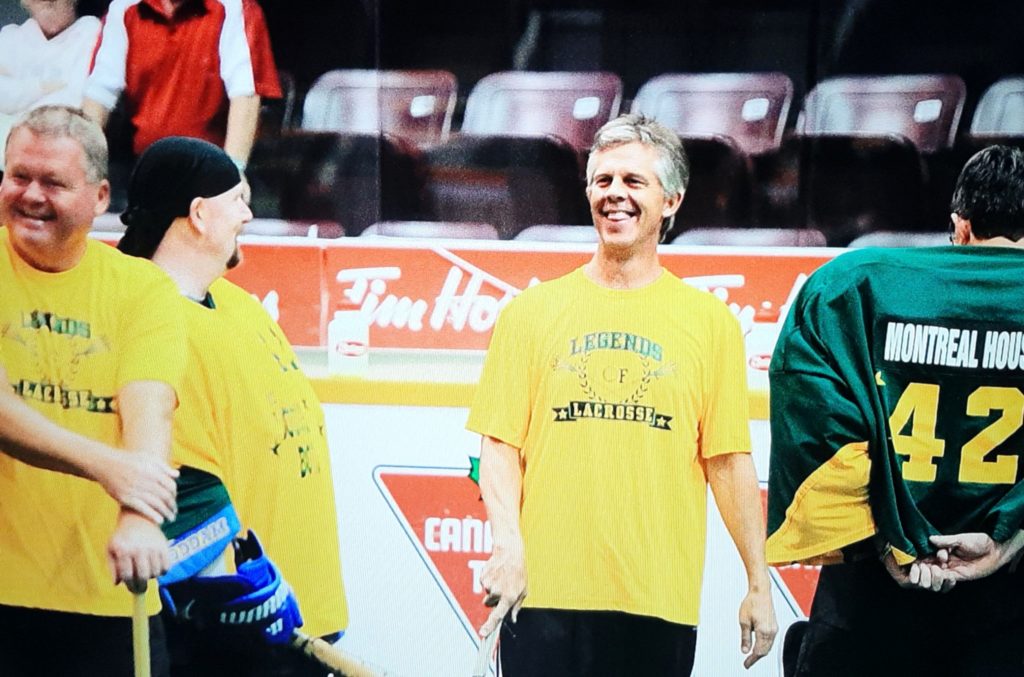 The game was a hard fought affair. All that talent and champions. I didn't expect it to be any different. Its Peterborough. It went down to the wire with team yellow pulling out the victory, down by four with three minutes left in the third. But, on this night everyone won. John Grant Sr and Jimmy Wasson glowed knowing they had bragging rights with them being on team yellow. Its a Peterborough thing. Champions hate to lose.
I played on yellow and it was a dressing room like no other. Never a dull moment. It was one of those times when you just sit, listen, and take it all in, then pinch yourself. With the likes of John Grant Sr, Jimmy Wasson, Dan Dunn and Gord Floyd to name a few. Wass takes a beating. But gives it right back with that smile of his.
 Dad was on team green. He took it graciously as i said to him after the game "maybe next time pops". It was the first time i ever played on the same floor with, or in this case, against dad. It was the best. A moment deeply etched in my mind.
The night ended with a father vs son shootout. Paul Evans vs Steve Evans, Larry Ferguson vs Brad Ferguson, Brian Evans vs Chad Evans, Bobby Allan vs John Grant Sr and John Davis Sr vs John Davis Jr. Yes. If your wondering, dad won.
Len Powers commented " it was a special weekend. It is so good to see all the guys again. Its nice to meet up with guys you haven't seen in a long time. Powers added "my fondest memory is winning the Mann Cup in 1973. We had five up from junior and weren't expected to do it. Peterborough has always had a great winning tradition. We are expected to win and take pride in that".
Dad played for all three celebrated teams and was an eight time league scoring champ. Dad was regular season and Mann Cup mvp, top rookie, and scoring champ in 1966.
Dad stated" i have met some guys i haven't seen in forty years. We have told many stories. It was the greatest place I ever played. Winning everything in 1966 was special. I also remember skipping out of work to make practice then going back to work again without anybody noticing".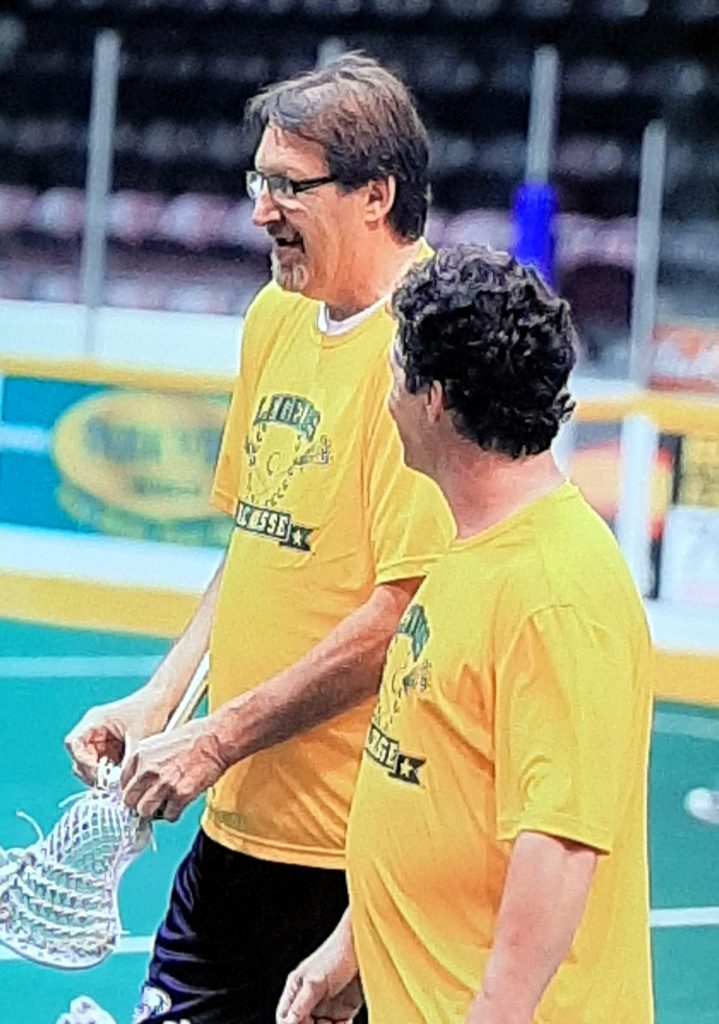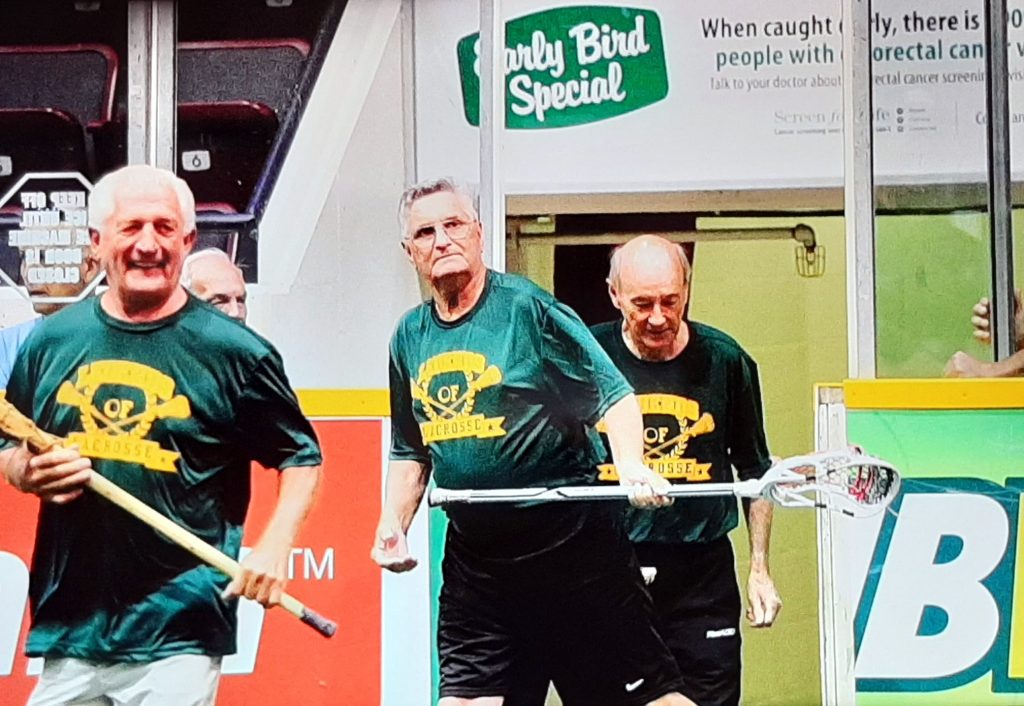 On the Saturday the boys took to the golf course at Keystone Links followed by a special tribute at a local establishment.
Some of those guys could really play, and some probably wished they could've used their lacrosse stick to get the ball down the fairway. A lot of fun, a ton of laughs, and a special tribute to wrap up day two.
Sunday was a quiet day for the greats.  Kinda. It was there turn to hang out with each other and watch some hometown Masters Lacrosse and an Ennismore Shamrocks reunion game with a surprise. That surprise was when a penalty was called. A special power play took over. The doors opened and dad, Allan, Ferguson, Downer and Joe Todd took over. They threw the ball around like they were in their prime. Organizer and Mann Cup champion Ernie Ellement had to take the brunt of it. Ellement commented " it was an honour".
So many stories were told. So much laughter and smiles were had. Peterborough lacrosse is special lacrosse in so many ways. I guess that is why we are known as the lacrosse capital of the world.
Peterborough is lacrosse.