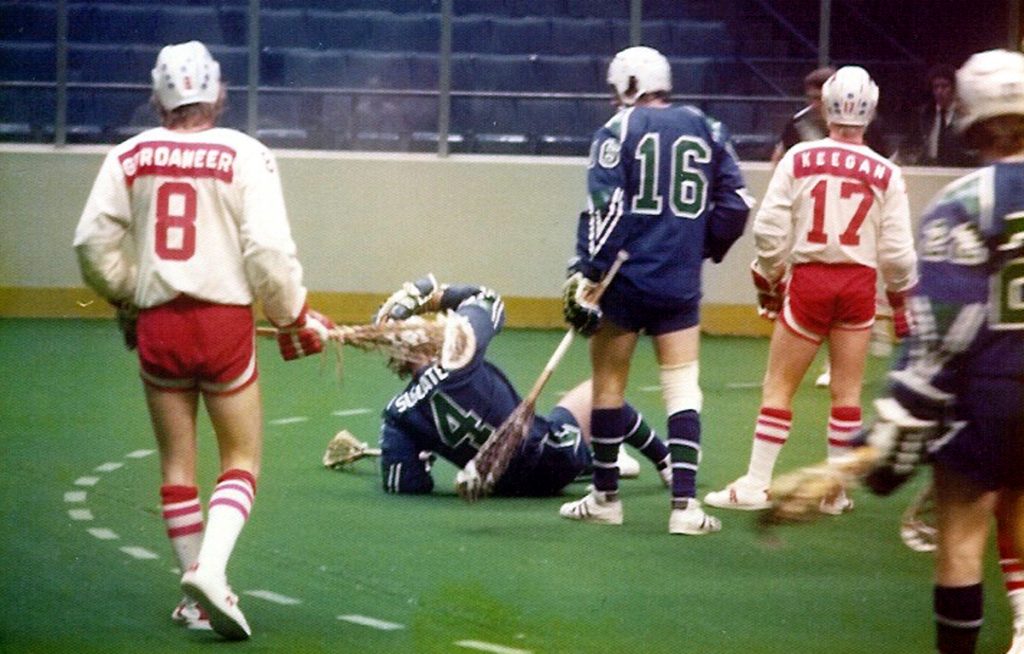 Photo courtesy of Tom Wersderfer
In the annals of history, that is lacrosse history, box lacrosse history, of crappy finishes, when guys ran back past centre history, the story of the NLL 1975 regular season finish, is one that some take great pleasure in remembering…time and again… while others do not enjoy hearing about it.
Also, the immortal words of Jim Wasson, of the 1975 Philadelphia Wings, uttered during the 1978 Miracle in the Mud Team Canada drubbing at the hands of the US team in the first tournament game, "20-4 – 50-4 what's the difference, I'm not running all the way down there I'll just wait here around centre". Saving his effort for the next game.
1975 NLL storybook finish created feelings that are today, still almost fresh and for sure still hurt when on the wrong side of this history. This is a dig directly aimed and even possible because of how close we all have become since the reunion. There seems to be a difference of opinion on what just had happened, Why? How? What the?
This little tidbit is about the last 8 games of the 75 regular season, where Philadelphia Wings had to win just one game in the last 8 to secure a playoff spot. There were many scenarios that could have played out wins and losses would happen but in this recollection of those times and that season Philly had just been in second place a short time ago after losing in the Championship game to Rochester Griffins the year before and surely had their sights set on another kick at the NLL Championship.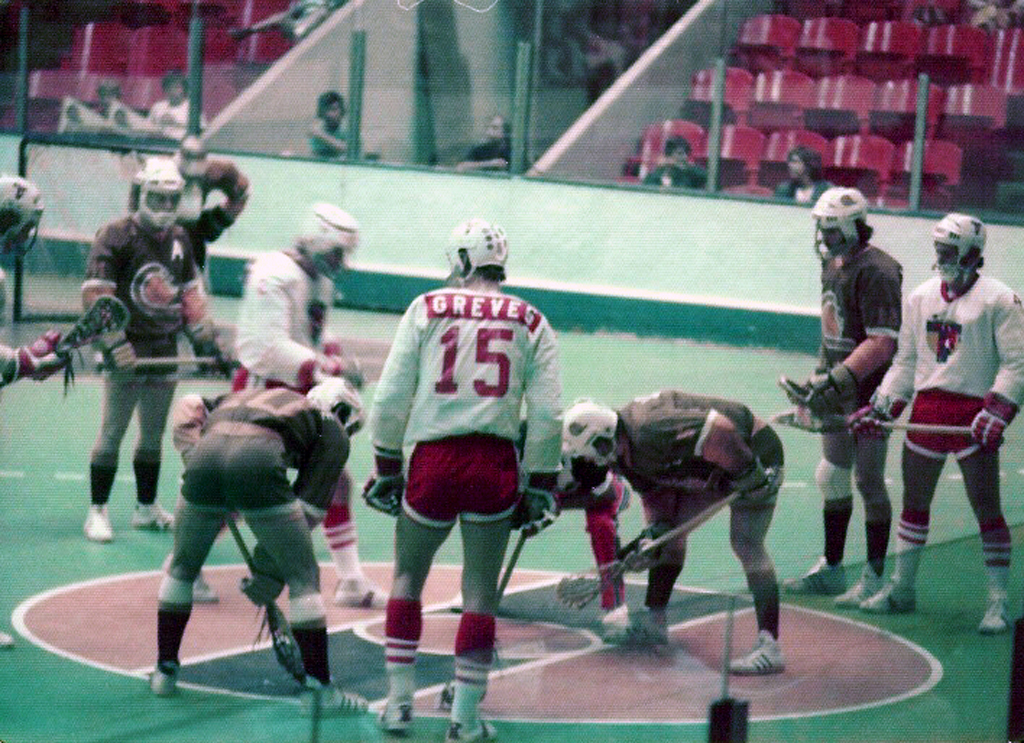 Photo courtesy of Tom Wersderfer
It gives me no pleasure to re-create this moment….(well, maybe a little pleasure) as this ending was as miraculous in a good way for Syracuse/Quebec guys, as it was disastrous for the Wings.
"Now, just a cotton pickin minute" Wass was heard to have said. "we were beat up, and you Quebec guys cheated with your slippery floor when you beat us 21-4 that night!".
Here we go, for the reading pleasure of all who were not there and also for those who were at least on one side. These are the numbers and the events as they unfolded. As my wife says "C'mon ….don't you ever let it go?" NOPE!
This league at the end of the regular season was really one where anyone could have won. Other than Long Island being without any question the best team all year, finishing 14 points ahead of second place Montreal, 62 pts to 48 pts. The rest of the league ; Boston 46, Quebec 46, Philly 44, and Maryland 42, was a dog fight ALL YEAR LONG. Everyone was beat up after playing what was really two seasons in one game wise and adding the daily practices we were all feeling the game as we never had before. Young men who aged lacrosse wise, those summers.
I had written a story for Dave Coleman and Retrolax/Crossecheck previously about August 14, 1975 and our game the night before in Quebec a devastating loss to Boston and the subsequent BUS ride to New York in the middle of that night for a game the very next night against the very best team in the league. We were to have flown out in the morning but the airport in Quebec was fogged in and our players were rounded up from the pubs and herded like cats onto the bus pulling out of Les Colisee around 3 or 4 am for the long journey. Arriving at the rink late, going into overtime (just what we needed after a 16 hour bus trip) only to win mostly on Murray Cawkers OT heroics scoring 4 goals for a total of 6 that game!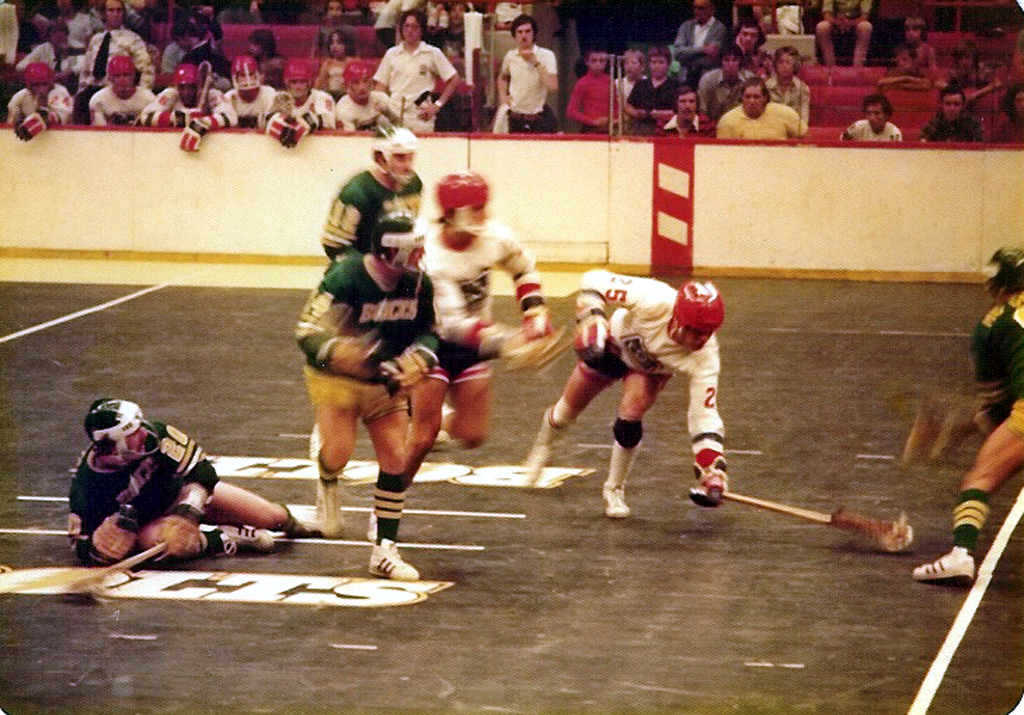 Photo courtesy of Tom Wersderfer
This was a journey that changed our season looking back now, bus ride home, tired and yet full of energy after the win. Would have been easy to mail it in, playing the night before, tough loss, bus cruise but that moment, that win, made us believers in what was to lie ahead.
Quebec Caribous                                                                                 Philadelphia Wings
Aug 14 –   Quebec 25  @ Long Island 21                                       Aug 18 – Philadelphia 10 @ Maryland 13
Aug 18 – Quebec 17 @ Boston 20                                                  Aug 19 – Philadelphia 15 Long Island 17
Aug 20 – Quebec 21 Philadelphia 4                                                Aug 20 – Philadelphia 4 @ Quebec 21
Aug 21 – Quebec 11 @ Philadelphia 10                                         Aug 21 – Philadelphia 10 Quebec 11
Aug 22 – Quebec 8 @ Montreal 12                                                 Aug 24 – Philadelphia 14 @ Montreal 15
Aug 25 – Quebec 22 Philadelphia 12                                               Aug 25 – Philadelphia 12 @ Quebec 22
Aug 26 -_Quebec 20 Boston 9                                                          Aug 27 – Philadelphia 17 Boston 18
Aug 28 – Quebec 14 @ Boston 8                                                     Aug 29 – Philadelphia 17 @ Long Island 19
6 – 2                                                                                                        0 – 8  Whew!
Sometimes it is not just a loss in this string of 8 it is
how they lost,
the incredible one goal games, bad bounces, playing injured and simply helpless to stop it. The Wings were a team of many future Hall of Famers but a feeling set in around the room…the last game loss and goal by Butch Keegan which is another story best told by Wings players and, finally…that empty feeling.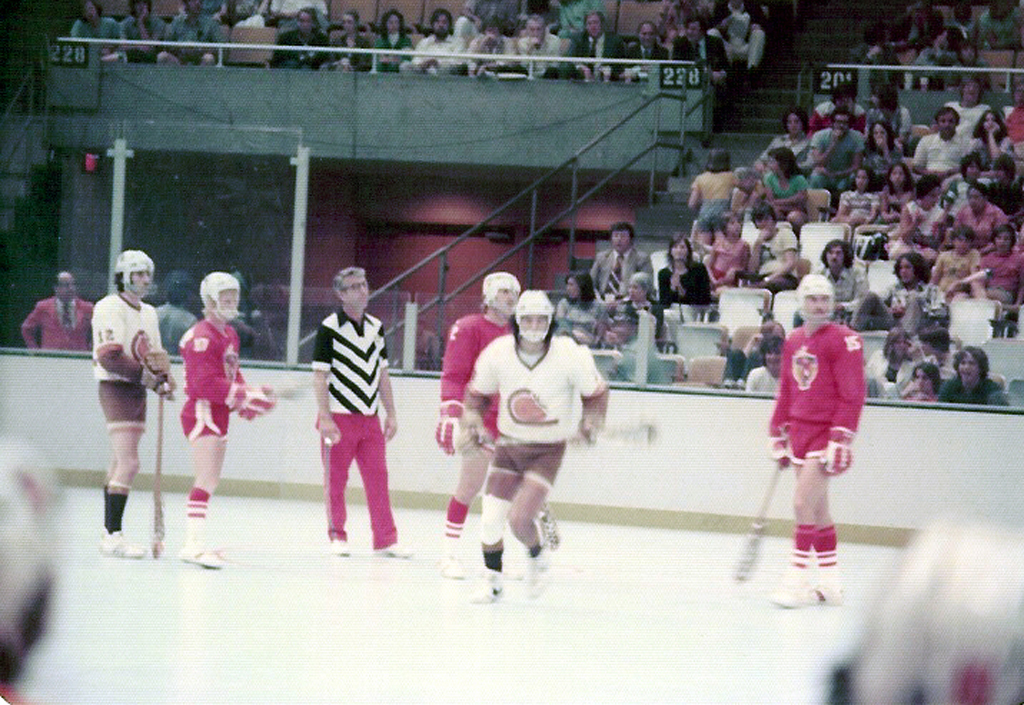 Photo courtesy of Tom Wersderfer
Almost 50 years on now and this still stings for some whenever we gather …someone is sure to bring it up, as was the case in a reunion in 2019 and a covid zoom call in 2020. Sport is full of thrills and agony at the same time.  For the Caribous the year before in Syracuse, with a very good team, we did not win a game in the first 10 to start the season so we know well the agony involved in the events of 75 for the Wings.
Yes, it was a long time ago and players in the 74-75 NLL were all champions in one way or another. Most have played on many teams over many seasons for the Wings of Philadelphia and the Caribous of Quebec this remains etched in our minds and it does come up from time to time….imagine.
PD