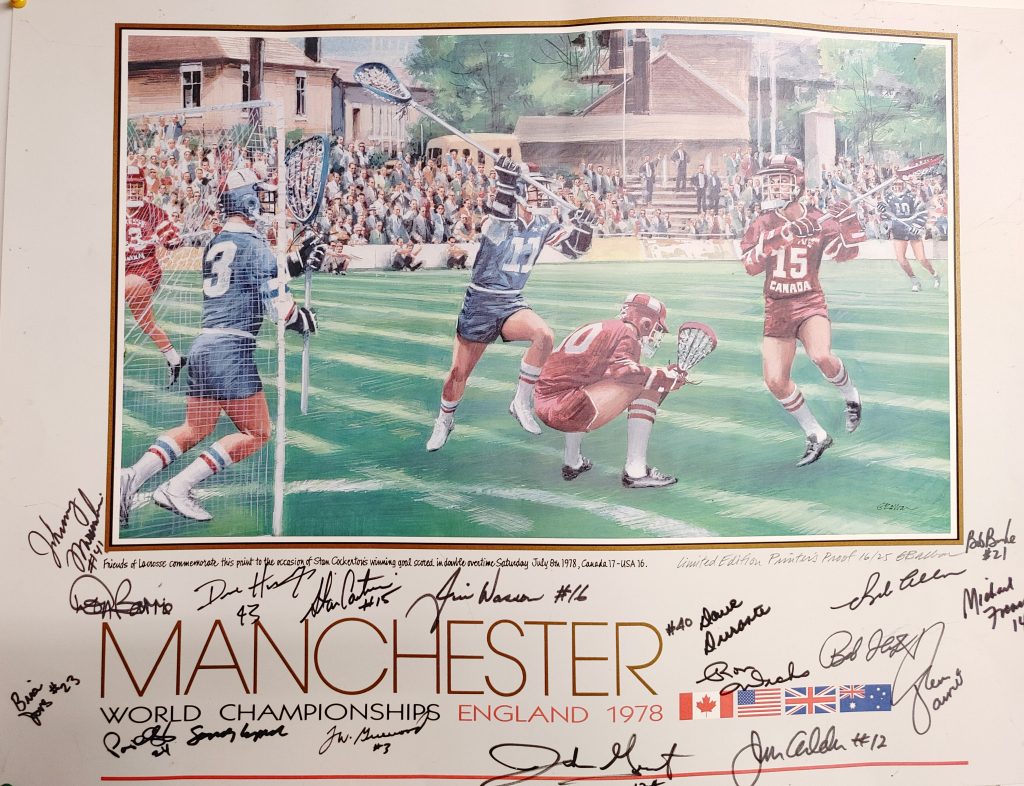 Years have passed and much has been written in lacrosse circles about the 1978 World Field Lacrosse Championship and the Canadian National Team victory.
Memories fade and teammates and family members have left us sadly and from time to time it is only natural as we age to live in the past some days remembering this time.
We have had reunions with great success, high turnouts and these have been documented with pictures and video presentations in this age of technology.
1978 is a long time ago now, and we in the lacrosse world, have seen the game grow. New championships created, many countries now playing, many young men and women earning opportunities through our game.
Having said all that, this story is written about the detail's pretournament 1978. The events and climate in Canadian lacrosse, Ontario lacrosse at that time. The key "off the field" individuals with Team Canada and how it all got going in a not so smooth manner, truth be told. 
The tournament is history, we know the results of games played that year.  Proudly, we now see between 40-50 countries take part in current World Field Tournaments as well as 20 countries in the World Box Tournament in 2019. 
This collection of honest facts lays out just how close Canada was to not going at all on that now historic trip. Winning was climbing a steep, high mountain. Getting off the ground was also a bit of a mountain at times as you will read here in the way things played out over the months preceding July.
Decisions were made late in 1977 to send a Team to the World Field Championships in England July 1978. Then the fun started. Deciding to go was easy, putting all the moving parts together proved to be a bit more difficult.
Before this, Canada had participated in Field events in Canada's Centennial Year 1967, losing badly to the Australian side and to the Americans.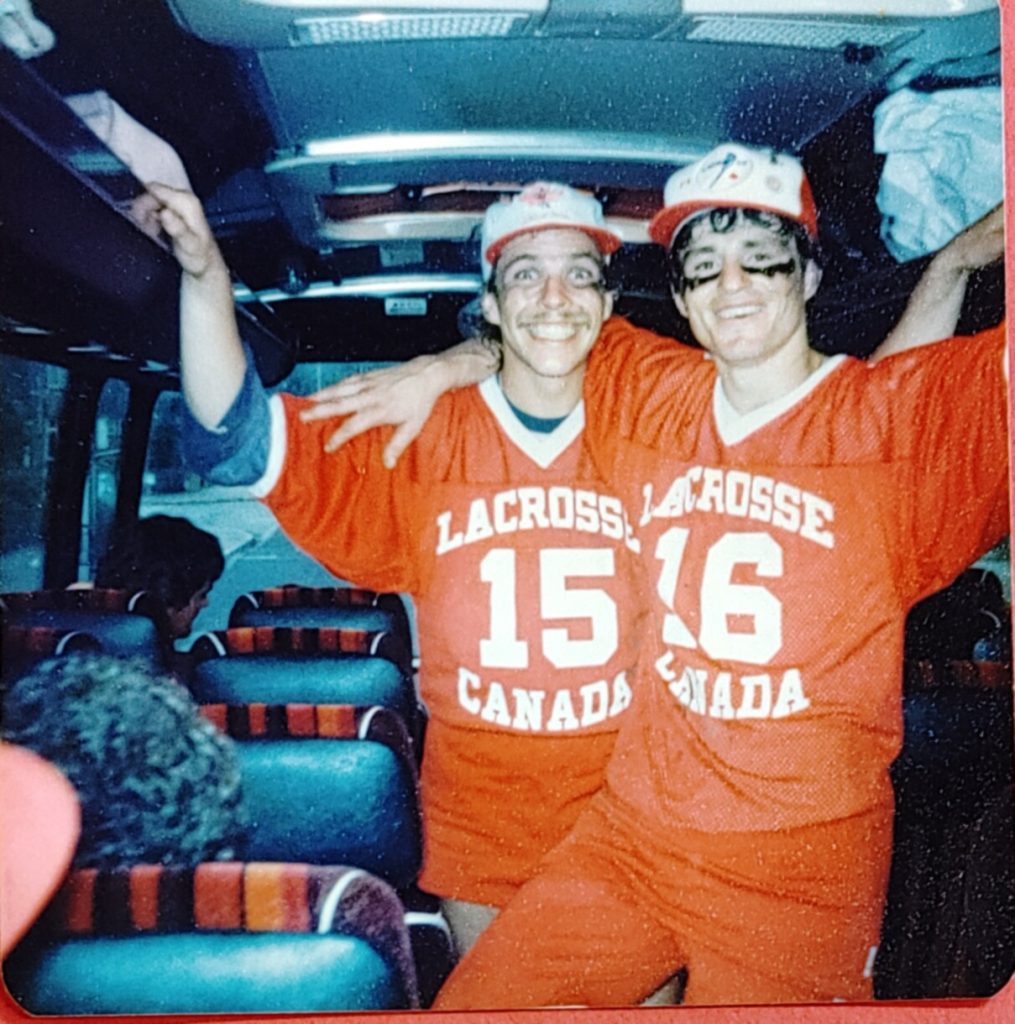 Again in 1974 with a team of mostly Western box players in Australia, and again, being somewhat "out of their element" field skill wise, game strategy wise, Canada played with limited success but, as a country we had a taste of this game. Field was emerging in Canada through these efforts and discussions were being held on the Field game, which some box people did not appreciate.
 Box and Field are two vastly different games.  Different muscles, different movements, different world.
Late in 1975 there was an effort in Ontario to expand the game of lacrosse beyond the box game into schools and out onto the field. The provincial government would supply funding to hire a coach and assist getting the game into schools with only one provision, that no one would be taken away from the box game to accomplish this. Trouble was that there was really no one in Canadian lacrosse who could do this Field experience wise, so the project stalled.
1976 saw the Canadian Lacrosse Association embark on a National Team plan and this was endorsed by the Ontario Lacrosse Association. This project was also not successful. They meant well but again, the struggle between box and field was evident. Where will all the people come from? The box structure was tied into mostly small towns, fed by minor systems. Field at the time was an American version of lacrosse really which was regional but somewhat successful and scholarships were available. There was reason to pursue this effort.
Two different administrative groups. One established and one fledgling without an on the ground team to work in areas of the country. Winter weather complicated things, other sports were established, even box was mostly Ontario and B.C for the most part with a bit of box being played in a few other places in Canada.
In 1977 again, the O.L.A. would take a kick at sending a team to the 1978 World Field Championships sending its President and Vice President to the Executive Meeting of the C.L.A. in Saskatoon.  The O.L.A. feeling was that Canada should be represented and there had been Canadian box players earn scholarships to US colleges to play field and the handful or a couple more could be the start of putting a team on the field in Manchester.
The O.L.A. was advised that they should present this idea at the C.L.A. annual meeting in Charlottetown. Getting the run around the O.L.A. with good reason felt something was wrong.
It is easy to see early on that the climate in Ontario was somewhat contentious and, putting a team on the field that could compete was a bit far fetched. Funding such an effort was even more of a chore.
Even within the Ontario lacrosse community there were differences between influential people when it came to the box vs field subject. The O.L.A. executive has endorsed this project with one of the most, maybe THE most influential person in the game at that time, Jim Bishop being very much against the effort. He knew well that the best box players would be chosen, taken away from the box game to take part, as our field reservoir was kind of low.
Many things took place as this juggernaut moved slowly forward toward the 1977 C.L.A. AGM in Charlottetown P.E.I. Permission was given to the O.L.A. to represent Canada in England. Oddly, this is what the Ontario delegation thought they had received but not what the C.L.A. executive understood they agreed to…..and it begins. The C.L.A. actions over and again seemed to be aimed at scuttling this project.
This misunderstanding was to be the first of many situations where the entire project almost came off the rails. The efforts of Marshall Spence and Boyd Baragar, Doug Budden, current C.L.A President Keith Clarke (who was ill but still gave his all) and a few more unsung heroes in the O.L.A. really, cannot be overstated in this entire lead up period to us actually leaving for England as our National Team.
Taking any team anywhere can be an exercise full of unknowns. Putting trust in people to ensure things get done as a group, always begins with the assumption that everyone involved is pulling in the same direction with common goals and will do their assigned jobs. Remember 1977, no cell phones or internet, not even sure there were "beepers". 
Geography, jobs, infrequent in person meetings, family obligations all fill up the day for most. Working from a checklist of volunteer people with delegated, understood responsibilities is how things get done but … only if everyone does their job. Lots of moving parts and many tasks for this small group of people.
This project involved tens of thousands of dollars, government grants and lots of planning. A training camp to decide who will be on the team, a coach, and coaching staff, organizing the structure that would make this all come together, practice sites, rooms, meals, travel, exhibition games to learn how to play, which sounds a bit funny on its own.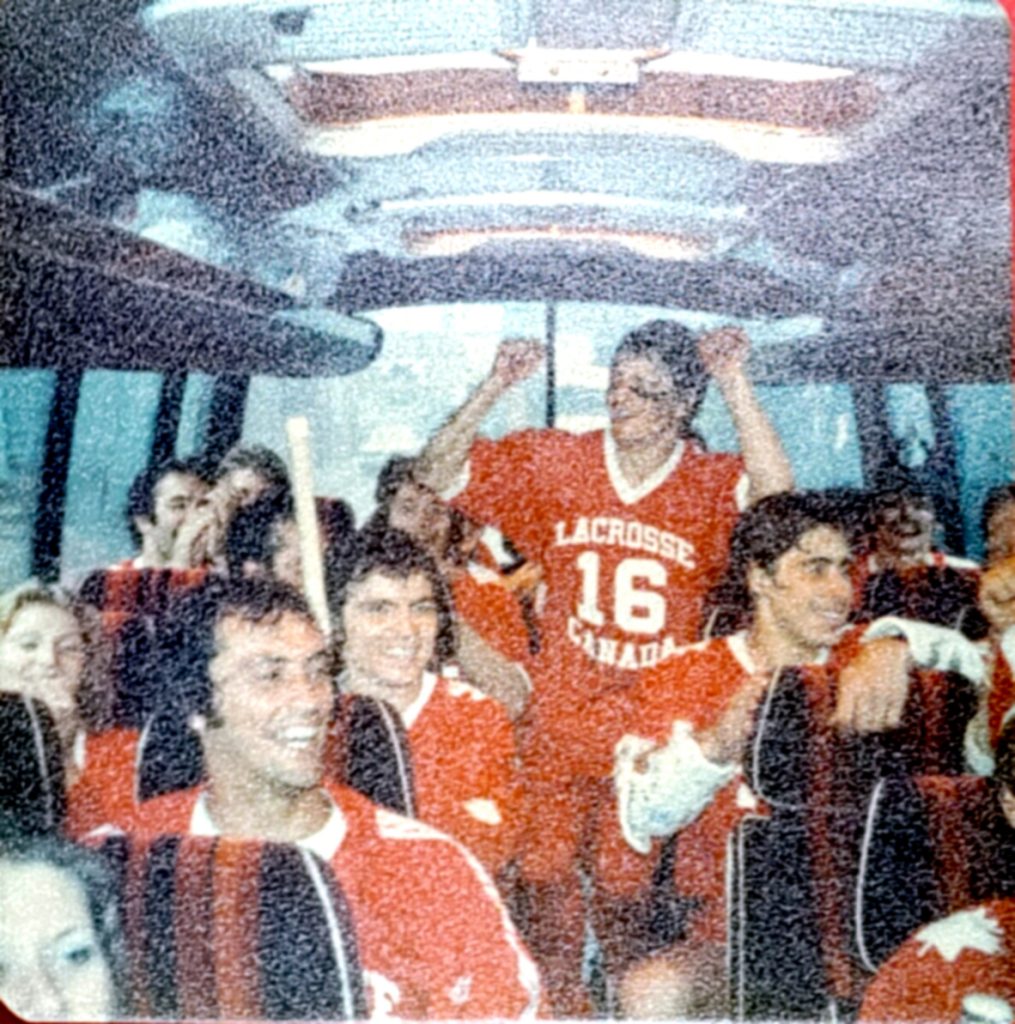 Many of these things would fall into place as soon as team personnel was chosen. Who would coach? Who could coach? Who would be invited to camp? Equipment? Trainers? This would be played in the middle of the box season. 
Remember this was now, spring 1978, the tournament in early July. The scramble was on once all approvals were given and misunderstandings cleared up yet still, many things needed to be done or decided on. How to fund such an ambitious undertaking?  The use of players during the box season, how would box teams react?
Monies were received from the Ontario Ministry of Culture and Recreation. Wintario lottery money was another potential source of funding if all government conditions were met. Federal available monies? These types of things were handled by Boyd and Marshall for the most part. Their heroic efforts again, need to be clearly recognized.
The team executive had to make choices on where best to obtain the necessary funding as there were monies as stated available provincially as well as federally. This was sport and International sport at that, so the province felt that federal funds were available for travel as per the agreement between provinces and the federal governments.
Ted Peterson a sports consultant did an outstanding job helping stickhandle through the obstacles in this process. Without his stickhandling help we would not have left the ground.
The Head coaching decision was made with only one name in mind and that was Bobby Allan from Peterborough. There was to be no money change hands here as no one involved was paid at all for this honour. A huge commitment. March through July really, representing your Country in a game where we had no teams, no league, we did play lacrosse and kind of made that clear in the end.
The responsibility to coach Canada's National Team was finally accepted by Bobby during a Nov 77 meeting at his house with Marshall and Budden. He would oversee all matters pertaining to the team and the selection of players along with Offensive Coach Don Barrie from Peterborough and Defensive Coach Gus McCauley from Brampton. Ron Wicks was the G.M. also from Brampton. It was clear, we did not just want to compete. We were now going over with a chance to win.
 From that moment on this thing had legs. All the behind-the-scenes stuff you will read about in this story was a distraction and well handled by Marshall and Boyd. Others of course, were on the team executive and had responsibilities with most doing their job. Players knew and heard none of these things.
It must be stated here again, that the C.L.A. was never fully behind this project. Seems like an odd statement for sure.  The following examples will explain some of the early obstacles:
C.L.A. Executive Director Bob Oliver was invited to all meetings (twice monthly planning meetings began early in the year and were help right through the July tournament. He did not attend one meeting, came to the game in Ottawa and was on the plane for the trip to the UK.
Jim Bishop opposed this project and was hired by the C.L.A. He stated he was playing a Devils Advocate role…..which no one needed. There were strong feelings on the box and field sides. Bishop and Marshall Spence did not see eye to eye and perhaps a big part of Bishops opposition to this project was that Allan was chosen to coach and not him.
Ontario Lacrosse people Howie Biggar, Al Baxter, John Mullins, Doug Budden, Frank Huntley, Boyd Baragar and Marshall Spence were the glue guys who corrected mistakes, steered the ship, and made sure things were right. There were many times where the planning chores were assigned to Oliver and Tobias with them saying they would do things, then did nothing and openly say things were all good. Discovered by Spence and Baragar who felt the need to double check everything, legwork was necessary to heal the lack of action during this time sensitive period. This created mistrust and many times others had to check and double check to find out the entire group had been let down. 
Tobias travelled to England with a list of duties as a front man, to set up our visit and it was discovered no one over there even knew who he was. Canadian Embassy, lodging, travel, exhibition game against an English side. UK Lacrosse people hosting the tournament all wondered what was going on with Team Canada. 
Tragic and the clock was ticking all leading up to the tournament. Many of these things involved funding monies and there was a lot of evasive action and this added to the workload of Marshall and Boyd who were dealing with lots of mixed messages from the dodgy twosome, and something did not pass the stink test.
The Ontario lacrosse contingent continually had to step in to ensure things got done and often come up with unbudgeted monies to make things right again and again. They had to purchase all new equipment after waiting and waiting for John Tobias who said he had equipment and would bring it to the team and never did. It was in storage somewhere but no real knowledge of how much or condition of this mystery gear.
Spence and Mullins had to go to England to make sure of what exactly had gone on and were disappointed to hear that nothing had been done. The Honorable Paul Martin Sr. was the High Commissioner and welcomed the two offering any help he could. He had more information about the tournament than Spence or Mullins all thanks to CLA Program Director John Tobias not doing his job. He was not assigned any additional tasks and did not make the trip…. Hmmm.
Exhibition games, lodging and travel arrangements as well as planned receptions we all on the table at this late date and the Brits were pleased they were now getting somewhere with Canada as 12-14 letters written to Tobias were never answered. 
Up to Manchester to look at facilities. The field, accommodation at the Univ of Manchester with ivy covered walls. The Lacrosse Federation and host committee were very gracious and accommodating answering every question. This was all very discouraging to Spence, Mullins and Baragar and others.
A question asked years later "How did Oliver and Tobias keep their jobs in the C.L.A.?"  This information was gathered from reports in the past and must be shared to complete this story.
 All this and more going on as the March 7th letters went out inviting players to camp.
https://youtu.be/L8ocdoeVAGM
Fifty-two (52) letters went out to players inviting them to camp.  Who could go on the two-week trip? Attend weekend camps and exhibition games in the weeks leading up to the tournament? Every weekend April 8 through July 10th. 
Trips to the US for games to Syracuse, Rutgers, Cornell, Hopkins, and others. Those weekends, Sat. (loss) and Sun. afternoon (win) with long late (flat tire on the bus) trips back to Toronto then to work Monday morning. The intent of this story is to tell what happened. What took place early on and, overcoming disruptive forces showed the quality of key administrators who were in this for the game and our country.
Not that it has been dull so far but this is where it gets more interesting lacrosse wise.
"How do we check?" "I've never played much field!" or…" I have not played since 75". "Who's on First?"
Whaaaat!!  
Yes, a list of invitees was drawn up and coach Allan along with McCauley and Barrie got to work on shaping this team, looking for lacrosse skill plus character people who knew how to win.
There were some on the list who were still in school playing field in US college, which was a good thing, some who had played in the 74/75 Professional NLL box league and some current O.L.A. senior players. 
Now, some had job commitments, family commitments and said no, because field was a foreign game to them. Others were invited. After the 74/75 NLL folded and players returned to play, restrictions were placed on how many ex-pros each team could have. Many Ontario players went West to the Western Lacrosse Association and many more simply chose not to play at all and retire.
It was also decided that 4 players from the B.C. would be on the team and all four said "Yes" immediately. This meant leaving your summer box team for weekend trips to Ontario, bus trips to the US for games to learn how to play and long flights home Sunday night and off to work Monday, only to fly back out the next weekend to do it all over as the tournament approached.
Funding for all this was an issue. Air Force planes were offered by Oliver and were to be used for the players coming from B.C. to travel to Ontario on those weekends. 
Our Honorary Captain was Prime Minister Pierre Elliot Trudeau., through no fault of his, this gov't plane thing never happened so the B.C.L.A. (with big thanks to Ed Linstead (B.C. President) and the O.L.A. shared air fair costs for these players. Challenges galore.
This was a big ask of the players time and money wise as there was travel back and forth from wherever they lived in Ontario each weekend, time away from home and not all could do it.
Finally, the first orientation meeting was held in Ontario and 12 showed up. This was mid April. Snow was gone and it was time to get down to work. If only we had enough players to scrimmage. Bobby Allan mentioned he had to round up some Peterborough kids to go to early practices to bring up the numbers just to scrimmage.
The schedule was in place, plans all made, US teams to play and trips lined up. Bob Oliver lived in Ottawa, so he was given the task to work through minor lacrosse and to set up the interest from CBC to televise the game. Get accommodation for the US team all ahead of time. Instinctive doubt made it necessary for Boyd to go to Ottawa ahead of the game to double check on arrangements… none had been made. Even the P.M. and Minister of Sport Campagnolo were to attend (they of course did not).
No CBC, no accommodations set up. Team on the way up from the US. No tickets sold and minor lacrosse new nothing. All this after Oliver reported back that things were set, basically all not true. Boyd took care of everything and the game was played. The US winning handily and a poor performance by the Canadian side. Great start!
Coach Allan that night when players were way too unbothered by the loss, he let them know in very certain terms that this was not acceptable, we were representing our country, we were chosen to be on this team and that we all need to figure this thing out. How to compete and how to win. 
A truly clear message delivered and received by all.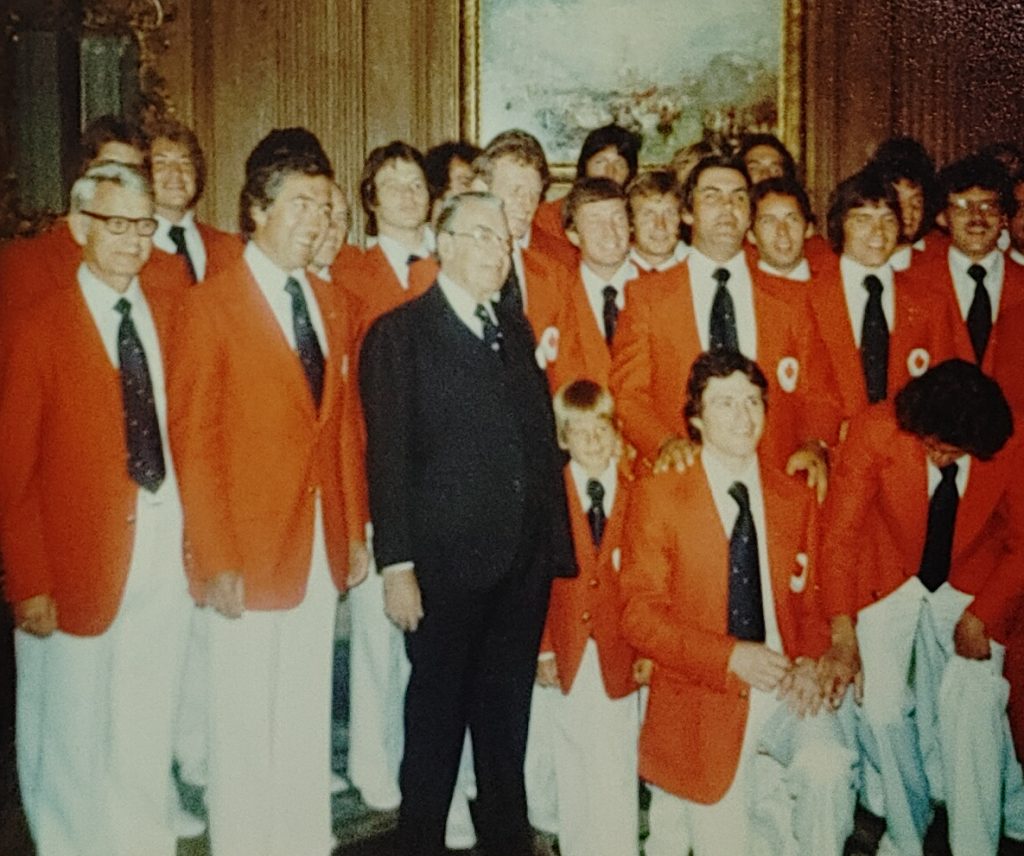 Unknown to the players there were three groups were in play by this time a) the Team of players and coaches, GM. b) the clean up team (Marshall, Boyd, and Doug Budden) c) the team of two, who were depended on to get things done who failed to contribute. Some of the funding did not surface until at the airport before departure as a cheque was handed over…imagine?
This story is a tribute to the individuals who gave this entire project a chance to be successful and battled off the field through many bouts of adversity. This was done in a silent manner allowing coaches and players to focus on learning and playing.
A side note:  the US squad, who were the best in the world playing field lacrosse. Mostly unchallenged in any previous tournament were preparing with All Americans since July of 77.  80 players were at camp at Rutgers University. 
They ran 10 different workouts conditioning, skills, offense, defense etc. over two weekends with 11 coaches present and had assembled a squad without weakness.  
The Aussies were all exceptionally good athletes and had performed well in international tournaments. The Brits were a gritty bunch with a history in the field game and as hosts would play hard, then there was us. We had a Keystone Cop aspect during some early practices with players not quite being sure of immediate responsibilities. "We have to run all the way down there?" "Look at the size of the nets!"
Our group contained 6 or 7 players had actual field experience, with most of us learning on the go, and I will say that the transition from box to field was easier than the transition from field to box.  In field, things took longer to develop, and we had to adjust, "slow our box minds down". 
We were a group familiar with our skills and our teammates because of battles in many cases over years in box games. Best of 7 series, Minto Cups, Mann Cups, Presidents Cups, NLL Championships. A tough group of lacrosse veterans who did not like to lose. We all knew how to compete and not dwell on a loss too long, get ready for the next game. This now, in hindsight was our biggest asset. The joy of play always drove us. We may have been a little uncertain about the field game, but we loved the challenge.
In almost every case where we travelled and played back-to-back exhibition games in the US, we would lose the first one, rebound, reset, and win the second one. We were good players, highly skilled, game hardened and, in the end, learned the value of ball control. We did not want to play "field" against the Yanks. They clearly were best in the world at that game. We had to play to gain control, to frustrate their game plan which was not easy.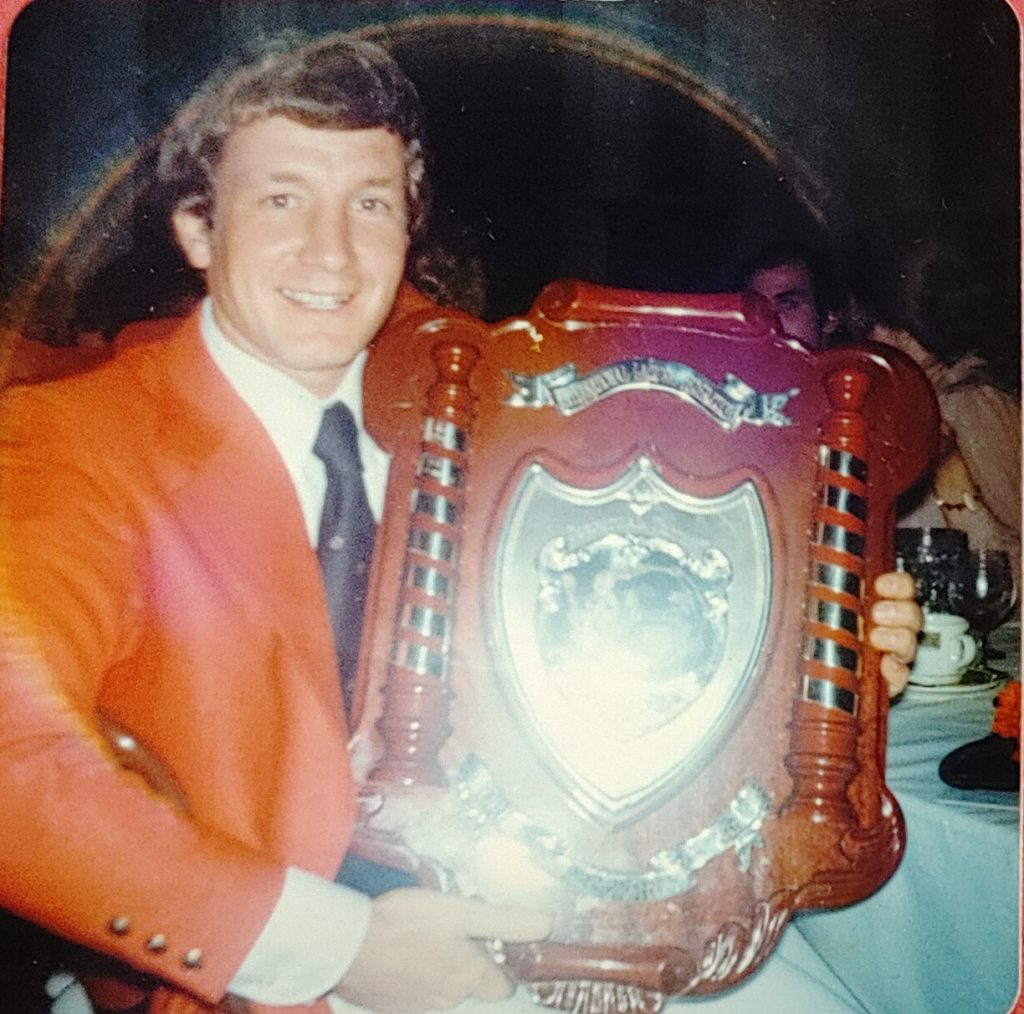 We learned from Bob Durland US referee, who explained rules, and came to England as our "Canadian" referee. We learned from Roy Simmons Syracuse coach and players about skilled tricks on faceoffs and technique Bob Allan forged a strong relationship with Roy. Some in U.S. Div. 1 lacrosse made an issue out of Roy helping Canadians.  
Roy Simmons was a big factor in helping us learn. Both Bob and Roy were generous with their time. Some years later Bob Allan said thank you by recommending a couple of Victoria kids to Syracuse…the Gaits.  From what was a handful, today there are almost 300 Canadians playing Division One, Two or Three lacrosse in the U.S.
The player mind set at first was fragile, some played with their cherished wooden sticks in the rain, which was normally never done. The primitive design of the plastic sticks, (flyswatters) we were given to play with made them foreign objects in our box hands. 
The shallow pocket rule was another thing to deal with, as most players had a deep wood stick pocket, this was much different than our traditional hand-crafted wooden artwork. It seemed to rain everyday, first week in July, single digit temperatures Celsius. Digging balls out of the mud, learning how the sticks feel, the enormity of the field. On field obligations positioning wise between defense, midfield, and attack to maintain field balance. How to make substitutions… "Here's your Help!" "Shift!" "Whaat?"
Our team was melding, players now teammates, began in many cases as only casual acquaintances through the box game, and became friends. Sharing stories, getting to know each other, gaining confidence and trust. Dave Huntley said, "You are the only coach I've ever had who asked for my opinion", as Bobby asked the experienced field players for their thoughts and on field strategy. 
This was a whirlwind experience of gatherings on weekends, games to learn what to practice. Learning from our teammates with field experience. Taking our lumps and coming together thinking we can do this. Some days it was easy to wonder about that but hey, this was lacrosse, we knew and were comfortable with that fact within this group.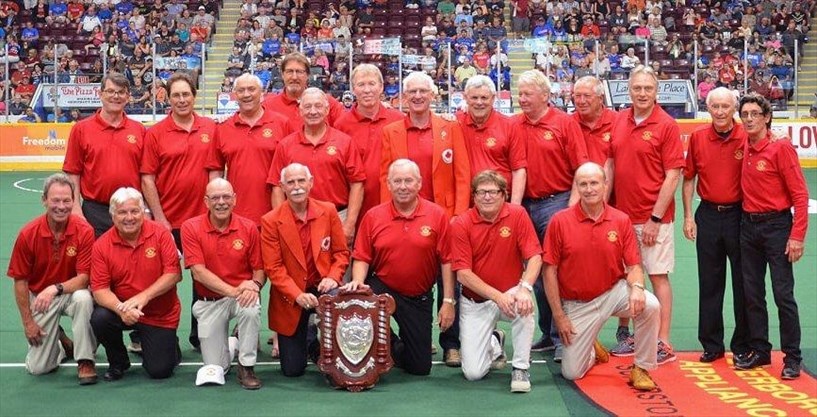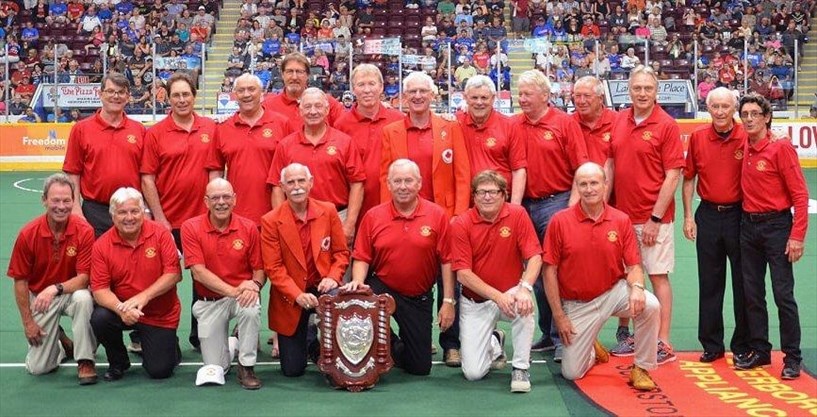 2020 now, much of these pre-tournament shenanigans were mostly unknown and took a back seat or no seat as far as telling a complete story of the trip, up until now and rightfully so.  
The double overtime win in the final game is still celebrated today when we gather. Living in the past is only fun when you win. This is "the rest of the story" now told.
It has been said a few times that if we played the American squad 100 times, we might win one. That may or may not be true as we did learn quickly. 
We won that day and the other 99 will have to wait. The Canadian win in 1978 changed   things in the field game in Canada and in the USA. 
The efforts of many people in many countries have seen the game grow to truly be a global game. Aboriginal beginnings, evolution through time created change. Lacrosse is in the blood of all who play it and the rich spirit of honour and respect remains.
This victory, unlikely as it was, goes down as a strength in sport and ranks up there with many others upsets.
A special group of individuals climbed a mountain and are still enjoying the view. 
The ultimate impact on the game of lacrosse has emerged over decades and is clear. Something changed after our win. 
Canada was on the field lacrosse map and a message was sent that today, most realize has been for the betterment of lacrosse globally. Competition is what sport is all about, the realness that on any given day either team can win. 
The game was promoted around the world by many individuals who often volunteered their time to a great degree to teach, coach and help administrators form governing bodies to make sure things are right.  Ensuring involvement today in the World Lacrosse Federation as membership grows, and the Olympics are in sight with an exciting hybrid version of box and field which enables all countries to better participate in our sport.
Telling this tale all these years after the fact, elevates the storybook nature of this accomplishment. Lacrosse being the winner. Not box, not field. An incredible collection of people, circumstances and outcome that has become part of Canadas lacrosse history.
Lacrosse around the world. Overcoming obstacles, the challenges, and early disappointments off the field, is as much of a story as the mountain we all climbed to win a World Championship.
Change is often necessary and yes, it does take time, Generations have played lacrosse and the table has been set for future generations to continue that tradition.
As Bob Allan said standing on the trainers table offering a champagne toast to the group after the win,
"We didn't do bad for not knowing what we're doing!"
PD
These men stood tall and must be recognized.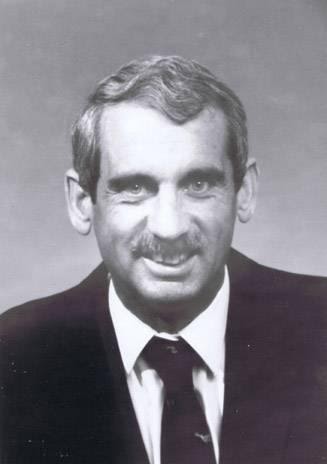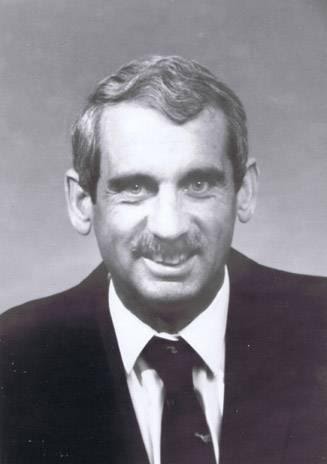 Boyd Barager formed the Mimico, Ontario, Mountaineer Club and Lakeshore Maple Leaf Junior Championship teams in the late 1960's.
He was executive director of the Ontario Lacrosse Association, and member of the board of governors of the Canadian Lacrosse Association. Named a life member of the Canadian Lacrosse Association in 1986, he formed and managed the Canadian National field lacrosse team which won the World Championship in England 1978.
Boyd would go about his duties and multiple times made things right when necessary. His attention to detail and value to this group, remarkable.
Canadian Lacrosse Hall of Famer and deservedly so.
Doug Budden started as a coach and executive member of the Brampton Minor Lacrosse Association.
He moved to the executive of the Ontario Lacrosse Association and became the president in 1971. He switched to the Canadian Lacrosse Association the following year and worked his way up to the executive ranks and became president in 1976.
He also found time to serve as a director for Sports Ontario.
Doug assisted Marshall in a quiet manner early on in this project. His deep lacrosse roots and stickhandling ability administratively provided positive energy to our group.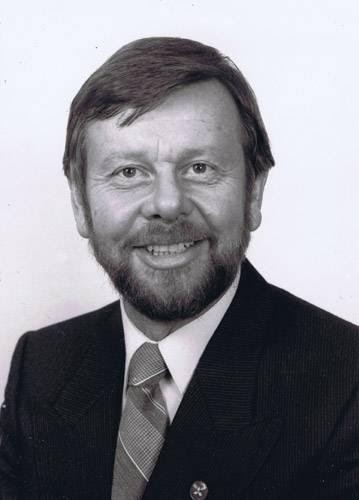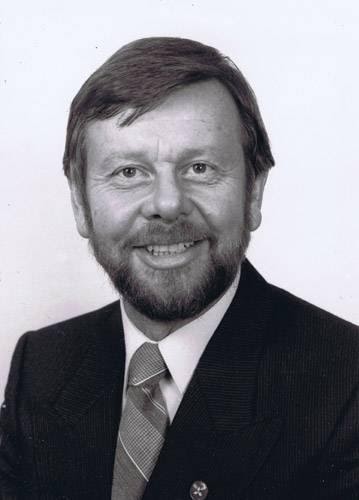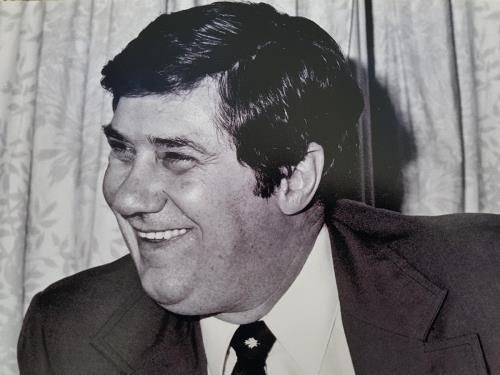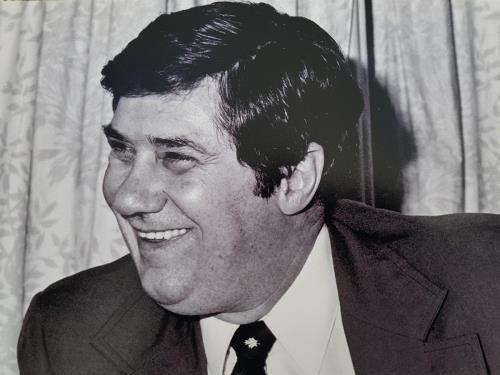 Marshall Spence – O.L.A President
Our Overall Leader
 Marshall was an enthusiastic proponent of lacrosse. Former player, he also refereed at the junior A level, including the provincial Minto Cup and the national Mann Cup playoffs. In 1976, he was President of the Ontario Lacrosse Association. Marshall made a substantial contribution to Canadian lacrosse. He was instrumental in assembling a winning team for the World Field Lacrosse Championship in 1978, which Canada had never won. His positive energy and enthusiasm inspired the team to victory, and he is still fondly remembered by all who participated. 
From this entire team to all three – THANK YOU!
These three men were the Team who kept this project on the road, more than any others and gave the coaches and players the chance to win the World Championship in 1978.