This article was featured from the 1996 MILL CrosseCheck program, celebrating the 10th anniversary of the MILL
RONALD REAGAN was in the White House. The Rev. Jim Bakker was in trouble. Among the top movies: "Fatal Attraction"; top songs included Whitney Houston's "I Wanna Dance with Somebody." Fred Astaire and Andy Warhol die. And what now is the Major Indoor Lacrosse League was born making its debut as the Eagle Pro Box Lacrosse League.
It was 1987. Let's look back on those early, formative days of American Indoor Lacrosse — with its four teams: the Washington Wave, the Baltimore Thunder, the Philadelphia Wings, and the New Jersey Saints. And who better to do so and to describe what it was like to be present at the birth of a new professional sport than the grizzled pioneer who is the lone remaining active player from that first year: goalie Kevin Bilger.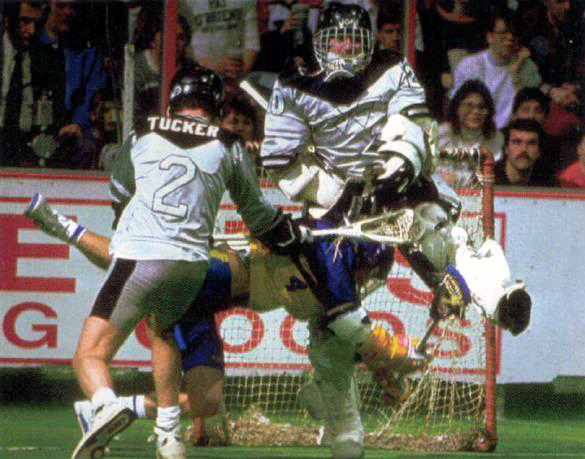 Ten years ago, Bilger began his career with the Philadelphia Wings, won two championships with that team (1989 and 1990), played three seasons in Pittsburgh for the Bulls, and now enters his third season as a member of the Baltimore Thunder roster. (Unfortunately, Bilger's status for the 1996 season remains in question. In a pre-season practice, his collarbone wascracked by a shot from close range.)
Bilger remembers that his first MILL game in February, 1987 at the Spectrum was an eye-opener— or more precisely, an eye-blackener.
"We had a press practice at the University of Pennsylvania before my first game and during the shooting drills Greg Manley rocketed a shot through my face mask and into my left eye." Bilger's eye swelled up and his vision was blurred, but the next day he felt OK to play. I got a new mask and played the first game with a shiner. I'll never forget walking out onto the floor that night, the crowd was wild. The first vear was such a learning experience for me. My play was inconsistent. One night I'd play well and give up ten goals, and then the following week I'd get bombed and let in 20."
Bilger graduated from the University of Maryland in 1984 following a workmanlike, but unexceptional career. By 1986, he was playing club ball for the Mount Washington Lacrosse Club in Baltimore. Bilger recalls his first tryout for the Wings: "Coach Dave Huntley was looking for a goalie and my name surfaced. It was really weird trying to adjust from playing outdoors; it was difficult learning to stand still in the goal and let the ball hit you instead of moving from side to side."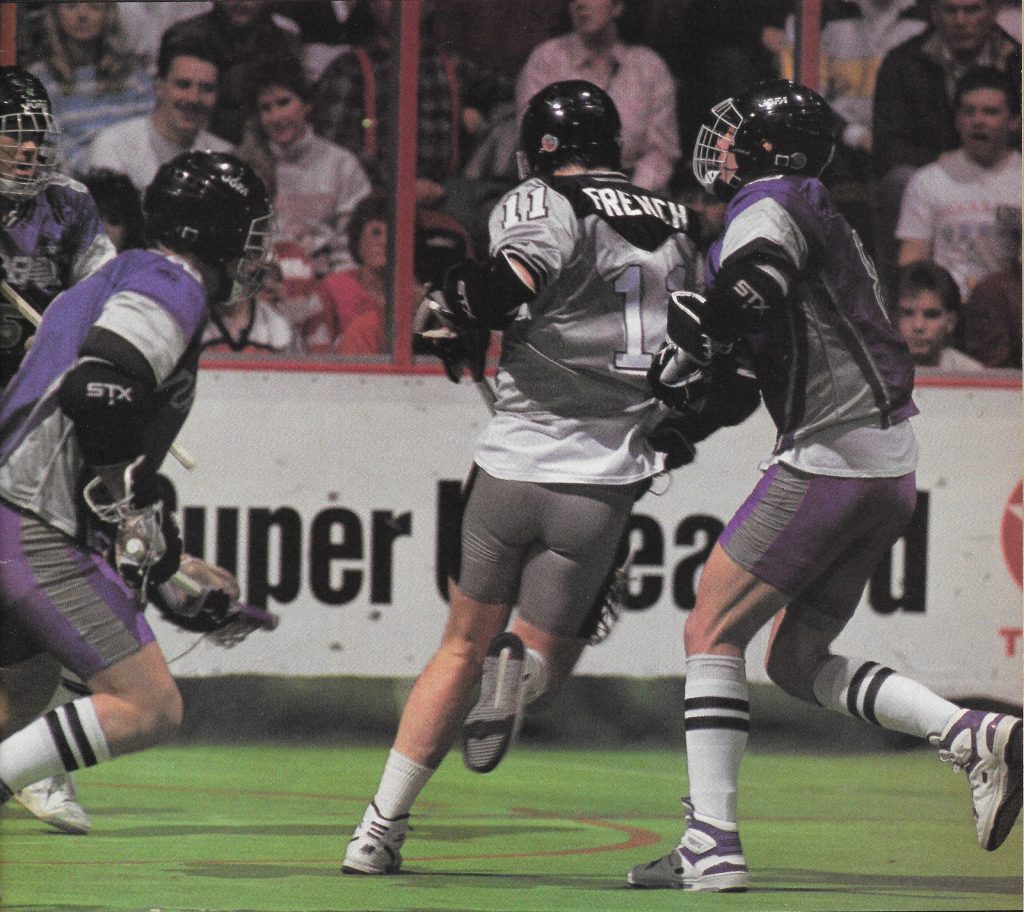 Bilger recalls the impressive lineup of that first Wings team. "We had some terrific players. John Grant from Ontario. Mike French and his brother Paul taught us a great deal; they had the best pick and roll in the league. Denny Townsend helped me out. I'd go to his house and we'd work on positioning and angle play. John Conley was only 5'6″ and 150 pounds, but strong as an ox. He'd plow into guys twice his size. John Tucker was getting accustomed to the indoor game but was always an intimidator whether he scored or not."
From Townsend, the oldest player in the league (who used a sawed- off ax handle as the shaft of his stick) to Henry Ciccarone, Jr., scion of a legendary lacrosse family, the enthusiasm for the indoor game was con­tagious. "It was a real ego trip to walk out on the field and have all those fans cheering vou and asking for autographs afterward. It was like play­ing in a championship game every week," said Ciccarone.
One shooter Bilger hated to face was fellow Marvland alumnus and four-time All American Frank Urso of the Washington Wave. "Frank would always shoot earlier than the other play­ers. He had such a quick release and would bounce the ball over my shoulder. That should­n't be a tough save, but back then it was difficult for me to adjust to that shot. You rarely face bounce shots anymore."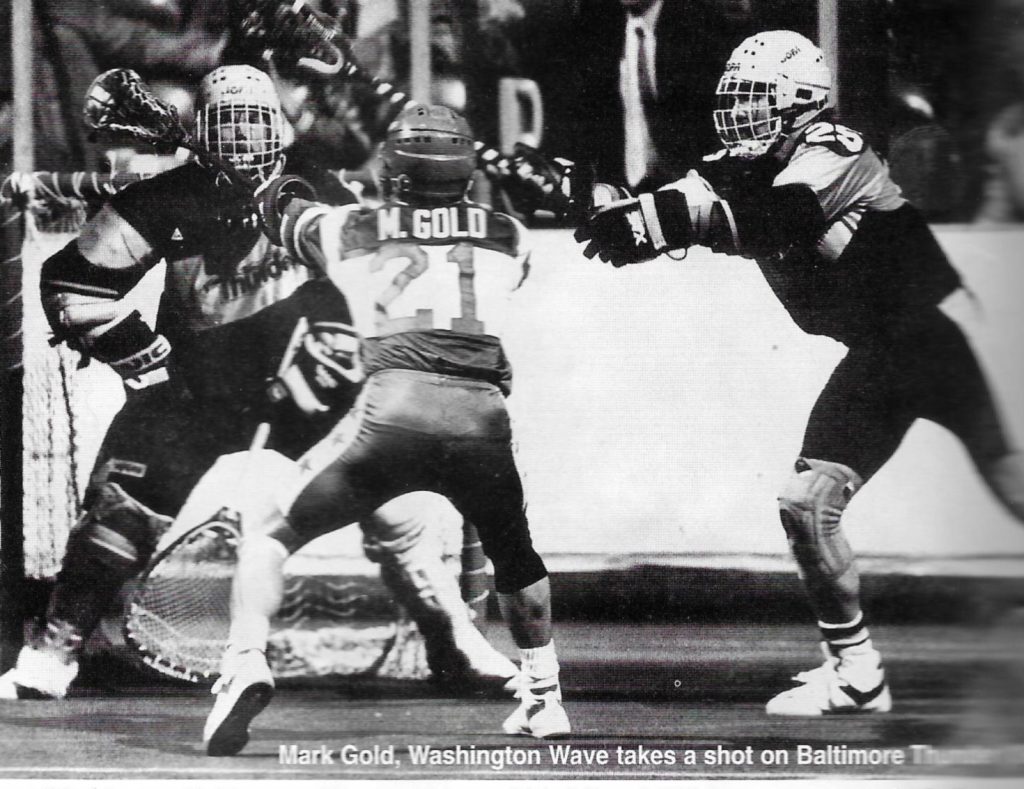 The league was composed of outdoor players who thought the indoor game was without rules. "That first year was vicious. Guys were getting boarded all over the place, and as a goalie, you were always a target," Bilger recalls. Anyone who has seen the taped highlight—or low light—of Baltimore's George McGeeney intentionally stepping on the head of Washington's Matt McGeady during a 1987 match-up can attest to that.
"We had some enforcers—the Wey brothers, Steve and Dennis, and J. R. Castle—who kept me safe. Bilger was not a player in the 1987 championship game. Then the Baltimore Thunder, which had a regular season record oof 2-4, beat New Jersey 14-9 in the semi-finals and went on to beat Washington 11-10 for the championship before 7,019 fans. Joe Gold, a member of the '87 Wave team that lost the championship, recalls: "We didn't respect Baltimore, and when the game got tight, we lost our composure."
Bilger finally got his championship ring in 1989, when Philadelphia beat New York 11-10 for the MILL title. He was in goal for the Wings. "It was the first major championship that I ever played in. After two losing seasons, we had to work for everything that we got. New York always played tough defense, and they'd have two guys on every loose ball." We made a conscious effort to play aggressive in that game. We wanted to rough them up—and I think they began to hear footsteps."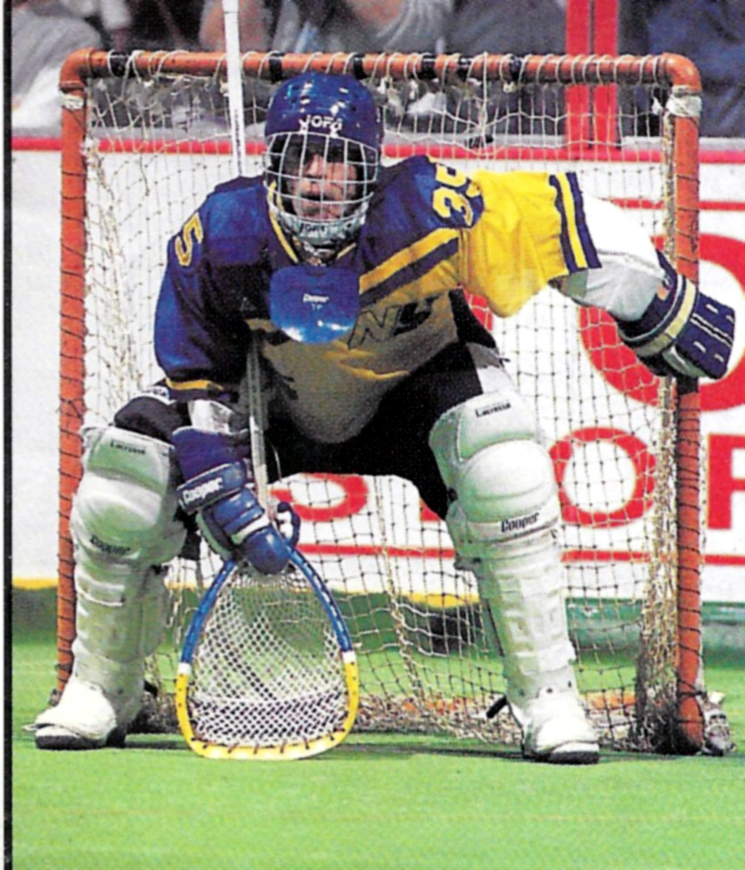 "They had such a fast team, with guys like Kevin Cook, Norm Engelke, Jeff Goldberg, and they always took a lot of outside shots. I'll never forget that with three seconds left in the game, we made a sloppy clearing pass and (the Saints) Randy Natoli fed John Driscoll right in front of the goal. He faked me three or four times, it seemed like forev­er—and missed the goal. The cards were with us."
"The next year our team had tons of confidence, we opened the season with six straight wins. A couple of times we were losing in the fourth quarter but someone would step up. We never lost our cool. We knew we'd win. It was just a matter of how. That team had some great players, like Brad Kotz, John Tucker, Tony Resch, and Gary Martin."
At 34, Bilger finds his career in jeopardy because of the broken collar­bone. What has been his secret for longevity? "Luck. I mean look at me now in a sling. I've been hit with faster shots, and I've been hit in the same spot hundreds of times—but this time luck wasn't on my side." But Bilger has had more than luck. "I've always had the desire to com­pete, to contribute and help the team. If I ever felt that I was embarrass­ing myself, I would retire. I've always stayed in shape, but more impor­tant for a goalie is to be mentally ready."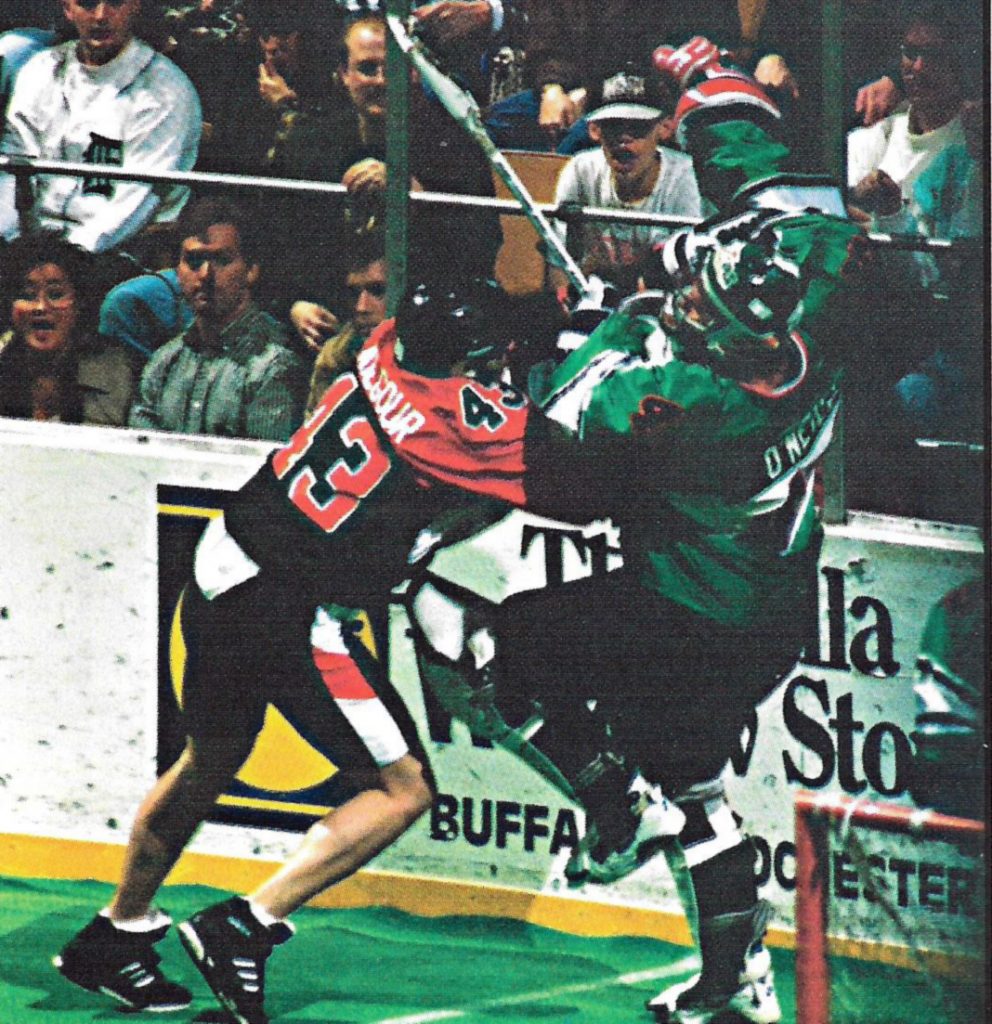 Bilger hasn't lost his incentive to improve, and admires the league's current crop of goalies. "I'm still learning the game, even after 10 years. Watching guys like Dallas Eliuk, Steve Dietrich, Sal LoCascio and Marty O'Neill makes you want to get better."
Bilger reflected on how the MILL has evolved over the past 10 years. "The shooters are 100 times better today than they were that first year. Guys like (John) Tavares, Paul and Gary (Gait), and (Ted) Dowling are more polished and skilled. They finish the ball so well. The referees have cleaned up the game. It's still very physical, but you know what you can get away with."
Bilger said he and his fellow MILL pioneers didn't think about creat­ing history. "We never really looked to the future. We just enjoyed it. We got paid to play—$99—and kept the equipment after the season."
"I've had some great times in the MILL, on and off the floor," said Bilger. "The camaraderie is unique, everybody knows one another. I've had the opportunity to travel, meet some good guys while playing the sport that I love. I consider myself fortunate to be involved in the league in those first couple of years. The fans in Philly were unbelievable, they accepted us whether we won or lost, and treated us like the Gretskys or Lemeauxs."