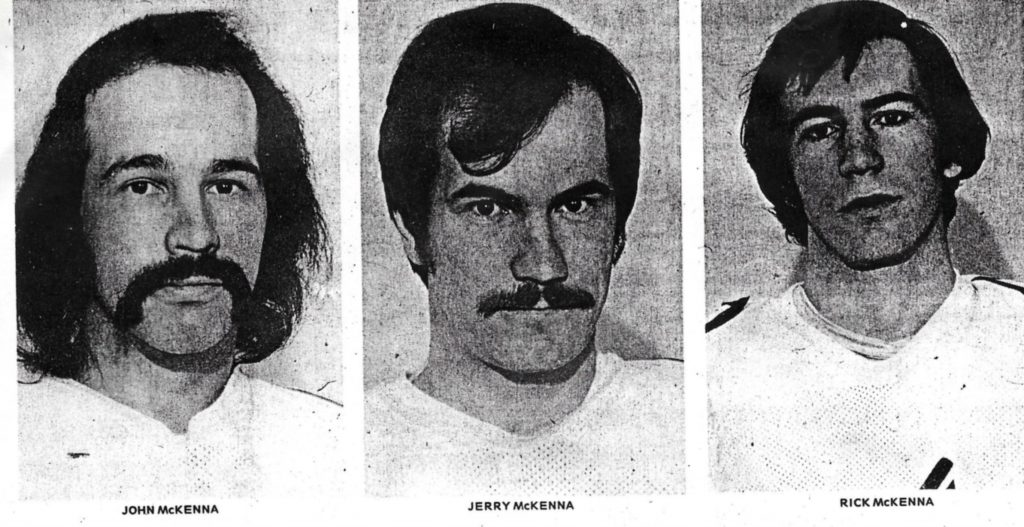 By PAUL ATTNER Washington Post
John McKenna is outgoing. "I talk a lot," he says.
Jerry McKenná is easy going. "He kind of floats along," says his coach, Cy Coombes.
Rick McKenna is, well, quiet. "The joke on the team is that Rick was home for a week and his father didn't know he was ready to leave," laughs Coombes…: The three brothers even maintain their personality: differences when they take the floor as Maryland Arrows. John, the hard-charging, hard-hitting checker; Jerry, who never seems to be moving fast until someone tries to catch him, and Rick, who gets the job done without fanfare.
Together the brothers McKenna have developed into a talented trio for the Arrows, who knew what John and Jerry could do but didn't expect much out of Rick. Instead, they got a lot from him, and even more than anticipated from his older siblings.
Together, the McKennas scored 81 goals and had 148 assists for 229 points, John was the team's third leading scorer entering the playoffs with an even 100 points, achieved after he registered three assists the final game of the season against Toronto.
"We were really surprised we all got drafted on the same team," said John, who, at 28, is a year younger than Jerry and five years older than Rick. "Jerry and I played together at Brantford and it made it even better when Rick could join us. I know my dad liked it a lot. He didn't have to split his rooting interests."
Coombes runs the brothers on three different lines, unlike when Jerry and John played at Brantford or earlier in this season. "It probably is best for us to be split up," said John. "With Brantford, we used to pass the ball to each other all the time. And Jerry and I play too much alike. We are both checkers. We need to be split up."
The Arrows took Jerry on the third round, John on the seventh and Rick the 17th. Few were interested in Rick, who failed to make Brantford last year and spent the season playing senior B.
"Rick got good experience last year and it showed this season," said John. "He decided he wanted to buckle down and earn it." .
It helped, evidently, to get married too. Once Rick left bachelorhood, and quit his job to become a fulltime player, his performance picked up. "Don't know why, laughed John.14
John didn't need any similar inspiration. For one, he is a bachelor. For another, Coombes says he is probably the – most consistent player on the club.
"I can honestly say he has never played a bad game for us." said Coombes. "I've only had to say something to him maybe once. He's got to be one of the easiest of all players to coach. You say get dressed, and he's out there playing just like you want him to."
The Arrows depend on John for checking. That he does, hard, and often, enough to pick up 92 penalty minutes, fourth most on the team. :
"I figure I'm out there to make sure my man doesn't score," said John. "The scoring is an added bonus. I don't look to score. I look to pick up the loose man, to help out. The line I'm on, with Paul Suggate and Tommy Vann and Kenny Henderson, I don't need to score."
Yet his 100 points, coupled with Suggate's league best 239, Henderson's 113, Vann's 93 and Bob Smith's 48 makes the line perhaps the highest scoring in the National Lacrosse League.
Brother Jerry was supposed to score more but didn't. Coombes blames his tendency toward individual play.
"Jerry likes to get the ball and force a double team and then pass off," said Coombes. "When it works, we look great, but when it doesn't, the whole team bogs down. "He really isn't being an individualist, but that style doesn't fit in with what we want to do. I have to remind him of that frequently."
Jerry appears lackadasical on the floor – "he loofs sometimes," says John – and lacks John's emotional push. "If Jerry ever catches fire, no one will ever touch us," said Coombes. "He'll look like he's hardly moving out there and then boom, he'll just pull away.
"He's more offensive minded than John, but he has to be prodded more. I have to push him to get up for games." No one is quite sure how to handle Rick. He's so silent that nothing appears to move him.
Yet Coombes calls him a "terrific checker, just super. He's been beat for goals maybe only three times this year. We took him not knowing what to expect, and we've been more than pleased."
Jerry and John began playing lacrosse at age nine in Elota. John also tried hockey, but Jerry wasn't much of a skater, so he took up basketball.
Jerry was on the Detroit team in the old pro league in 1968, then moved to Toronto the next season. Jerry joined Kitchener in 1969, the only year he's had to play against his brother, before both moved on to Brantford,
"We checked each other pretty good that year but we didn't have any fights, not even words," John said. "We never do. We get along fine. We don't try to tell each other what to do. We mind our own business."
Jerry, a home appraiser for a mortgage company, is one of the few Arrows who still works another job. John quit his work of six years as a test programmer for a tire company about the same time Rick stopped being an electrician.
"Really, it takes some time to get used to just playing lacrosse," said John. "None of us are real sure what we will do next year, although I guess we will move down to Maryland.
"We weren't sure what it was going to be like to come this far from home. But we've got the best fans in the league, they've made us feel right at home.
"I wasn't sure if I ever wanted to leave Brantford. Now I couldn't be more delighted. These fans know the game they know when you're goofing up or playing well. They are a good reason why this league is doing well.".