By PAUL ATTNER
D&C—Washington Post
WASHINGTON—A few months ago, Dan Snyder found himself in a peculiar situation for a sports promoter. He wanted to push some sport on the professional level, but what was left?
By the time he began his search, even tennis had gone the team route. He finally realized that maybe only one sport—short of checkers—was left for the professionals—Lacrosse.
So Snyder became the nation's leading—and perhaps only—advocate of a pro lacrosse league.
At first he considered elevating the standard outdoor game to the pro level. Then he was told about box lacrosse, an indoor hockey-on-sneakers game that has a vocal following in upstate New York and parts of Canada.
He saw the game and became convinced that he had discovered the Atlantis of sports, that hidden treasure of action and excitement that would keep the turnstiles humming.
Nothing has happened since to change his mind.
From his office in northwest Washington, Snyder wheels and deals box lacrosse daily, searching for those backers who would be willing to spend perhaps $225,000 to finance a team the first season.
"It'll go, I know it will and anyone who sees the game would agree with me," said Snyder, who had an undistinguished field career at Maryland.
His mental organizational chart places teams in six secondary Eastern cities by next year at the earliest. A season would run from March to August and would include from 30 to 60 games. A game-of-the-week would appear on cable television.
To those who say that even Fulton had a more reliable folly, Snyder replies, "Watch me."
People did last week in Baltimore's Civic Center, when he brought in the best box lacrosse team in Canada to play a group of American field lacrosse all-stars, mainly members of last year's National Collegiate Athlete Association championship Maryland team.
Despite predictions of a crowd of less than 1,000, Snyder pulled in 4,044 paid and 3,140 total to watch what was, indeed, an exciting, spectator-pleasing game.
The American team was trounced, 29-11, but it hardly mattered. More important to Snyder was the fact that the fans were given a healthy sampling of box lacrosse's appeal.
The game itself is far more interesting than soccer because it includes that one ingredient that soccer lacks—scoring.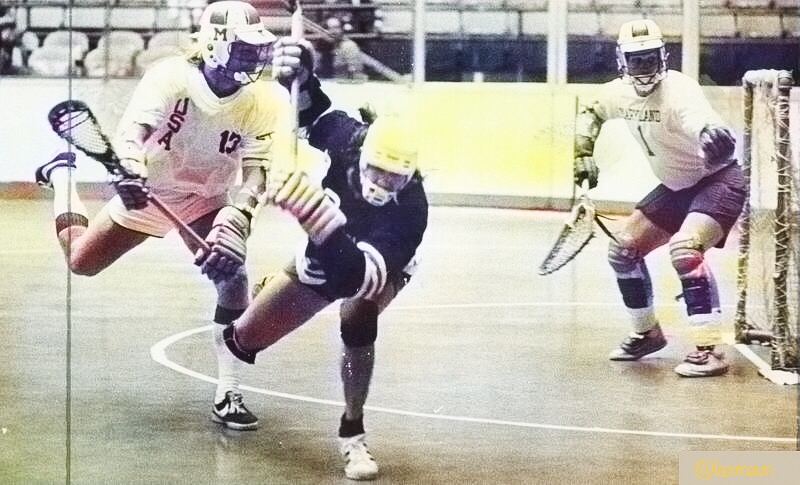 It is played on a cement floor within the confines of a hockey rink area. The players wear sneakers and masks and carry regular lacrosse sticks.
Like hockey, box lacrosse has three 20-minute periods, faceoffs after goals and a smallish 4 by 4 net. Unlike hockey, there are no offside or icing calls and, because teams have only 20 seconds to shoot, action is almost continuous.
There are abundant checking and an occasional fight to please the crowds.
"If we can get the fans to the arena, they are going to be sold on the idea," said Snyder. "You don't have to know lacrosse. The game moves so fast and is so simple, it is easy to pick up," Snyder said.
Canada has four teams left from an abortive attempt at a larger league, which fell apart in 1968. Snyder says the effort "was too early without enough cash."
Snyder says he has convinced "some big money men" in Detroit to kick in for a franchise. If he can secure arenas in Baltimore, Buffalo, Syracuse, New York and perhaps Detroit for form a base and find further financial support, "we're on our way."
(Rochester Democrat & Chronicle, August 23, 1973)