By Maria Sciullo, The Pittsburgh Press; April 21st, 1989
Perhaps they should run an electronic "crawl" across the bottom of those TV commercials for tomorrow night's Major Indoor Lacrosse League (MILL) exhibition game between the Detroit Turbos and the New England Blazers.
WARNING: ALTHOUGH THE GAME INDEED CONTAINS SCENES OF EX­PLICIT AGGRESSION, THIS IS REALLY NOT WHAT LACROSSE IS ALL ABOUT.
For the uninitiated – and that probably includes 98 percent of Pittsburgh's sports fans – MILL games are not to be confused with Canadian box lacrosse, which is also played indoors, or the American field, outdoors version. It follows the same concept as indoor soccer or arena football: take a traditional sport and compact it into a playing field roughly the size of a hockey rink.
Scores are certain to be higher than in the traditional games, as will player colli­sions, checking, slashing and tripping. MILL officials are discussing a modifica­tion of contact rules.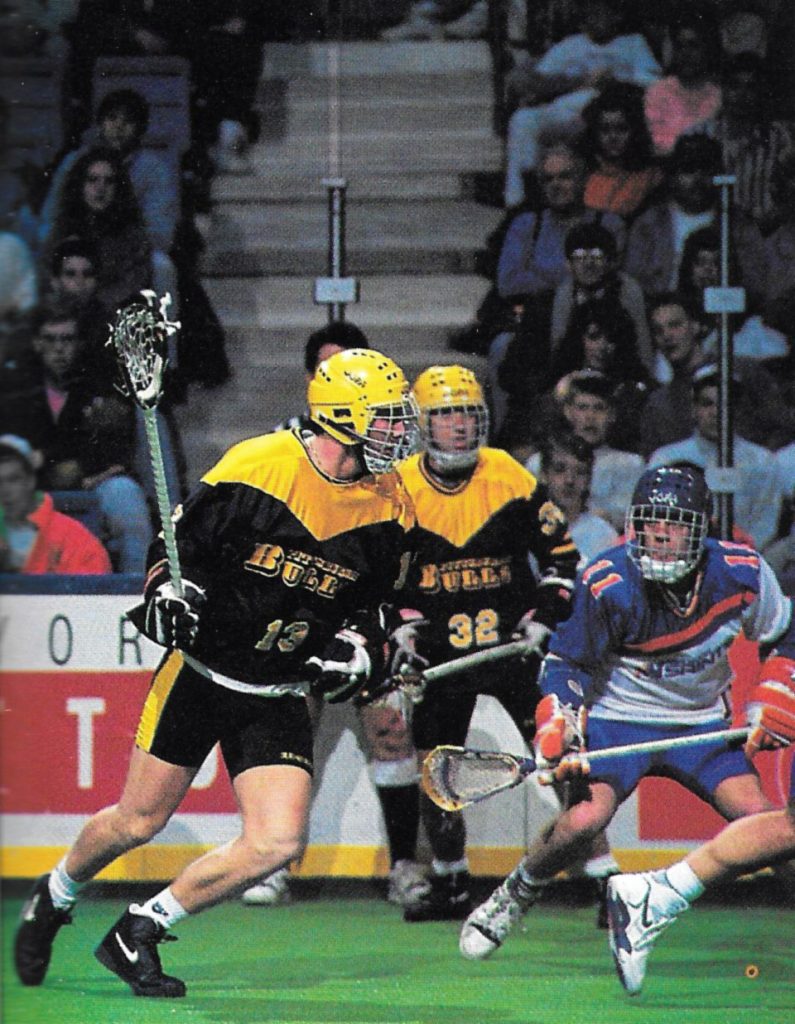 "I think it's for the best that the rules are. going to change," said Kevin Hamlin, a forward for Detroit. "Right now, there are too many hits from behind, too much blind hitting."
But Hamlin understands why the 3- year-old league's rules emphasize so much physical contact … at least for now.
"Let's face it, they're trying to sell the game. But the game has so much to offer, the game will eventually sell itself."
MILL games are divided into 15-minute quarters. Six players on each side combine the rough-and-tumble pursuit of an Indian rubber ball, 6 inches in diameter, with the zone strategy of basketball.
Players carry aluminum sticks with nylon-webbed baskets on the end. Action is virtually nonstop, although it isn't the constant smashing of bodies you see in the television ads.
"There are moving picks. The best game I can compare this to is basketball, not hockey," New England General Manager Steve August said. "It's five-on-five, with a goalie."
The best part of it, perhaps, is that little working knowledge of the game is neces­sary to enjoy it. "People here in Detroit did not under­stand the game at all. But in our opener against Washington, I don't think one person of the 12,000 sat down during the game," said Hamlin, a veteran of Canadian box lacrosse.
The teams playing at the Civic Arena tomorrow night are a contrast in back­grounds. Detroit finished third among the six MILL teams in the regular-season standings; New England tied for last with Washington.
Fourteen of the 25 Turbos players are Canadians who grew up playing box la­crosse. All of the Blazers are Americans whose experience lies in the field game.
"We're all still kind of new to the game," August said.
Many of New England's players — plus Coach Ron Fraser — are also members of the Boston-based Brine Lacrosse Club, which is in the middle of its outdoor season.
The team will fly to Pittsburgh tomorrow morning, play the game in the evening, catch a 7:20 a m. flight back Sunday and compete in a key league game on the home field at Harvard University that afternoon.
August said he plans to squeeze the Pirates-Phillies game into the schedule tomorrow afternoon.
The teams aren't doing this for the money.Rookies make $100 per game dur­ing the eight-game regular season. Second- year players get $150, veterans $200.
Nobody is a full-time MILL player. Hamlin teaches in Windsor, Ontario, and owns a fitness center. August is a senior account executive for an advertising agen­cy in Boston. Other players and personnel hold down jobs from student to stockbro­ker.
"I'm not doing it for the money," Hamlin said. "If they pay our expenses, I'm happy. Obviously, my business and personal life is affected by all time I'm away, but it's worth it."