By DAVE CARTER, Montreal Gazette; August 16th, 1974
Dave Litzenberger was the difference at the Forum last night as he scored four goals and assisted on five others to lead Les Quebecois to a 17-16 win over the Maryland Arrows before a crowd of 7,575.
"I played my best game of the season,' "I couldn't do anything wrong tonight," said Litzenberger. "All Fergy (coach John Ferguson) said was that we'd better not lose and we played like a real team," added the game's first star.
Actually, though, Les Que­becois played only two periods of good lacrosse, the first and the third. In the second they were outscored 9-2. They end­ed up winning though and that satisfied Ferguson.
"We would have been in trouble if we would have lost tonight," said Fergy. "This has to be the biggest win of the year.' It was one of Fergy's changes which paid off and contributed to the win.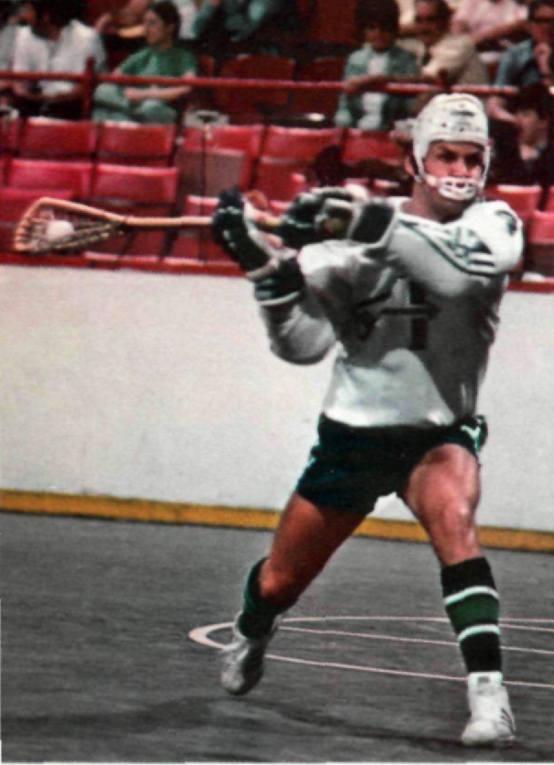 GOOD JOB
Fergy decided to sit out Serge Loiselle and replaced him with Billie Nunn. "Nunn did a good job covering (Paul) Suggate,' explained Fergy. "I told Ossie (Gord Osinchuk) on that he would be on too. that every time Suggate was but (Rick) Bossely and (Jim) Lynch jumped on. So I told Gord at the end of the sec­ond period again that every time he (Suggate) was on he should be too."
It took Suggate. the league's leading scorer just over one minute to net his 100th goal of the season and he added three more for a total of 103, but in his case, four goals is good coverage.
"I wanted to show Ossie that I could beat him more than once out of ten," said Suggate, referring to Osinchuk's statement the last time Maryland was in town when he said that Suggate would only beat him once in every ten tries.
"Our whole team seems to get fat heads when we're ahead," continued Suggate. "Last game in Toronto we were ahead by six going into the third and they beat us by the same score."
Montreal led 64 after the first period but the Arrows started to feel out the Que­becois defence and by the end of the second period Maryland led 13-8.
"Our defence was very weak in the second period." said Ferguson, "but in the third we lightened it up and they had to go around." "The defence was the big change in the third period."
Montreal scored nine goals in the third while limiting the Arrows to three. "When the defence is hot, then I play well," said goal­tender Ernie Mitchell, who blocked 53 Maryland shots. "Suggate came so close a few times though." Although Suggate scored four goals, he might have had another three if it weren't for Mitchell.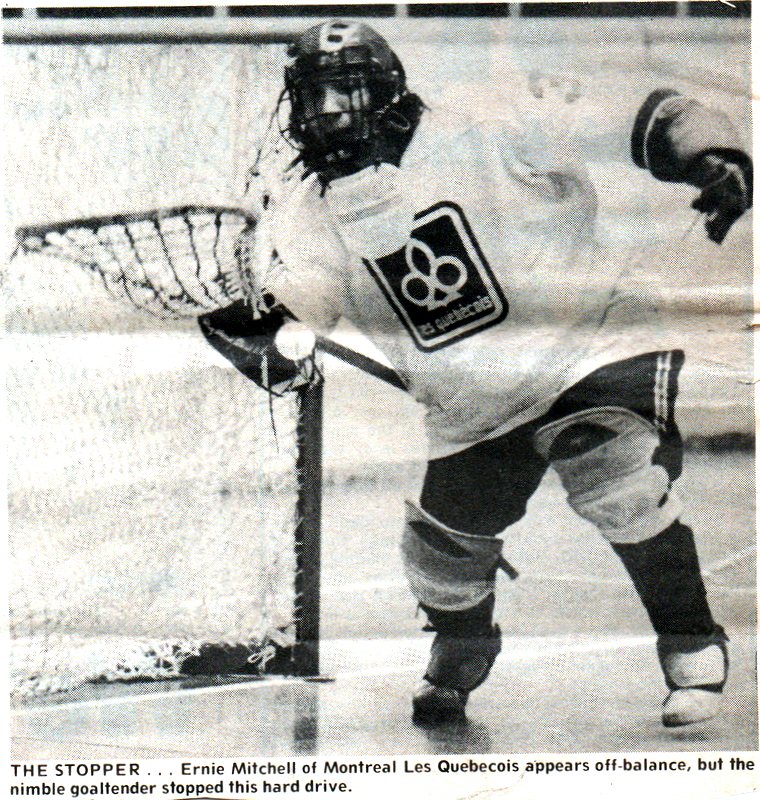 DIVING SAVE
In the first period, Mitchell came out to cover a loose ball in the corner. But Suggate stole it and shot for the empty net only to have Mitchell dive and make a great save.
Les Quebecois' comeback started in the third period when they scored five con­secutive goals. Lynch started things on a fine pass from Litzenberger. Dale McKenzie. Lynch again, Gord Floyd and Dave Tasker all scored to tie it at 13-13.
Then twenty seconds later Manland came back to lead again. Litzenberger. though, not only tied the score at 14-14 but fired in his third goal of the night to give Les Que­becois a lead they never re­linquished.
Michel Blanchard helped the Quebecois cause in the first period when he caught starting goalie Roger Williams roaming in the corner after a loose ball. Blanchard was given two minutes for charg­ing while Williams was at­tended to in the corner.
Maryland coach Cy Coombes pulled Williams after the first for back-up Keith Todman.
NO HELP
Todman only allowed two goals in the second period and made some fine saves from close in. But in the third he had no help from his de­fence.
Maryland outshot Les Que­becois 53-43 and took five of the nine minor penalties as­sessed.
The win gave the Quebecois sole possession of third place with an 18-17 record while Maryland dropped into fourth at 17-18.
Meanwhile in Toronto, the Tomahawks were defeated by the first place Philadelphia Wings 21-19 before 703 fans.