by Bernard Fernandez, Philadelphia Daily News Sports Writer: January 21st, 1995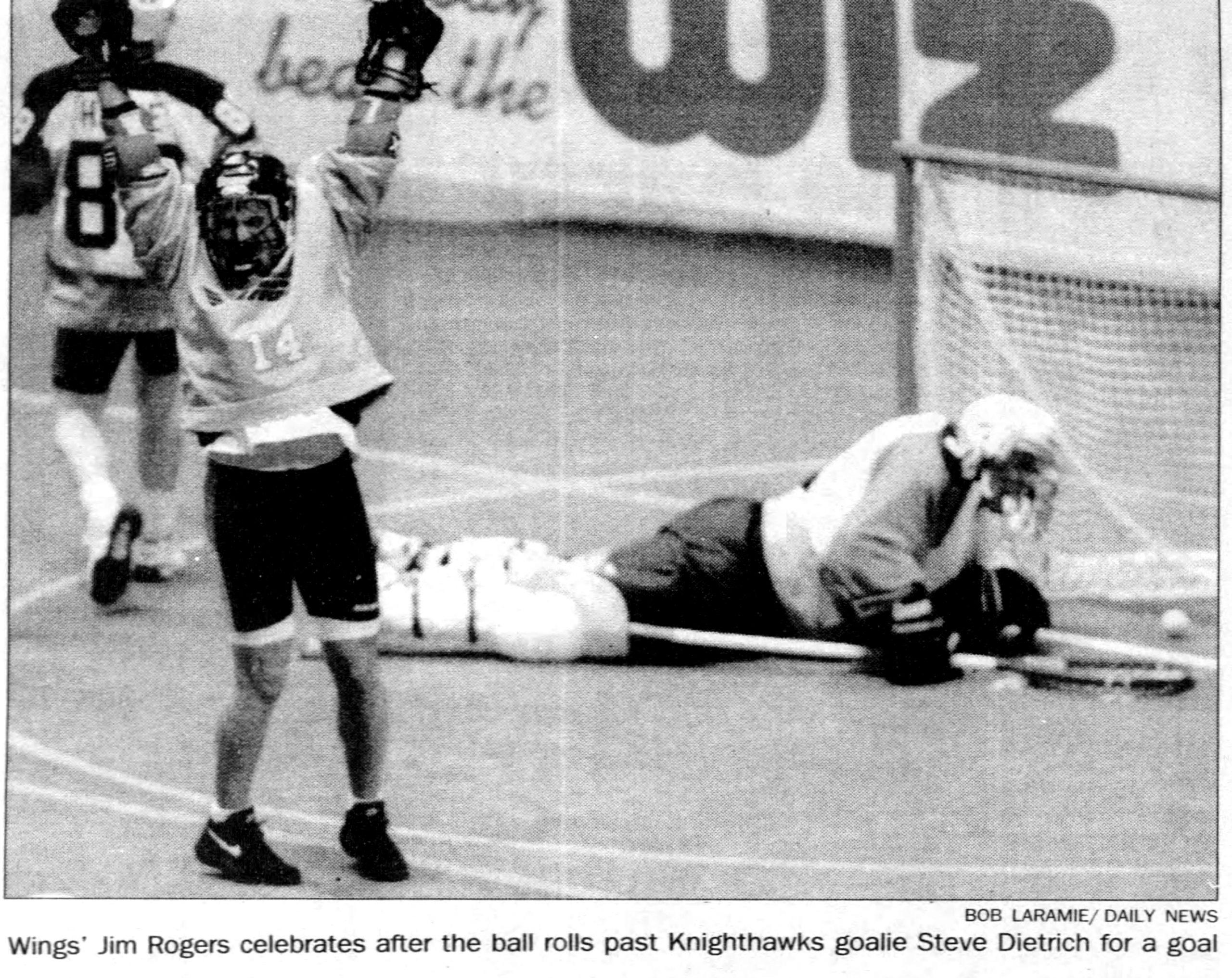 The pregame hype centered on the much-anticipated matchup of the Gait twins, but unheralded second-year forward Tom Mare­chek stole the show.
Marechek was named the game's Most Valuable Player after scoring seven points, including four goals, as the defending champion Wings won their Major Indoor lacrosse League home opener by holding off the Roches­ter Knighthawks, 18-17, last night in the Spectrum.
Marechek's most spectacular, and probably most important, goal came 6:02 into the fourth quarter and with the Wings clinging to a tenuous 15-14 lead. He picked off an errant pass by Mike Benedict in the Rochester end, raced down the field and snapped a diving, off- balance shot past goalie Steve Die­trich to complete a nifty give-and- go from Kevin Finneran.
It was the sort of play Marechek routinely made at Syracuse Uni­versity. where he is the second all-time leading scorer behind Wings teammate Gary Gait. But a year ago, Marechek's rookie sea­son in the MILL, he was some­thing of a reluctant shooter, often deferring to Gary and Paul Gait.
But with Paul, the 1994 league MVP, now a Knighthawk, Mare­chek and others are being asked to take up some of the slack cre­ated by the departure of one of the Wings' twin terrors.
"He's one of those guys that I'm constantly on to shoot more," Wings coach Tony Resch said of Marechek. "Usually, when you get guys who are used to scoring, you have to tell them not to shoot quite so much. But with Tom's shooting ability, he needs to shoot every time he sees an opening. We need him to be a big, big goal-scorer." Paul Gait accounted for three goals and an assist in his first Spectrum appearance as a visiting player since 1992, when he and Gary played for the now-defunct Detroit Turbos. At 13:07 of the third quarter, with the score 13- 13, Paul left the field and did not return, when his recurring herni­ated disc injury flared up.
A modest sort. Marechek doesn't presume he will fill the cavernous offensive void Gait's departure created.
"Paul's such a great player, it's definitely a drawback not to have him with us," Marechek said. "But a lot of players have stepped up. Billy Miller scored two goals to­night. John McEvoy had two goals and an assist. Guys who hardly ever scored last year are contribut­ing more on offense now."
Still, with Paul Gait in Roches­ter, the MILL'S competitive bal­ance is tighter than ever. The Wings' victory, before a crowd of 16,305. boosted their record to 2-1, the same as the expansion Knighthawks.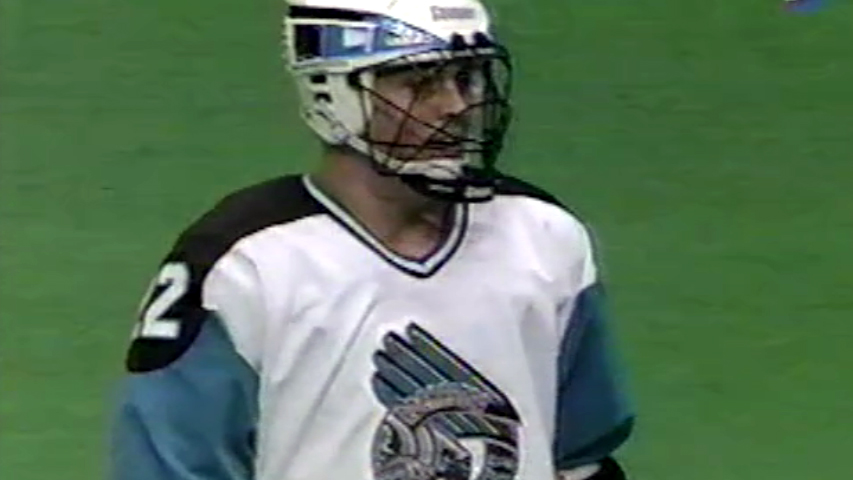 "It's an expansion team, but not really," Marechek said of Roches­ter. "They have six former De­troit Turbos and maybe six Cana­dian Mann Cup winners. There's a lot of talent on that team."
The Wings, who received their championship rings in a pregame ceremony, kept putting distance between themselves and the Knighthawks, only to see the lead whittled down. At one point, the Wings opened a 10-6 gap, and they held three-goal leads on five other occasions, but Rochester never stopped coming. The Knighthawks finally drew within 18-17 on Benedict's score with 29.1 seconds remaining, but never got another shot on goal.
"From a fan's standpoint, it was one of those exciting, back-and-forth games," Resch said. "But for me and the players, it was very difficult. Every time we'd get a little lead, they came right back."
Gary Gait, who said he had an off night despite two goals and two assists, achieved a personal milestone when he scored his 200th career MILL point on a re­markable, between-the-legs goal with 14.6 seconds remaining in the third quarter. That erased a 14-13 Knighthawks lead, and the Wings went ahead to stay less than a minute into the final pe­riod when Finneran got one of his five assists in setting up a goal by Miller.
"Sometimes you get lucky," Gary Gait said. "Sometimes when your shot is off, the best thing to do is to just throw it at the net."