RIDLEY PARK RESIDENT IS TWO-SPORT STANDOUT
By JOHN PLAISANT
Daily Times Sports Writer
THE BUS carrying the Philadelphia Flyers back to the Toronto airport Wednesday night had just pulled away from Maple Leaf Gardens when someone yelled above the clamor, "Hey, where's Doug?"
A quick head-count was taken, and sure enough, Doug Favell was missing. The bus made a quick about-face, back to the arena, where Doug was found in the hallways, still being mobbed by family, friends, fiancée and admirers.
Earlier in the day, all these people had made the trip from nearby St. Catherines, Ont., Doug's hometown, and cheered him on as he brilliantly turned back 47 shots to lead the Flyers to a 3-1 victory over the Maple Leafs.
Based on the performance he gave, the citizens of St. Catherines were ready to make him king…not a bad reward for a kid who's supposed to be a lacrosse player.
***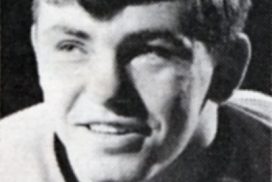 TODAY, the 22-year old Favell is one of hockey's great young goaltenders. Going into the Toronto game, he had allowed only 42 goals in 19 games for a league-leading 2.21 average.
But Doug, who is a temporary [Delaware] county resident, as he shares an apartment in Ridley Park with fellow bachelor, defenseman Joe Watson, actually played lacrosse before playing hockey…and gained stardom on the field before gaining it on the ice.
Doug started playing lacrosse when he was six years old, going right up through the amateur ranks. He was a high-scoring forward for the junior team in St. Catherine's for five years, and was known far and wide for his rough-house style of play.
Last year he was moved up to the senior ranks with Brooklin, Ont.
***
BECAUSE OF a knee operation, he got into only 12 games with Brooklin last year, but still managed to score 26 goals.
"I played forward and I was considered one of the better players," Doug admits modestly, "but right now, I'd rather play hockey."
Although a high scorer in the rugged old Indian game, Doug has been a goaltender in ice hockey since he was eight years old.
"I was playing in the school league, and the fella who coached the local minor team (8 to 12 years of age) had only one goaltender. My dad used to help him with the team, so he asked my dad if I could play goal for the team."
Since then, Doug's been kicking 'em out every winter, and he turned pro in 1965 with Oklahoma City. He was drafted by the Flyers last spring from the Boston Bruins behind Bernie Parent.
***
DOES HE miss the scoring he get so much of on the lacrosse field?
"Oh, sometimes," Doug said wistfully. "It all depends on how things are going."
Known for his acrobatic antics in the nets, Favell has been criticized at times for blowing his own horn a little too loudly.
"Having confidence in yourself is half the battle," Doug explained. "Of course, experience and quick reflexes are important, too."
"You defend on your defense 100 per cent," he continued. "You're only as good as your defense, and if the forwards are backchecking, it really helps the defense out."
***
THE FLYERS are currently way out ahead of the pack in the NHL's Western Division, and Favell sees no reason why they won't stay there.
"I think we're one of the best teams in the league, and we proved it last night (Wednesday)," he declared. "Whenever we've had a big game, one that we've had to win, we've always come through."
Although Doug is all ice hockey right now, he plans to head back to Canada when the season is over for another summer of lacrosse.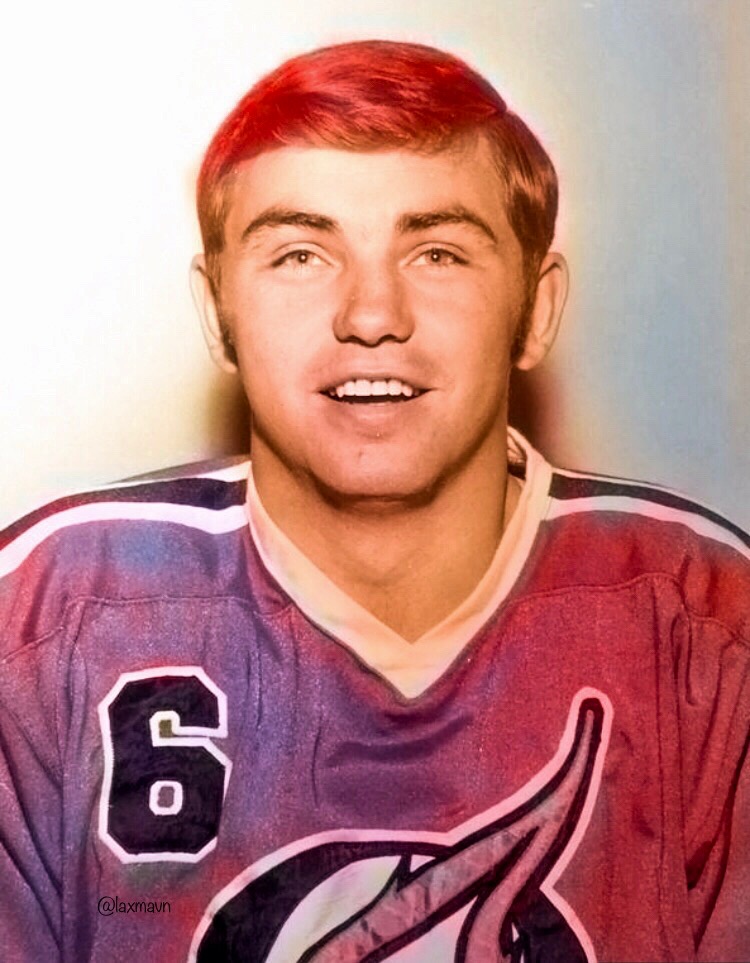 Stopping the other guys from scoring is okay, but nothing beats banging one through yourself.
(Delaware County Times, January 26, 1968)