VICTORIA (CP) – Professional lacrosse with a socialist flavor makes its west coast debut tonight.
The four-team Western Division of the National Lacrosse Association holds its curtain raiser with Victoria Shamrocks taking on the Portland Adanacs.
Each division club, the others are Vancouver Carls and New Westminster Salmonbellies, plays 19 home games and 19 away.
Pro lacrosse made its debut overnight when the lable was changed from amateur to professional.
Vancouver switched its home games to the new $6,000,000 Pacific Coliseum, and the former Coquitlam team was moved where the team plays in a modern $5,000,000 building. Victoria and and New Westminster play in their existing hockey arenas.
Although lacrosse has gone big-time in scope, and becomes a national sport that includes Eastern Division teams in Detroit, Toronto, Montreal and Peterborough—from a player standpoint, it's still amateur.
PART TIME
Those in the western division play on a part-time basis and have agreed to a profit-sharing arrangement.
"You could call it a mild form of socialism," said Western Division commissioner Tom English, an associate professor of law at University of British Columbia.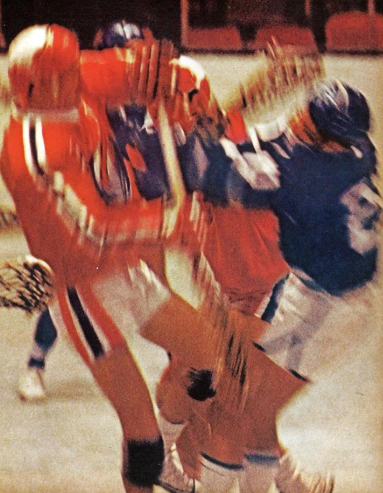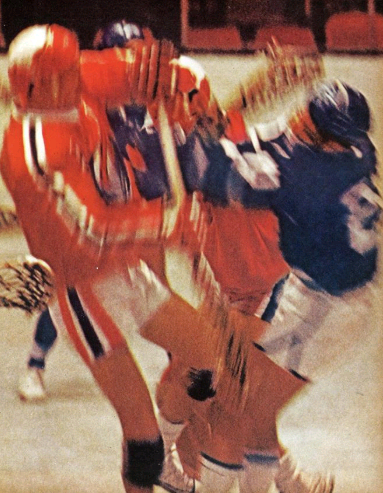 In the Eastern Division, however, several players are getting paid. Lacrosse has attracted such highly-paid hockey stars as John Ferguson of the Montreal Canadiens, Bob Pulford of the Toronto Maple Leafs, Doug Favell of the Philadelphia Flyers, Ken Hodge and Gerry Cheevers of the Boston Bruins.
Even though western players are not on a fixed salary, the game has drawn such Western Hockey League players as Jack Bionda, Tommy McVie and Larry McNabb.
Some hockey players, however, are having trouble getting permission to play from their winter bosses. The Boston Bruins have told Hodge and Cheevers they don't want them to play.
HOCKEY SHARES
But NHL teams in Canada have shown a more liberal attitude. Toronto Maple Leafs control the Toronto lacrosse franchise and there is a similar hockey link in Montreal. Detoit also has a hockey tie-in. The lacrosse franchise is controlled by Red Wings hockey boss Bruce Norris.
With hockey rinks not fully utilized during the summer lacrosse is viewed as a potential good tenant. If successful, expansion is considered for New York, Chicago, Philadelphia and Boston.
The association has permanent headquarters in Toronto and all 19 Toronto home games will be televised in the city live and in color.
"We have a lot to learn about the intrigue of professional sport but we feel we're catching on fast," said Bill Ellison, who heads the $1,000-a-share venture in Vancouver.
Tonight's game is expected to draw a big crowd to watch the home-team Shamrocks, which finished second in the old Inter-City Lacrosse League last year, before losing to league champions Vancouver in the western playoffs.
Shamrocks had finished last in the Inter-City League in the previous season but came back strongly in 1967 behind rookie coach Dave Unwin, who was named coach of the year, and sophomore Ranjit Dillon.
Dillon is back for another season after winning the scoring title with 24 goals and 71 assists. He was named the league's most valuable player and chosen to the all-star team on defence.
(Nanaimo Daily News, May 8, 1968)