Record-breaking NFL back hailed as possibly best ever
JOHN KEKIS
THE ASSOCIATED PRESS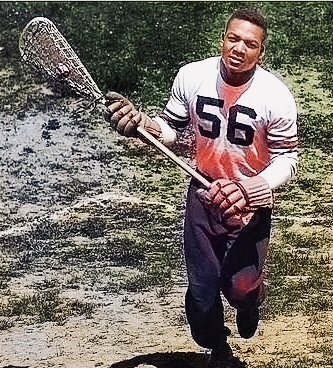 SYRACUSE—Heh-heh-heh
Jim Brown laughed that slow-but-sincere laugh, smiled that trademark little half smile, and went backward in time to the day he dominated his favorite sport—lacrosse.
"I loved the game," said Brown, 69. "We played because we loved it."
Nobody played it quite as well as Brown did a half-century ago.
Maybe ever.
Regarded by many as the greatest running back in the history of the NFL—where he intimidated foes with his icy glare, head-straightening stiff arms and bruising runs in nine record-breaking seasons with the Cleveland Browns—imagine him in his heyday playing lacrosse.
Imagine trying to stop a 6-foot-2, 235-pound tower of muscle in a sport where players wear virtually no protection, except gloves and a helmet, and most stars usually weigh in at around 160—soaking wet.
Heh-heh-heh.
"I can't even imagine playing against a guy like that on the football field with his pure athleticism and aggression," said Brian Crockett, who led the Orange lacrosse team in scoring this season. "I can't even imagine him on a lacrosse field. No one could keep up with that guy. Fortunately for us, there aren't too many lacrosse players with that build and that athleticism. Otherwise, we'd all be out of a job."
Brown, the only person to be inducted into the hall of fame for pro football, college football and lacrosse, was an All-Star lacrosse midfielder at Manhasset High School on Long Island.
Complete player
"Lacrosse was his sport," said 92-year old Ed Walsh, Brown's football coach in high school. "He had all the skills, and his skills were better than all the opponents.
"I had a college lacrosse coach who came to watch him play when he was a junior in the big game against Garden City," Walsh said. "I took this coach to the sidelines and stayed with him so he could do anything he wanted to. All he did was write notes, and when the game was over, I said, 'Any way you could sum up what you wrote and tell me?'
"He said, 'Jim Brown is better than anybody on our college team and better than anybody we coach against."
Thanks to the efforts of Manhasset attorney Ken Molloy, who played lacrosse at Syracuse, Brown enrolled in 1953 and immediately came under the eye of Orange coach Roy Simmons Sr., also an assistant to football coach Ben Schwartzwalder. One of the few black athletes on campus, Brown struggled for recognition.
"Ben told my dad about this great athlete, and Ben Schwartzwalder was not impressed," said Roy Simmons Jr., an honorable mention All-American attackman on Syracuse's unbeaten 1957 lacrosse team. "Jim didn't play lacrosse his freshman year because he had to prove to the football coach that he deserved a scholarship. He was a walk-on in football, so he had to bust his butt in fall ball and spring ball to prove that he deserved a football scholarship."
Latecomer to SU lacrosse
Because Brown concentrated so much on football, was the second-leading scorer on the basketball team and had also starred in track and field in the discus, high jump and sprints, he didn't play much lacrosse until his junior year. Still, it didn't take long for opponents to notice his prowess.
Brown left an indelible impression on Lloyd Elm, who played on a team from the nearby Onondaga Indian Nation, where the Native American sport is a way of life.
"He was probably the truest All-American lacrosse player I've ever seen," the 70-year-old Elm said. "He wasn't just big and fast. He shot underhanded, left-handed, right-handed, and he passed and shot over his shoulders, the way the great players today play. And he was so damned fast in the open field, no one could touch him. You could hit him and no one could move him. He would just knock people out of the way. When he'd run with the ball, he'd use his left arm as a sledgehammer. If you had five guys, you might have a chance at knocking him down."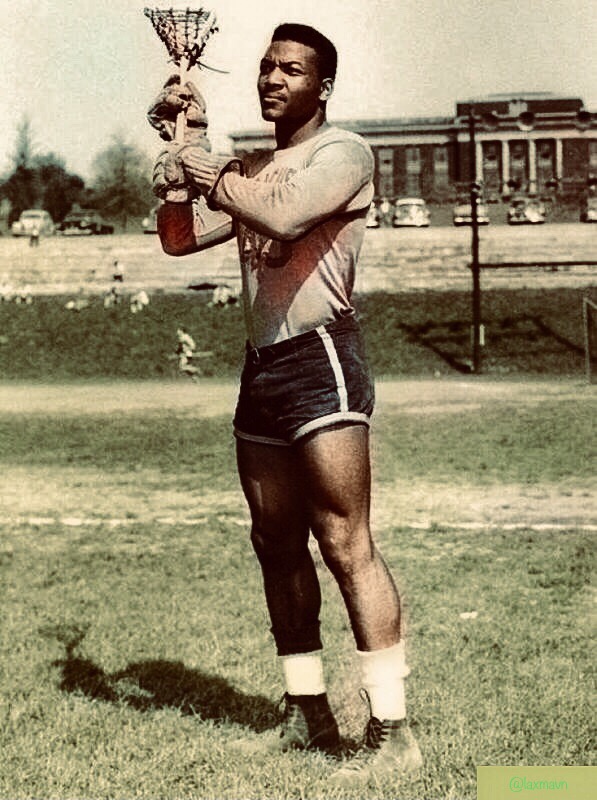 Heh-heh-heh.
"I was bigger than everybody, I had a lot of size," Brown said nonchalantly. "But, see, I came from Long Island, so I had a lot of experience at the stick. I played in junior high school, then I played in high school. The technical aspect of the game was my forte. I had all that experience, then I had strength and I was in good condition."
And everyone marveled at his skill, especially his teammates.
"I wish you could have seen him at faceoffs," said Jim Ridlon, an honorable mention All-American defenseman on that 1957 team. "He'd just run right over them. He must have won every faceoff."
"He was just as good as he had to be, just like he was in football," Roy Simmons Jr. said. "The pros in football used to come here and ask Ben Schwartzwalder, 'How fast does he run?' Ben said, 'As fast as he has to.' He always ran as fast as he had to, never any faster. To this day, no one knows how fast his 40 was, or how quick he was, or how strong he was. He just did what he had to do."
According to statistics from U.S. Lacrosse, Brown scored 30 goals as a junior and followed that with 43 goals and 21 assists as a first team All-America midfielder in 1957, his senior season. Syracuse went 10-0, completing its first perfect season since 1922 with an 8-6 victory over archrival Army.
The season-ending triumph snapped an 18-game losing streak against the Black Knights and provided Brown with a crowning moment. Current coach John Desko has a large black-and-white photo hanging from his office wall that shows Brown in that game, and his uniform is a little bit different from those of his teammates.
"He was at a track meet that morning. We beat Colgate, our nemesis in track, by 13 points, and Jim scored 13 points (in three events)," said Roy Simmons Jr., who succeeded his father as coach in 1971 and stayed for 28 years, building the Orange into a lacrosse powerhouse. "He didn't have time to change his shorts. He just pulled his jersey and ran back out (of the locker room), grabbed his stick just in time to start the game."
Besieged by autograph seekers, Brown walked out of Archbold Stadium all alone that day.
"I can remember him walking across the field and up the stairs," Roy Simmons Jr. said. "He turned around and waved good-bye. It was a very emotional picture of Jim standing at the top of the stadium waving good-bye."
Brown played one more game that year, and it may have been his greatest moment as a lacrosse player. He scored five goals in one half against the nation's top players in the Collegiate North-South All-Star Game.
"I was just a big guy running down with a big, deep pocket and little short stick putting it against my chest," Brown said.
[CrosseCheck ed. note—Brown was not being modest; that was his style. Field lacrosse rules were later changed to require force players to keep the arm, stick and ball in motion at all times, giving opponents more of a chance to poke it away. This is still unofficially known as the "Jim Brown Rule."]
Heh-heh-heh.
(Rochester Democrat and Chronicle, May 26, 2005)