EDITOR'S NOTES: Crossecheck gives credit to Claude Jacques for finding the original source of this story. We found the second related article to add to this story....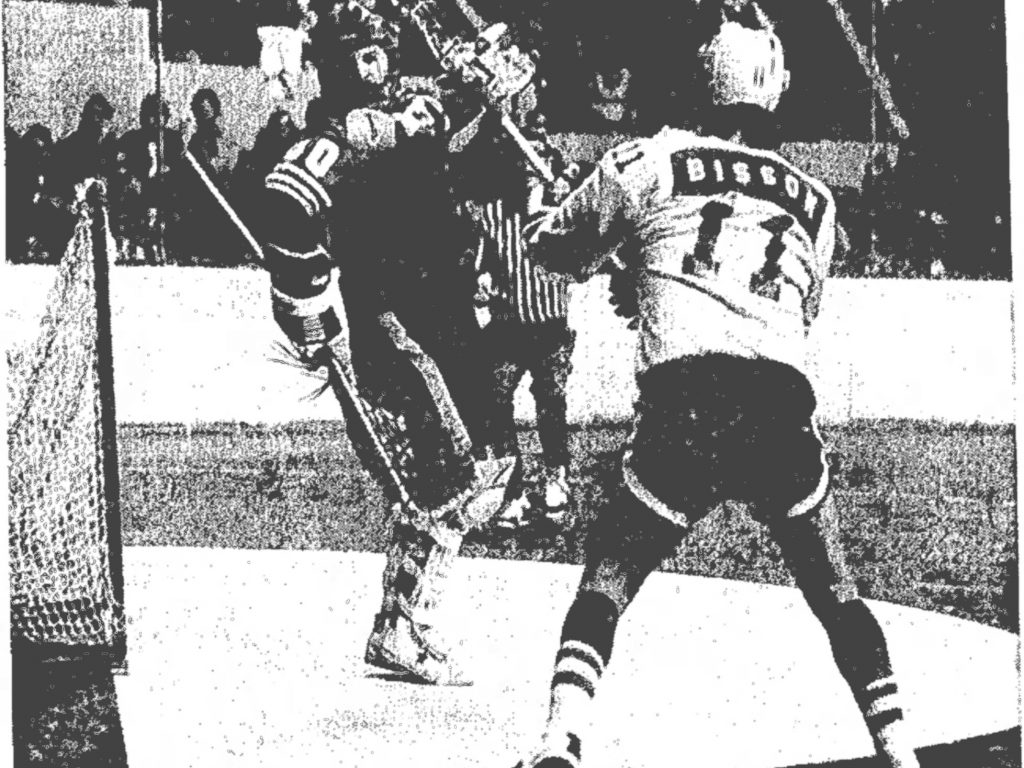 Long Island's Rick Bisson puts one past Boston goaltender Ted Gernaey in Boston's home opener...
Bolts bow in debut..... By RICK HARRISON Sun Staff
BOSTON — The air at Boston Garden was alive with anticipation last night, as pro box lacrosse made its New England debut with the Boston Bolts' National Lacrosse League home opener.
The good sized crowd of 8,724 people, many of whom know as much about box lacrosse as they do about Martian landscape, were buzzing like youngsters awaiting their first glimpse of the evergreen tree on Christmas morning. Three hours later, shortly alter 11 pm. to be exact, It was all over. The visiting New York Tomahawks had spoiled the Bolts' local debut with a 19-17 overtime victory, but the first game fans were generally enthusiastic and apprecative.
As billed, pro box lacrosse Is basically hardwood replica of ice hockey. But it is faster, more physical overall with lots of body-bumping and stick-slashing below the shoulders, and lhe rapid-fire scoring explosions make any lead per­ilous.
After falling behind midway through the first period, lhe Bolts netted live of the last six goals and grabbed a 7-5 edge after one. The gap widened to 10-5 early in the second 20-minute stanza, but New York whipped home five unans­wered tallies and eventually tied it 11-11.

THE RIVALS traded goals in the third frame, before the Tomahawks pulled their goa­lie and forced overtime with just 28 seconds to play. The Green and Gold clad Boston crew couldn't maintain the pace in the 10-minute over­time, as New York held a 3-1 scoring edge for the win.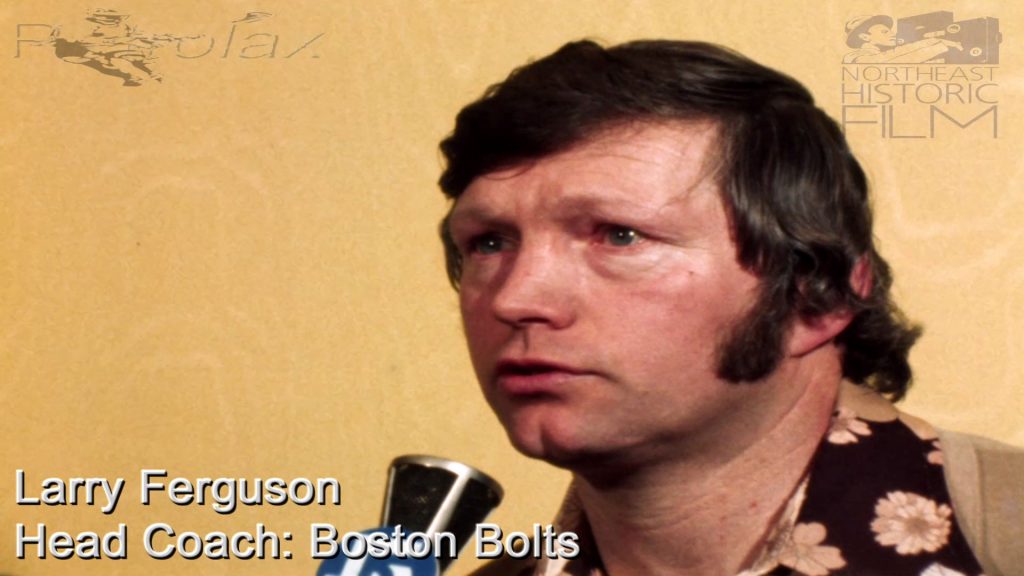 "We were checking well in the first period noted Bolts' Coach Larry Ferguson, whose club is now 2-1 overall following earlier road vic­tories over the Quebec Caribous (14-12) and Montreal Quebecois (17-16). "We were also win­ning the faceoffs and picking up lhe majority of the loose balls, both important in this game.
"But in the second period we had a letdown, losing that five-goal lead. We switched lo a defensive brand or play instead of continuing wilh what had been successful," admitted Ferguson.
The Tomahawks balled back by using a devastating basketball-like fast break, with either goalie Merv Marshall or a defenseman lofting quick and accurate outlet passes lo a New York player bolting away.
"This is about as wide-open a game as you'll see," explained Ferguson "Neither team played very good defense, particularly for lhe first period and a half.

"NEW YORK USES the fast break quite fre­quently. It's risky, but you can score a lot of goals that way. As soon as your players would wind up for a shot, one of their guys would take off. We were robbed without anyone back numerous times," observed the Bolts' coach.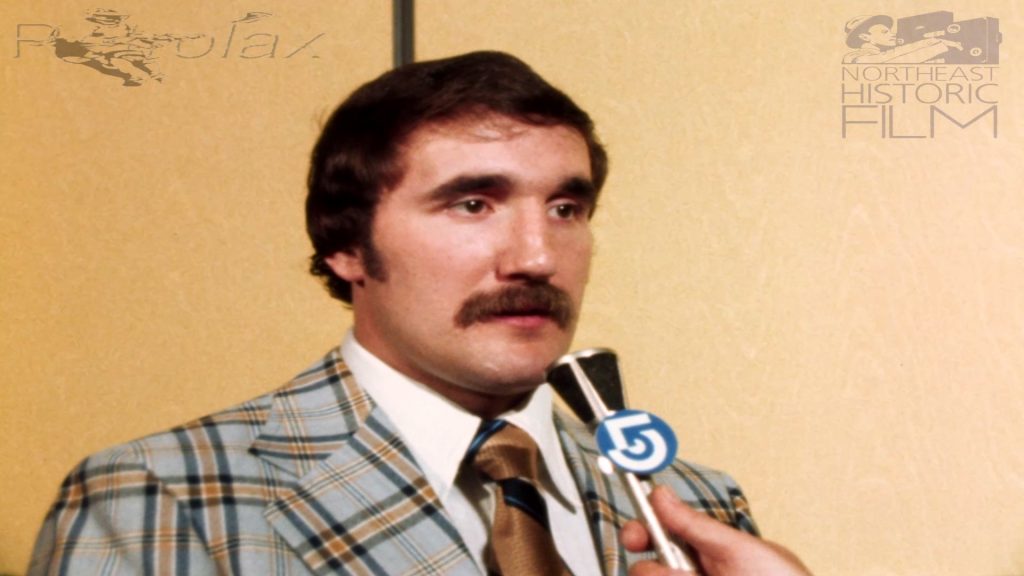 The Bolts' No. 1 draft choice, Al '"Lurch" Lewthwaite. has already stamped himself as the fans' favorite. By midway through the first peri­od, following several hard checks and the mere ominous presence of his 6'2″, 220 pound frame on defense, Big Al was drawing raves from all quarters.
He finished as Boston's top scorer for the evening with a three-goal "hat trick" and three assists, Adding two goals, apiece for the Bolts were John Allen, Ivan "The Terrible" Thomp­son, Guy Legault and Joe McCrea.
"I'd rather start with a win at home " offered the amicable Lewthwaite in the dressing room. "Some people are billing us as the equivalent to pro wrestling or roller derby," sputtered Big Al. "That's ridiculous and I hate it! This is a hard, physical game, but I hope the violence angle will be played down."
LEWTHWAITE, 24, enjoyed lhe crowd and rewarded them with his version of the "Moose Dupont shuffle" following each of his three goals.
"I started that as an amateur," grinned Lurch. "My old coach bet me I wouldn't dare do it in front of the crowd. But everyone liked it so I've kept it up."
Lewthwaite was amazed when 14,124 fans crammed the Quebec Coiliseum for the Bolts-Caribous game last week, and the Boston throng also thrilled him.
"As amateurs most of us were lucky to play before 3,000 people at the most," explained Big Al. "The crowds here are bigger and louder than in Canada, but that's to be expected be­cause it's all new to them."
The Bolts bused back from Montreal following last Friday night's game, and already the effects of an arduous 56-game schedule are af­fecting the players.
"I've never played more than 34 games in one year,'' related Lewthwaite. "It's a tiring game with all the runniing, but except for a chronic sore elbow I'm doing okay so far."
The game wasn't four minutes old when Bolts' goalie Bob McCready and the Toma­hawks' Ted Grieves became embroiled in a stick-swinging, fist-flinging exchange. While fights are a frequent part of the action, both were ejected because they used their sticks.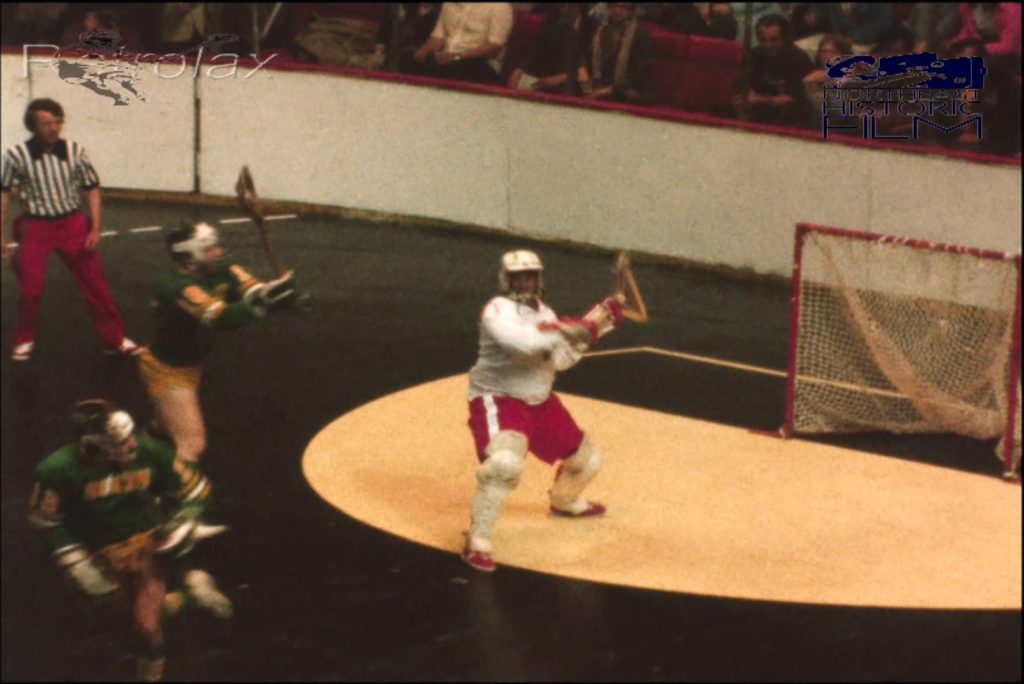 TED GERNAEY came to tend net for Boston, and "Double-A" joined New York's Merv Marshall with some excellent saves. The Bolts were, credited with a wide 66-H shooting spread, but Marshall made 49 saves and also had one assist.

'Marshall is a good roaming goalie (he moved up to play the point several times when , New York was shorthanded and in control)," commented Ferguson. "But you really didn't get lo see our guy McCready. He invented that slyle. lie sometimes breaks out of the zone by himself."

Ferguson admits to often playing hunches with his goaltenders. "I'll start the one i feel is the hottest. Both are about equal," he stated.

The New York scoring was more concentrat­ed than Boston's, as hat trlcks were registered by blond bomber Jan Magee, Glen Neuman and Paul Warden. Adding two apiece were Al Gordaneer. Kevin Parsons and 6'3". 220-pound Doug Hayes who sent the game into OT with the last- minute goal.

The Bolts host the defending NLL regular­ season champion Philadelphia Wings tomorrow (3 PM ) at the Garden, and you can expect it to be rough.
Bolts hit town..hit's the word
By John Powers Globe Staff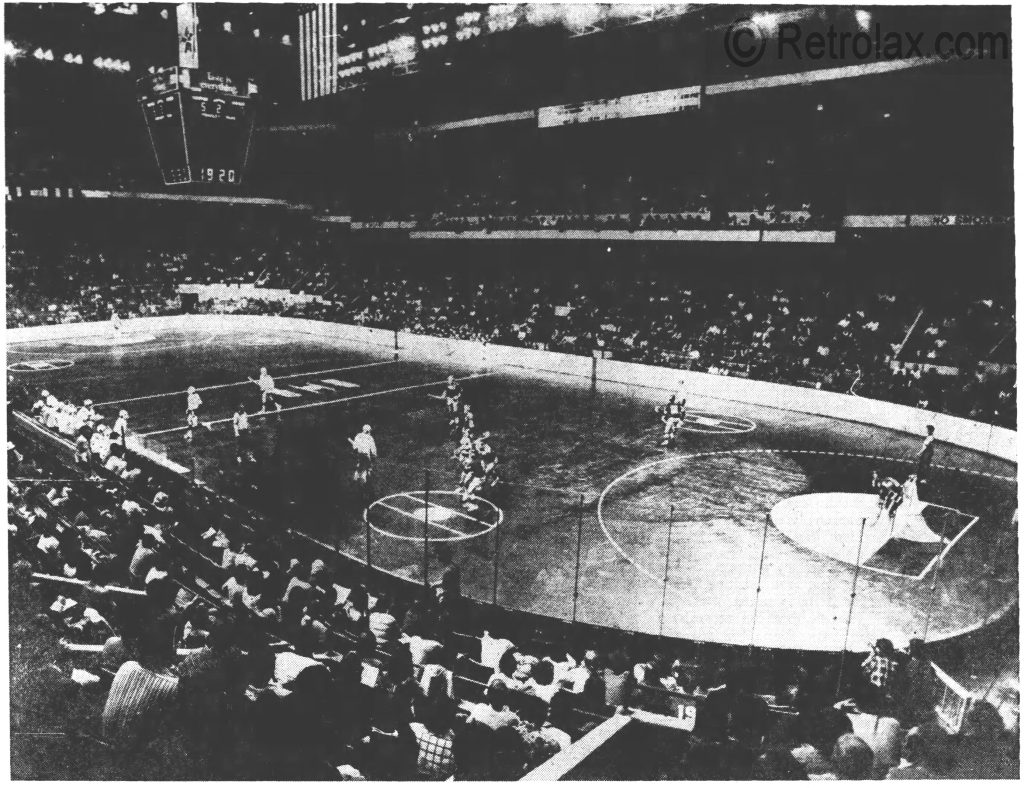 The man, nursing a beer down­stairs in The Horse, was mystified. The spread for the Bolts' home opener last night was Boston by 3 goals, and the man, who bets every Garden event from Celtics-Bullets to Matignon-Pittsfield hockey, was confused.
"Who's good?", he muttered. "How do you bet this game?-Who ARE these guys?"
It was a confusing night for the regulars. Timekeeper Tony Nota had td check with his colleagues in Montreal about penalties, timeouts, overtimes. John Kiley, fingering un­familiar chords, had to finesse his way through 'God Bless America'. The Star-Spangled Banner wasn't on the agenda. Fans stared at pro­grams that had rows of unfamiliar pictures, guys with mustaches and false teeth and names like Ignatczyk and Lewthwaite and Gernaey.
The NLL — as in National La­crosse League — was here, at a $6.50 top. The newest instant fran­chise had arrived, and the atmo­sphere was partly carnival, partly Broadway opening night.
Downstairs, in the Garden press room, Bolts' directors circulated in business suits, optimistic, confident. Jim Herscot, the Harvard-educated president, shook hands all around. "Enjoy it," he would say.
Whenever anyone talked about instant franchises, Herscot would bristle. He spent less than three months fitting the organization to­gether, but it hadn't been quite like starting from scratch. Herscot and his backers had purchased the rights to the Rochester franchise and the players from Toronto. Everything else, though, was new.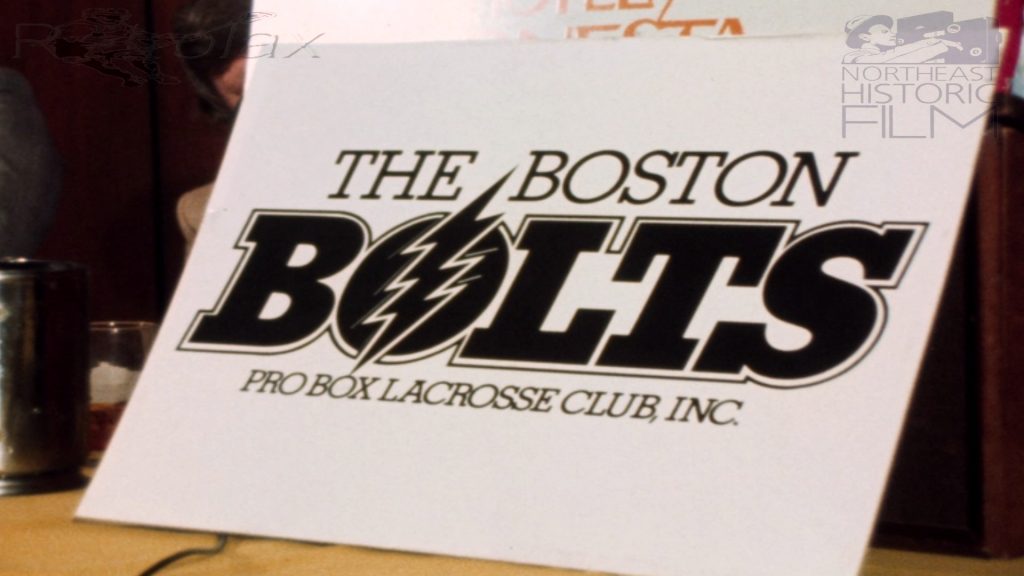 The name. The colors — green, gold and white. A suite at 150 Cau­seway St. with Xerox machines, publicity photos and a Brine's la­crosse stick attached to the door. And an entire front office — assis­tant general manager, sales man­ager, marketing director, two public relations men, an office manager.
The Bolts would be major-league from the opening faceoff. There would be a Newbury St. office for handling tickets and accounting. The Garden would be rented for 28 games, from April through Septem­ber. There would be Scotch and Portuguese wine in the press room, and lasagna for dinner. A 10-minute cooling-off period after the game. And a whole line of official Boston Bolts souvenirs — T-shirts, neckties, decals, pendants, glassware, mugs, lacrosse sticks.
The whole package was ready last night, but 50 minutes before the opening faceoff with the New York- Long Island Tomahawks, the Gar­den was still nearly empty. The only sounds were the thump of Indian rubber against wooden boards, and the muted whirr of balls nestling into leather crosses.
The early arrivals wandered through the aisles tentatively, gaz­ing at pre-game warmups as though they were some sort of alien ritual. It was the same building — the beer stands were open, the scoreboard lighted, the ushers unchanged.
But on the floor, instead of Bruin ice or Celtic hardwood parquet, was the old maple dancing surface from Fireman's Balls three decades ago. It had been painted dark green with yellow markings, and a handful of hulking figures in green jerseys were slamming balls against it from awkward angles.
Occasionally, a Bolt would fling a ball into the stands. A kid in dun­garees would grab it, and bystand­ers would surround him, watching intently as he turned it over in his hands, as if inspecting a dinosaur egg.
Footage from the Boston Bolts home opener against the Long Island Tomahawks, played at the Boston Garden!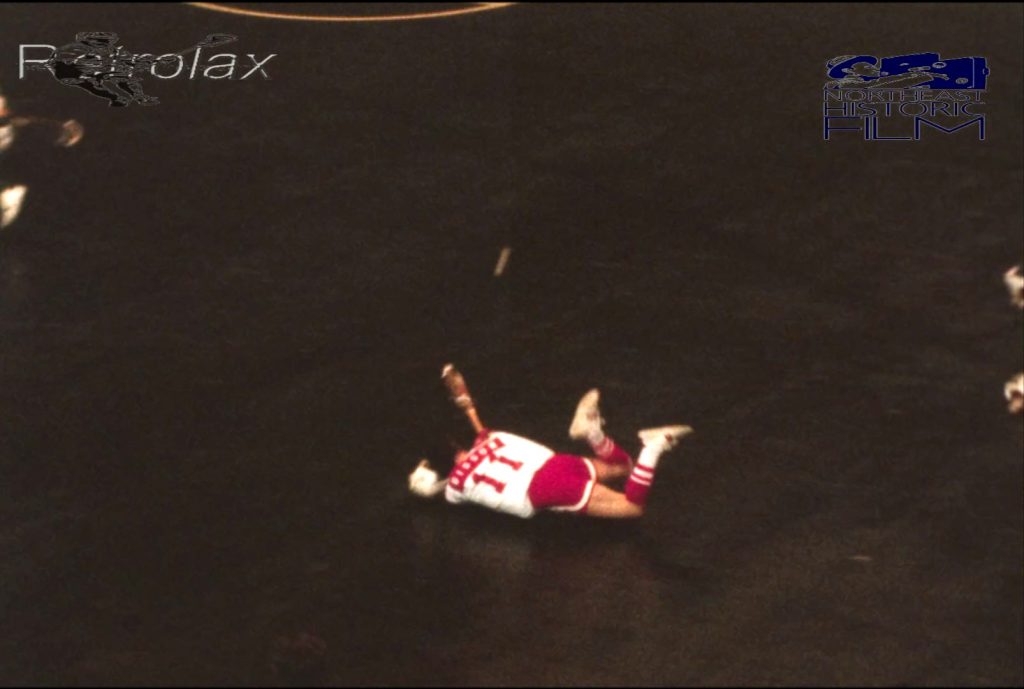 Herscot is crazy, an outsider thought. He has brought a game no­body understands, played by ob­scure Canadians, into a steambath of a building during the worst time of the year. Didn't anybody tell him about the Shamrock Rovers? The Boxers? The Whalers? The Beacons? The Lobsters? This was at 7:30 p.m.
Twenty-five minutes later, 8724 people had poured through the lobby turnstiles — all but 1000 pay­ing customers — and they were cheering goalie Ted Gernaey as he ran under a huge white spotlight. Three minutes later, they were screaming as Tomahawk defender Ted Greves and Bolt goalie Bob Mc­Cready slashed at each other with thick wooden sticks. They roared when Bill Squires crashed, into To­mahawk goalie Merv Marshall. Within moments, they were instant experts, and Herscot was beginning to look like a prophet.
Granted, a lot of it was confus­ing. Down there by the left wing boards,'where the fans were accus­tomed to watching Wayne Cashman roam, they saw Al Lewthwaite doing a post-goal shuffle — his chubby legs pumping up and down, his helmeted head jiggling wildly.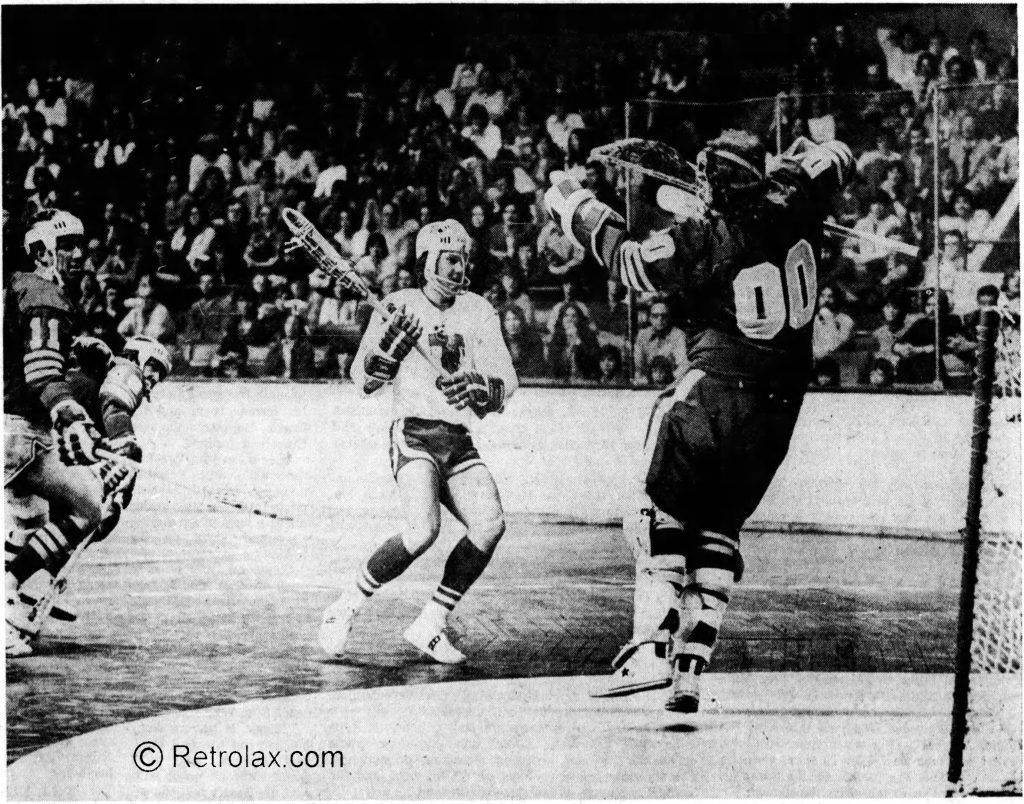 And here was a man they were supposed to call "Ivan the Terrible" who wore big horn-rimmed glasses under his headgear. The nicknames didn't fit at all. You expected The Turk, The Chief. You were pre-sented with Goofy Kastelein. Alpha­bet Ignatczyk. Lurch Lewthwaite. Sparrow Murdock.
But somehow, it didn't matter. The crowd — a curious mixture of suburban prepster, college lacrosse jock, Bruins diehard and seventh­grader — liked it as a basic gut level.
They didn't mind that the dollar program didn't have a Bolts numerical roster, or that even the league commissioner couldn't decide whether the Tomahawks considered Long Island or New York their home base. The game was the thing.
The game — or more precisely, the violence. The Bolts' front office,which played it up on promotional radio spots, played it down last night, but nobody is kidding anybo­dy.
The selling point of box lacrosse is that it takes the spectator beyond the fringe of ice hockey. The gallery denizen enjoys a solid open-ice check immensely, but somewhere in his deepest emotional recesses, he wishes Bobby Schmautz could break his stick across Dave Schultz's shoulders. Last night, he could see that fantasy realized.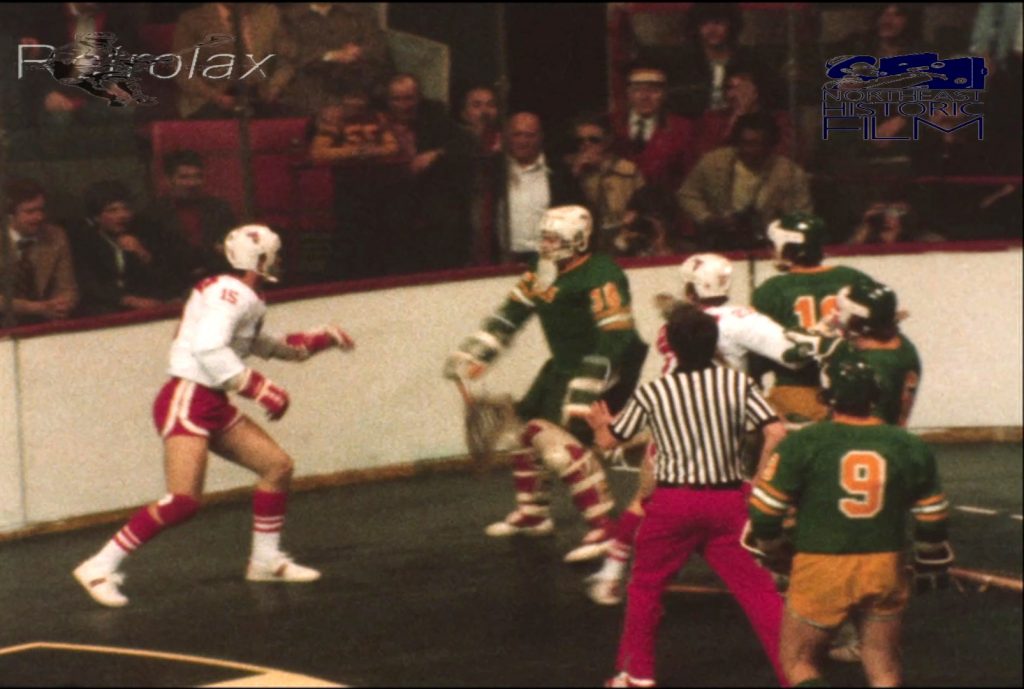 By 8:15 p.m., two players had al­ready been given slashing minors, fighting majors and game miscon­ducts from a stickfight, and it had brought forth the same gleeful, ex­pectant roar one heard when O'Reil­ly and Magnuson went at it in the Cup playoffs.
The fans appreciated the clever behind-the-back shot, the thunder­ing fast break. But they relished a Bolt foot stomping on a Tomahawk back, a two-hander upside the head. The rules, the strategies, the fine points were hazily comprehended at the Garden last night. The primal appeal was injected directly into the bloodstream.
In Montreal and Quebec, lacrosse is the national sport. The Philadel­phia Wings sold out the Spectrum the night after the Flyers won the Cup last May. They loved the Boston Bolts at the Garden last night.
But will they love them when the novelty wears off? Will they come tomorrow night, when the Red Sox are playing under the lights at Fenway and the Celtics and Bullets are on home TV? Or in August, when the temperature in the Garden balcony soars past 90 and shirts are glued to clammy backs?
Jim Herscot is betting his pins­tripe suit they will.