Don't think the Wings haven't noticed. Two "Lacrosse Sticks Nights" needed only 15 minutes to sell out 2,000 sticks on each of the two evenings, respectively. Adults as well as youngsters happily toted their new prized possessions home in hopes of mirroring their new heroes a la Larry Lloyd and John Grant.
Also, the response at various Wings' lacrosse clinics through­out the city has been gratifying.
With such enthusiasm, it shouldn't be very long before one finds oneself dodging bouncing lacrosse balls on the way to and from work each day.
But what are the real reasons for the marked lacrosse fever in the Delaware Valley? Is it, as some have maintained, the ele­ment of violence found in the sport?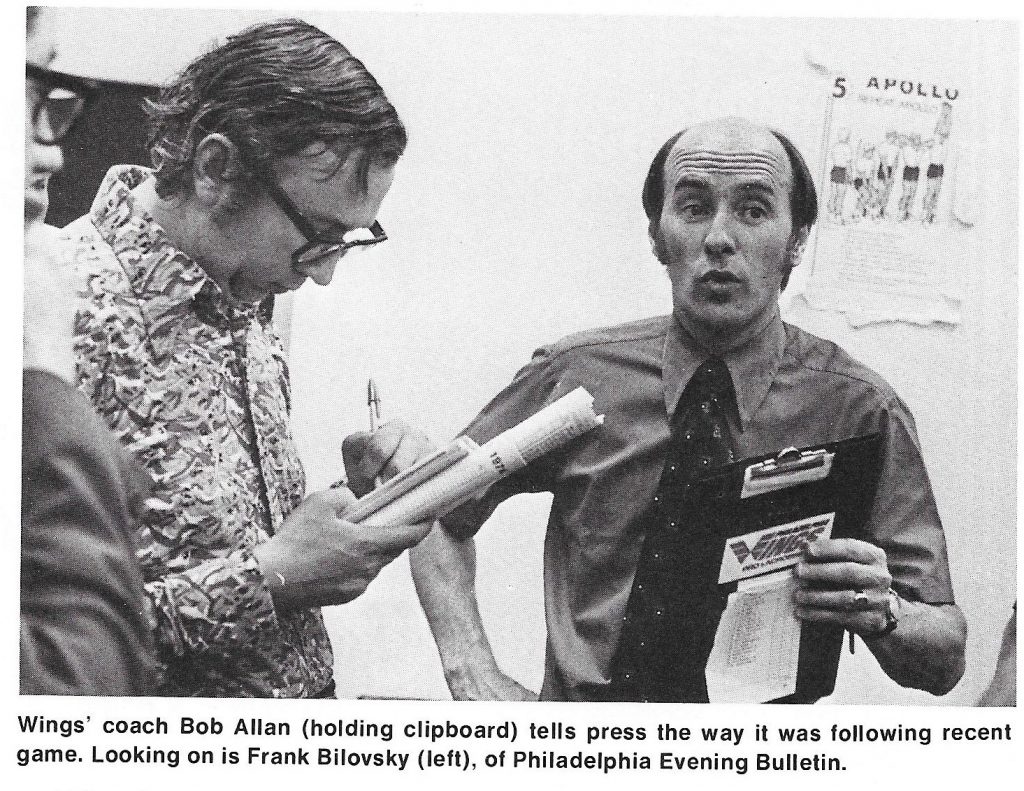 Wings' coach Bobby Allan doesn't think so. On the contrary, the soft-spoken tutor feels it's the other way around. "I don't feel we have more vio­lence than any other sport," he explained. "Lacrosse is really a concentration in finesse and skill. An experienced eye can pick up the pin-point passing maneuvers involved as most of our fans have already seen. Setting up offenses, defenses and screens is much more essential to us than a toe- to-toe confrontation."
"Plays such as those require more skill, patience and discipline than just going out on the court looking for a fight," concluded Allan.
The point has certainly been drilled home to such a degree that forwards Larry Lloyd and big John Grant are currently among the NLL's scoring kingpins. "We are still basically in an introductory phase of the sport in Philadelphia," continued Allan. "However, we have found that when one fan comes out he will usually bring a friend the next time. The understanding of la­crosse's nuances seems to be causing this snowball effect. The more a fan comes, the more he becomes caught up in what we're trying to do. The response has been overwhelming."
And how do the Wings them­selves feel about their hit with the fans?
"It makes you want to play your heart out," said Grant. "The Flyers really gave these people something to get excited about and we would love to carry on that tradition."
"They're the greatest people in the world," added injured Captain Carm Collins. "They're right with you every step of the way and their support makes you dig down for that extra effort time and time again."
Goalie Wayne Platt probably summed it up best, saying: "When I hear that crowd roaring 'Bernie, Bernie' after a save—even though you're already churning out 120%, it makes you scratch out another 20% from somewhere just to show them how much you appreciate it."
What a perfect two-sided love affair. This could be the start of something really BIG!