By James H. Jackson: Baltimore Sun; January 5th, 1989
The Major Indoor Lacrosse League will open Its third season Saturday, when the Washington Wave plays one of two new teams in the league, the Detroit Turbos, in Joe Louis Arena at 8 p.m.
The New England Blazers, who will play their home games at the Centrum in Worcester. Mass., also will compete in the six-team league, which will stage a 24-game regular season that will end March 19. One playoff game and a championship game also will be played.
Other teams In the MILL are the defending champion New York Saints, who have moved from New Jersey's Meadowlands Arena to the Nassau Coliseum in Long Island, N.Y.; the Baltimore Thunder, which won the first league title and plays at the Baltimore Arena: and the Philadelphia Wings, who draw the league's largest crowds to the Spectrum.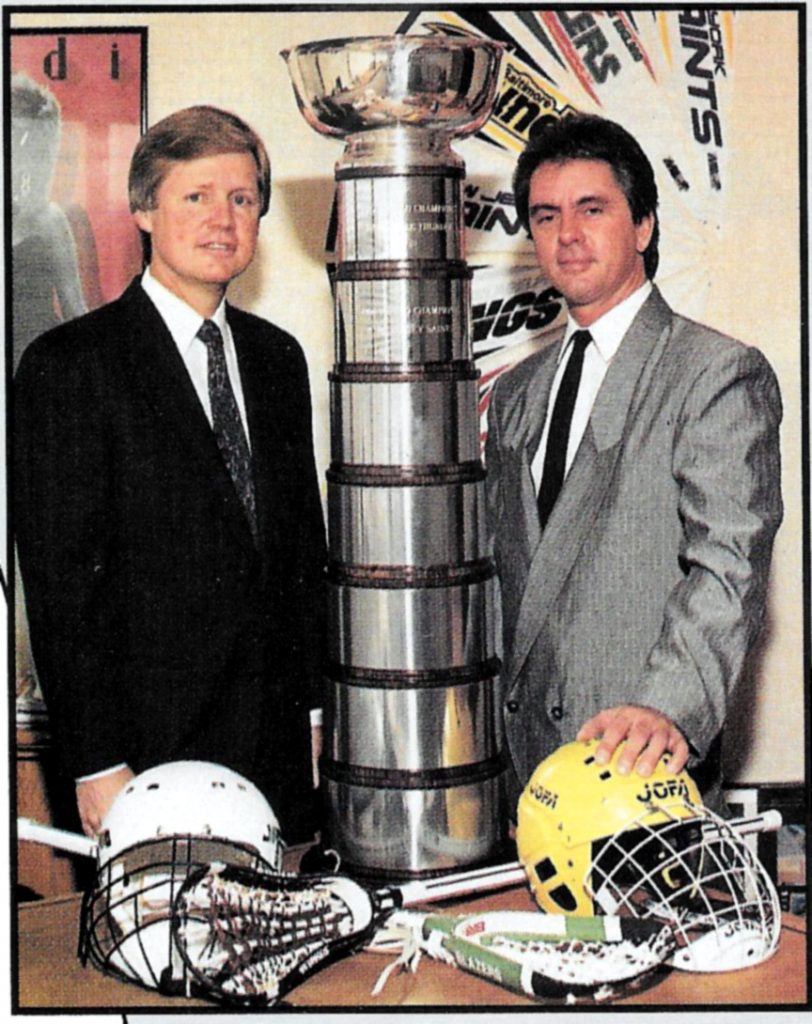 "I look for this to be a make-or-break season for us." said Russ Cline, one of the founders and owners of the MILL. "We re moving ahead, and we re going to find out how far we can go. Everything looks very positive, and I'm very confident that we re going to make it."
He said great interest has been shown in the Detroit area, where more than 1,000 season tickets have been sold.
"I know that doesn't sound like much when you con­sider it against professional baseball, football and hock­ey. but for us it's very significant," Cline said. "Detroit now is second only to Philadelphia, where the Wings have sold 2,500 season tickets."
During last year's 18-game season, the MILL played before 138,985 fans, an average of 7,721. That was up from the first year, when the four-team league drew 124,536 to 18 games.
"We look for expanded attendance and interest in our league," said Cline. "We had a television contract with 17 markets around the country, including New England Sports Network, Home Sports Entertainment (Dallas), SportsChannel [New York] and Sportvision (Chicago) last year and look for more markets this year, including Home Team Sports. We should be in 16 million homes across the nation."

The Thunder, coached by John Stewart, won't open its season until Jan. 15 at the Capital Centre in Land- over against the Wave. Cline said this will be a pivotal year for the Thunder.
"Baltimore is a hotbed of lacrosse, but the crowds haven't been up to expectation the first two years," he said. "I know the Thunder had poor dates, but this year there will be four Saturday-night games, and the Thun­der should do better crowd-wise. Baltimore will have an exciting team this year. 1 think this is the year we'll find out about Baltimore and indoor lacrosse."
The Thunder, which averaged fewer than 6,000 fans last year after averaging 6.700 two years ago. has scrim­maged Detroit and Washington during the preseason, and general manager Darrell Russell said he has insight into both teams, which will begin the season Saturday.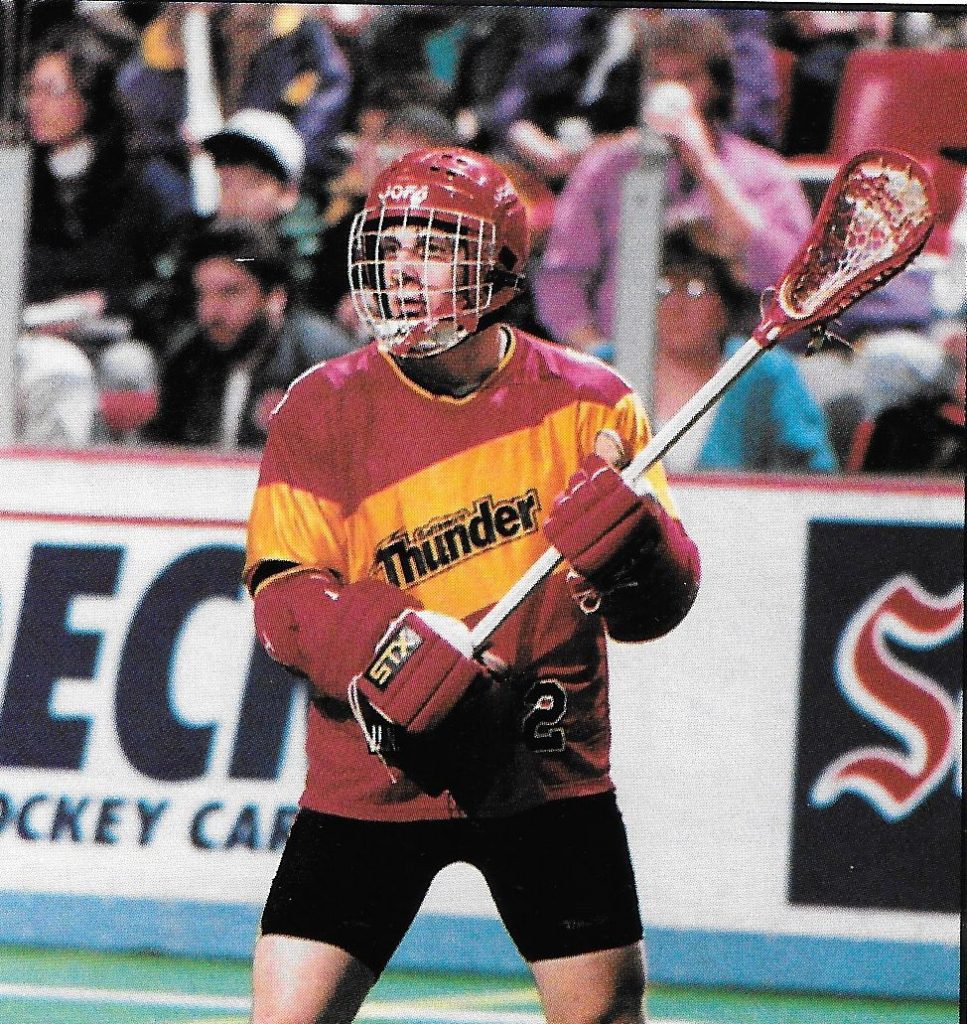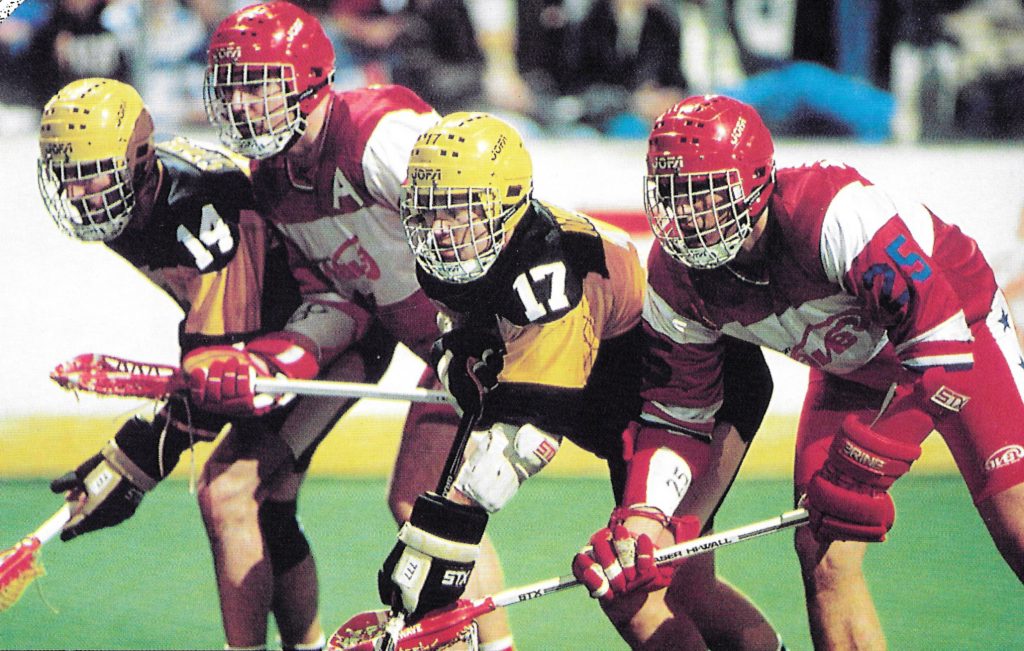 "Washington is a very strong team." said Russell, who was commissioner of the MILL last year. "The Wave is every bit as good as they were a year ago, when they lost to New Jersey in the championship game. The Wave is especially strong in the goal, where they have Jimmy Beardmore. He is even better than he was a year ago. He gives the Wave a different dimension with his play out of the goal.
"Against us, he just shut us down in the second half. Washington didn't blow us out, and Beardmore was the difference in the game. He is a super player. Washington also has excellent speed and ball movement. The Wave made several deals during the off-season that improved them."
Among the Wave leaders are the Lamon brothers. Pat, John and Chris, and the Gold brothers, Joe and Mark. Also. Kirk Thurston, Pat Hanley, Tom Worsted and Chris O'Brien, acquired from the Thunder for goalie Bruce Winand, give the Wave offensive firepower.
"We have a good mixture of veterans and rookies on this year's club," said Wave coach Glenn Little. "Our strengths will be a strong running attack and our overall experience. We have good athletes and several three- year players. The combination of Jimmy Beardmore and Tim Hastings in the goal should make us strong defen­sively."
The Turbos, a Martinello family enterprise, are an unknown quantity so far. They are coached by Medo Martinello, with Wayne Martinello as general manager. Ron Martinello, who played at Maryland, and Tim Marti­nello, who played at North Carolina State, play for De­troit.
"Detroit didn't appear as strong as Washington when we scrimmaged them," Russell said, "but you never know who the Martinellos will pick up from the Canadian box league. They have a lot of players on their roster from Ontario, and that's the home of box lacrosse in Canada.
"I would think that the Turbos still have a way to go to be competitive with a team like Washington. They have a good goalie. Ted Sawicki, who played in Canada, and Gregg Mathews, the faceoff man from Johns Hopkins."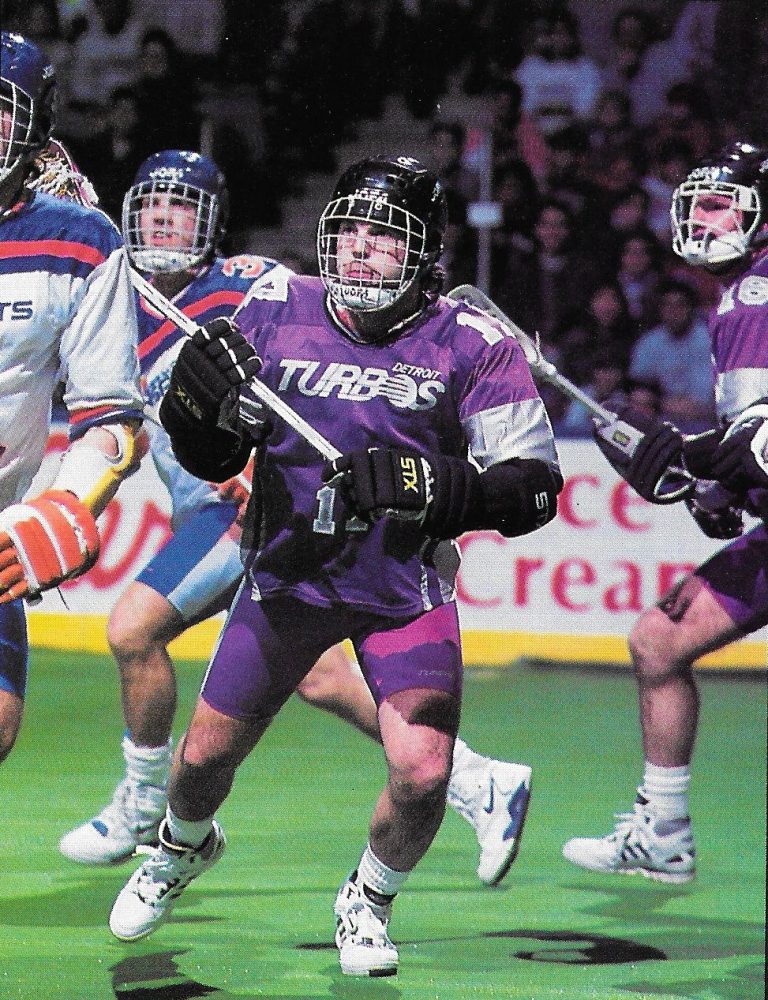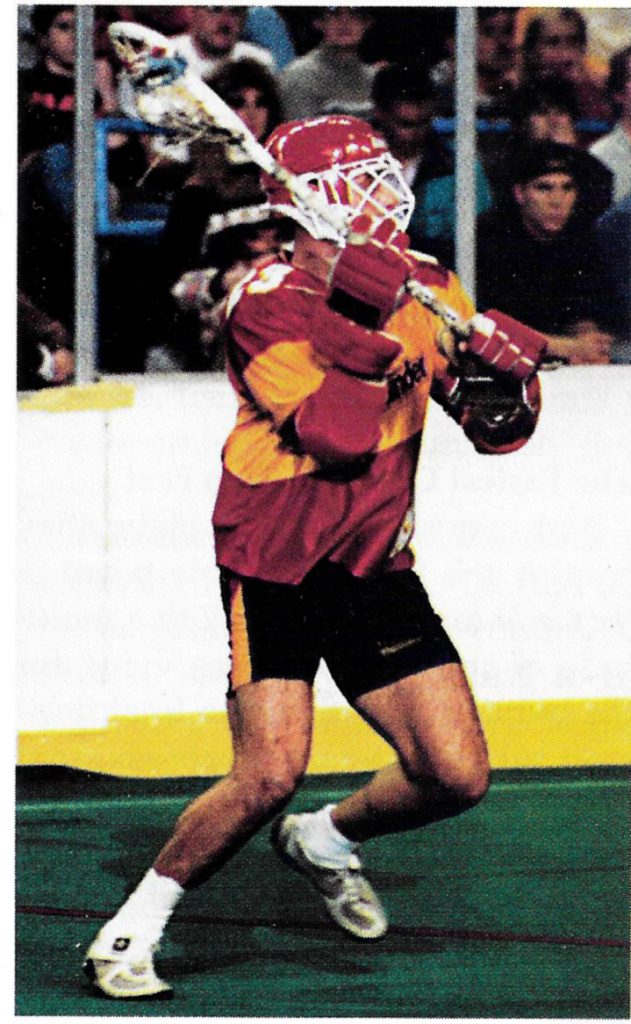 Russell says the Thunder is still a question mark. "We are really in the dark because of the big turnover in players we've had this season." he said. "We only have four players who were with us when we won the cham­pionship two years ago, and we have 14 first-year play­ers on our roster. We got rid of a lot of the older, slower guys and replaced them with younger, quicker legs in an attempt to get more speed, so we can be competitive with teams like New York. Washington and Philadelphia.
"We have some excellent young people like Pat and Tim Welsh from North Carolina. John Nostrant from Washington College, Jeff Jackson from Hampden-Syd­ney, Brooks Sweet, who is a veteran player but is a rookie in this league. Tim Delaney from Cortland State, and Brian Lemon, a Canadian box player who is a graduate student at Western Maryland College.
"Our biggest question mark is in the goal, where we have rookie Tom McClellan, from Loyola. Bruce Winand. who we picked up from Washington, and Tom Manos, who was with us last year. Right now. the battle for the starting goalie job is very competitive."
Key players returning from last year include Jim Darcangelo, Peter Jenkins, Butch Marino. Chuck Muir and Glenn Norris, plus Ricky Sowell, who was acquired from Washington in a deal that sent Mark Hahn, the Thunder's leading scorer, to Philadelphia. The Wings in turn sent Pat Lamon to Washington to join his brothers.
The schedule:
JANUARY
7—Washington at Detroit. 8 p.m.; 14—New England at Philadelphia, 8 p.m 15 —Baltimore at Washington. 7 30 p.m., 20—Baltimore at New York, 8 p.m . 21 —Philadelphia at Baltimore, 8 p m and Detroit at New England. 8 p.m.; 28—Washington at Baltimore, 8 p.m and Philadelphia at New York, 8 pm; 29—New England at Detroit, 2 p.m
FEBRUARY
4—New York at Baltimore, 8 p.m.; 12—Baltimore at Philadelphia. 1 p m and New York at Washington. 2 p.m.; 17—Washington at New York, 8 p.m.. 18—New England at Baltimore, 8 p.m. and Detroit at Philadelphia. 8 p.m . 24—Philadelphia at New England, 8 p.m ; 25—New York at Detroit, 8 p.m
MARCH
4—New England at Washington. 1:30 p m and Philadelphia at Detroit, 8 p.m —Washington at Philadelphia. 6 p.m , 11—Baltimore at New England. 8 pm. 12 —Detroit at New York, 2 p.m ; 19—Detroit at Washington. 2 p.m and New York at New England, 2 p.m.