By William N. Wallace, New York Times, Jan. 12, 1990
Introducing some of his players at a news conference today, Tom Flatley, the general manager of the New York Saints, described Scott Huff as an enforcer. Huff seemed to preen.
There is no position entitled enforcer in the Major Indoor Lacrosse League and its officials are chary of promoting violence as a feature of the game. "We don't want to scare away the mothers," Flatley said.
"But let's face it," said Huff, who is a midfielder. "This is a contact game. What we're selling is speed, hitting and scoring. Me and Richie are the hitters."
Rich Mullen, like Huff, played a little football in college, at C. W. Post, and they go into the corners to "dig the ball out like in ice hockey," Huff said.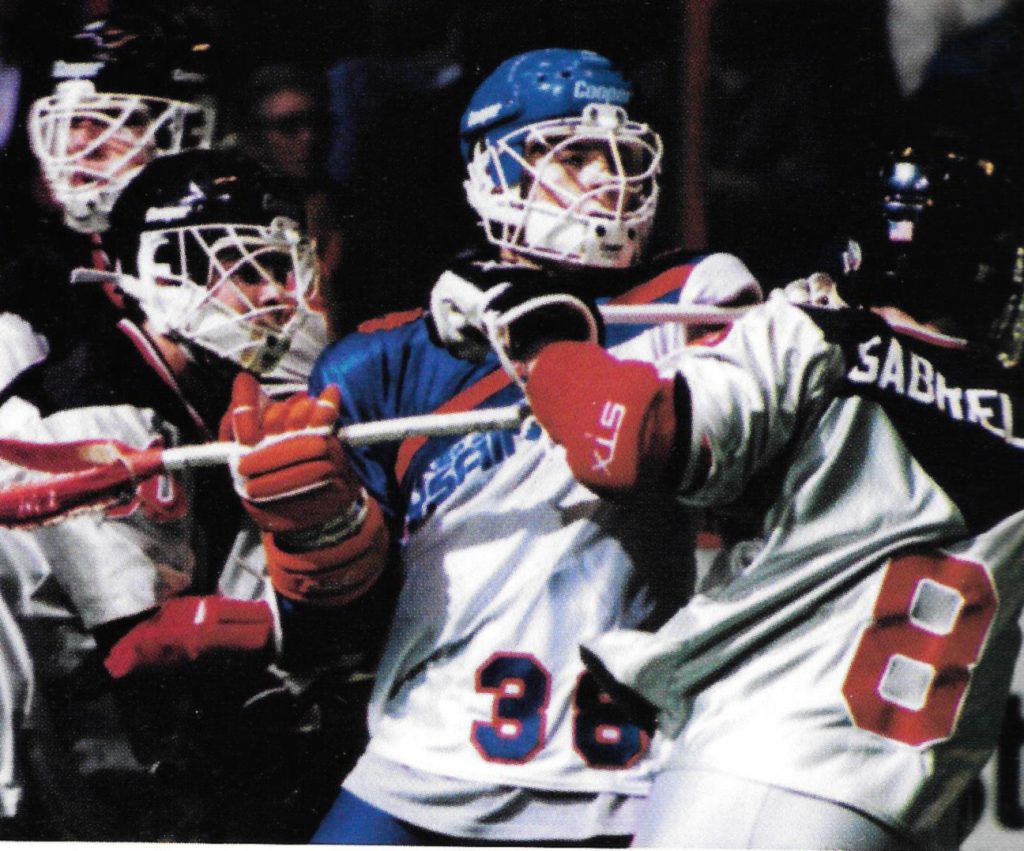 Indoor lacrosse is a blend of outdoor lacrosse and ice hockey, played by six-man teams on an artificial turf surface about the size of a hockey rink with boards around it. The Major Indoor Lacrosse League is in its fourth season and seems to have found an audience.
The Saints will open their season Friday night here in Nassau Coliseum against the Philadelphia Wings, who beat them, 11-10, in last season's championship game. The Saints-Wings rivalry is the most intense in the league and Coliseum officials are hoping for a crowd of 10,000.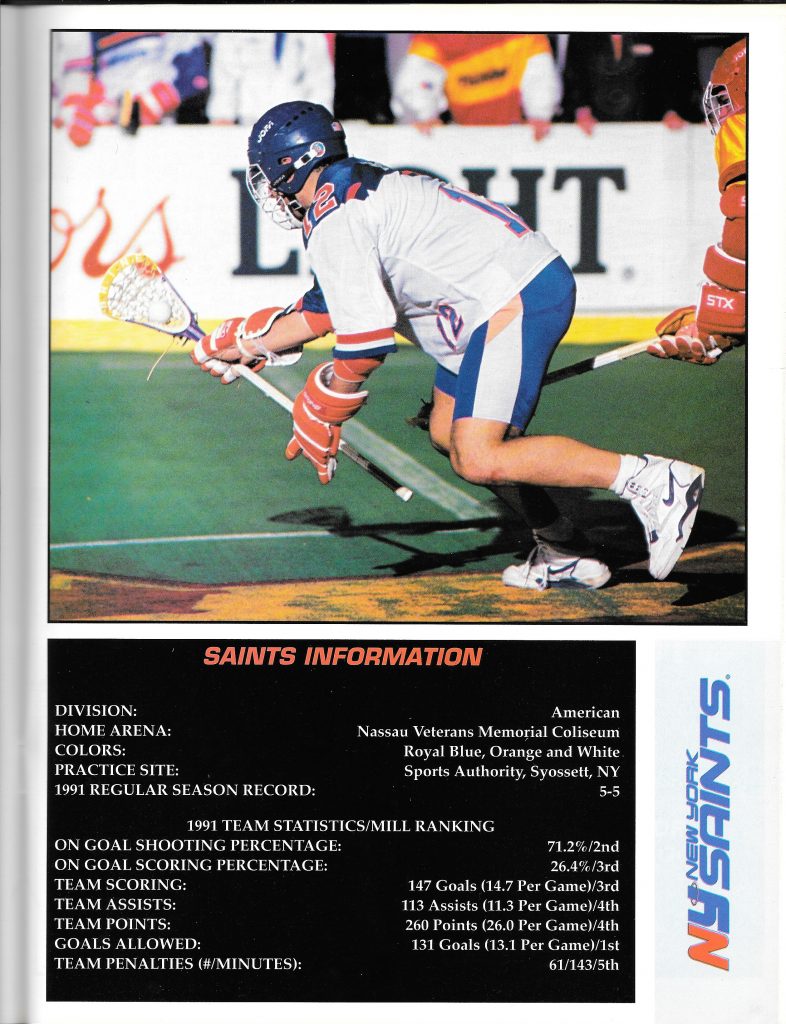 According to Coliseum figures, the Saints averaged 8,600 in four home games last year and that average has climbed since the first season, when the team played at Byrne Meadowlands Arena.
The Other Teams
Other franchise locations are the Baltimore Arena for the Thunder; Joe Louis Arena in Detroit for the Turbos; the Centrum in Worcester, Mass., for the New England Blazers, and the Civic Arena in Pittsburgh for the Bulls. The Washington Wave was moved to Pittsburgh by Chris Fritz and Russ Cline of Kansas City, Mo., who own all of the franchises.
Fritz, who is president of the league, and Cline, senior vice president, are partners in an entertainment promotion business in automobile, concert, convention, sports and trade show areas. Cline said that the league is marginally profitable and that the gross revenues, for example, went from $800,000 the first season to $3 million the second.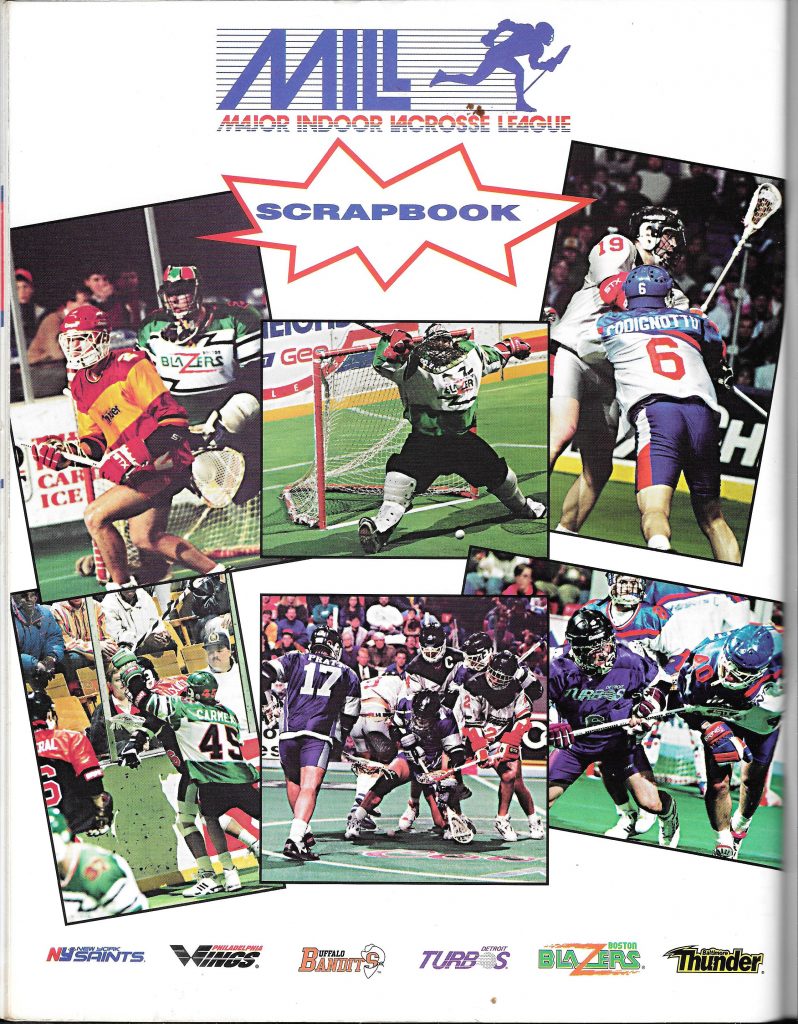 They plan to put franchises in several other cities beginning with Chicago and Los Angeles. But expansion will wait until economic stability is achieved, Cline said.
Indoor lacrosse features constant action through four 15-minute periods, a 45-second shot clock and an average of 72 shots and 24 goals a game. It's a rough game in which boarding, slashing and cross-checking can draw penalties.
"From a spectator standpoint I think we've got an edge on hockey and soccer because we've got scoring and they don't," said Flatley, a longtime high school lacrosse coach at Sewanhaka High in Elmont, L.I.
The players are former college athletes who hold conventional jobs, but have a passion for their sport and play for little money. The salary scale runs from $100 a game for a first-year player to $300 for a four-year veteran.
The season, eight games for each team plus playoffs, ends in late March and then many of the Saints will change into the uniforms of the Long Island Lacrosse Club to play the outdoor game.