DETROIT 15, VICTORIA 10 By DOUG PEDEN, Victoria Times-Colonist; July 11th, 1968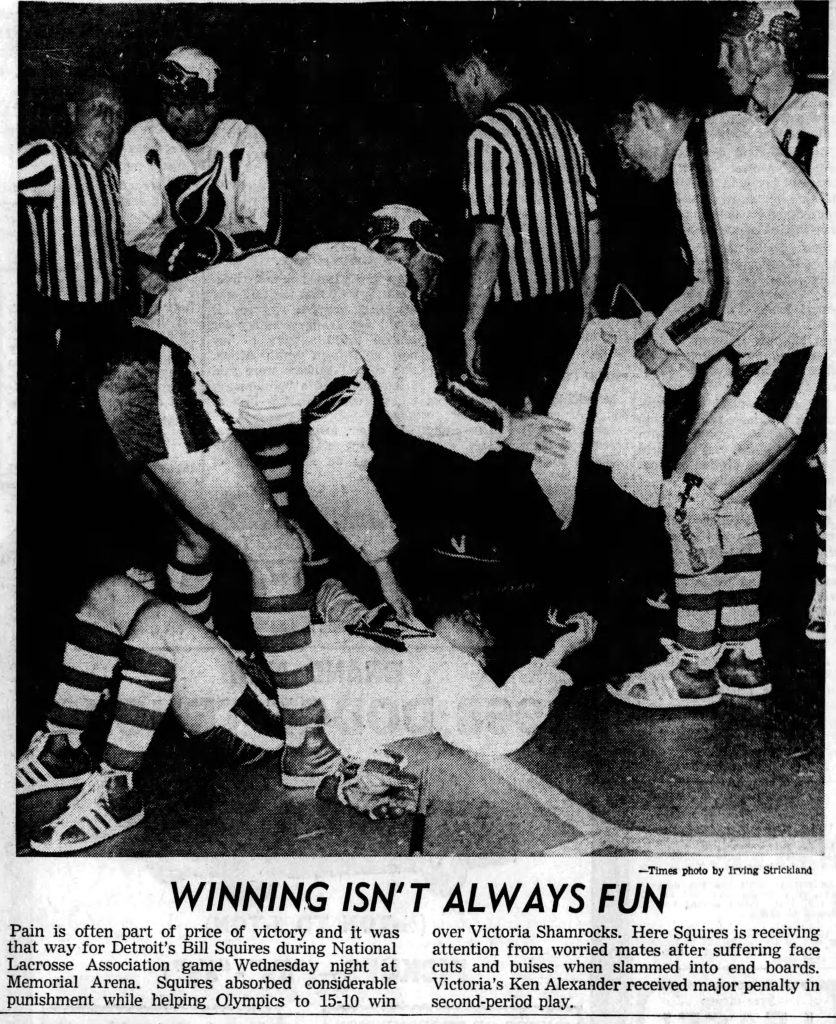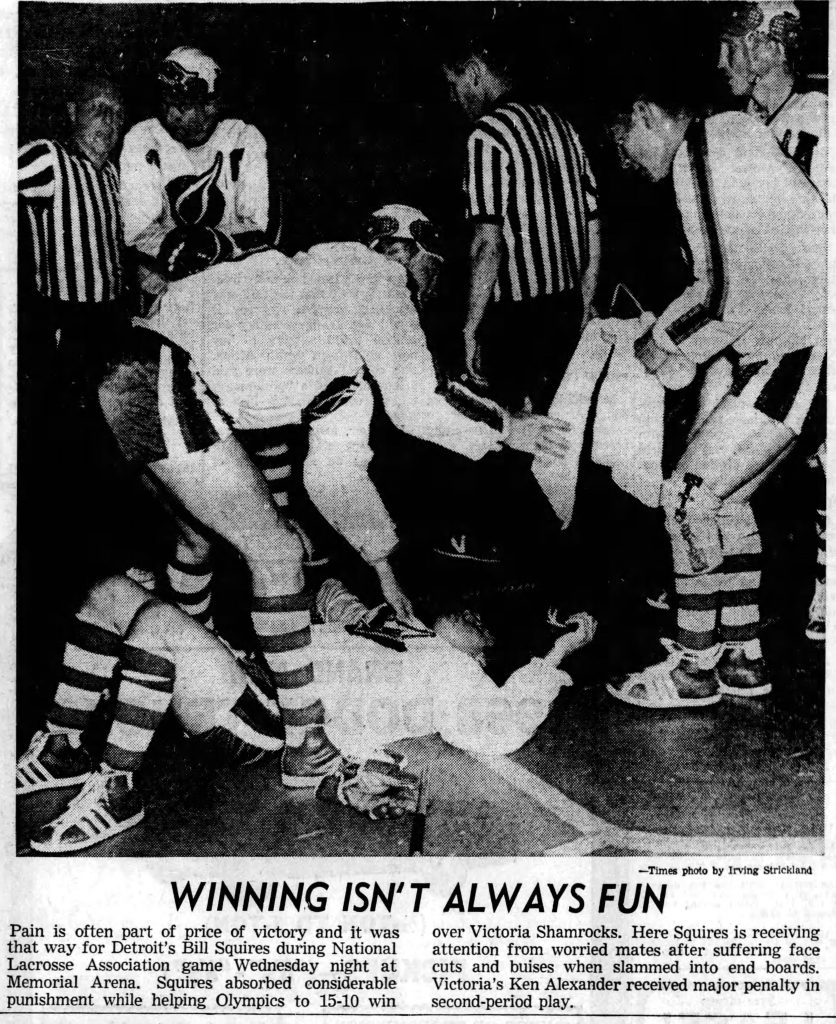 Toronto Maple Leafs didn't want George Stephens. Neither did the Peterborough Lakers. The Victoria Shamrocks claim he's pure poison.
The Detroit Olympics love the guy. They wouldn't swap him for any other piece of property in the Na­tional Lacrosse Association or a sizable chunk of gold.
Often lethargic and some­times confused, the Rocks were struggling to salvage their scalps in the early going against the fast-breaking, dead-eye- shooting Olympics.
They were trailing 13-3 midway in the second period before they set­tled into the hard-checking, running tactics that had enabled them to win four straight games and take four of their last six.
By that time it was obvious the Rocks would need a minor miracle or two to pull out a victory. They gave it a big try to score seven of the last 10 goals and would have made it uncomfortably close for the now ­faltering Olympics except for the brilliant and stubborn shot ­stopping of Stephens.
Stephens, who tried to earn a berth with Toronto and drew his release and later suffered the same fate with Peterborough, made a series of superb saves in the final period and Olympics were able to stagger home with a 15-10 triumph.
Most of the 4,481 fans who made up the largest crowd of the season in Memorial Arena were convinced the Shamrocks had squandered their chances after the Olympics scored the first four goals of the second period to run up that formidable 13-3 advantage.
Jim Bishop, the energetic coach of the Eastern Division leaders, didn't see it that way. As far as he was concerned, his club, weary after an all-out struggle the previous night while losing a 16-14 decision at New Westminster, was in deep trou­ble in the final 20 minutes. "There's the guy who saved us,'' he said, pointing at Ste­phens in the Detroit dressing room. "He absolutely won it for us. "And don't forget Gaylord and Billy, they were great for us."
Nobody was likely to deny that Gaylord Powless and Bill Squire had earned the praise. Powless, the 21-year-old whiz who had collected six points at New Westminster, fired four goals and added three assists to take of over the association's individual scoring lead. He now has a total of 90 points for a one- point advantage over Peter­borough's John Davis.
Shamrocks Forgot Checking Plans
Squires, getting one goal and one assist, wasn't as prominent in the scoring parade but he punished the Shamrocks. He checked tenaciously, snatched a flock of loose balls and often sent his mates winging out of their own end on fast-breaking sor­ties. He also absorbed a lot of punishment and finished with his face adorned by stitches and angry bruises.
Smooth Grant Heffernan was another Olympic who displayed fine scoring skill and fired three goals. Heffernan may also have contributed a crushing blow to Victoria when he collided with Shamrock goalie Barry Forbes while scoring to give Detroit a 2- 1 lead at three minutes of the opening period.
Shaken up, Forbes was off for about three minutes for repairs while his replacement, Doug Thompson, stopped one of two Detroit shots. Barry was below his usual form when he re­turned to the nets and although he was a sizzling stopper in the final 30 minutes, the Olympics had all the goals they were to need.
It was a dissappointing night for the Rocks, who were so intent on a victory that their dressing room seemed charged with electricity while they wait­ed for the battle to begin. Perhaps too tense and too anxious, they forgot to run or check and played some of their worst lacrosse while allowing the visitors to romp to the big lead.
They saved face and finally made it an interesting evening for the spectators with their closing drive, but this didn't ease the pain of defeat.
"I guess we were just too tight at the start of the game," commented coach Dave Unwin. "Our plan was to go out to check them at the start and wait for the breaks. Then we forgot all about checking and didn't force any breaks."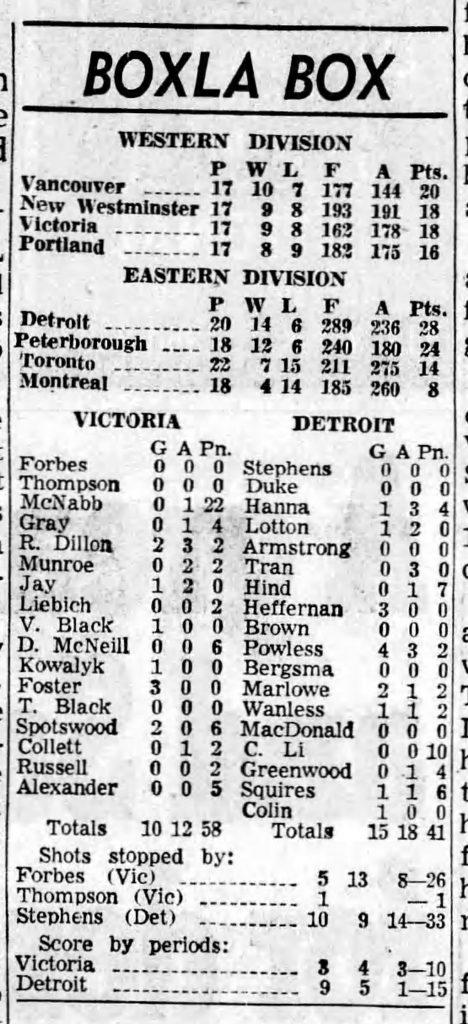 Victoria's scoring leader, Ranjit Dillon, didn't do much in the first two periods but he gave the Olympics fits with quick attacks in the final session and wound up with two goals and three assists. Reg Foster and rugged Bill Spotwood, who did much to ignite the Rocks in the middle period, collected three and two goals, respectively.
Delayed at the start due to the late arrival of a plane, the game turned out to be the longest of the Victoria season. It stretched almost three hours through penalties and injuries.
Occasionally falling for thea­trics of players being checked, referees Whitey Severson and Ralph Plumeridge whistled 14 minors, two majors and two misconducts against the Sham­rocks. Olympics collected 18 minors and a major.
There were several minor scuffles and a more serious one in the closing minutes, when Spotswood and Garry Hind swapped punches and each earned a minor and major sentence. Victoria's Larry Mc­Nabb picked up his second misconduct in the same ruckus.
ROCKS SUFFER DOUBLE DEFEAT
Victoria Shamrocks were double losers Wednesday. Not only did the Irish drop a 15-10 National Lacrosse Association verdict to Detroit Olympics, but they also lost a decision in the commissioner's office.
Western division commissioner Tom English announced Wednesday night the reversal of a decision that awarded wins to Shamrocks and New Westminister Salmonbellies at the expense of Portland Adanacs.
This penalty was originally imposed following the use of two unsigned Portland players — Tom McVie and Jack Bionda — in games Adanacs won against Salmonbellies on June 7 and Shamrocks on June 8.
The announcement Wednesday eliminated the questioned games entirely from league standings and dropped Victoria and New Westminister from a first-place tie into second.
Portland protested the severity of the penalty and English discussed the matter with Terry Kelly of Oshawa, president of the NLA, and Spence Lyons of Toronto, the league's vice-president.
"It was agreed the forfeiture was too stiff a penalty under the circumstances," English stated. The games will now not be counted and Portland's games with Victoria on August 6 and New Westminster Sept. 7 will be four point games — counting as two victories and two defeats.
Points scored in the discarded games will still count on the individual records and English added: "The ideal situation would be to replay both games but the schedule does not permit it."
Home No Haven For Boxla Leafs; By The Canadian Press
Things were supposed to be different when Toronto Maple Leafs of the National Lacrosse Association, returned home. Last week, the Maple Leafs dropped four consecutive games during a road trip in the west­ern division. It was the same old story Wednesday night, when Montreal Canadiens de­feated Toronto 13-10 in an east­ern division game watched by 4,740 fans at Maple Leaf Gar­dens.
The Canadiens, who trail the third-place Maple Leafs by six points, received four goals from Ken Thompson. Ron Roy, a for­mer Maple Leaf, added three and Terry Davis two. Other Montreal scorers were Joe Hore, Earl MacNeil, Brian Ahearne and Michel Blanchard.