Got to admit it folks……..since March, it's been kind of a rough stretch for me, dealing with my daughter's medical condition and now, her college days beginning here. I sit here, just getting back from Philadelphia, and I got the time to sit back and reflect on how truly blessed I've been, and how fortunate we, as a production company have been, with being able to preserve and present the history and the tradition of this great game we, as a community, have grown to love.
When we acquired the Boston Bolts footage back in March, the wheels here were really turning. It was, for what it's worth, a one of a kind of find in the lacrosse circles we know. It sat in the basement of a bank in Boston for more than 20 years………..probably closer to 30 years. The fact that this footage hasn't been seen, since 1975, is mind blowing to me. The fact that footage like this, has been discarded as nothing more than taking up space, is astounding.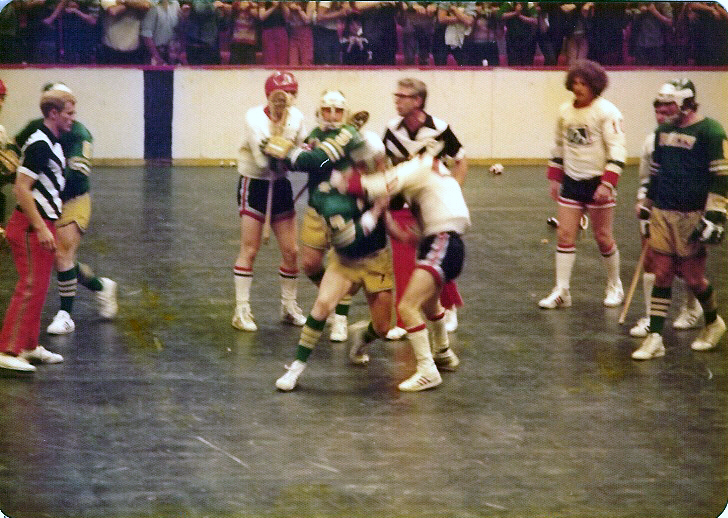 Going back to 2006, the markets in Philadelphia, Toronto, Rochester, Syracuse, and the like, have either discarded or ignored, the significance of the history of all of this. This is how long I've been researching and looking for, anything pertaining to the 1974-75 National Lacrosse League.
I've been blessed with the friendships, through the years, I have had with alot of the players from that league, along the coaches and players from both the 74-75 league, but the Major Indoor Lacrosse League as well. The way I see it, they don't have to take a second from their lives, to even consider speaking with me, but somehow, in someway, they do, and for that aspect alone, I, to this day, am humbled by their friendship. For that, I am grateful, respectful, and appreciative.
Again. the Boston Bolts footage find was truly one of sheer luck. In the beginning, I was actually going through multiple databases, looking for Charlotte Cobras footage from 1996. Coming up empty on that quest, I switched gears. Don't ask me why I chose to go hunting in Massachusetts, don't ask me how I came upon Northeast Historic Films…….I don't have the answer for that.
The voiceovers for the "project" are part of an ongoing collaboration since Feburary of this year, where I had the oppurtunity to interview some of the greats of the game, for a documentary, still in the works, hoping to be released this Thanksgiving, on our one year anniversary. Many thanks to my friends and our site contributors, Duffy McCarthy of the 1974 Toronto Tomahawks and the 1975 Boston Bolts, and to Dale Mackenzie, of the 1974-75 Montreal Quebecois, for their time and contributions.
I would also like to thank our friends at Northeast Historic Films and in particular, Karin Carlson-Snider, for working with us throughout this process, and to WCVB-TV in Boston, for their contribution, in making all of this possible.
The early response to all of this has been more than overwhelming, and for that, I am grateful and thankful to every one of you. Sit back and enjoy the ride with us. We have alot more in store. Just wanted to take the time to thank each and every one of you. It means that much!
Dave
1975 NLL color photos courtesy of Tom Wersderfer