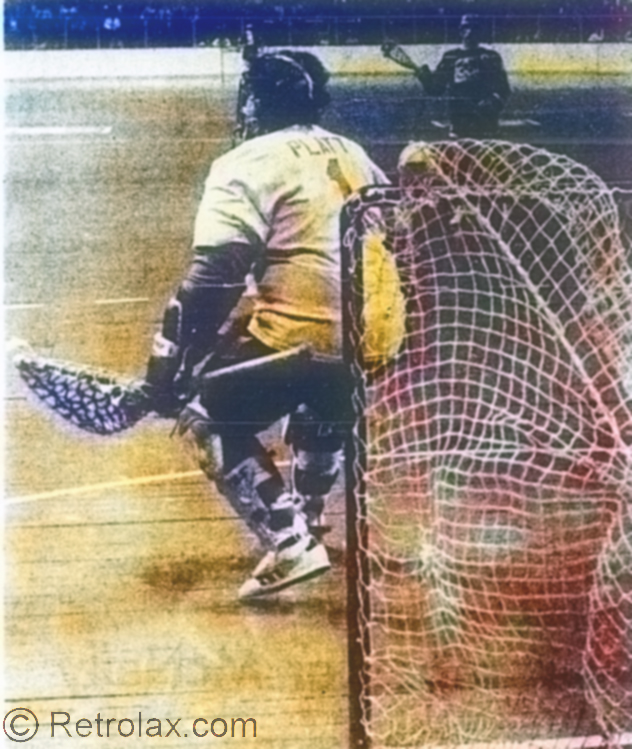 Wayne Platt, the solid guardian of the Philadelphia Wings, particularly stood out in yesterday's victory over Montreal's Quebecois. The Wings won 15-14 in overtime.
by Guy ROBILLARD special correspondent for LA PRESSE: June 11th, 1975
PHILADELPHIA – An absolutely atrocious power play that gave the opponent no less than four goals and a horrible extra period cost Quebecers a 15-14 defeat at Philadelphia, as well as a chance to join the Maryland Arrows in lead with two matches in hand.
"Gentlemen, I cannot answer your questions because I absolutely cannot explain how we could have played so badly in overtime. Likewise, I cannot explain that a power play gives four goals to the opponent. I am disappointed, very disappointed, but I regret, I do not have an answer to your questions, "lamented a Jim Bishop slow to receive the journalists after the meeting.
But as he likes to speak and do his little show in front of members of the press, he shouted later, loud enough to be heard by his players:
"The problem of our game, it's a lack of effort, a second effort. We would have been able to. we should have won, but we still make mistakes that we shouldn't make. "
… Like this insane pass from John Davis, an experienced veteran however, when there were only around forty seconds left in the overtime period. Davis who, once again, has not lived up to the leadership role expected of him, still as weak on defense and launching from afar rather than preparing games for attack, especially during power games. "I was watching my man, rather ask my teammates what they were doing," he had the nerve to tell a colleague.
JONES AND LOISELLE HAVE GOOD ATTACK
Ross Jones, with three goals and three assists, but a total record of minus three against his former team, and Serge Loiselle, two goals, a record of one and several other chances to score, were the best Quebec attackers.
"I think I got good shots on goal and it was the goalkeeper who made some great saves," said the young Francophone, satisfied with his performance. Besides, the third line of attack was the most effective of Quebecers yesterday. Jones, him. has now scored seven goals and six assists in just two games with his new teammates.
JIM LYNCH WAS HAPPY
Jim Lynch, surrendered to the Wings in Jones' return, made do with two assists and played an ordinary game yesterday. He was nevertheless one of the happiest players in the winners' room.
"I adapt much better to the Wings system," he said. I am happy here and it is true that a victory against his former team brings particular satisfaction. "
The Wings played much more sturdily in front of their supporters than they did at the Forum recently. They worked like the Flyers, agreeing to take several punishments to slow down the opponent as they managed to contain and even dominate the rival power play, responsible for only three goals.
NOTES – The Quebecers never won in Philadelphia and yesterday lost a second game in three overtime attempts … MacKenzie, twice. Gow. Tasker, Litzenberger. Davis, Sheehan. Nunn and Sheffield scored other Montrealers' goals …
John Grant, throwing from behind over his shoulder, Carm Collins, shorthanded each time, Larry Lloyd, Zeny Libinski and Jim Wasson all scored for the Wings and were really the best of theirs with goalkeeper Wayne Platt, who delivered an exciting duel to Dave Evans, also excellent
Only 4.310 spectators attended the match despite good "coverage" in the newspapers and on the radio … Michel Blanchard will find his teammates on Long Island and one of them will have to give up his place, probably Finck, who reports to a shoulder injury and played little yesterday, or Floyd, injured in the knee during the match: or Osinchuk or Sandy Lynch, less used by Bishop since the beginning of the trip …
The referee Carman MacMillan, the great friend of Jim Bishop, has again officiated the last two matches of the Quebecers … Gord Floyd has been bailed out his first punishment of the season for lightly hitting the goalkeeper's stick inside his protective box.