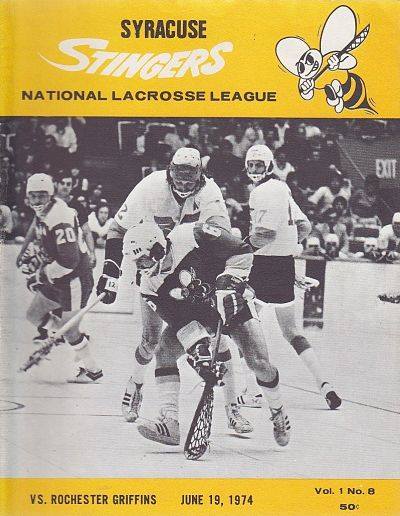 The Rochester Griffins are still in the running for the National Lacrosse League regu­lar-season and playoff crowns. The Syracuse Stingers aren't. And running is the word.
With last night's 19-15 victo­ry over Syracuse before 2,113 at the War Memorial, the Grif­fins climbed to within three points of first-place Phila­delphia. Both teams have six-games remaining before the playoffs, and first place, in ad­dition to the home arena advantage in the final series, also means more money per man.
The Griffins kicked their heels at Syracuse with their fast break and turned what was a close game into a breather. And they did it with­out Merv Marshall, their first- string goalie who is far-and- away the leading goalie scorer in the league with 63 assists. Gary Van Schagen filled in last night.
The Griffins also came to town without Rick Dudley, high scorer, and league leader in penalty minutes. Griffin coach Morley Kells said Dud­ley is "on vacation." Dudley belongs to the Buffalo Sabres of the National Hockey League, who want him to stop playing lacrosse as of the first of next month.
Buffalo doesn't want Dudley hurt when he comes to camp, but that date hasn't been final­ized, because Kells said before the game. "When we win this playoff title, Dudley will be with us. I know our team can do it without him, he'll just be the frosting on the cake. "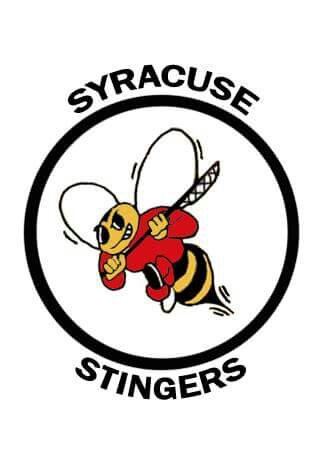 Dudley has played in only two games this month, and Kells feels that he is "the best conditioned athlete on our team." If Buffalo GM Punch Imlach lets the string out on Dudley. Rochester could go all the way.
Last night, Syracuse was without the man that could be the team's MVP, Jim Higgs, who has played three games with a damaged left knee and finally had to stop. With what was diagnosed as torn carti­lage, Higgs is through for the season.
The Stingers made a game of it for the better part of 35 min­utes. Syracuse led 5-4 after one and 109 after Paul Cioci's goal at 15:29 of period two. Then Rochester hit full stride, ran off seven unanswered goals and it was all over
During that stretch. Stinger goalie Larry Smeltzer and sub­stitute Rick Palla (who played the third period) must have gotten dizzy looking at the con­stantly oncoming blurs of gray and red charging in alone.
It was 12-10 after two periods, but Palla gave away two empty net scores going for the ball as the Griffins didn't even have to work for some of their goals.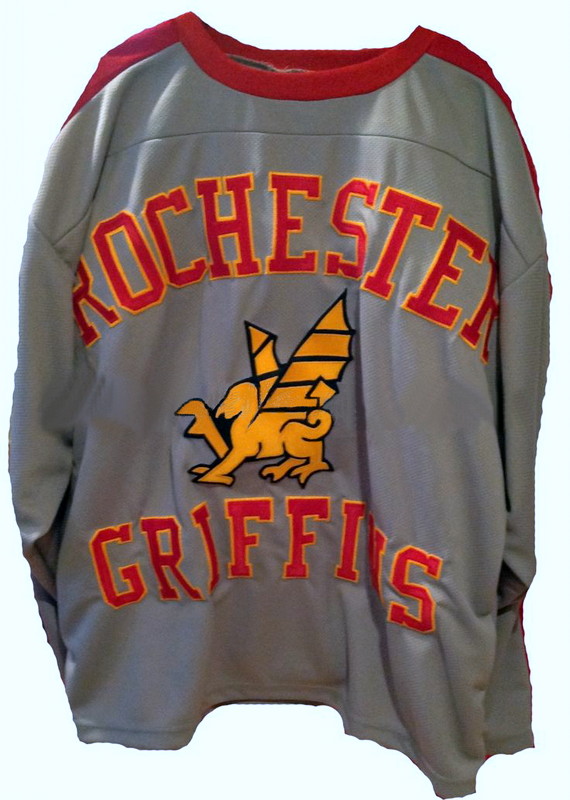 The Stingers woke up again to get the game's last three scores, but by then Kells must have been thinking who else he could send on vacation.
Dave Wilfong, with four goals. Jan McGee and Brian Wilson with three each, and Kevin Parsons with two were the big Griffin guns.
Cioci, Terry Sanderson and Gaylord Powless had three apiece for Syracuse-, Jerry Kustaski two, and Bruce Mur­dock, Travis Cook, Jim Miller and Ken Wright one apiece. The Griffins outshot Syracuse. 57-52.
One more Stinger loss, or a Toronto Tomahawk win in their last six games, will seal the Slingers fate in the NLL cellar for the year.
Pat Differ had five assists (or the Stingers to boost his team-leading total to 90, but he's still short of league-leader Paul Suggate of Maryland, who along with his 106 handouts, has 99 goals for an incredible 205 points in 34 games.
RICKOCHETS—Part of the controversy surrounding Dudley is that he has such a hot temper, and Buffalo is afraid of what might happen to him in a brawl. He's already been bounced from two games and suspended from four more for his antics…Marshall sat this one out for the same thing, go­ing after a referee in the Grif­fins' last game.
The Stingers have four games remaining, but are idle until they host Toronto next Wednesday.