BY KURT BRUNER
THE OBSERVER REPORTER
By all rights, Pittsburgh Bulls lacrosse coach Dennis Wey shouldn't be a happy man. The Bulls are currently 0-5 in the Major Indoor Lacrosse League and were shut out in the first half of their last game.
But went Way looks at the stat­istics of the Bulls' next opponent, he can't help but smile.
Pittsburgh will host the league's worst defensive team, the Balti­more Thunder, Saturday night (8:00) at the Civic Arena, and the Thunder may just prove to bo just the remedy the Bulls need.
Baltimore has given up 117 goals this season and is one of the MILL'S most penalized teams. However, the Bulls aro tied with New York as the league's most in­ept offense, scoring just 59 goals.
"This is a must game for us to be in the hunt for a playoff spot," Wey said, "With all the tiebreakers, most of them don't work in our favor. We have to get more wins (than Boston) and we have to win Saturday night.
"Baltimore is notorious for not playing a lot of defense. We seem to do well against teams like that. It is ironic that we're both very similar. We both have horrible records but have been in every single game."
Pittsburgh and Boston are both 0-5 in the National Division and are fighting for the last playoff spot. Each team has throe games left, as Pittsburgh plays Baltimore twice and Philadelphia while Boston takes on New York twice and then Detroit. In their last game, the Bulls were down, 7-0, at halftime to New York but rallied to lose by Just two goals, 12-10.
"We outshot New York, put massive pressure on (goalie Sal) LoCascio, but no matter what we did we couldn't got It past him," Wey said. "We realize that it was just something that happens and we're not trying to make too much of it. "Hopefully, it won't happen to us for the next five years."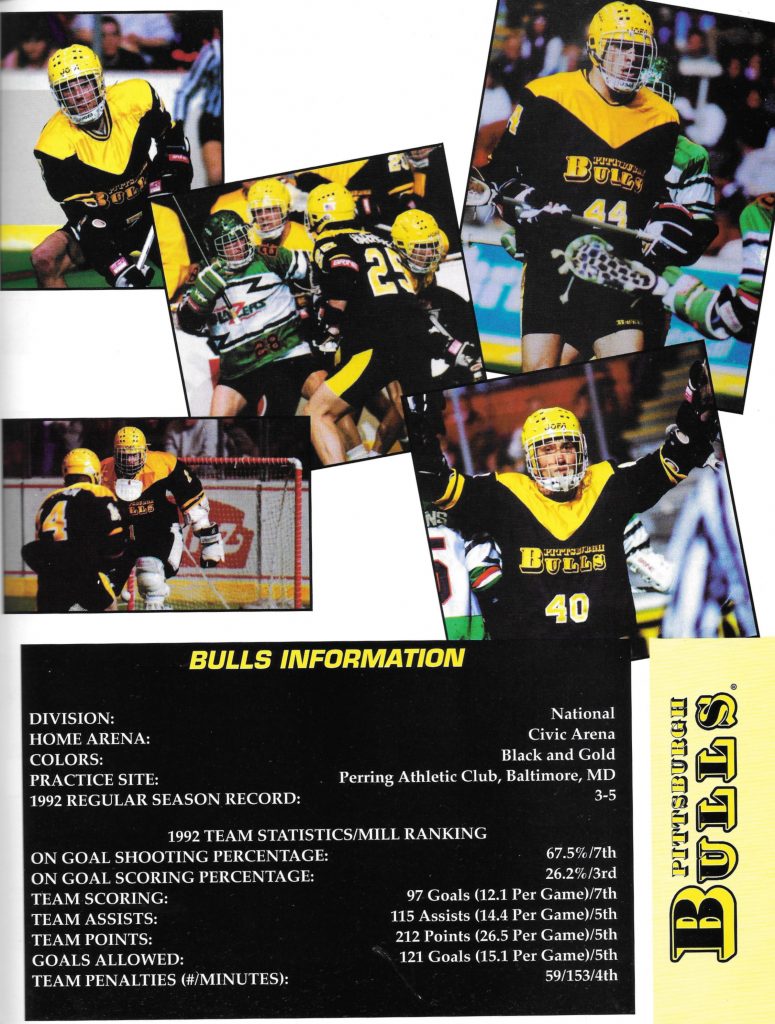 The Bulls won't be facing an all-pro goalie in Baltimore's Kevin Lee, but the rookie is already mak­ing quite a name for himself. Lee has been compared to former NHL standout Billy Smith and is just as physical as the former New York Islanders goalie. Lee is the league's most penalized goalie.
"A big key will be that we have to get to Lee early," Wey said. "It will be important for our confi­dence that we get a couple of first- period goals.
"He is his own worst enemy at times. His one weakness is that sometimes he loses focus on the game at hand. He'll come out of the crease, hit somebody, take a pen­alty and then go to the box. If we can get on top of him early, I think we can rattle him."
Bull notes
The Bulls will be without both Dave Pietramala and Jim Buczek. .Ron Klausner is sched­ule to return to the lineup after breaking his foot in a game against New York Jan. 16.
A championship preview?
The Philadelphia Wings and the Buffalo Bandits have dominated league play this season. Each have perfect 5-0 records, but that will change when the Wings travel to the Memorial Auditorium Satur­day.
"I'd love to be a fan and go see it," Wey said. "I like Philly. Buffalo has been tailing off a bit and 1 think they are primed to be beaten. (Phil­adelphia standout) Paul Gait has to play well for them to win."
League MVP
Both Buffalo's John Tavares and Philadelphia's Paul Gait are having outstanding seasons. Tavares is the league's leading point getter with 47 points (27 goals, 20 assists), while Gait is sec­ond with 37 (25-12). But Wey knows which player would get his vote as the league's best player. "I'd have to go with Gait be­cause he scores more,' Wey said. "The hardest thing to do in this league is score, and I don't think anyone in the league does it better than Paul."
The great one
Around the league, Detroit goalie Ted Sawicki is known as tho Great One, and he showed why against Boston last Saturday. Sawicki set a MILL record for saves with 62.