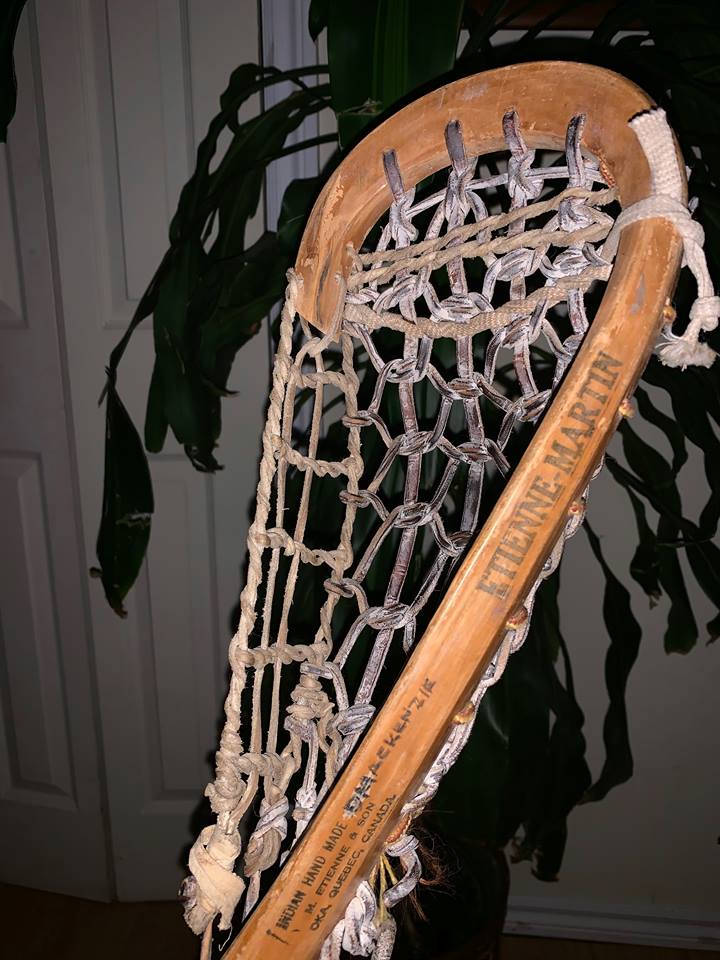 Matthew 'Waies" was owner and founder of Etienne and Son Lacrosse Stick Manufacturer was famous for the quality hand made Lacrosse sticks he manufactured and distributed world-wide. He was the official provider of the National Lacrosse League.
"I'll make a stick for you, come see me" Matthew's promise after he came to see one of our games at the Montreal Forum in the spring of 1975.
Armed with a case of refreshments for the adventure, John Davis, Ric Bossley, Gord Ozinchuk and myself found our way out to Oka and the legend that was Matthew Etienne.
He had stated he would custom make sticks to our individual preferences and we found ourselves absolutely amazed at his skills. Over the course of the afternoon we selected our "blanks" partially carved frames that were shaped by hand chiseling to our liking for balance, weight and shape. Once each stick was completed to this point they were set aside to be laced another day.
This whole process was lubricated liberally with our liquid lunch over the course of 4 incredible hours including tours of the facility, stories and lots of laughter. Matthew's unassuming manner and humble pride in his work was evident.
Each stick was a work of art in itself.
The following week we returned to pick up our completed sticks in all their personalized glory. Ric's was thick and heavy for a big defenseman, Ozzie's was a bit lighter but still robust for his aggressive checking style. Mine was by comparison lighter and easy to roll for faking shots and quick releases.
John's was similar to mine with a deeper pocket for the master of control but it had an unusually long handle approximately 9" longer than the accepted standard of 42".
Additionally the very end was bulbous and oddly phallic.
Handing it over to John, Matthew laughed and told him to cut off the end to the proper length and keep the rest as a souvenir.
I believe I heard John say he got the length correct!
It was a truly memorable experience to spend time with such an artisan and cultural icon as Matthew. Hickory sticks gave way to the technology of today and greatly changed the very nature of the game.
The sacred tree
"Hickory is a sacred tree in our culture," said Alf Jacques, 68, a stickmaker for 55 years. Before a hickory is cut down, tribute is paid. "You give thanks for the tree. Thank the Creator for the tree," said Jacques, an Onondaga Turtle Clan member. "When you make the lacrosse stick out of this living tree, the energy and the spirit of that living tree is transferred into the lacrosse stick (and) to the person who's using it . . . It's not just a chunk of wood from the lumber yard. It's more precious."
This spirit was shared by Matthew.