Pro Lacrosse Players Are Enthusiastic, Despite Obscurity
By David Winzelberg: 2/4/90
In one of the locker rooms in the bowels of the Nassau Coliseum, Darren Muller, a New York Saints forward, was getting his ankle taped before the first lacrosse game of the season.
As Coach Bob Engelke passed the training table, their talk turned to shop.
On a day that the Dow average had dropped 72 points, Mr. Muller, a foreign-exchange trader, and Mr. Engelke, a bond broker, were discussing rumors of Mikhail S. Gorbachev's resignation, the fears of a Campeau retailing collapse and a fight involving members of two other Saints opponents, the Pittsburgh Bulls and New England Blazers.
Unlike other professional sports, members of Major Indoor Lacrosse League teams moonlight as professional athletes, rushing home from their day jobs to become arena gladiators.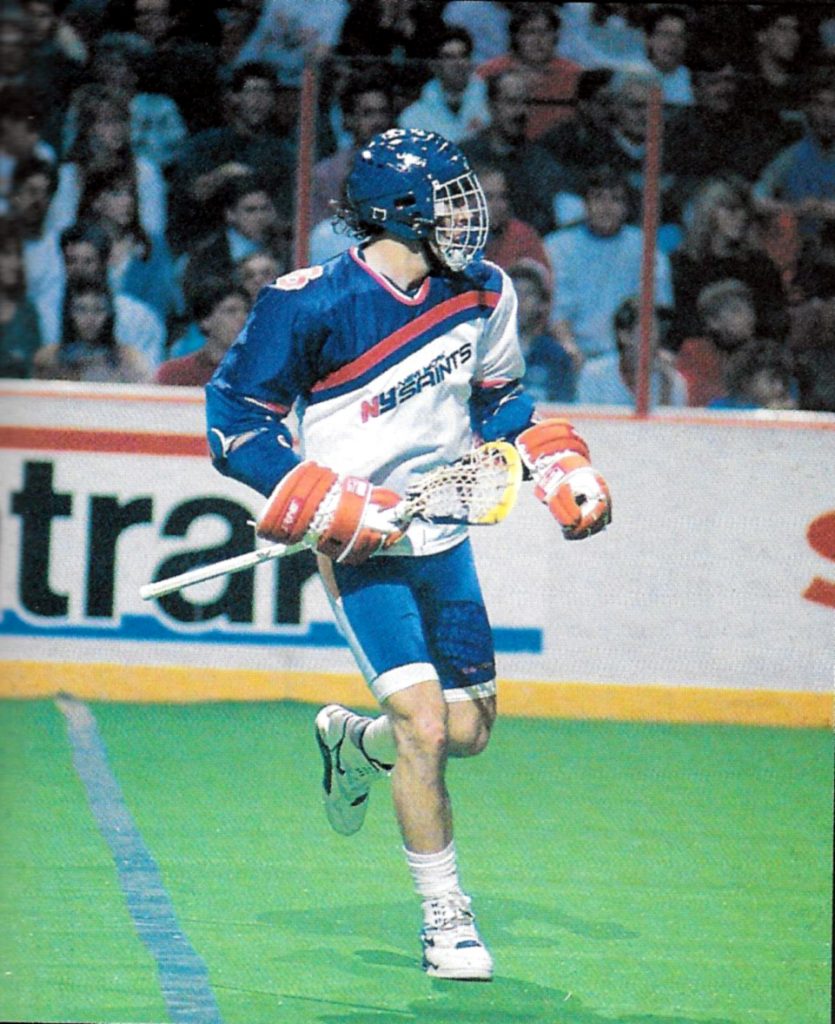 In their fourth season as part of the six-team league, the Saints are in the second year at the Coliseum after two years at the Brendan Byrne Arena in the New Jersey Meadowlands.
An assemblage of salesmen, carpenters, firefighters and investment bankers, 23 of the Saints' 25 players are from Long Island, which, other than Maryland and Canada, has the world's largest number of lacrosse programs and players.
But even in an area of major enthusiasm for the sport, the Saints are still fighting for recognition.
"When I tell my friends I work for the Saints, they ask, 'The football team?' " said Kim Cunningham, the team's trainer.
"It's been a behind-the-scenes sport," said Jeff Goldberg, a four-year veteran of the league.
The 28-year-old Saints' midfielder is also a teacher's aide and lacrosse coach at Manhasset High School, and has rallied his own fan support.
"I'll have about 100 kids and about 54 parents here tonight," he said.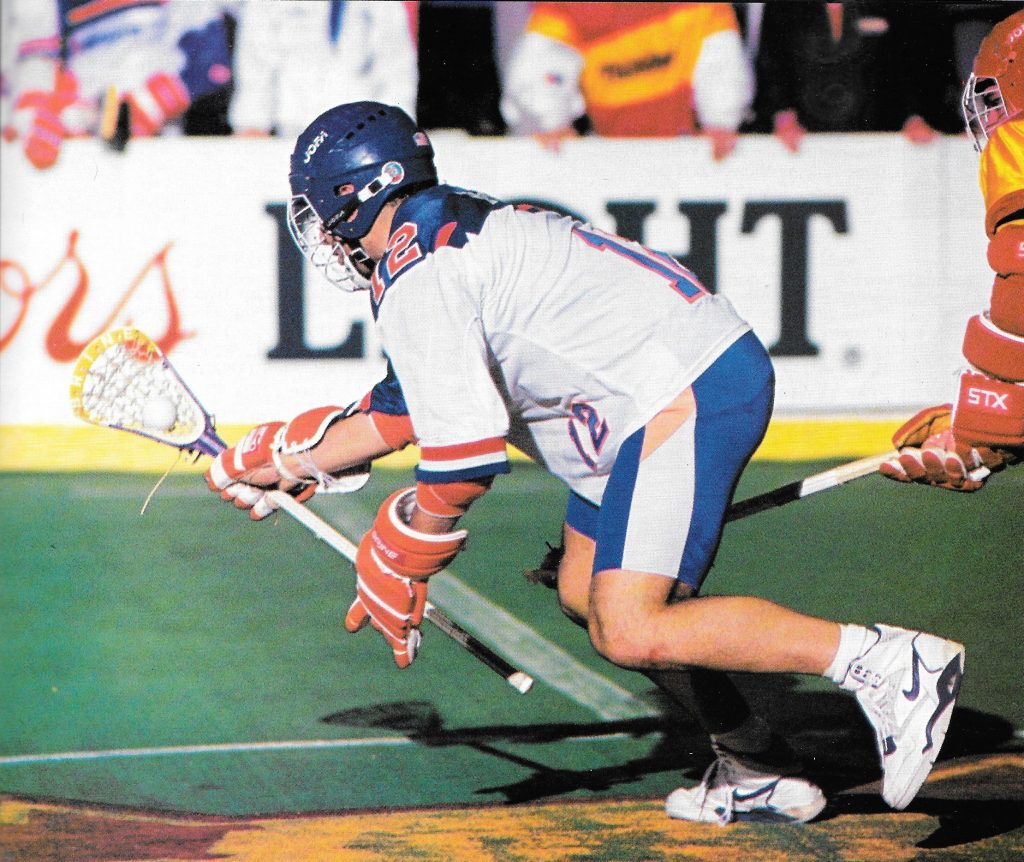 "Long Island is funny," said John Driscoll, at 31 the oldest member of the team. "It has more players than spectators."
In fact, many fans filing into the Coliseum for a game against the Philadelphia Wings either know someone on the Saints or played lacrosse themselves. This was a rematch of last year's championship contest, which the Wings won by one goal.
The Purcell brothers of Levittown – Bill, 22, and Tom, 21 – are season ticket holders. They play lacrosse in a local summer league and are friends of both Goldberg and Bob Cook, a Saints' midfielder.
Seventeen-year-old John Wolper plays lacrosse for Clarke High School in Westbury and was attending his third Saints game. Sitting in the next row, Bob Caroppoli, 22, of Stony Brook was at his first professional lacrosse game. "I just want to see people hit each other," he said. The sport's propensity for contact is one of its principal attractions. Collisions between two players are even highlighted in the Saints' TV commercials.
"If they add a lot of rules, it's not going to catch on," said Bill Purcell. "People like to see the fights, just like hockey."
Played within the confines of a hockey rink, there are many parallels between hockey and indoor lacrosse, and thus many cross-over fans.
The league's two biggest drawing cards are Philadelphia and Detroit, cities with very little lacrosse activity, but that are hotbeds of hockey fervor.
Two Kansas City businessmen, Russ Cline and Chris Fritz, own both the league and its six teams. They are satisfied with the league's initial success, even though their venture has yet to turn a profit. The league's limited schedule (eight games a team) and small salary scale ($100 to $250 a player for each game) keep expenses under control.
Although their equipment appears first rate, some accouterments seem lacking. A Saints' forward, Mikko Red Arrow, whose ancestors may have been among the earliest lacrosse players, carries a hacksaw to shorten his own stick.
Mr. Red Arrow, who is an assistant district attorney in the Bronx, has complained to the trainer about the face mask on his helmet.
"I know," Ms. Cunningham said. "One good shot and your face will be a waffle."
The Saints' "field" is a patchwork collage of green carpeting left over from the defunct New York Express, the last of several failed attempts at a local indoor soccer franchise.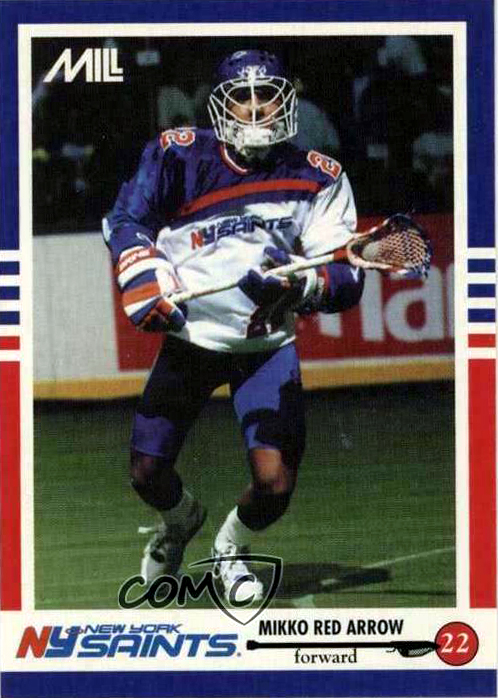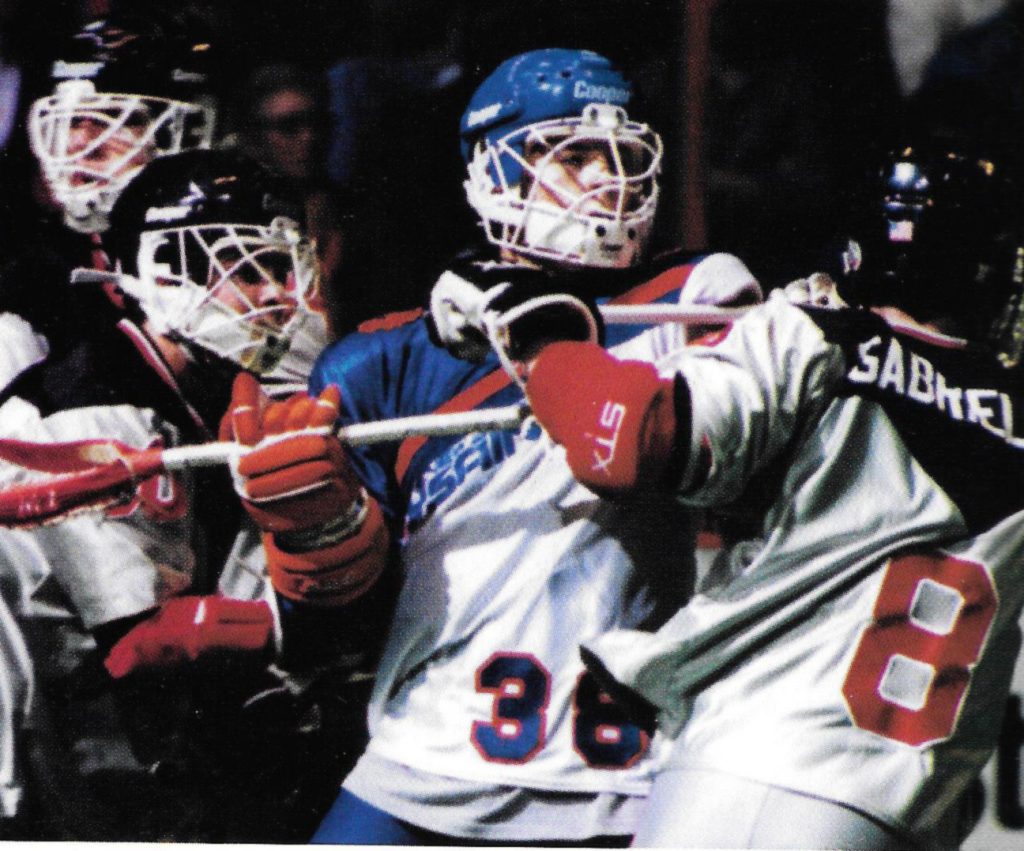 But the evidence of a more-successful Coliseum tenant hangs overhead, as 19 Islander championship banners flank the one proclaiming the Saints' 1988 world championship.
Last-minute sales for the $12.50 and $15 tickets for the Philadelphia game were brisk, and although the Saints were defeated, all was not lost. The game set an attendance record of more than 10,000.
Back in the locker room, the players barely had time to lick their wounds before receiving instructions for the next day's bus ride to Massachusetts for still another league game.
Coach Engelke and his assistant coach, John Phillips, sat in the hallway discussing what went wrong.
"It's such a short season. Every game is real important," said Mr. Engelke, concerned over his team's poor showing in front of a record crowd. "I hope we didn't lose anybody. We're a better team than that."
The Saints still have two more home games to prove it. In the meantime, no one is giving up his day job.