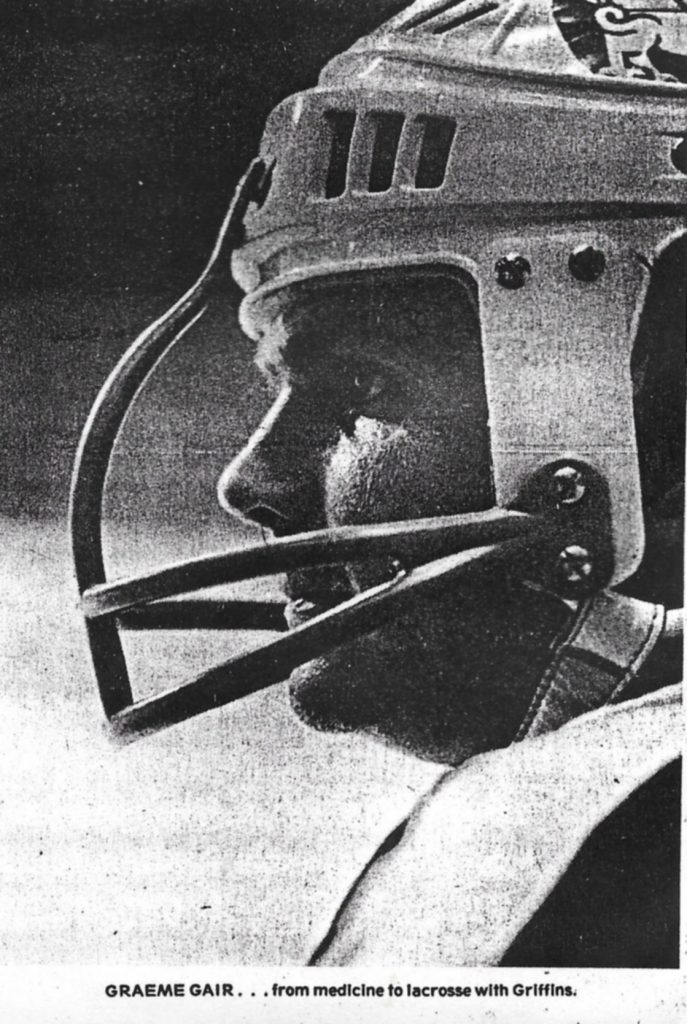 CURT SMITH of the Rochester Democrat and Chronicle
ROCHESTER – From lacrosse to the medical profession and back again. That's the continuing saga of Graeme Gair, doctor and Rochester Griffins forward. Once one of the Canadian senior league's finest players, Gair is making a Wacrosse comeback this season after being sidelined for more than four seasons.
Gair, 28, a Toronto resident, suffered a torn retina in 1968 after being hit in the right eye by an errant pass. Though he fully recovered, Gair found himself more and more pressed by his medical studies. He finally received his doctoral degree, but as his medical practice flourished, his lacrosse career faded.
"I'd intended to play during the years I didn't;" Gairi now says. "But I just didn't have the time. My job had to come first." Then came 1974 and the founding of the National: Lacrosse League, an event which led utlimately to Gair's re-emergence into the active playing ranks.
On April 14, less than two months after the Griffins were formed. Gair acted as the team's physician when Rochester's training camp began at Brantford, Ont. At that time, Gair had few intentions of becoming a player again. "I kept kidding with Morley Kells (the Griffins' coach who also coached Gair on the 1968 Toronto Maple Leafs) and I asked him why he hadn't drafted me in February," : says Gair.
"Obviously I wasn't serious. I was just kidding, but I guess Morely wasn't. He kept after me to come back into the league as a player. He said that with the new NLL, I'd have no problems getting a chance to play." Seven weeks later, shortly after the NLL season had begun, another draft was staged. Kells arranged for Syracuse to draft Gair, after which the Stingers traded him to Rochester for goalie Larry Smeltzer. Before joining Griffins, Gair has had a long and often top-flight career. He began playing lacrosse at age 7 with a Toronto township team, then advanced to the Mimico, Ont. junior team six years later.
Gair moved to the Maple Leafs in 1967. from where he went to the ill-fated National Lacrosse Association one year later. It was in 1968 that Gair suffered the eye injury which almost aborted his career. "When Graeme got hurt, he was one of the finest pure. lacrosse players I had ever seen," Kells recalls. "He could do it all-pass, shoot, direct a fast break, and all: with style.
"That's why I was confident he could come back this year with the Griffins. It was all a matter of getting back into shape, of building up his endurance." Although Gair has shown instances of his old style, his performance with the Griffins so far ranged from mediocre to sub-par. Through 13 games, Gair had scored only six goals and added nine assists.
Unless his play picks up, Gair says he may not return with Griffins next season. "Morley has really gone out on a limb for me. I appreciate it," Gair says. "He's given me the chance to show what I can do. But at the same time, I feel I've let him down. "I'm not playing well at all. I suppose that shouldn't be. surprising. I've been away for quite a while. But it's still disappointing not to be able to play like I once could."
Even if Gair's performance does improve, the recent NLL rule forcing players to live in the cities they play in next year could prevent him from returning to Rochester in 1975.
"I have a practice in Mississauga, just outside of Toronto," Gair says. "And I have two little girls, ages 1 . and 3. I really don't know if I could afford to move to Rochester for half a year. "If I was playing well, maybe I'd be a little more enthusiastic about coming back. Right now, I don't know what next year will hold."
Whether Gair is with the NLL next season or not, he expects the infant league to survive, indeed, perhaps eventually to flourish. "It's better than I thought it would be. Overall, the players are in better than I expected," says Gair. "The refereeing has been not so good. It's been so inconsistent.
"Other than that, the operation of the league has been pretty good. I haven't liked the long trips we've had to make by bus this year, but maybe if I'm around next -season, that will have eased. "In any event, I think the calibre of play in this league is probably better than in any league I've seen before."