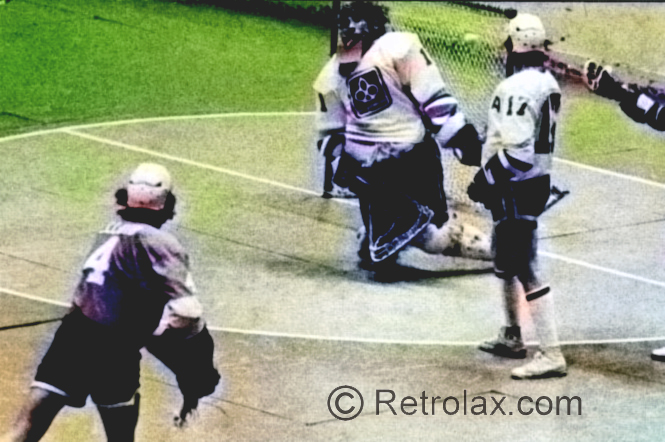 The Montreal Quebecois were an easy team for the Wings last year, but you can be certain this will not be the case in 1975. For the record, the Wings won eight times in eight starts during the 1974 NLL season. This year, the Quebecois have a new coach in Jim Bishop, the found­er of the NLL. Bishop coached the Toronto Tomahawks (Boston Bolts) last year.
The one thing that hurt the Que­becois the most a year ago was their ineffective goaltending. The Wings seemed to have one party after another shooting at Ernie Mitchell, Dave Wedlock and Don Crocker. Mitchell, who at times can be an excellent goalie, is back this year. Joining Mitchell in the battle for the starting goalie position is Dave Evans, a second round draft choice who might make the goalie post one of the team's strong points this year.
Bishop also has a number of other talented returnees, including first team all-NLL choice Captain John Davis, who finished second to Paul Suggate in scoring with 183 points in 40 games on 78 goals and 105 assists. Davis is regarded as the best point man in the loop on the power play. Thus the reason for all those assists.
Others who will help are: Jim Lynch, the NLL "Rookie of the Year," Billy Nunn, Dave Litzenberger, Rick Bossley, Gord Osinchuk, Bill Shee­han, Dave Tasker, Sandy Lynch and John Sheffield.
Sheffield is the league's only black player at the moment—and a very good one. He played for Bishop last year at Toronto and openly told friends he wanted to be in Phila­delphia this year since he once per­formed for the University of Penn­sylvania.
But Bishop engineered a trade with Boston in which Sheffield and Gary Brezany were swapped for Bob Ball and Bill Armour. Sheffield has great speed and strength and looks even bigger than his 6-1, 190-pound frame. He's an American who was born in West Virginia, grew up in Detroit and went to Penn.
The Quebecois have passed the word around the NLL they have a few scores to settle with the Wings for the 0-8 mark in 1974. The Wings know it and have promised coach Jim Hinkson they'll be playing the Montreal team just as tough this year as they did last season.