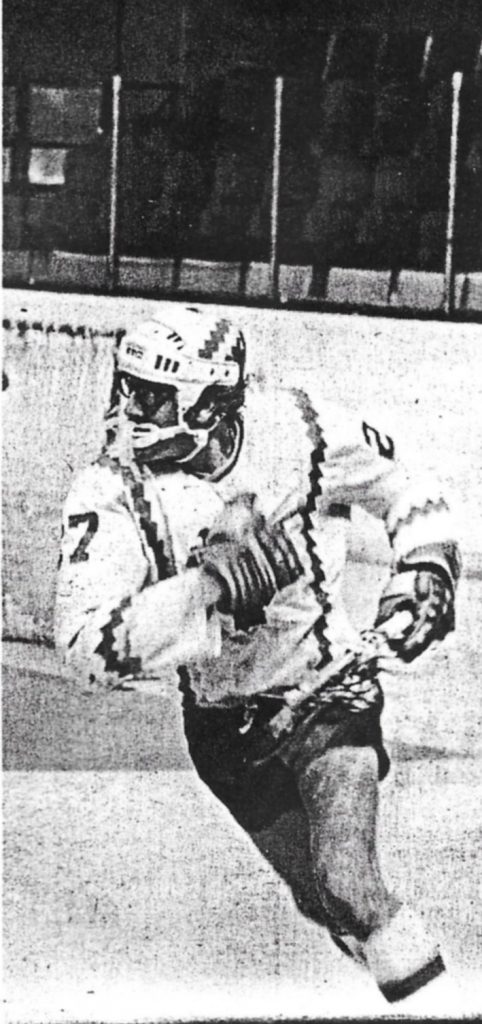 Toronto Tomahawks' policeman Jack Kastelein won't admit it, but he has a Dr. Jekyll/Mr. Hyde personality. On the lacrosse floor the six-foot, three-inch, 190-pound defenceman is one of the toughest and roughest competitors in the National Lacrosse League. But away from the arena the 24-year-old, who hails from western Canada is truly mister nice guy. You won't find a more personable athlete when it comes to taking time to talk to lacrosse's many fans.
Kastelein's aggressive play was rewarded early this season when general manager and coach Jim Bishop selected him as one of the team's two co-captains. "All through my lacrosse career I've been one, if not the biggest guy on the team," said Kastelein. "It just came natural for me to be the team's policeman and make sure some of the smaller guys weren't getting bounced around too much by the opposition."
Kastelein's self appointment as team guardian has been challenged on many occasions this season by opposing players who hold similar positions with the other five NLL clubs. "Some guys just deliberately run at you to see just how tough you really are. But I don't mind it. It's part of my job." Consequently, Kastelein has spent the most time of all tommies in the penalty box, a total of 117 minutes.
His banishment to the sin-bin is third highest in the league but the majority of the time has been justified as he has taken an opposing player off with him. A big plus for Toronto has been his point-scoring output. In 39 games, Kastelein had 18 goals and assisted on 19 others for 37 points.
He has scored and set up many goals with his explosive Swino Time and time again fans have seen him wie a loose ball at the side of his net and rush the length of floor to score himself or pass off to a teammate in the clear for a Toronto goal.
In true crowd-pleasing style he had hammered a few opponents who unfortunately got in his path on the way to the net. But Kastelein has had to pay dearly for his end-to end fortes. He lost seven teeth in his first league game when hit by an unidentified flying stick. He was hampered most of training camp with a sprained wrist and suffered torn muscles in his thigh midway through the season. The opposition also left numerous bruises over his body as souvenirs of combat.
"I was hurt more this season than I have been over my entire lacrosse career," said Kastelein. "I only lost one tooth in 10 years prior to this season." The Kastelein family moved from their native Holland to New Westminster, British Columbia when Jack was three years old.
Prior to joining the Tomahawks, Kastelein played most of his lacrosse out west. The past two seasons he competed in the senior ranks for the Victoria Shamrocks. He played three years with the junior A New Westminster Salmonbellies, 1968 through 1971 after graduating from the New Westminister Athletics junior B team. He is yet to play on a national championship team, but has been a finalist.
"In 1970 I was picked up by Burnaby for the junior A Minto Cup final, but we didn't win. A few days later I went up to the New Westminster Blues to compete in the senior B final for the President's Cup against the Bishop coached Windsor Warlocks and we lost that too. Hell, over the two series we lost all seven of our games in nine days."
Kastelein feels that lacrosse out west is physically tougher than in the NLL, "As far as a one on one match up I think the players I competed against last year were much tougher, but overall the entire system of play in the NLL game is more demanding. The running and wide open style makes it essential for a player to be in top physical shape if he is going to be successful.
Kastelein felt his greatest difficulty this season was adjusting and improving his own play offensively. "Towards the end of the season my offensive play improved. There is still lots of room to get better. I think a lot of it has to do with self confidence, knowing what to do with the ball and where to be on the floor."
A good scorer in junior, his ability to put the ball in the net tailed off in senior competition. "When I went to Victoria defence was my game and as a result my offensive play suffered."
He has been pleased with his points total, but would have liked to have scored more." "I had trouble with sticks all season long. Some guys can use most any stick and break it in very quickly. I'm very particular about mine. It's got to be the right weight, the pocket the right size and comfortable. It seems every time I get one that's just right it breaks in half."