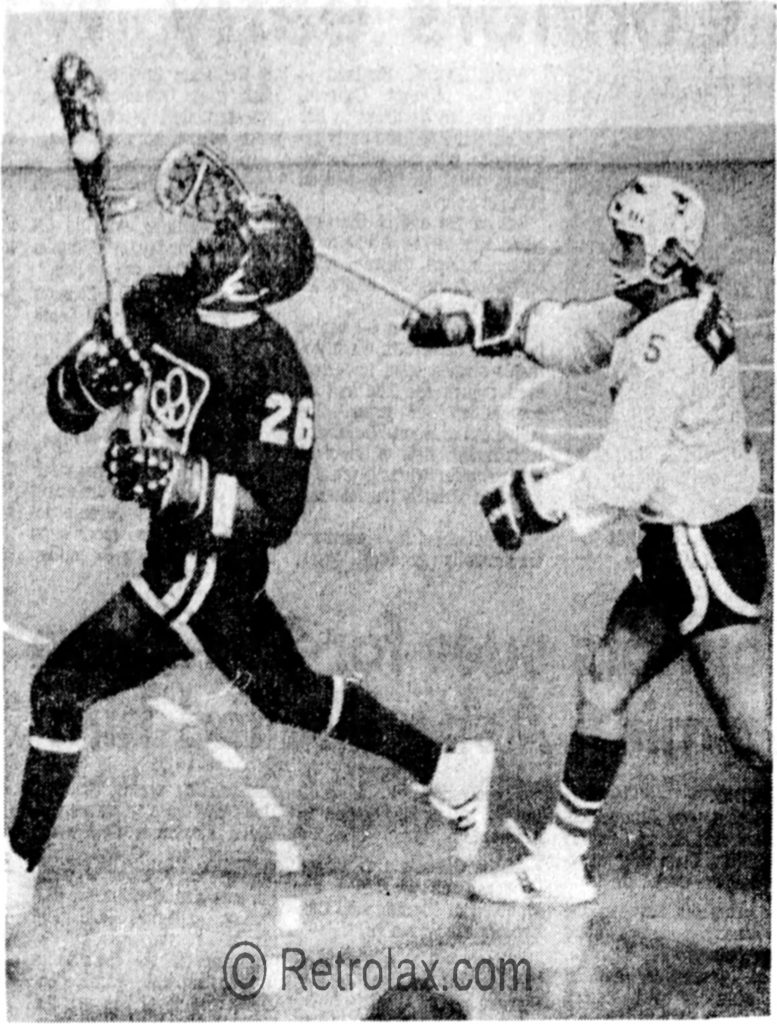 Les Quebecois' John Sheffield tries to evade Jan Magee.
By DAVE CARTER of The Gazette
Joey Johnston of the Chi­cago Black Hawks may have trouble scoring in the Forum, but it's just the opposite for his younger brother Jim.
Last night Jim collected four goals and added four as­sists as the Long Island Toma­hawks defeated Les Quebe­cois 22-14 before 7,676 fans.
Les Quebecois loss, coupled with Maryland Arrows' 11-9 victory over Philadelphia, left the teams tied for first place in the National Lacrosse League.
"That's the second time I've scored four goals against Montreal," said the 22-year- old Johnston, who is five years hunger than his hockey-play­ing brother.
Johnston came to Long Is­land nine games into the Tom­ahawks' season because, like Joey, he also plays hockey. When the Tomahawks opened the season, Jim was playing for Saginaw Gears of the Inter­national Hockey League.
102 GOALS
Tomahawks' coach and gen­eral manager Morley Kells said Johnston was one of the few small players Long Is­land drafted. "You could sec his ability from his stats," said Kells, referring to John­ston's 102 goals with Peter­borough last season.
Two other Tomahawks scor­ed four goals last night — vet­eran Dave Wilfong and Doug Hayes.
"He (Hayes) might have scored four goals," said Kells, "but he stunk the joint out in the first two periods." Hayes was one of the big players drafted by tile Tom­ahawks.
One big player not in the draft was Al Lewthwaite wiio came to Long Island during the weekend in a trade with the Boston Bolts. Lewthwaite. along with Hayes and Ted Greeves, gave Les Quebecois the most trouble.
"I told them not to gel psyched out over their big players," Les Quebecois' coach and general manager Jim Bishop said. "Greeves is a big man but I'd take Winzoski (Ken) over him. And Lewthwaite is not going to outscore Jones (Ross Jones who led Les Quebecois scorers with four goals).
"We had a hell of a second period but other than that we played badly,'' Bishop con­tinued. "They played their big men and their long pass. And we let down in the third period.
LED 8-5
Long Island led 8-5 after the first period and increased their lead to 11-6 by the 5:00 mark of the second period. Les Quebecois came to with­in one (11-10) by the mid­way mark but the Tomahawks added another two and left the second period leading 13- 10. In the third period the Tomahawks scored four con­secutive gcals from the faceoff and outscored Les Que­becois in the period 11-4.
"We didn't have a very good training camp and that showed at the beginning of our schedule," said Kells, adding: "At times tonight we sagged but we're coming along."
The Tomahawks could come along a lot better if they sign Rick Dudley, who played under Kells in Rochester last season.
Dudley recently jumped from the Buffalo Sabres of the NHL to the Cincinnati Swords of the WHA.
"His agents are trying to sign him to a similar contract to tile one he's now holding in the WHA and we can't afford that," Kells said.
"But we're working some­thing out. I could have drafted Brian Tasker (now the NLL s leading scorer) instead of picking Dudley but we decided not to. When the going gets tough he's a good one to have around."
Chuck Medhurst. Charlie Henderson and Al Gordaneer contributed to Long Island's victory by each scoring twice. Singles went to Paul Warden, Larry McCormick. Glen Neu­man. Jan Magee, Ron Hill and Lewthwaite.
Jones led Les Quebecois four goals while Dave Tasker netted three. Bill Sheehan and Bruce Arena each added two while 'singles went to John Davis, Serge Loiselle and John Sheffield.
NOTES: Kells is happy with the Lewthwaite for Kevin Par­sons trade. "He wanted to play for fun and when you're paid you don't also had other problems with him …" Jones has now scor­ed 21 (goals in eight games with Les Quebecois since he was traded from Philadelphia for Jim Lynch . . . Bill Lang­ley returned to Montreal over the weekend along with Steve Shipley, also of the Wings. Les Quebecois gave up Sandy Lynch . . . Quebec will visit the Forum tomorrow night.