In this personal collection of thoughts and memories of that 63-69 TEAM the impressions I had then and that remain today are carved into my brain. The patches of sweat on those green lacrosse sweaters with the big numbers on the front and back. The times we would go on the bus to play in Oshawa drive to Thickson Rd exit and on the road to the arena from the bus window we would see the Gaels doing roadwork BEFORE the game. What chance did we have?
Earliest memories of that TEAM were formed while watching Junior A games at Port Credit Arena as a bantam or midget lacrosse player, watching my heroes the Toronto Township PCO's (later the Mississauga PCO's) who had some pretty fair players themselves.
Salovaara, Sicinski, Hore, Williams and the Campbells were cornerstones of a pretty tough group, led by a coach (as every team was) who had the task of preparing their team to play this machine. Playing each team in those days a few times home and away all opponents plenty to look at as far as playing against this Harlem Globetrotter type line up and sure enough most nights, the Washington Generals took it on the chin. PCO's, Brampton, St Kitt's, Mimico, Hastings all had strong teams but were simply not as deep as this collection of talent from Huntsville and all over assembled and led by Bishop in those dynasty years.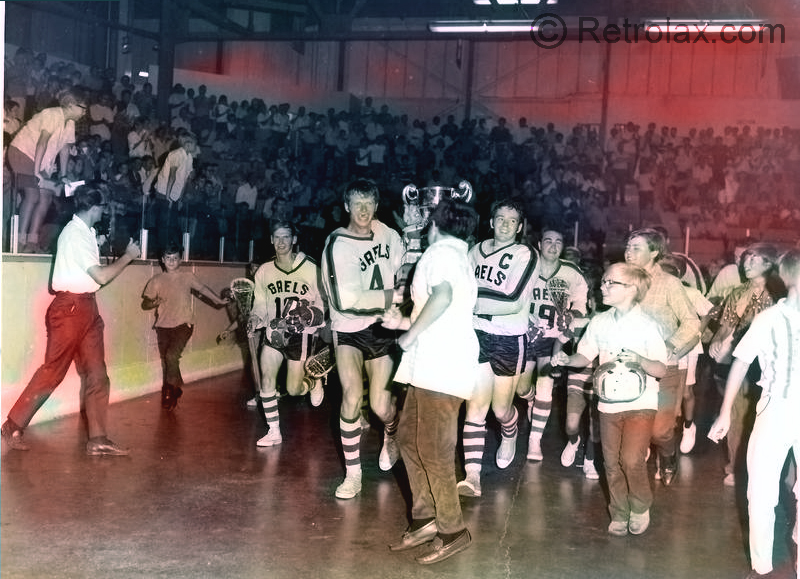 Couple times in those first two years we actually beat the Gaels once, but no more. 7 straight Mintos when in Junior lacrosse as in Junior hockey, age is a limitation and the line ups change from year to year. Incredible is an understatement.
To take a group of core players and to drill the "Bishop" game into them on and off the floor was what took place, conditioning better than any other team and a system of play that was high tempo and actually confusing to those who stepped onto the floor to play this group.
I remember watching the "force" of the Green Gaels. Johnny Davis, Gaylord Powless, Ross Jones, Larry Lloyd, Commander Jim Higgs, the Claytons, Dwight Davies, Marlowe, Stinson (who played on all 7 Minto Cup teams) and the remainder of that squad all knew their jobs and most often easily defeated those who stepped onto the floor wherever they played.
Coming out of midget lacrosse, going through a Junior A training camp the stepping onto the floor in Oakville in April 1968 to play my first Junior A game, an exhibition game, against this Oshawa Green Gael dynasty that I has been watching, it didn't take long for me to recognize that I was not in Kansas anymore Toto, and that these Oshawa guys actually played a different game than I'd ever seen and that playing them "live" was way worse than watching them beat the tar out of teams around Ontario.
It is difficult to explain how good they were, it is difficult to explain what the Jim Bishop collection means to the game of lacrosse in Canada and around the World. I suspect the significance of this collection will be appreciated by those who see it and even more appreciated by those who lived it and remember the greatness of that team, that time 63-69 and that man Jim Bishop.