Bobby Allan once said his lacrosse teams "always do things the hard way."
Last nights Nations Trophy playoff opener was a classic example. The Wings led just once — when John Grant scored with 59 seconds remaining in overtime. Grant's goal gave the Wings a stirring 11-10 victory over the stunned Maryland Arrows before a delirious 7,615 at the Spectrum.
Ulysses Grant took Richmond, John Grant took Maryland. But why all the sus­pense, lads? What were the Wings, regular season champions of the National Lacrosse League, doing trailing third-place Maryland 5-0 late in the first period?
"We had a really bad first period," said coach Allan in one of Philadelphia sports' all-time understatements. "Some of our bet­ter players were uptight."
Captain Carm Collins, suiting up after a remarkable recovery from a separated shoulder, noticed the tenseness.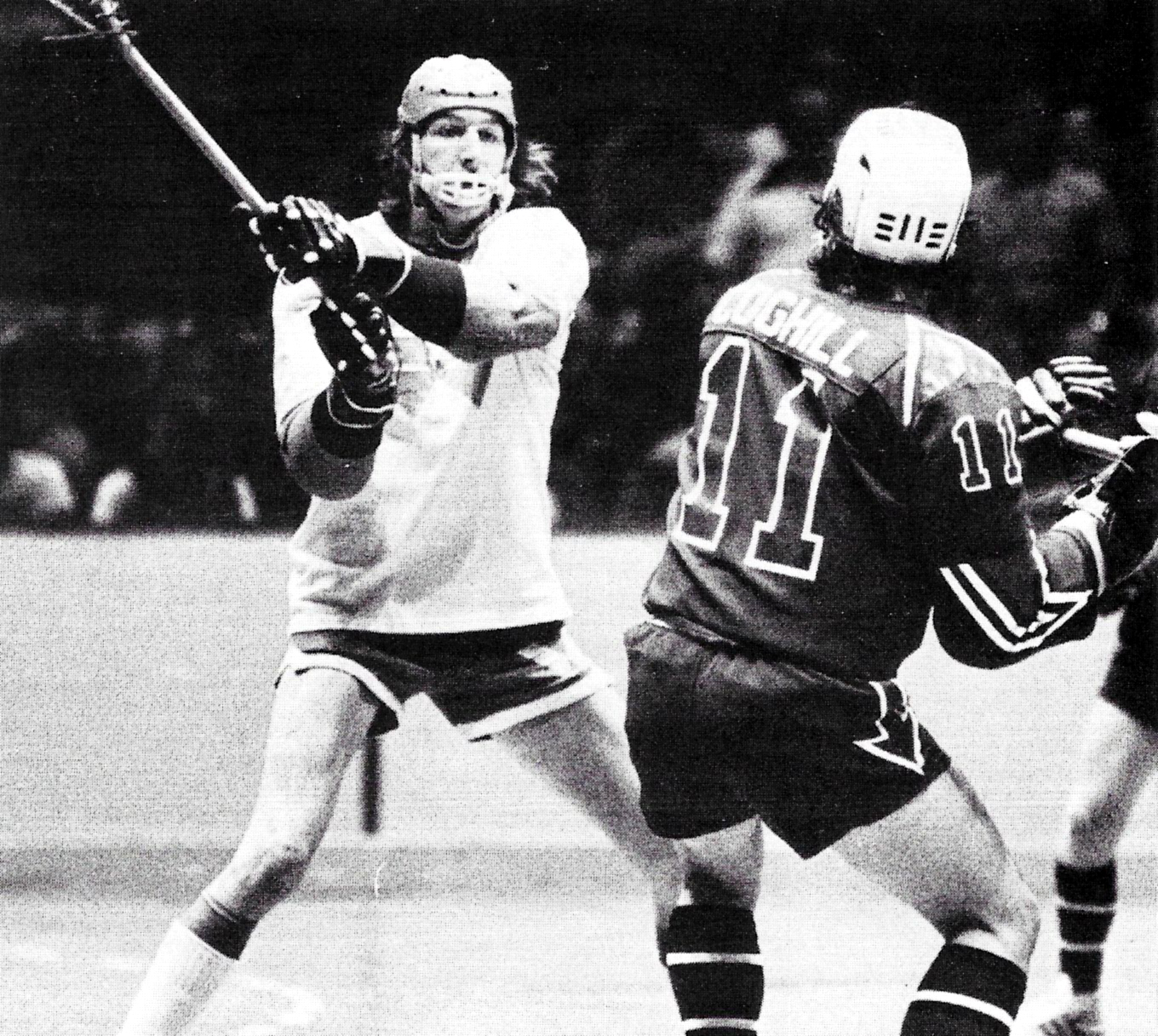 "YOU HAVE TO REMEMBER Maryland knocked us off the last three times," said Collins. "They always had talent, now they're together as a team. We know we'll have to play our best lacrosse to beat them."
John Grant saved his best lacrosse for the squirming moments last night. With some one-on-one moves direct from the Jerry West playbook. Grant's short-handed goal gave the Wings their first tie at 8-8 midway in the third period.
Maryland appeared to have a 9-8 victory clinched after Ken Henderson's goal and the Wings' ineptness on a subsequent power play. The Arrows gained possession in the closing seconds, only to see Paul Suggate, the league's top scorer, lose the ball to the Wings and Grant underhand a 30-footer past goalie Roger Williams with just two seconds to play.
No comment was needed from the Arrows. The sight of Suggate resting his head on his stick in total dejection was sufficient.
"I NEVER KNEW that time was left on the clock," said the slender 6-6′ Grant who lopes around the floor like a tamed whoop­ing crane. "Larry Ferguson and Zeny Lipin­ski made a helluva play getting the ball out of the corner. Terry Lloyd threw it to me and I just got off a lucky shot; It could have missed and the game's over."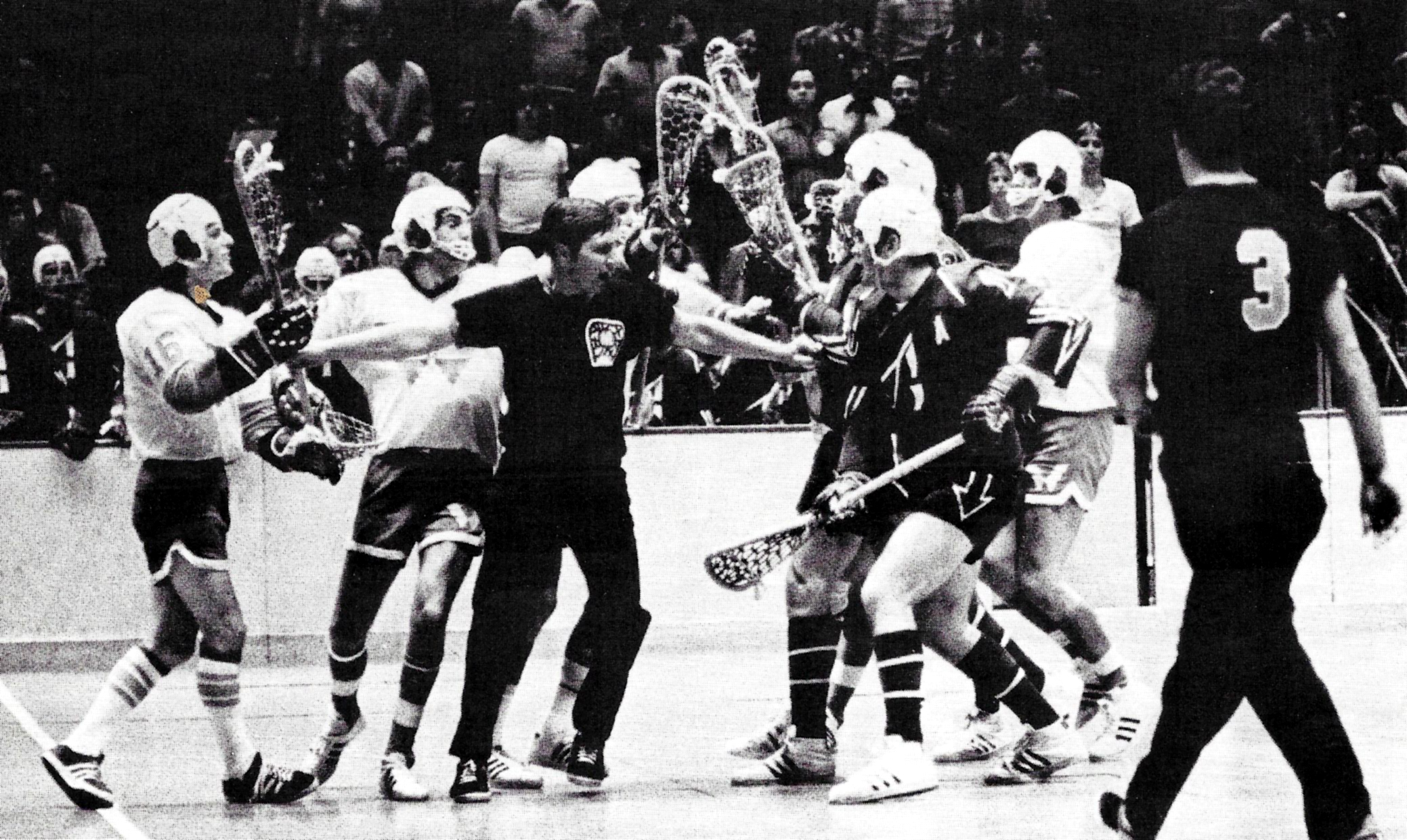 The game looked over again for the Wings in overtime when Tom Vann's 30-foot overhead put Maryland ahead 10-9 just 16 seconds into the 10-minute overtime. But Terry Rowland tied it at 6:49 on a familiar solo charge at the goal and Grant scored the clincher on a 20-foot overhead with Suggate guarding him.
The Wings and goalie Wayne Platt held off the Arrows until the buzzer. That Platt was able to stand was an upset. Shortly before Grant's overtime goal Platt had been flat­tened by a 6-foot, 200-pound Wayne Granger chasing a loose ball. Teammate Joe Krasnaj let Granger, who is not the once renowed re­lief pitcher, know such behavior was not ap­preciated by trading punches with the Mary­land defenseman in the night's only fight.
"He (Granger took the end of his stick and just came at me," said Platt, pointing to an ugly bruise on his neck. "He knocked out a tooth and took a piece of my tongue."
Despite Platt's awkward start after ac­cepting the Wings' Most Valuable Player Trophy from Flyer Bobby Clarke, the 1973 National Hockey League MVP, Bobby Allan praised his goalie.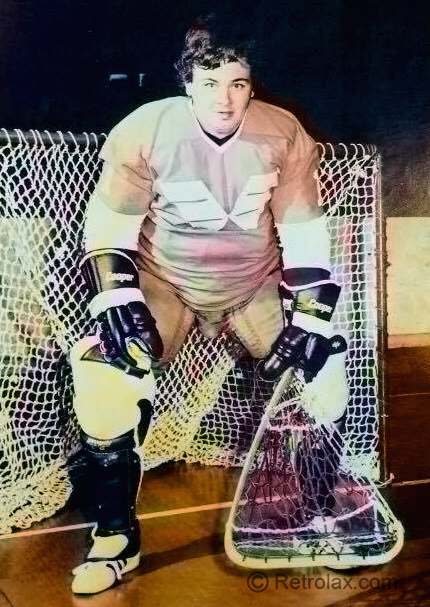 ''HE (PLATT) STOPPED three breaka­ways after Grant's tying goal," Allan said. "If he doesn't we're not in here yelling now."
Platt said the MVP award didn't affect him.
"The only thing that will affect me," he said, "is having the Nations Cup in this dressing room. I'll drink so much cham­pagne I'll look like a bottle."
The Wings and Arrows continue their semifinal series tonight at the Spectrum. If they stage an encore, someone should bottle it and add it to the "That's Entertainment" film. Cecil B. DeMille would have loved it.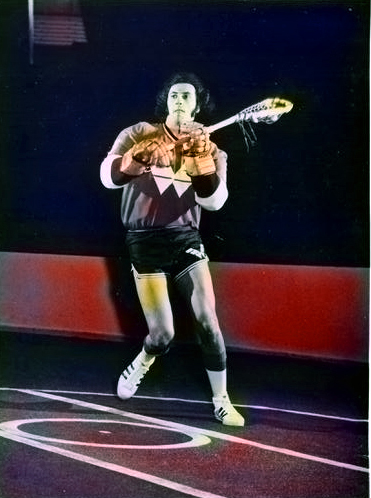 WINGING IT: Bobby Allan was aston­ished by Carm Collins' recovery. "They just took the pins out of his shoulder last Thurs­day," Allan said. "He could hardly lift his arm, but he worked out all weekend and got the pads on Sunday night. He said he wanted to play. I was just hoping to have him on the bench opening the gate. Having him there would give the guys a lift." Allan noted that the Arrows, notably Gord Keates, gave Collins "a few cheap shots, but I think that's over." …
Doug Favell scored the Wings first goal, at 17:08 of the first period. "If you're going to only score one," Favell said smiling, "it's best to score either the first or last." … With the 30-second shot clocks out of order, Ken Berman "narrated" the countdowns all night from the penalty box …
Banner of the night: "Today the Nations, Tomorrow the World." … Inciden­tally, the Nations Trophy honors various In­dian nations of North America who founded lacrosse.
Wings 1 4 4 2 – 11
Maryland 5 3 1 1 – 10
SCORING
WINGS
GOALS-Favell, L. Lloyd 3, Robinson, Goulding, T. Lloyd, Grant 3, Rowland.
ASSISTS—Grant 4, Robinson, Goulding, Platt, L. Lloyd 2, C. Collins.
MARYLAND
GOALS—R. Ryan 2, J. McKenna, Thompson, Suggate 2, Coghill 2, Hender­son, Vann.
ASSISTS—Suggate 3, Henderson 3, Coly 2, Williams, Marchen, Keates, R. Ryan, Smith, Coghill, Thompson.
SHOTS ON GOAL:
WINGS 14 14 18 7 – 53
Maryland 21 12 9 9 — 51
SAVES: Platt, Wings, 41; Williams, Maryland, 42.
PENALTIES: Wings, 12 for 27 min­utes; Maryland 11 for 25 minutes.
OFFICIALS: John McCauley, Bruce Hood.
ATTENDANCE: 7,615. TIME OF GAME: 2:56.