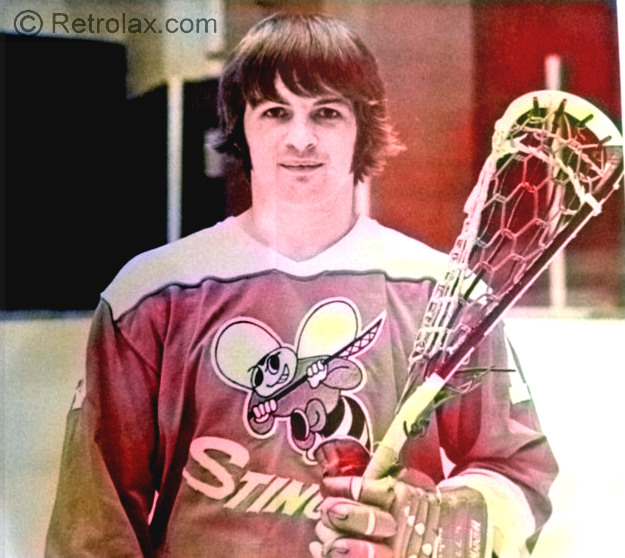 Home now, after the wonderful service for Terry in Orangeville.
A true celebration that included lots of tears and laughter, as it should.
Listening to all the emotional talks, genuine words of love and respect I wondered if I would have been able to keep it together, or even what I would have said?
Paul Cioci picked me up and I stayed with Paul and Vicky Cioci for the trip back. We talked for hours about our times with Terry. I thank Paul for his friendship. We both thought the world of Terry.
So many speakers touched on many things we all identified with knowing Terry.
Seeing Sue, and the brothers Phil, Lindsay and Shane, then the "kids" Karri and Josh brought tears to my eyes. Karri was one year old or maybe two, last time I saw her. Josh has gone onto have such a wonderful career in lacrosse.
Wanting always to stay in touch I am writing this to the Sanderson family "on my way down" so to speak from the emotional experience of the day and all that lead up to it.
Feeling sad and at the same time feeling tremendous pride in knowing such a family.
Brothers In Arms, is the way I think of the Sanderson Clan. Cannot help but think back to 1974.
The phone on the wall rings, as there were no emails, cell phones, texting or tweeting… (Terry's favourite thing to do…) Higgsy called to say that camp in Oakville was on and here are the details…
"Oh ya, we drafted this kid out of Junior C. He scored a hundred goals or something like that and he needs a ride to camp, can you pick him up on your way?"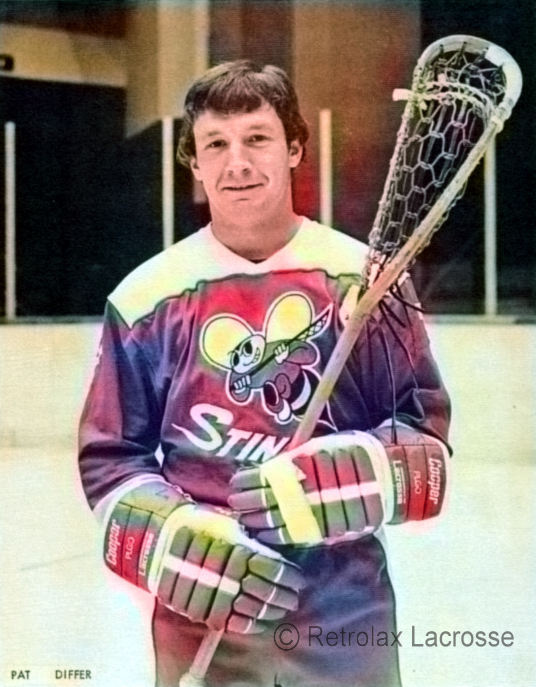 Now, this was Professional Lacrosse which we were all pretty excited about. Truth is we'd all have played for nothing anyway cause that's just what we did, so the fact that someone was going to PAY us to play was a pretty big deal for all of us, we were all excited to actually have a chance to play.
There was a draft, players from all over Canada and the USA were coming to camps to make the teams and to actually play for money. Mostly, it was the case that the names were familiar.
Players of various ages and from regular lacrosse hotbeds such as Peterborough, Brampton, St Catherines, New Westminster, Victoria and on. As well, there were US college stars making the transition from field to play in NHL buildings in Philly, Maryland, Montreal and Toronto, pretty big stuff.
Legends such as John Davis, Gaylord Powless and many many more. Most of the players had played against one and other in some cases since we were 10 or 12 years old in rinks all over. Minto Cups, Mann Cups, Lots of talent.
I said to Higgsy "Sure I will give him a ride, who is he? What's his address?" (thinking it was somewhere between or near where I lived in Port Credit, my trip to Oakville was about 15 minutes along the Lakeshore, just a couple of turns down the road)
"Terry Sanderson and he lives in Orangeville."…….
"Orangeville!! You are closer to him than I am," I said, as Higgsy lived in Huntsville.
"I am already in Oakville organizing the camp" he said, so… I said "Ya I'll go get him, no problem" thinking here is a kid who needs a hand so sure I'll get him.
Well, little did I know what I was about to unleash onto the lacrosse world in North America.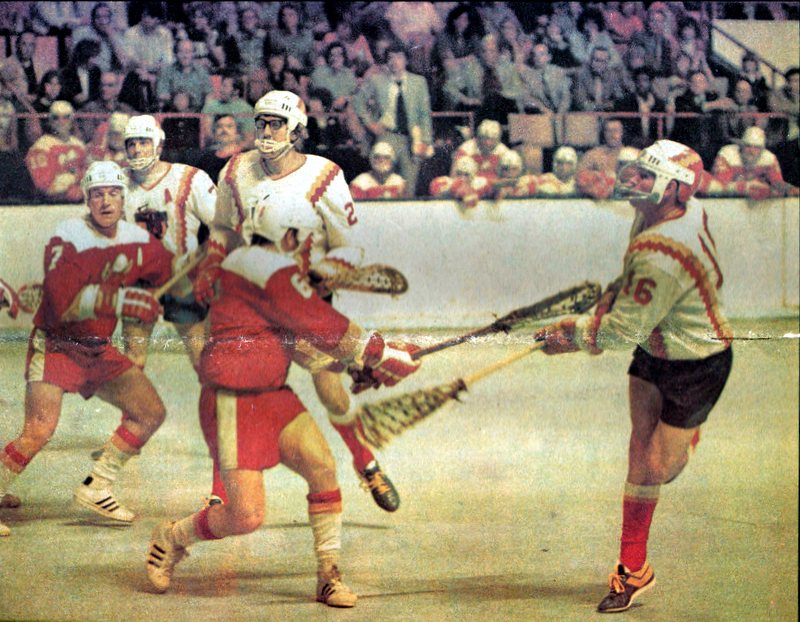 In 1974 Orangeville was a ways away, thinking I was lost a couple of times on the way up to pick up this guy, who after talking on the phone with, we arranged a place to meet.
I turned off of hwy 10 and there he was, sitting on his bag bouncing a ball beside him, stick in hand.
I figured on the way up, that this guy who had scored a hundred goals must really be something, after stopping for more gas… sheesh, and there he was. A skinny kid, long hair, not that big, and he threw his stuff into my brown 72 Duster, I had driven back to Ontario after playing in Vancouver the year before for the Burrards, and playing in the Mann Cup one gamer against those Peterborough bastards! We lost 9-5.
Now I was in Orangeville on my way (sort of ) to Oakville with this Junior C player, who was full of beans and really full of questions about this professional lacrosse thing.
In the day and a half trip back to Oakville…. we talked all the way. Terry asked about what was going to happen at camp, much of which I would be experiencing for the first time too, we talked about the chance to actually play Pro.
Our banter was instant, I asked if his tractor was broke and why he needed a ride, sort of an insult I guess and he was quick to snap back with laughter and our friendship began.
At camp, that went on for only a few days as is the case in any Professional or top level team selection camp process, most of the team on paper had already been picked, based on the knowing of players or their performance in Junior A or Senior Major or WLA lacrosse in Canada. Making this team was a tall order.
We went through the two a day workouts and scrimmages, working toward a short exhibition schedule and then who to take to Syracuse?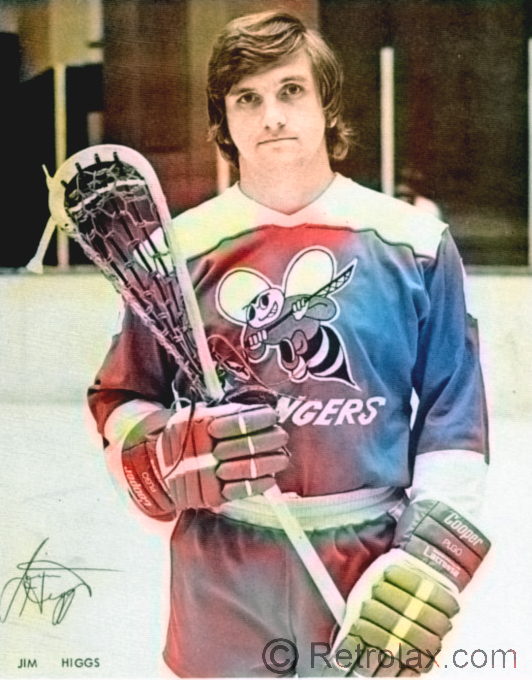 Higgsy was the acting coach, there was a plan to have Richie Moran from Cornell (close to Syracuse) a well known and successful US College coach be the Syracuse coach, but having not much box experience Higgsy was the guy picking the team from camp. Richie bailed out after only a few games and Medo Martinello from Windsor took over. He was actually a referee in the league at the time.
Jim Higgs was a decorated player from Huntsville who had been the captain of the Oshawa Green Gael dynasty winning many Mintos in a row (63-69). I had played against him for a couple of those years but really didn't know him well.
There were a few players at camp I did know from junior and senior. I was only a year older than Terry. Playing 5 years of Junior A and one year of Senior in the WLA in Vancouver, I was pretty tuned into how good the lacrosse would be.
Lots of good and great players vying for jobs.
During camp Higgsy would ask about players and consider thoughts or comments as he tried to pick the best 20 or so to actually take to Syracuse, where we would live on campus at Syracuse University. Lots of stories there too!
Terry was skilled stick wise, and had lots of energy, still he was an unknown "game wise" and hung in there through camp as cuts were made. Think there were almost 50 invited to camp.
Some left not long after arriving, being afraid of the Indians stick swinging antics. Russ George, Travis Cook, Jimmy Miller and a few more all lived around Syracuse somewhere. We played with hickory sticks and they could do some damage to the body. Many didn't have much of an appetite for any of that, and just left camp at night.
Competition was fierce for the 30-80 bucks a game we were going to make to take our life into our hands in a foreign land. Wouldn't want it any other way.
"Let's give him a chance" I said to Higgsy as we approached our first exhibition game. Terry had stood up well in camp, scored some goals in the scrimmages, worked well with the various line combinations and had a couple of minor dust ups with others along the way so, he stood up to the rigors of camp.
Then it happened.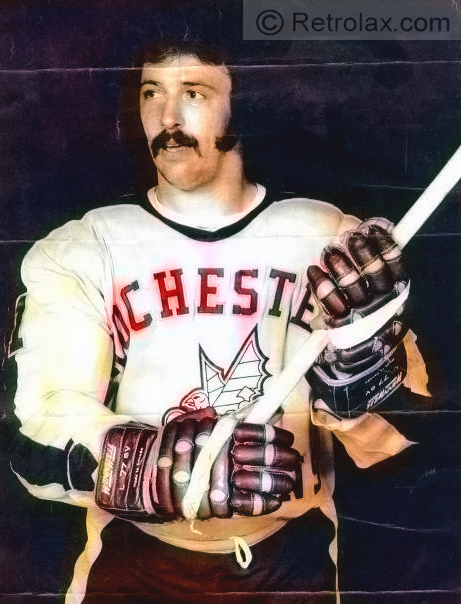 Our first exhibition game in Brantford. Terry actually reminded me of this a couple of years ago when I along with Wendy's Dad Russ visited on our way up Owen Sound to visit one of his friends from way back. Russ was 84 and had never been to Ontario so we did the Niagara Falls, Blue Jay game thing, and drove around Ontario.
Going to Owen Sound, I called "Shitface" (my pet name for Terry, he would call me "Puckhead" because of my bald spot) and asked if we could stop in for a visit.
He was home and said sure, so we did. Susan made us a cup of tea and we laughed for an hour or so as we visited and Terry reminded me of the thing that led up to the Bisson incident.
We were on the bench. I was beside Zeke (Cioci) on one side, and Terry was on the other side of me. He asked me "What do I need to do to make this team, I really want to make this team".
I looked over at Zeke and turned to Terry and said "you really want to make this team, see that guy out there?" pointing to center floor where the face off was going to be. Terry's line was up.
I said again "You really want to make this team, then go out there and beat the shit out of that guy". The door opened and I pushed Terry on his arse, our the door.. "go get em!" and off he went like a dog off the leash. Zeke and I smiled at each other knowing what was about to happen if this Orangeville kid was for real.
Now, Rick Bisson was a tough guy, if not the toughest guy in the league one of them for sure. He had a moustache and a habit of biting it as he stared many down. I will add to this that he was also crazy.
Which to our delight on the bench, just added to the excitement as Terry took his place beside Rick for the upcoming but never occurred faceoff.
Terry lined up beside Bisson and gave him a push. Bisson look sideways at Terry, probably wondering if this kid had a deathwish? Again Terry gave him a shove and off came the gloves and away they went!!
Anyone who has been in one of these know when I say it went on for 30 seconds or so, that is a looong time.
May not sound like it but it is, for at least 30 seconds, they stood toe to toe, landing punches trying to knock each other out and at the same time holding each other up so they could land more punches. Wham.. Wham…back and forth trading punches.
Our bench erupted when it was over, a defining moment for sure for our team. This fight united us in spirit. Terry came back to the bench after serving his time. Lumps all over, we could almost see the birds flying around his head still. Bisson may have been worse and he didn't know it but he had just made the team. Higgsy gave me a wink and I knew, we all knew, this "kid" was for real.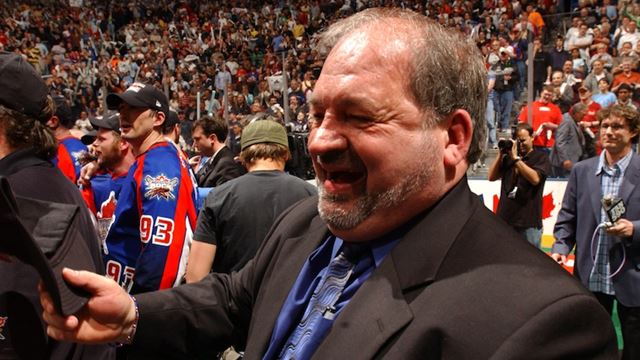 He had climbed a steep mountain, coming out of Junior C, the Professional lacrosse world knew who Terry Sanderson was.
Lots of info available online about the league in the 74 and 75 years. Terry was a foundation piece of those teams. Over the years, he has become a Paul Bunyon type character in lacrosse in North America and maybe even Globally, and in the community of Orangeville. People with be telling stories for years about Terry Sanderson.
Shitface and I stayed in touch using the dreaded cel phone, often sending texts insulting each other in a brotherly way. My phone would make a noise out of the blue, telling me a message had arrived, I would look at the screen to see just "F_ _ K O FF!" and know who it was from. I have always had a "close feeling" with Terry, again that Brothers in Arms thing ever since those days. We saw each other a few times at games.
One time I flew with our son Jay to Calgary to see the Rock play in Calgary. I wanted Jay to meet Terry, we stayed overnight and had a beer or two after the game. Again more laughs.
Just this past July (2014), we rode together to a game in Peterborough as he was with the Oakville team as was his style. Again, building lacrosse in a community.
Terry picked me up in the parking lot of the new Brampton arena (guess it's not so new, but to me it is new).
This time some 40 years later, I hopped into his car and we laughed all the way to the "Boro". Talking about lacrosse, life, grandkids of course, and called Zeke to insult him to add to our fun. He couldn't make the trip with us so we had to call to give him the gears.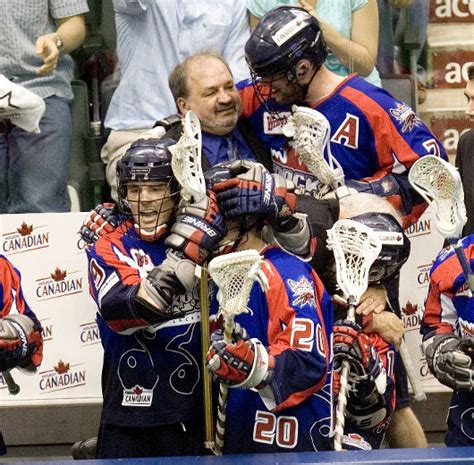 Terry reminded him that he was one of Medo's "Pretty Boys" who the brown line had to take care of. We laughed some more. We talked about the "fan letter" Terry, Rock Roach and I wrote to Cioci as we all giggled about Zeke getting this letter in the mail one day in the dressing room before practice.
Zeke was a sniper who in 74 scored at a 2 goal a game pace, then ran into knee problems. Today his knees look like he lost a knife fight with a midget.
We decided to write this letter to Paul from a fictitious Italian lady fan Florine Marcello who as the letter explained in great steamy detail, loved Paul and thought he was handsome and very much wanted to meet him, and oh ya to "have his child" … then we mailed it. Zeke opened it in the room and we all kept an eye on his face as he said "Holy shit guys! I got a fan letter! Listen to this!" He went on to read us parts and was really excited. Eyes darted around the room as we crowded around Paul.
We smiled at each other and of course egged him on to look for her in the stands before the next game….this went on for a few days and we finally had to come clean. We all laughed about that one.
Jamie called Terry a couple of times on the way down to the Boro. "Where are you?" on the road to the game, talked about their night ahead and facing a strong Peterborough squad.
Just getting to Peterborough with all the laughter was great, we had dinner and at the rink saw some of the Peterborough boys. Bobby and Pat Allen, Carm, Ted and Don Barrie.
Before the game I followed Terry around for a while, went into the dressing room as some of the players arrived. Terry introduced me as Puckhead, an old teammate for the Pro League where we played with wooden sticks.
I added "wooden helmets and wooden shoes".. the young guys laughed.
We left the dressing room, and he was off to set up the game details, intimidate the refs and who knows what else. I wandered around a rink I had not been in since the 70's. Really enjoying the atmosphere of what would be a sold out arena. Wow, over 3000. it was great.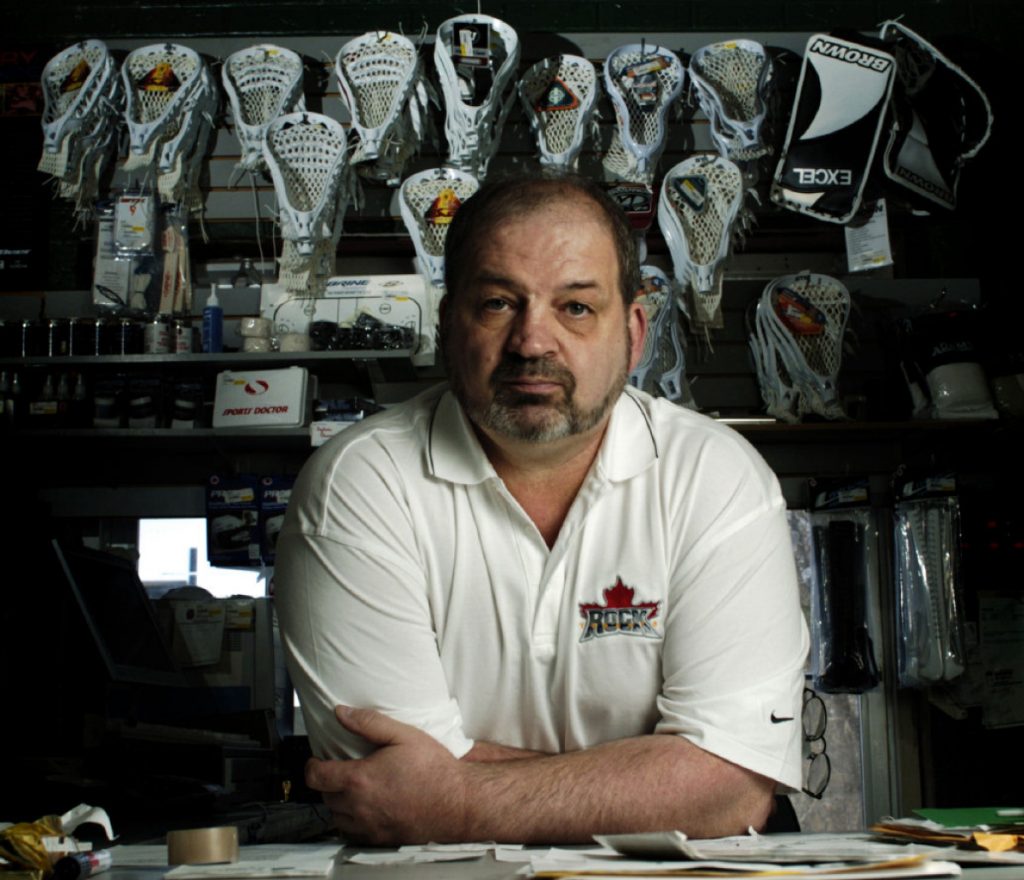 Terry and Jamie watched the game with the "Every Day is a Game Day " mentality. Still competitive. I on the other hand was just a fan now, but understood fully their passion to make things better.
A play here and a play there was the difference as the game was really closer than the score indicated. Oakville was close. Competitive for sure again because of moves Terry had made as GM.
We drove home, no drinking, called Sue and woke her up. She was of course thrilled to hear my voice haha,
Terry and I talked seemingly forever as we drove back to the rink in Brampton. The time flew by not even thinking about how far the drive really was or how many times he has made that trek.
Little did I know.
On the way home Terry said he really didn't have much from the Pro league we played in as keepsakes. I said I had a few things I would copy and send back which I did. Put a package of things together, stats, pictures and articles so he could show his grandkids.
Now, after being there and back from the service, I write these words as a way to personally handle the whole deal of Terry passing. There are many with Terry stories and they should tell them. I am so grateful we went to Peterborough.
I offer my version of some of our times together with hopes that maybe others will read this and that it helps them as it has helped me to deal with the healing. Please feel free to share these words. Susan and I have a pact.
When I think of Terry I smile. To me, the very best thing about Terry Sanderson is that he was Terry Sanderson. One of a kind. I will have good thoughts of him .. always.
Pat Differ