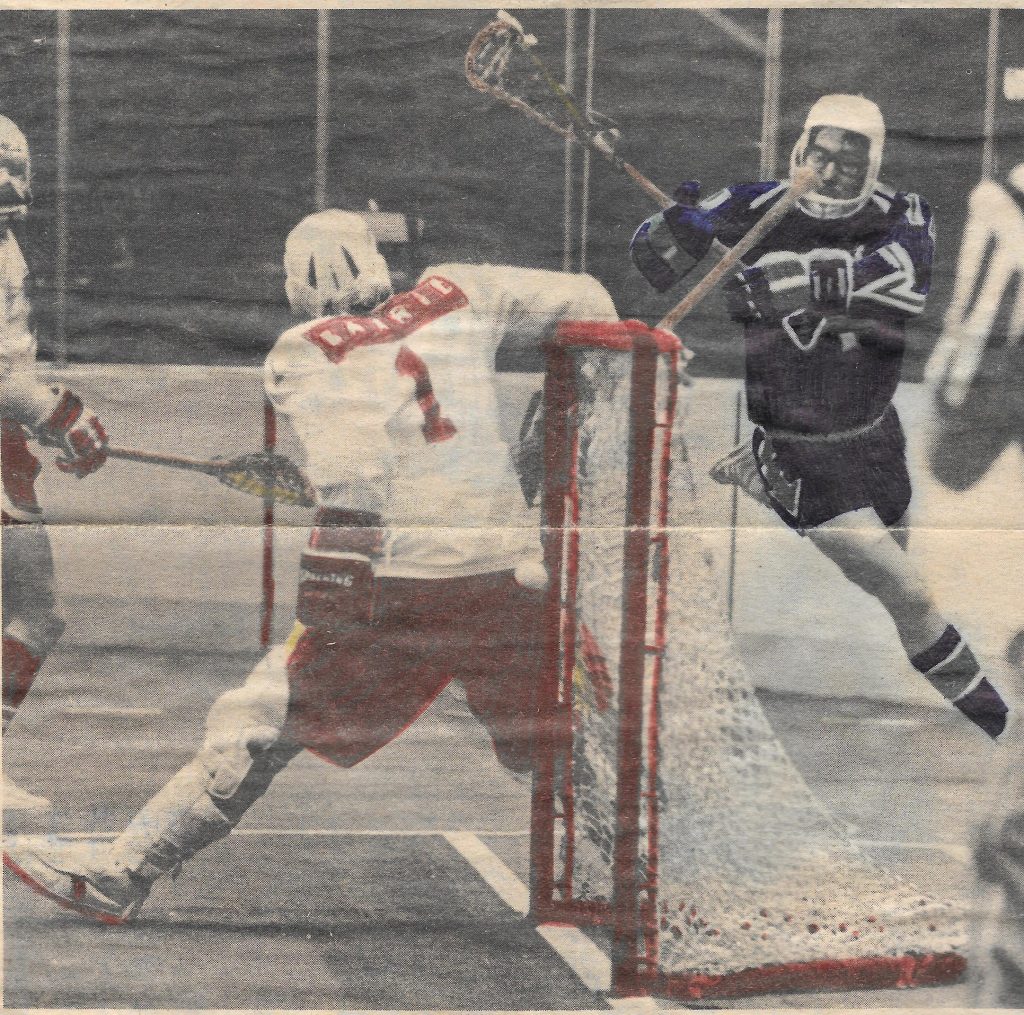 Bill Coghill of Maryland, scores against Tim Barrie of Long Island, in the Arrows 17-16 victory, at the Capital Centre…
The Maryland Arrows are off to a great start in their quest to capture the 1975 Na­tional Lacrosse League title.
The Arrows have won 9 of their first 14 games and have captured six of their seven home games.
But more importantly to coach Cy Coombes, the Arrows have played nearly .500 ball on the road, including a recent road trip in which they won two of three games. And this pace should bring the Arrows the top spot in the six-team race.
An indication of what was ahead took place in the season opener when the Arrows rallied in the final period to drop the Phila­delphia Wings, 19-17 in Philadelphia.
The Arrows scored four goals late in the game to clinch the win. Bill Coghill tied the game at 15:45 and Blair Campbell and Paul Suggate followed for the clinching scores.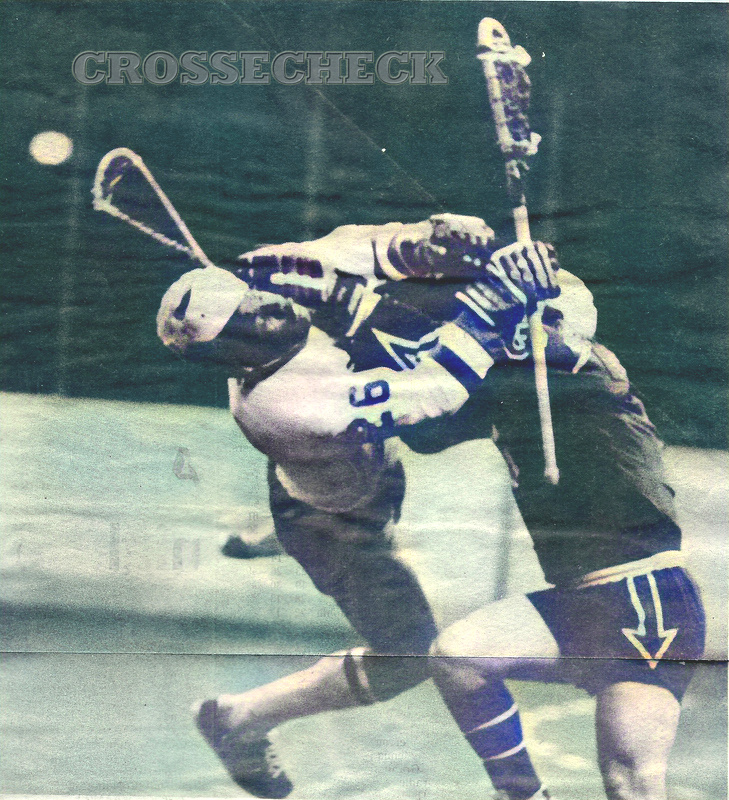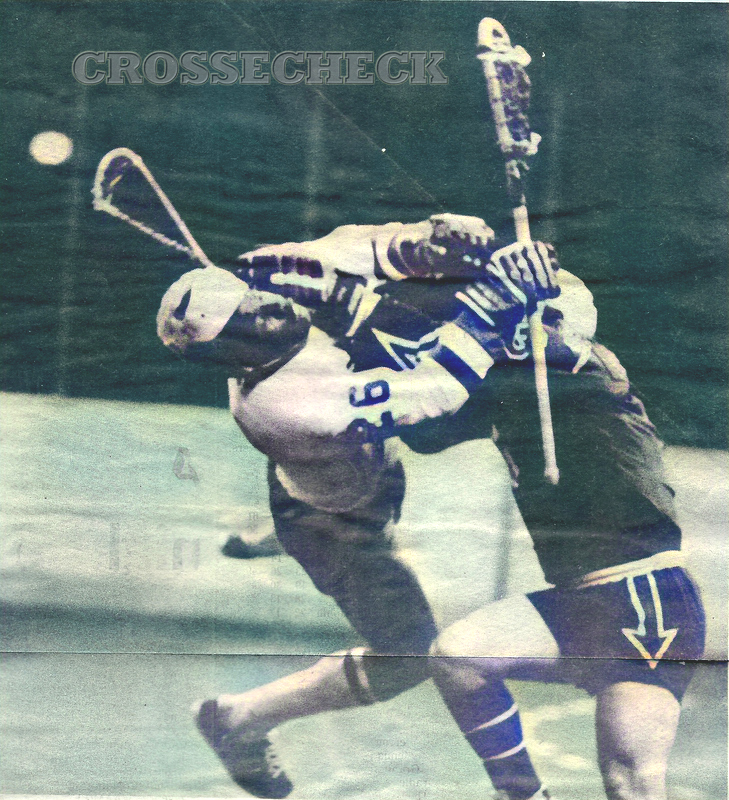 Ken Henderson welcomes Montreal's John Sheffield to the Capital Centre
The home opener was even more excit­ing. The Arrows had to go into overtime to catch Montreal, 19-18. The Arrows scored the game's final four goals to do it, the win­ning scorer at 1:31 on a shot by rookie Brian Tasker. Prior to Tasker's score, Terry Davis had scored three times on power play goals.
Tasker continued his heroics against Long Island as he scored with just five sec­onds remaining in a 19-18 Maryland victory. It was Tasker's third goal and ninth point against the Tomahawks.
Maryland's home streak grew to three with a 19-16 victory over the Wings. Suggate and Campbell led this victory, an easy one for goalies Keith Todman and Greg Thom­as. who combined for 38 saves. Suggate had four goals and four assists, while Campbell had three goals and three assists.
Philadelphia then gained revenge by stopping the Arrows victory streak with a 17-12 victory in Philadelphia. But Tasker had four more goals and four assists while Suggate had four goals and five assists.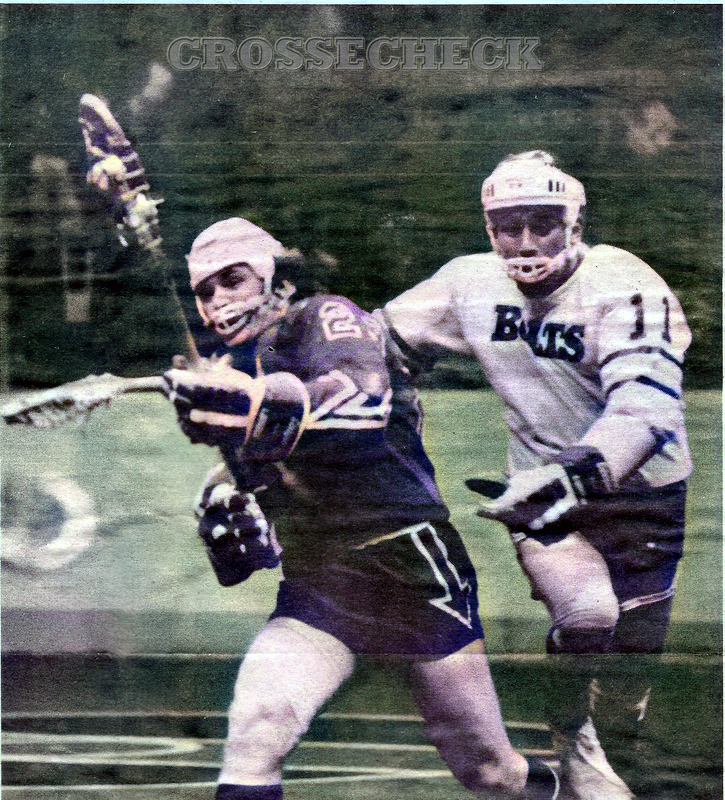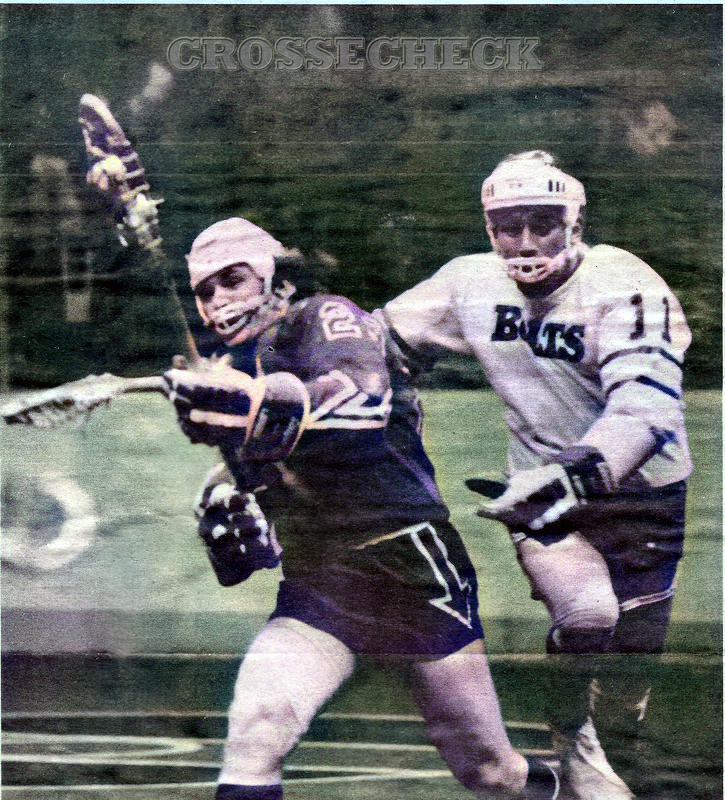 Maryland grad Doug Schreiber controls against Boston's Bill Squires, in the Arrows 19-11 victory, over the Bolts
Boston's first visit to the Capital Centre produced a 19-13 victory for the Arrows .with Wayne Granger scoring four goals to join with Bill Coghill and Campbell in the scor­ing limelight.
The Arrows then downed Long Island for the second time at home, 17-16. Rick McKenna took a faceoff pass from Suggate for the winning goal at 17:42 after the Tom­ahawks had scored five unanswered goals to rally from a 17-12 deficit.
The Boston and Long Island victories followed a 20-9 loss in Quebec and when the Arrows returned to the road they were ready. Maryland produced triumphs in Boston and Philadelphia before losing to Montreal.
In Boston, Suggate, Tasker and Coghill scored three goals each as the Arrows col­lected victory number two over the Bolts 15-13. Then in Philadephia, Campbell scored a season high five goals and Terry Davis assisted on six goals in an 18-11 victo­ry.
The Arrows had little fun in Montreal, losing 22-9 with Tasker scoring a team-high three goals.
Maryland then returned home to defeat Boston 19-11 as Campbell again scored five goals, Tasker had three goals and four as­sists, and goalie Thomas four assists as he continually fed the Arrows fast break.
Another road trip produced a fourth loss as Maryland fell to the Tomahawks, 23-12 in Long Island. Coghill had a team high three goals and Tasker collected six points.
Montreal then presented the Arrows with their first home loss as the Quebecois rallied in the second period to take an 11-6 lead-and hold on for a 14-12 triumph. Sug­gate paced the Arrows attack with three goals and two assists.