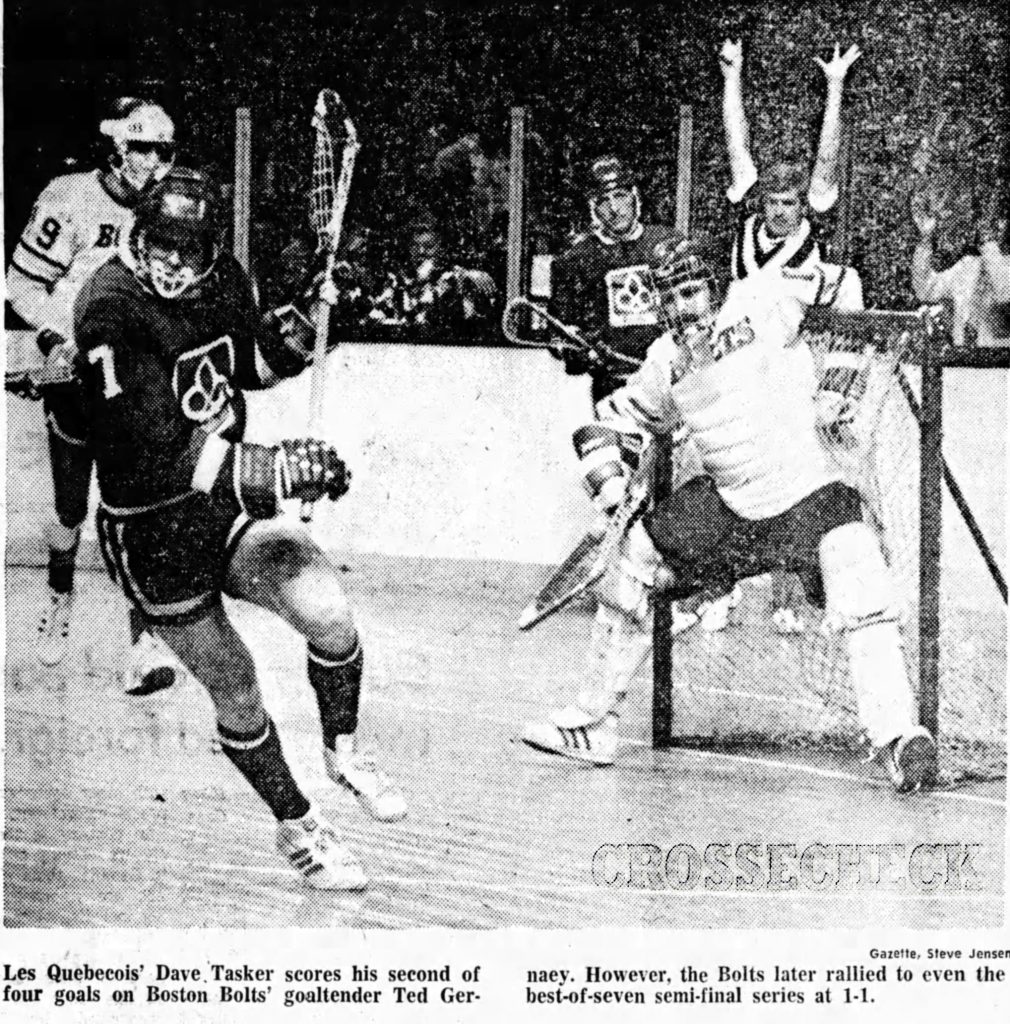 Boston Garden is no "Gar­den of Eden." says Boston Bolts' coach Jim Logan, but, after last night's 9-7 victory over Les Quebecois, Logan looks forward to returning home to The Garden for the third game of the National Lacrosse League playoffs Saturday night.
"We're not a fleet-footed team but we're bulls," Logan said afterwards. "We were just lucky we scored on our shots."
Logan was referring to Les Quebecois goaltender Ernie Mitchell who had one of his super nights, blocking 44 shots, but his own goalie Ted Gernaey's performance made the Bolts' coach smile.
Gernaey, whose excellent performance was nullified by Boston's 9-8 defeat in tbe opening game, was everv bit as good as the Bolts squared the series. "Teddy was great." Logan said. "And he'll certainly be in there for the next game."
The Bolts tied the best-of-seven semifinal on sheer de­termination as Logan, Ger­naey and company proved' they also can beat Les Que­becois in Montreal Forum.'
"They beat us three out of four in The Garden," Logan said. "But we beat them 18-7 the last time we played them there and, while it might not be The Garden of Eden, we're use to the floor and we're really starting to go."
Same as in the opening game, the Bolts had trouble in the first period last night and went into the second period trailing.
Dave Tasker, who has gone virtually' unnoticed through­out the season, gave Les Quebecois a 5-2 first-period lead with three goals. "We didn't cash in on our breakaways in the second and third periods," said Les Quebecois coach — GM Jim Bishop.
"Yea," interrupted captain Ken Winzoski. "We had four breakaways in the second period alone — never mind the third." But for Winzoski and his Les Quebecois teammates, the Bolts, hit the post eight times. And Gernaey was the reason they missed so many breakaways.
"It definitely was one of my best games," said the 23-year-old netminder.
Gernaey blocked 44 Les Quebecois shots after stop­ping 32 in a losing cause Tues­day night.
"I thought we played just as good as them but they had a big fat goalie at the other end," said Mitchell, describ­ing  Gernaey's spectacular effort.
"Thompson (Ivan, the Bolts' captain who score the victory with three goals) was lucky. The last goal (the winner at 16:12 of the third period) went off me and I should've had it."
The winner, one of five goals scored in the final pe­riod against Mitchell, wiped out Tasker's finest night, but he still managed a smile afterward.
"I'm very satisfied with my performance but it's always much better when you win," said Dave. "The best way to score on Gernaey is when you're moving. I had some other good chances to score but I wasn't moving. I scor­ed when I was."
Dave Litzenberger, Bruce Arena and Bill Squire completed the Les Quebecois scoring.
In addition to Thompson's three goals. Bram Wilfong net­ted two while Dave Johnston, Stan Cox, Larry Bell and Jerry McKenna also scored for the Bolts.
Following Saturday's third game, the fourth will also be placed at the Garden Monday night.
In other playoff action, the Long Island Tomahawks, who hold a 1-0 lead in their best-of-seven series with the Que­bec Caribous battle Quebec in Long Island tonight.