By TOM BORRELLI and COMPILED BY TOM BORRELLI Published July 21, 1994 - Buffalo News
The first time Pat Coyle saw a replay of what may be the most talked about incident in Major Indoor Lacrosse League history, it nearly reduced him to tears.
The Detroit Turbos forward saw himself, in the heat of a tied semifinal playoff game against the Buffalo Bandits at Memorial Auditorium, raise his stick horizontally and knock referee Greg Mallon to the ground by striking him in the chest.
Mallon, before he was felled, had called Coyle for successive minor penalties.
Buffalo scored twice on the ensuing power play and never looked back en route to a 16-10 victory last April 9. By the time the rest of the Turbos left the field that night, Coyle was dressed and long gone from the Aud dressing room. League officials suspended Coyle indefinitely.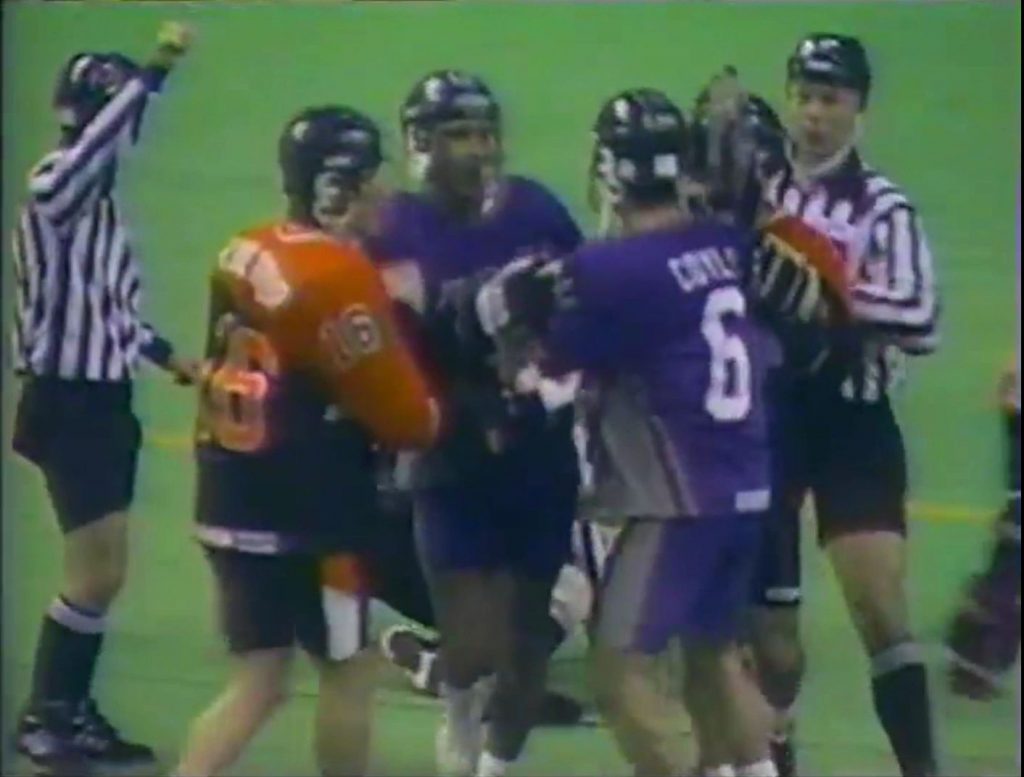 Coyle, watching the tape-delayed broadcast just a couple of nights later, heard the ESPN commentators' reaction to the play.
"Those guys just butchered me," Coyle said. "They called me a coward and said I had no heart. The first week after it happened, I thought a lot about it. It's hard for me to think that one stupid thing like that is what I'm going to be remembered by. It really hurts."
The incident with Mallon was the final chapter of a volatile rookie season. Coyle had three goals and three assists and finished with 22 minutes in penalties, which tied him for second in the league in that category. But teammates say his rugged play helped the Turbos finish 5-3, a two-game improvement from the last-place finish of the season before.
Late in the regular season, Coyle was suspended for one game after the Turbos and Philadelphia Wings engaged in a scary brawl that involved fans and players at the Spectrum, prompting MILL officials to stop that contest in the third quarter.
"I had a bad reputation all season," said Coyle, who is a solid 6-foot, 200-pounder. "I'm not a dirty player. Ever since I was a little kid, it seems like referees have always watched me closer than anybody else. I play rough. I'm from the school that plays an eye for an eye. I don't go around starting anything, any kind of dirty stuff. But I don't back down either."
These are happier times for Coyle.
He's moved to suburban Vancouver, where he's started a four-year program as a plumber's apprentice. He's playing box lacrosse for Coquitlam in Canada's Senior Lacrosse League and says he has put the incident behind him.
"What I did that night was wrong," the 24-year-old former hockey player and lacrosse All-American at the Rochester Institute of Technology said. "It should have never, ever happened. It was really dumb and I'm totally embarrassed by it. I really have no excuse. But that's not the type of player I am. Again, I am not a dirty player."
When the name Pat Coyle is mentioned, teammates and opponents alike don't use the word dirty.
"I consider Pat one of the toughest guys I've ever stepped on the field with," Detroit's Jon Lantzy said. "Pat was and is very much a team leader. He's very vocal, jumps on guys when they don't work hard enough. He plays practices and games that way. It's his nature.
"He's one of the most intense competitors you'll ever see. There's no doubt he should have shown more restraint that night, and sure, I was disappointed in him for what he did. But it's a double-sided coin. I also know we'd have never been where we were at that point in the season without Pat playing the way he does."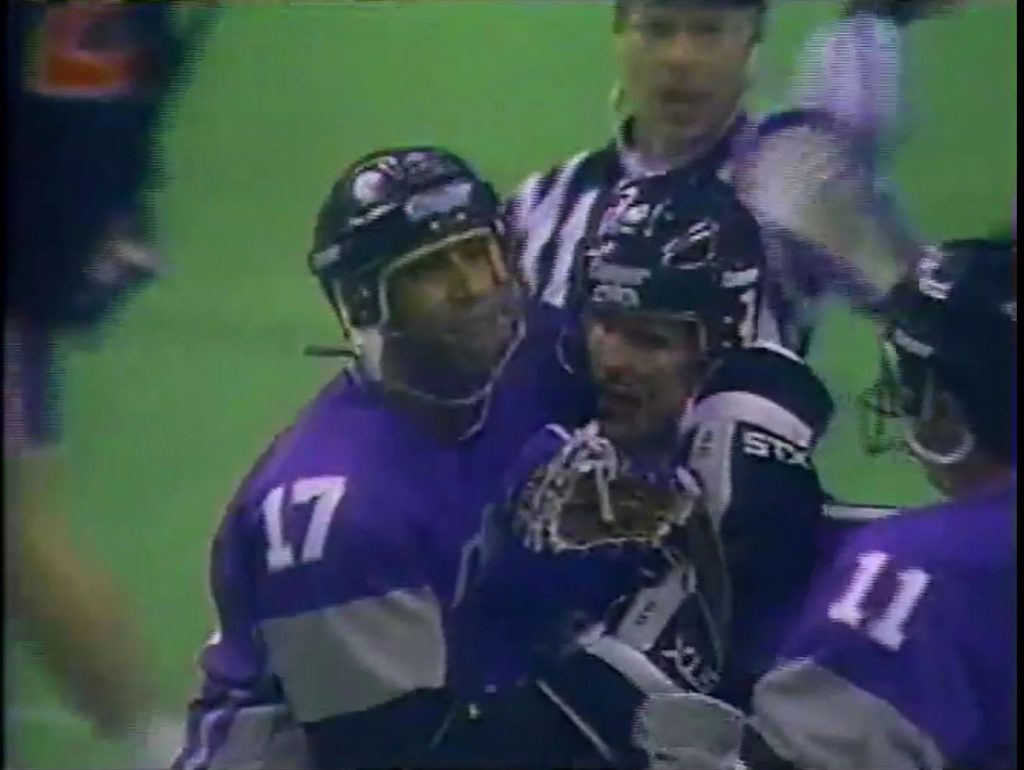 "Pat is a real tough competitor. Sure, he did his share of trash talking, but so do most athletes," Turbos general manager Tom Wright said. "I think the league had to step forward and do something after what Pat did, but a lifetime is a bit severe."
"Emotions were running very high that night and he did something dumb," said the Boston Blazers' Neil Doddridge, a former Turbo and teammate of Coyle's. "I'd like to see him back in the league."
Coyle says that won't happen, at least in the near future.
"I really don't have any intention of playing in the (MILL) as of now," he said. "If there were a team out here, I'd want to play. I know they (the Bandits) flew Kevin Alexander back and forth to the East for games a couple of years, but I'm not the type of impact player that any team would do that for."
MILL rules concerning contact with an official are vague. According to the 1994 MILL Official Rule Book, "Striking or attempting to strike an official shall require an expulsion penalty. Further sanctions may be imposed by the MILL office."
More than three months have passed since the incident and the MILL hasn't made a ruling.
"We still need to make a further decision concerning (Coyle)," MILL Director of Operations Ed Wayda said. "We'll have to meet on it again in the next month or so and update the status of his suspension, whether or not it's a lifetime suspension. Right now, that doesn't mean it's for a year, or two years, or for a lifetime. . . . It's definitely one of the uppermost violations we've had to deal with."
Coyle said he received a letter from the MILL saying he was suspended indefinitely. He says the league withheld his pay from the playoff game (a total of $250 according to the MILL Players Association pay scale for first-year players) as well as a small end-of-the-season attendance bonus.
"We found out he wasn't paid his bonus, but we've never been officially informed by the league what they intend to do about his situation," said the Boston Blazers' Peter Schmitz, president of the MILLPA. "It was a unilateral decision on the league's part, they didn't consult us about it. That shows a little lack of respect for us and that gets a little tiresome."
Coyle said he won't fight to get his final MILL paycheck. "In my mind, what's the use. You can't fight the establishment. I'm just trying to get on with my life.
"I wasn't running when I came out here, it was strictly a work situation. But to be honest, I didn't have much direction back East and employment opportunities are few and far between back there.
"If I had the opportunity to apologize to that referee today, I'd take it. I can't ever take back what happened because it's done. I've made my own bed, now I guess I have to lie in it."