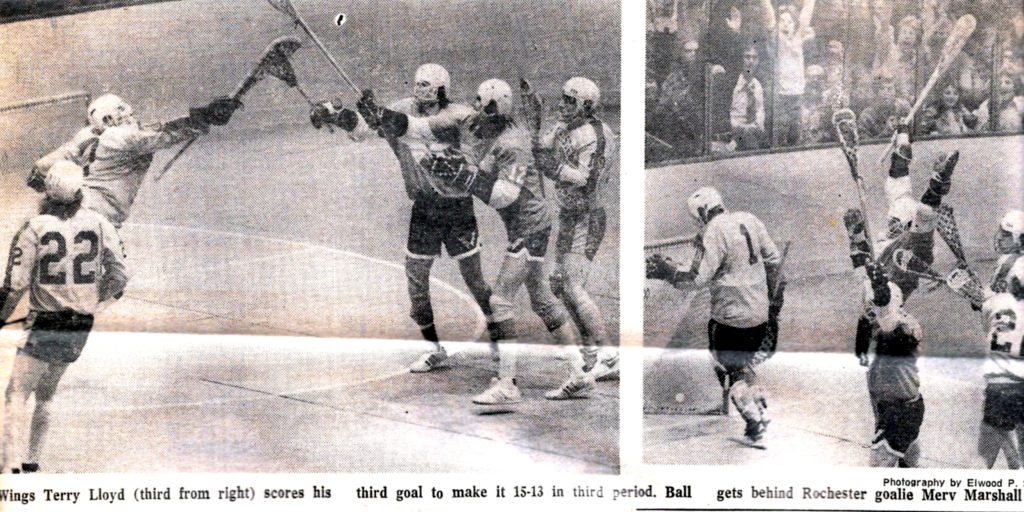 It took Larry Ferguson a little longer than usual to get back in shape for this year's National Lacrosse League season.
When you are 34 years old and have just sat out a year of active competition the aches and bruises become nagging souvenirs of the past.
"I had to start running about two months before the start of camp," the Wings forward said last night after his team moved into a tie for first place with a 17-15 vic­tory over Rochester at the Spectrum.. ''I'm still not completely ready. That's the price you have to pay I guess for going into temporary re­tirement."
FERGUSON HAS PLAYED box lacrosse for nearly 25 years now. Last spring, how­ever, business interests forced him to give up the sport.
''I run a sporting goods store with Cy Coombes in Peterborough," Ferguson said. "I knew he wanted to play last year so I volun­teered to give it up. I knew something might be up this year so I figured I'd just rest up."
Ferguson is now part of a franchise that is catching on like wild fire in the wake of the Flyers' Stanley Cup vic­tory. At first, it looked as though Ferguson's age might force him to become a mana­kin. Then Ferguson exploded for four goals and two assists during the Wings' most im­pressive victory of the early season.
"HE IS REALLY sweet with the stick," Wings coach Bobby Allan said?
Ferguson is another mem­ber of this team who is just starting to emerge from a co­coon. "Take a look at Larry Lloyd's brother Terry,' Fer­guson said. "He had three goals tonight. And guys like Barry Richardson and Brian Robinson. They may not have been major factors tonight but just watch them. Some- night you're going to turn around and they're going to be stars.
"That's why I think this team still hasn't reached its peak.
RIGHT NOW, the Wings (4- 1) appear to be one of two or three best teams—along with Rochester (4-1) and Maryland (3-1) in the league.
"I think we're the two teams to beat," said Roches­ter coach Morley Kells, one of the founders of the NHL "Neither team is going to wipe the other."
The Wings may have had the edge last night because of another superb goaltending performance by Wayne Platt. Platt, who stopped 42 shots last Thursday against Syra­cuse, had an incredible 50 against the Griffins.
"He's the guy who beat me last year in the Canadian Senior A League," said Kells, who was at Branford last sea­son. "He got tough just at the right time tonight."
THE WINGS never put the crowd of 9,272 at ease until midway through the third pe­riod when goals bv Terrv Lloyd and Ferguson gave them a 16-13 lead with 7:43 to play.
The Wings now leave for a three weeks road trip that will include five games.
Larry Ferguson is not wor­ried though. He has already been associated writh a cham­pionship team. "Last sum­mer, I coached the Peterbor­ough Pee Wrees to the Cana­dian Championship," he said. "I wanted to do something to keep my hand in it."
WINGING IT: Allan said that forward Doug Favell worked out with the team Monday night and that the ex-Flyers goalie might be ready to go within a week . . . Buf­falo Sabres' star Rick Dudley scored three goals for Roches­ter.