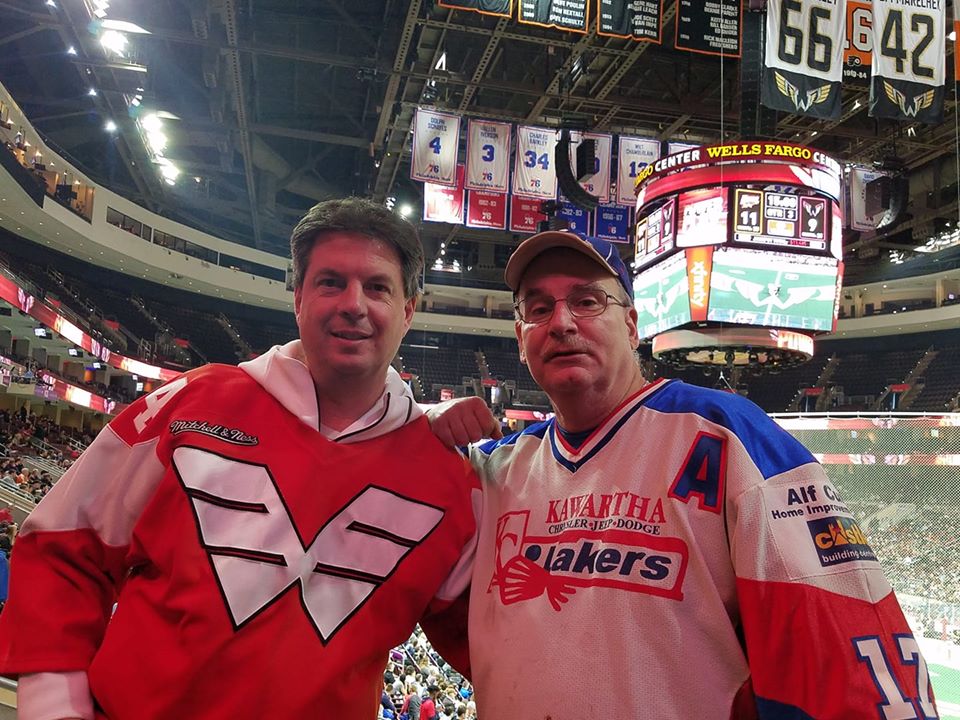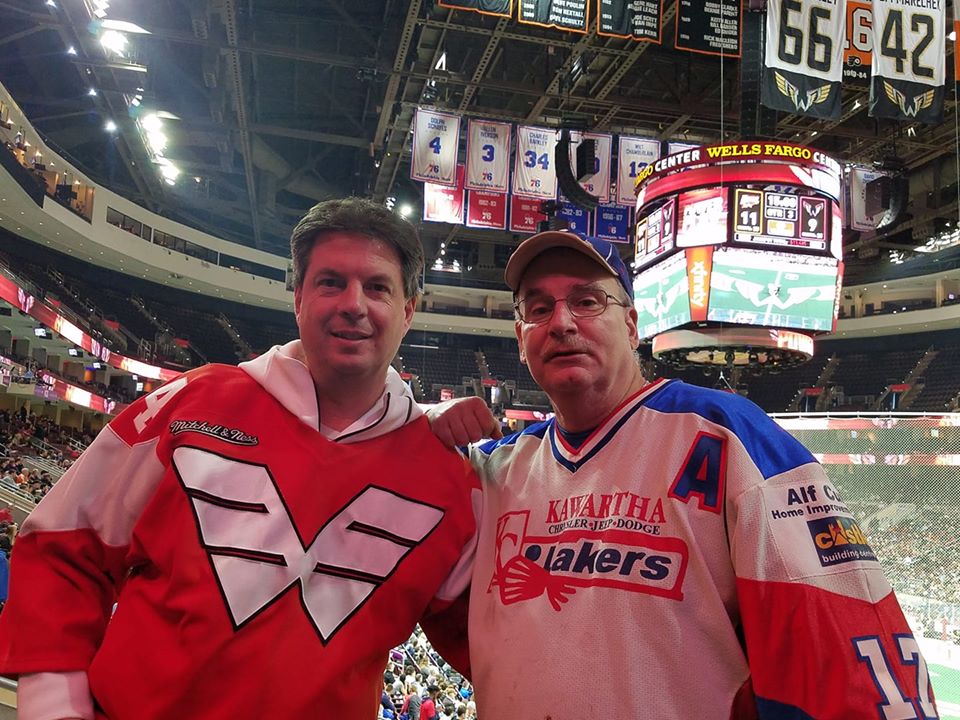 Steve Holroyd and Dave Coleman of Crossecheck
As I sit here in the office today, I take a look back on how all of this started, with the thought of making this documentary, with the work on making this a reality, back in Feburary of 2019. This isn't a "made for Hollywood" moment, by any stretch of the imagination. There was no big budget. There wasn't any sponsorships coming in. There was a commitment from those who thought this would be a good idea to the players, teams, etc., who gave us all of this, a chance to tell their story. To share what it was like back in the seasons that was 1974 and 1975.
This is far from a "me" moment. I'm use to doing short film productions and never gave thought to something of this magnitude. This isn't my story. This is their story, first and foremost. It's been an honor for me to be a part in sharing their history. This is a tribute to all the players that gave of themselves, that sacrificed to give us what we've come to know in today's game…….it's about them…..period!
10 Hours of interviews to sort out, the film and pictures to sort through and produce in some way, fitting it altogether, to have it all make sense to those, who will take the time to watch their story unfold before our eyes. I was hesitant on even doing this write-up, but there were thank-yous to be handed out and a sense of sharing that was brought about, by a few that were involved from the outset, that made it clear that maybe, all of this, to me, hasn't been a waste of time…..that I haven't been fooling myself in believing that all of this has been for naught.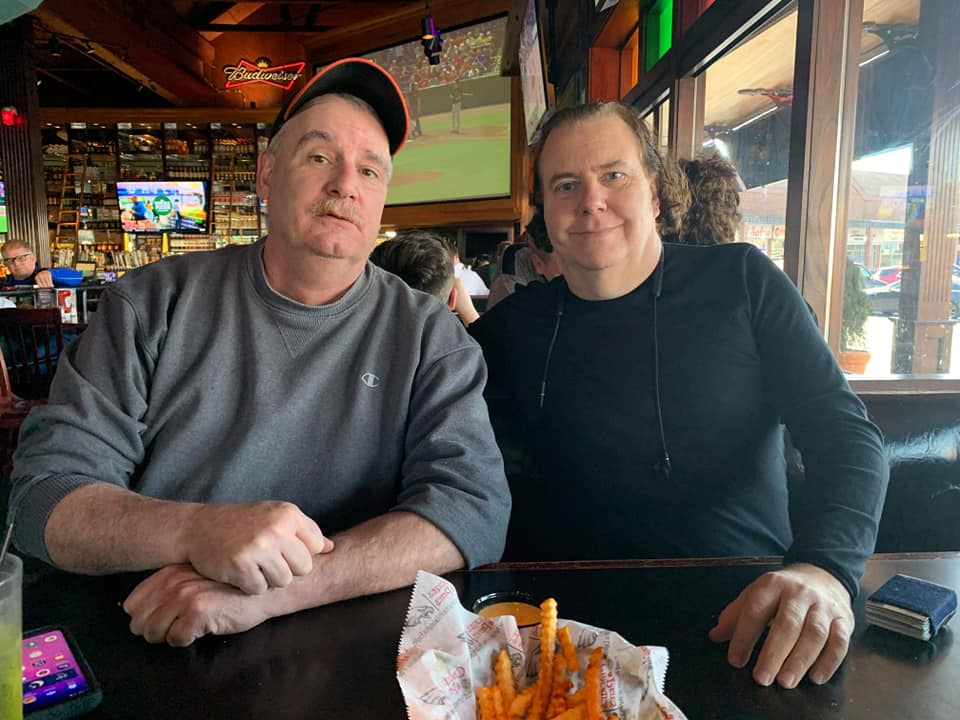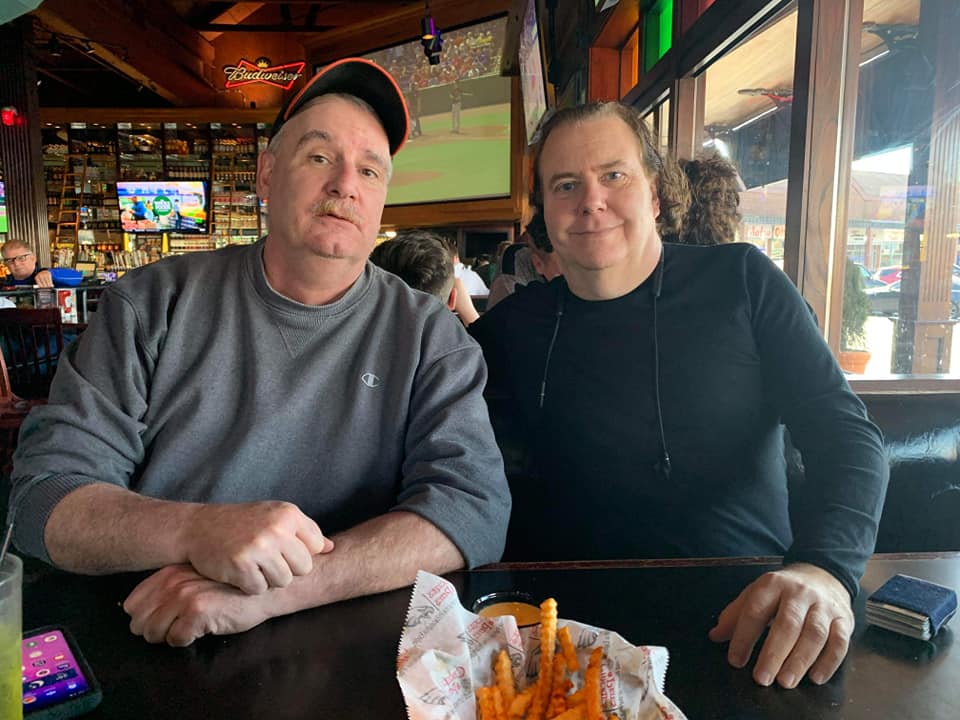 Me and Andy Abramson
I got this note from Andy Abramson on the film the other day….
For many, the years of 1974 and 75 were just two more years of life. But, for the 150 or so men who strapped on the pads, put their hands in the gloves and grabbed the stick to run on the box of the National Lacrosse League, it was something else.
Those two years were something magical. Two time Canadian box lacrosse Hall of Fame member, and former Philadelphia Wing, Larry Lloyd, said "I can't remember what I did last week, but those two years are forever etched in my mind."
"Two For The Show" captures the memories, moments and mystique of what those two years were, and continues to mean to the many players, coaches, trainers, managers and executives, and now their families, who are alive today.
As the youngest ever executive in the NLL with the Philadelphia Wings, from age 14, with a front row seat, who watched, saw, heard, told the stories and took part in those two seasons while still a child, to now relive those moments once again, brought to life in "Two For the Show" is what causes goosebumps, smiles, laughter and tears.
"Two for The Show" is not about the "thrill of victory, or the agony of defeat." It is a true walk down memory lane, a work of art, that brings back the two years that now, almost fifty years later, that have never been duplicated, nor likely ever will.
To have lived those two years was one thing. But to enjoy them again, with "Two For The Show" makes it all seem "just like yesterday."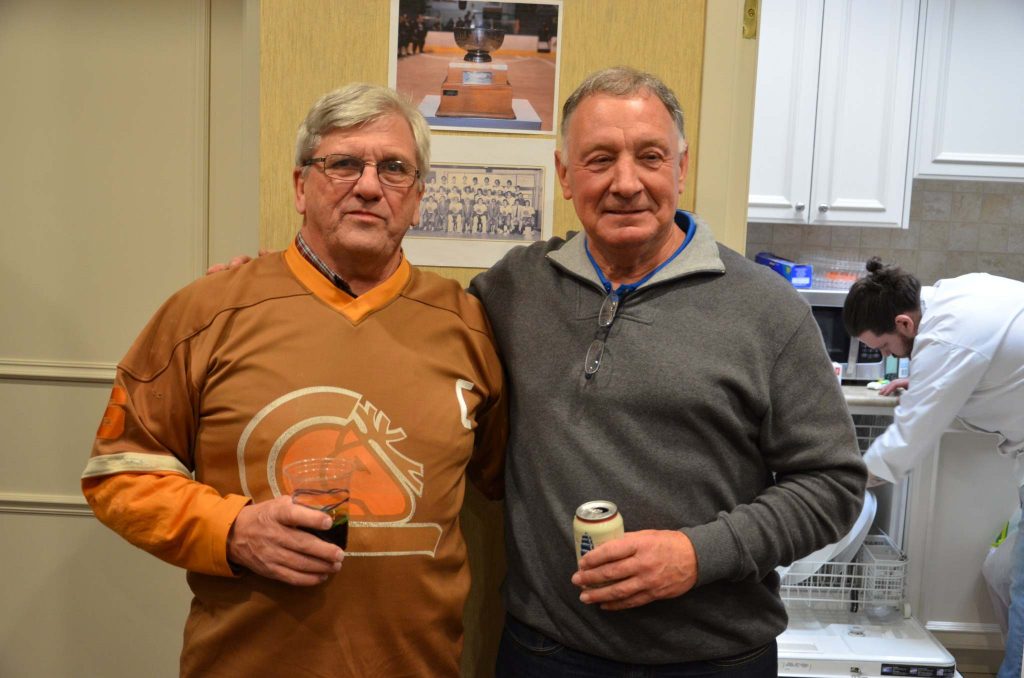 Jim Higgs and Pat Differ
And then I got a message from Pat Differ of the 1975 Champion , Quebec Caribous, that brought all of this home for me….
Know what Dave? Now that we are close to the launch of your labor of love …really, for THE time in the game or OUR time in the game. Much has changed since our time. The 20 plus years we have been going back and forth and sharing what we have or came across has gathered steam. Others, many others have provided what they have and reuions have been enjoyed. My second was 2017 in Toronto for Les Caribous, 2008 was 30 yrs since the 78 Field team, then in 2018 we had a 40 one in the Boro.
This documentary has gathered momentum and will stand forever. It did not just happen. Your commitment to the game and our time has been the driving force behind this historic effort. I can speak for everyone in the league and now, their families, children and grandchildren when saying THANK YOU for what you have done and are about to share with the world of lacrosse.
Unselfish and driven by a desire to let people know the events of that time. Special time in the game it was, many have said game wise, talent wise where the players came from and how it all came together was a time in sport that may not be repeated. Greats of the game are very appreciative of your effort as the driving force behind this documentary.
I want to give my thanks to Steve Holroyd, John Davis Jr., Larry Lloyd, Pat Differ and Andy Abramson for their insight throughout this endeavor.
I want to thank my kids for putting up with all of this, over the last 22 years.
I want to give my thanks to John Grant Sr., Carm Collins, John Davis Sr., Duffy McCarthy, Dale Mackenzie, Jimmy Wasson, Ricky Bisson and to Larry Lloyd, for taking the time to talk to me  and providing the voiceovers for the entire two hours of film. Their stories were endless and the backbone of this project.
I want to thank all of the support from the player's families and friends on their contributions to the making of this documentary. And last, but not least, I want to thank all of you, the fans, for your continued support, on making all of this, a reality, that I'm still not believing is really happening.
Come this Saturday afternoon, at 4:00 PM, I hope you all join us on what's looking to be….an adventure of a lifetime. I just hope, that through all of this, I haven't let anyone down……
Dave