By CURT SMITH, D&C Sportswriter: July 6th, 1974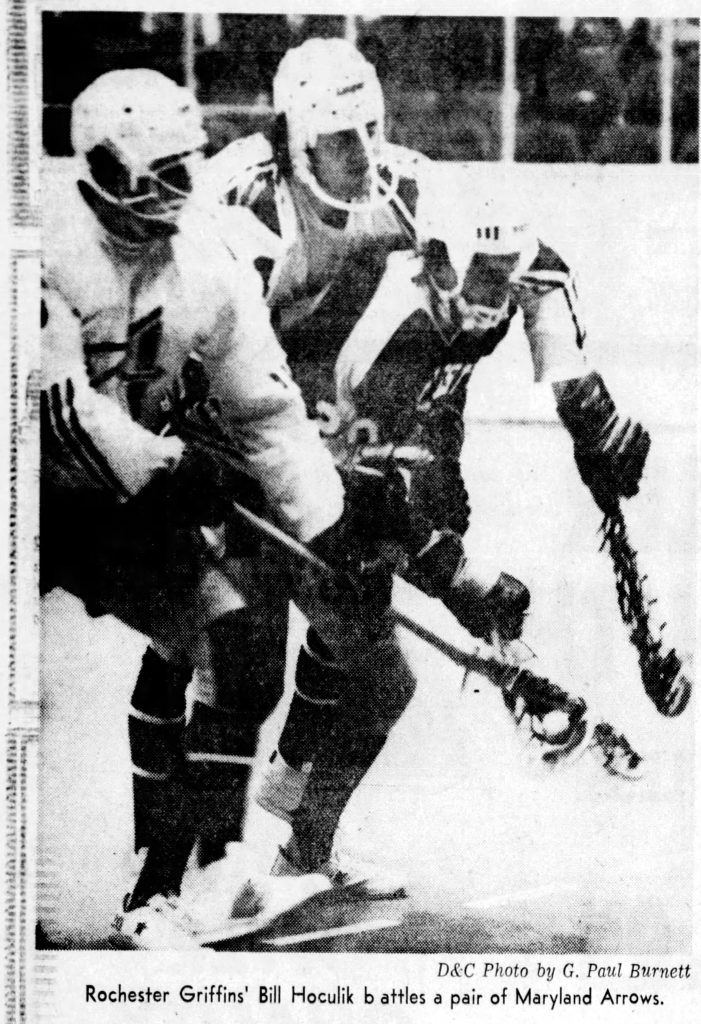 Rick Dudley and the home floor advan­tage. That duo, effective since the season began, paid off handsomely once again last night for the Rochester Griffins.
Dudley scored a season-high seven goals as the Griffins extended their home unbeaten string to 10 games, de­feating Maryland, 22-18, before a crowd of 3,595 at the Community War Memorial.
The victory boosted the Griffins' Na­tional Lacrosse League lead to five points over idle Philadelphia, which meets Rochester tonight at 8 p.m., also at the War Memorial.
Dudley, with his left-handed slap shots his chief weapon, upped his NLL-leading goal total to 48. Four of his goals came in the first period as Rochester spurted to an early 9-2 lead.
Then, after the Arrows rebounded to close the gap and frequently take small leads. Dudley scored his seventh goal with two minutes remaining in the game to give the Griffins a crucial insurance goal.
"Dudley, that was what saved us to­night," said Griffins' coach Morley Kells. "He won for us against Philly earlier this week; he came through for us again tonight. His shots were really on, he picked apart the net.
"Dave Johnston (who scored four goals) played well, too. He scored a cou­ple big goals. It's a good thing Dudley and him were on, because t ie rest of our effort was nothing to write home about.
"Our defense is hurting us," Kells said. "Our players are fine but their ef­fort is not. If we play that bad defensively against Philly, we'll lose by five goals.
"We have to tighten up, and give Merv (goalie Marshall) some help. That's what we'll work on tomorrow."
The first period, like the game itself, was a study of streaks. The Griffins con trolled the early stages, amoved to a seven-goal lead, ' threatening to put the Arrows away in a hurry.
Maryland then rallied with a flourish, tying the game with seven consecutive goals, the last coming three seconds before the period ended.
During the Maryland comeback, Marshall was removed from the game in favor of backup goalie Gary Van Schagen with 3:45 left in the first period. Marshall later returned for the final two periods.
"We let up a bit, especially after we got the big early lead," Johnston said. "They kept chipping away; before we knew it, they were back even. Finally we started picking up some loose balls and that helped get us back on top. When we start doing that and fanning like we can, we're tough to beat."
"Now if we can put Philly away tonight, it'll really be great. That would be one whale of a big win"
The second period was fair­ly even, with the Arrows clinging to a 14-13 lead as the final 20 minutes began. The Griffins fought back into a 17-17 tie before they scored four straight goals late in the period to take command.
Paul Warden put Rochester in front with five minutes left. Glen Neuman and Dudley scored goals three minutes later, then Brian Bowman closed out the Griffins' scor­ing with an empty-net goal as the game-ending buzzer sounded.
GRIFFINS GRAFFITI: The game was officiated by only one referee, a move which Kells called "bush." the other referee was stranded in Mon­treal; "who knows what that means," Kells added . . . The Griffins' show between tht first periods was for the dogs. Two German Shepherds put on a display of tricks for the War Memorial crowd.