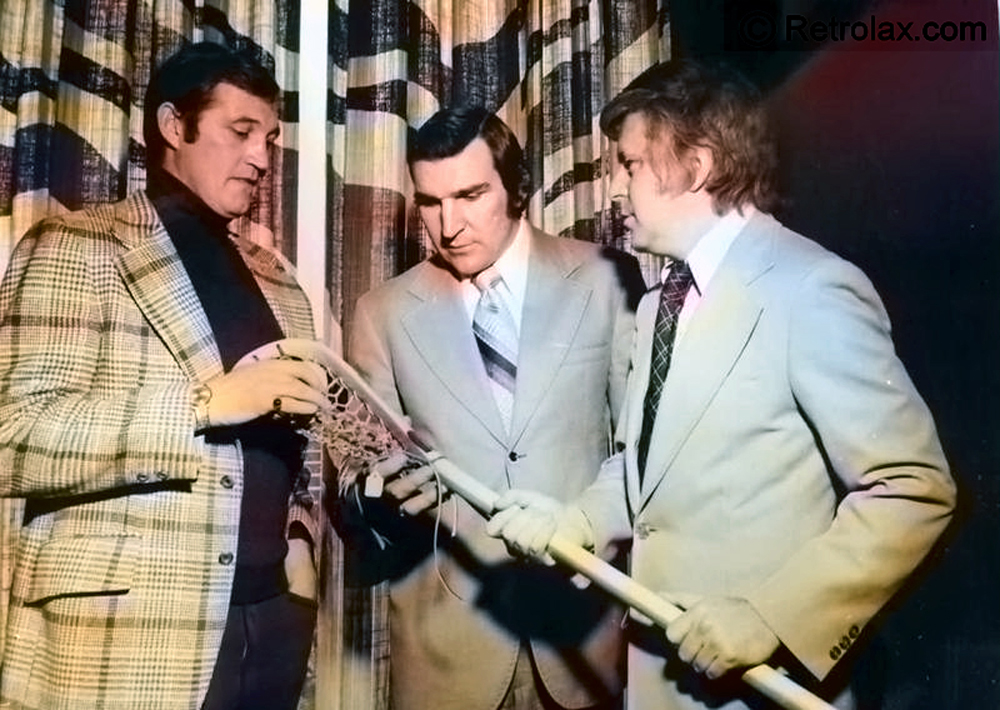 Barry Ashbee (L), John Ferguson (C) and Ed Tepper (R)
TORONTO (CP) – Profes­sional lacrosse hasn't been able to survive before but John Fer­guson points to one reason he thinks it will make it this time. "Money," said Ferguson. "We've got solid money behind us and that's something lacrosse never had before.
"This will be a class oper­ation And we're in good build­ings."
The vote of confidence from Ferguson came at a news con­ference Monday when the new National Lacrosse League in­troduced some of its top execu­tives and outlined plans for its first season.
Ferguson, former National Hockey League star with Mon­treal Canadiens, is co-owner and general manager of Les Quebecois, the Montreal entry in the new league. Since retiring from hockey in 1971, Ferguson has been busy in a number of private ventures including harness racing.
WILL GET ATTENTION
"But I'm going to devote as close to all my time as possible to lacrosse from now on," said Ferguson. "There are two good reasons for that. My partner and 1 have a substantial investment in the club and, secondly, I'm anxious to prove what I firmly believe, that lacrosse can become a major spectator sport.
"We've made a hell of a rental deal at the Forum , where we open May 15. I am now negotiating to hire a coach. And we're going to make it go."
Ferguson's claim that the league has solid backing is supported by the presence of NHL executives. Bruce Norris, owner of the Detroit Red Wings, owns the new Toronto Tomahawks, while Tad Potter of Pittsburgh Pen­guins has the Rochester lacrosse club and Bill Putnam, who helped found NHL teams in At­lanta and Philadelphia, has the Washington franchise. Other clubs are in Phila­delphia and Syracuse.
WON'T CONFLICT
Ferguson continued his claim of confidence in the new league by pointing out that it will not conflict with other sports. "We're fitting our schedule into a time of year when there is not a great deal going on, at least in Toronto and Montreal. We're right in between hockey and football. And listen, it's a great game. King Clancy told you why, better than I could."
Clancy, vice-president of Maple Leaf Gardens where the Tomahawks will play their home games, had told the news conference: "There's no cheek ing at arms length in lacrosse." "There's contact," said Fer­guson. "Hitting."
Jim Bishop, general manager and coach of the Tomahawks, said he expects most players will be drafted from Ontario and British Columbia and from United States colleges.
The Tomahawks home season starts May 22 at the Gardens.