New year to mean new owners
A "for sale" sign is still tagged to the Montreal fran­chise in the National La­crosse League but it'll read "sold" early in the New Year.
The league, headed by Gerry Patterson, is expected to announce by "mid-Janu­ary" that a group of five or six investors have purchased Les Quebecois.
"We have some serious prospects but we are still looking for others," said Quebecois president Robert Dagenais, who took over from ex-Canadiens' star John Ferguson during the season. "Three are already commit­ted and we hope to announce something after our special meeting at the beginning of January."
The club was put on sale for $1 million during the season by Nelson Stoll. But as of early this month Stoll had not received any offers and was quoted as saying he was asking'$500,000.
"If Montreal is not in the NLL (National Lacrosse League) this season (1976) then there will be no league. It just goes to show how strong this franchise is to the league." Dagenais said.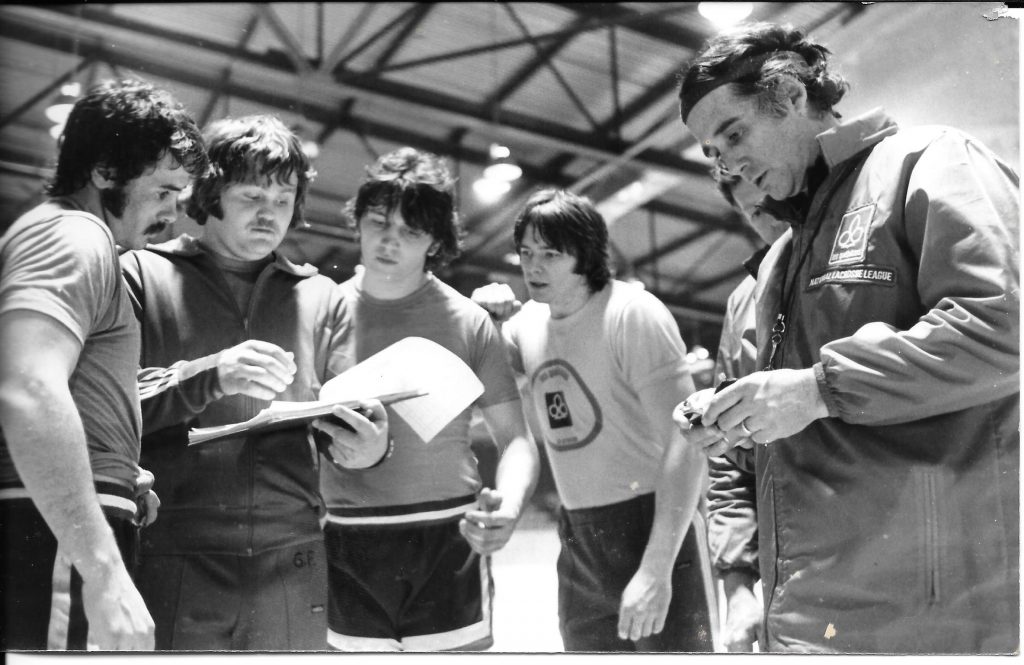 THREE-YEAR DEAL
"It will be a bilingual group and Mr Stoll will not be part of it," continued Da­genais. "The new investors will commit themselves for three years." Patterson, like everyone else in North America, is worrying about the economi­cal situation and feels 1976 will be the toughest season to "get through."
"This is the key year in our foundation procedure." he said yesterday. "We will continue to build on the foundation and if the eco­nomic situation can turn around after this season then we can start to think about building a house on our foun­dation."
Patterson does not expect NLL expansion until 1978 and will not dilute the six franchises in any way. It's been an education for Pat­terson in his first year as league president — from making up last season's schedule to selling franchises.
"It was hard enough mak­ing up the schedule this sea­son." he said after preparing the *75 sked. "and I wouldn't like to go into the business of selling franchises like Mr. Davidson (WFL founder Gary Davidson).''
As for Les Quebecois it was a successful season for the players and fans but an­other loss for management. Stoll luring coach Jim Bishop away from Bruce Norris in Toronto was the beginning of success.
Bishop, however, was crit­icized throughout the season by players, fans and the media for several trades he had made and the way in which he ran the club, but in the end Bishop was given all the praise for not only making professionals of the Les Quebecois but com­ing one step away from cap­turing the Nations Trophy.
They went from fourth place in the standings under John Ferguson and Bill Bradley in 1974 io second last season. In '74 they fin­ished just under .500 with a 19-21 record in 40 games and the last playoff spot — they were eliminated by Roches­ter four games to two.
This season however they finished with a 24-24 record in 48 games. They met Bos­ton in the first round of the playoffs and eliminated them 4-3 after trailing 3-1. They advanced to the finals against Quebec before losing in a sloppy series 4-2.

MITCHELL MVP
The biggest surprise of the season was 23-year-old goal­tender Ernie Mitchell, far and away the team's MVP. Mitchell, along with alter­nate Dave Evans, held the best goals-against record in the NLL. And with his su­perb work against Boston he led the Quebecois into the final.
He suffered a serious eye injury in the final series after he was struck in the face by the ball but reco­vered and led Les Quebecois to their only victories.
"Ernie is one of the best pieces of entertainment for a sport not well known." praised Bishop. "In my 33 years in lacrosse he was one of my real-real joys."
The top offensive perform­er of the season was John Davis. The crafty 31-year-old veteran finished with 208 points, third to Long Island's Doug Hayes and Maryland's Paul Suggate. He led all scorers in the playoffs with 49 points, seven better than Quebec's Brian Evans and continued to live up to his label as the best lacrosse player in the world.
Bishop, meanwhile stays in his office doing homework for the upcoming season — even though it's possible that he may be without a job under the new owners.
"I expect to spend the rest of my life in lacrosse and if they want me here in Montreal then I'll be here," he says.
The biggest disappoint­ment was the team's Gay­lord Powless, who came from Quebec during the sea­son Powless, fifth in the scoring in the league's first year of operation with 159 points, ended out of the race this season with only 79. In 1975 Les Quebecois averaged 6,226 fans, a decrease from 1974 when the club averaged 6,934.
All in all, the National La­crosse League is here to stay — for another year, at least.