LA PRESSE, MONTREAL, WEDNESDAY, MAY 29, 1974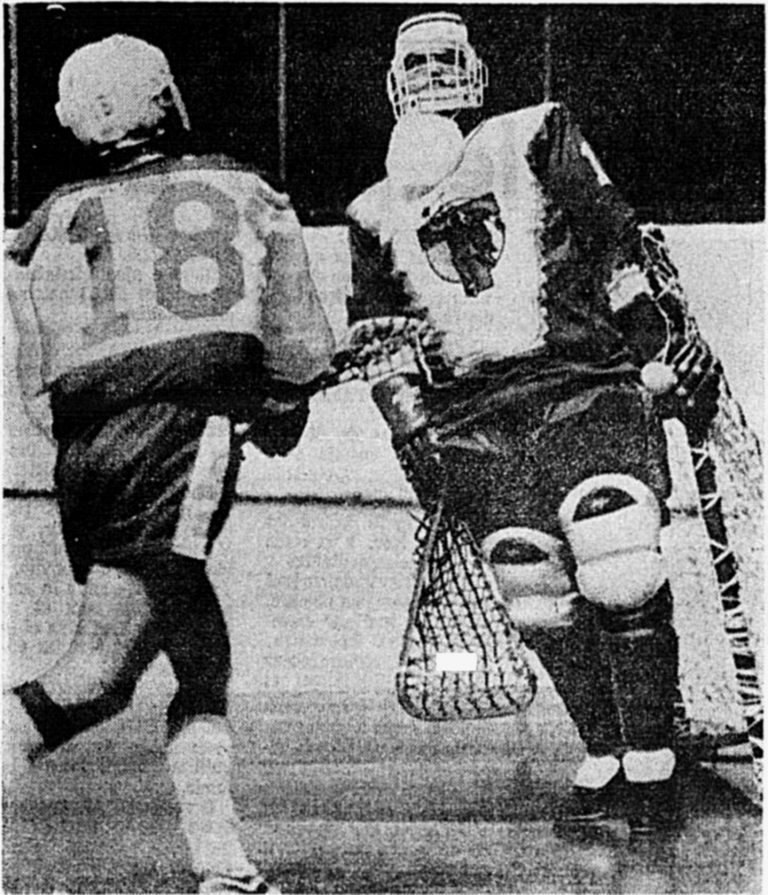 Goalkeeper Roger Wiliiams of the Toronto Tomahawks made the final stop in front of Al Harrington of the Syracuse Stingers in a regular Nationala Lacrosse game played yesterday in Toronto. The Tomahawks won 20-19.
The two matches disputed yesterday in the National Lacrosse League, ended in close wins. In Philidelphia, in front of more than 9,000 spectators, the Wings of the area had the Rochester Griffins 17-15 thanks to the extraordinary outfit of the goalkeeper Wayne Platt who repelled 65 shots.
It was Rochester's first loss in five games and with this victory the Wings share first place with the Griffins.
Larry Ferguson (4), Terry Davis and Terry Lloyd (three each) were the offensive leaders of the Wings, while Dave Wilfong (4) and Rick Dudley (of the Buffalo Sabres) with three were brilliant for Rochester.
Meanwhile, in Toronto, the Tomahawks took advantage of three goals and four assists from Chuck Li to defeat the Syracuse Stingers 20-19.
The Stingers have not won in five games this season and they will host Quebecers from driver John Ferguson tonight, in Syracuse.
Joe McCrae had four goals for the Tomahawks who are now 3-5. Brian Thompson and Ziggy Musial scored three each.
Paul Ciocci with 4 and Gaylord Powless, Travis Cook and David Roach three each shined for the Stingers, who will field for the first time this evening their instructor Jim Higgs, first choice in the repechage.
Higgs, 25, was not expected to play until June 1, but the poor record of his team forced him to play more than expected.
Diploma from Cornell, Higgs also excels in hockey. His return to the game does not bode well for the proteges of John Ferguson, in search of a second victory after five games.
Since Sunday, Fergy opponents have changed their strategy, now using a zone defense rather than the traditional man-to-man defense. It is an excellent defense when everything is well coordinated. Ferguson said the Tomahawks and Griffins used it successfully.
On the other hand, the Quebecois lost the streak of Pidgie Norton, of Caughnawaga, the best of his family in the precursor game in Toronto. Pidgie, who had alters won all of his games in addition to shining on defense, was not in uniform the next day at the Forum against Rochester. He was not injured; he did not attend team practice. "In the last news, he had found a regular job and he did not seem to want to kill a return to work" (said the secretary of John Ferguson who joined Pidgie by telephone)