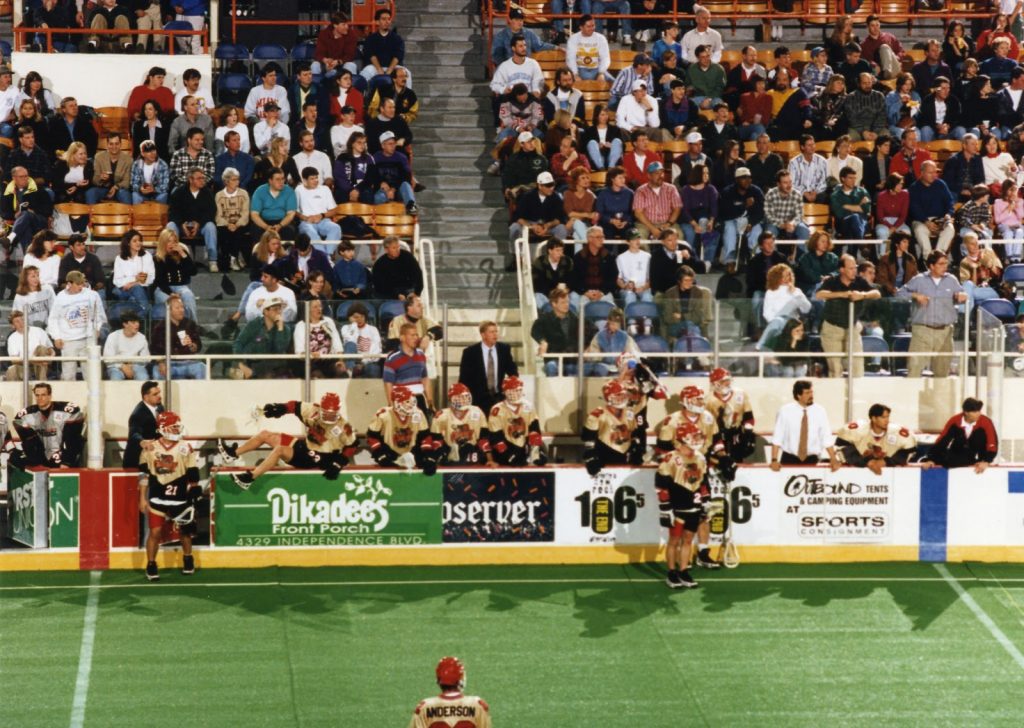 BY LARRY KEECH Staff Writer
 Jan 11, 1996
Just when it seems that professional sports teams have reached the saturation point in North Carolina, another one pops up. The latest entry is the Charlotte Cobras, who will make their competitive debut as a member of the seven-team Major Indoor Lacrosse League tonight at 7:30 at Independence Arena.Box lacrosse is a hybrid sport spawned by field lacrosse – the more familiar outdoor version of the game – and ice hockey. Like hockey, it is a six-man game that is played in a rink-sized area, but without skates.
"The game has all the ingredients it needs to be an appealing spectator sport,' says Joe Seivold, the Cobras' coach and a former lacrosse All-American at North Carolina. "It's fast, it's physical, and it features a lot more scoring than hockey, soccer or even field lacrosse. In most games, anywhere from 26 to 35 goals will be scored. "Charlotte's pro sports market is very competitive. But with more reasonable ticket prices than most of the other sports ($10-$20), we feel box lacrosse has enough appeal to help us carve out a niche for it."
In support of Seivold's case are the durability of the 10-year-old MILL and the fact that three of its teams – the Philadelphia Wings, Buffalo Bandits and Rochester Nighthawks – regularly attract sellout crowds ranging from 13,000 to 17,000. The other teams are tonight's Cobra opponent, the Boston Blazers, plus the Baltimore Thunder and the New York Saints.
The MILL owes its stability to the fact that all teams are owned by the league's founding partners, Russ Klein and Chris Fritz of Kansas City. Tonight's contest opens a 10-game regular-season schedule, five each at home and on the road. All games are on Friday or Saturday nights, and some will be televised by ESPN and ESPN2. Seivold, who coaches lacrosse and soccer and teaches history at Durham Academy, has planted the team's training camp and practice sessions in Greensboro because its location made it more accessible to more of his players. The Cobras practice at the Indoor Roller Hockey rink on East Wendover Avenue.
Most of the players on the Cobras' roster are alumni of college lacrosse programs in the area. Two of the more prominent names are Ryan Wade, an All-America midfielder at UNC who was the ACC's player of the year in 1993 and '94, and Matt Oglesby, an All-America midfielder last season at Duke.
"This is my first experience with box lacrosse, and it is a very different game from field lacrosse,' says Wade, who also starred on the championship U.S. team in the 1994 World Lacrosse Games, then spent a year with the Subiaco Lacrosse Club in Perth, Australia.`Playing in a tighter, more compressed area takes some getting used to. I've always played with the ball, and now I have to learn to play off the ball. Cross-checking and holding, which draw penalties in field lacrosse, are legal in box lacrosse."
Wade said it wasn't the standard rookie salary of $200 per game that attracted him to the MILL."It gives me a chance to play a while longer and maintain some of the friendships I've made in lacrosse while I try to launch a career as a financial analyst or in investment real estate,' he said.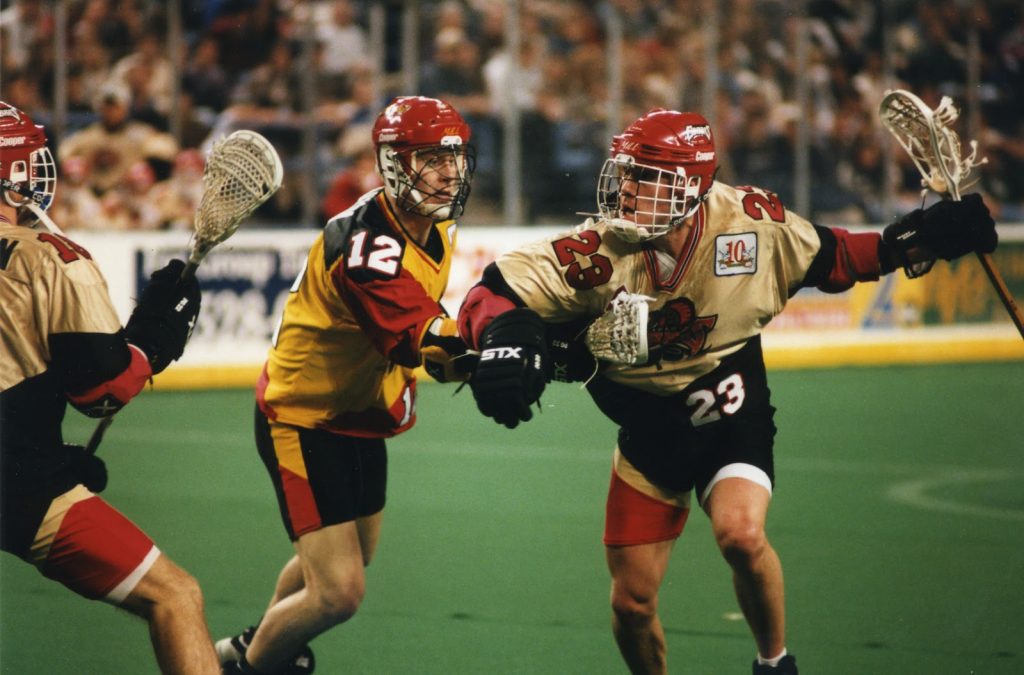 Until players such as Wade and Oglesby master the game, the Cobras will rely heavily on a nucleus of more experienced players that includes veteran goaltender Dwight Maetche and Chris Bates, plus three more Canadian imports – Todd Katanchik, Russ Heard and Pat McCready.
The league's most prominent lacrosse names are the Gait brothers, who starred at Syracuse a few years ago. Gary Gait plays for Philadelphia and Paul Gait for Rochester.They play a five-on-five game, plus goalies, instead of 10-man sides in field lacrosse. The field is slightly more than half the size of the 100-yard outdoor pitch. Players can freely shift from offense to defense with no offside violations. Two attackmen play closest to the goal with two forwards and a center on the perimeter. Offenses are predicated on a "two-man game' that features plays like basketball's pick-and-roll and "back door."
Rookie coach Seivold says his only goal for his young team is to "be competitive,' and adds: "We'll play tenacious defense and look for the fast break."
For those fans who are looking for a different pro spectator sport in which to immerse themselves, box lacrosse might fill the bill.