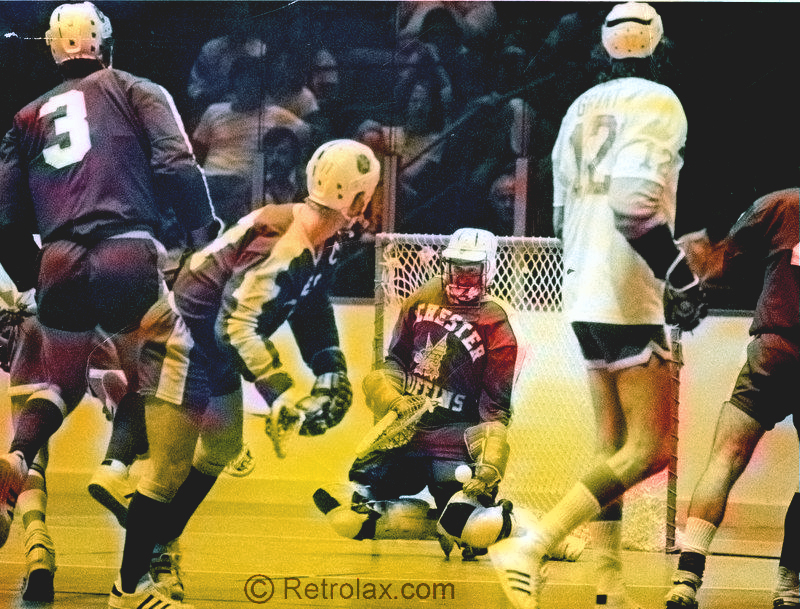 ROCHESTER—The last thing coach Bobby Allan did before his Wings evac­uated the locker-room last night was give them a list of new security pre­cautions.
"Make sure you take all your equipment back to the hotel with you," Allan said after the Wings defeated the Rochester Griffins, 10-9, to even their Nations Trophy final playoff series at two games apiece.
Allan did not want to leave the door open for a repeat performance to van­dals who took 12 pairs of running shoes, two helmets, a stick and a goalie's glove.
"Somebody apparently jimmied one lock, broke another and made a mess of the place," said goalie Wayne Platt. "We had to send out for new equip­ment and we ended up with guys wearing black, white and orange shoe?. "Actually, the thing did a lot to take our minds off the pressure that had been building up here."
The Wings, played with the same in­tense efficiency they used during their regular-season championship drive.
They dominated the Griffins with fluid offense and hard- checking defense for the first two periods, then held on in the third to put this best-of- seven series back in proper perspective.
Platt was outstanding—gobbling up 34 saves and holding the Griffins' explosive Al Gordaneer scoreless.
"A lot of it had to do with a long talk I had with our owner Mr. (Ed) Tepper," Platt admitted. "I promised him we wouldn't lose."
Platt is vulnerable, espe­cially with the emergence of young Johnny Hamilton late in the regular season. Be­cause of his first-team All- Star rating, Platt could be trade bait for another de­lenseman to play with the Collins' brothers.
"HIS FATE LIES in these playoffs," said one Wings of­ficial. Platt is typical of the way the Wings have bounced back. Larry Lloyd, leading scorer during the regular season, has made a timely comeback too, scoring four times.
"It had to happen," said Allan. 'He hadn't been play­ing very well for us in this series but he's a deadly ac­curate shot."
It is a shot that is even more effective when the of­fense is constantly moving, challenging Griffins' goalie Merv Marshall.
LLOYD SCORED two goals as did 36-year-old Larry Fer­guson to shock a sparse crowd of 2,000 for an 8-3 lead after two periods. The Grif­fins outscored the Wings, 6-2, in the last 20 minutes.
Game No. 5 is tomorrow ­night at 8:30 in the Spect­rum.
"Our guys will be ready," Allan said. "Especially after reading the things Kells (Griffin coach Morley) said in the Rochester papers today.
"He says we've run out of highs. That we used them all up at the Spectrum. He's saying there are some guys on this team who wish the series was over."
It may take all three re­maining games before this war is completed.