By RICK WHEELER, July 25th, 1974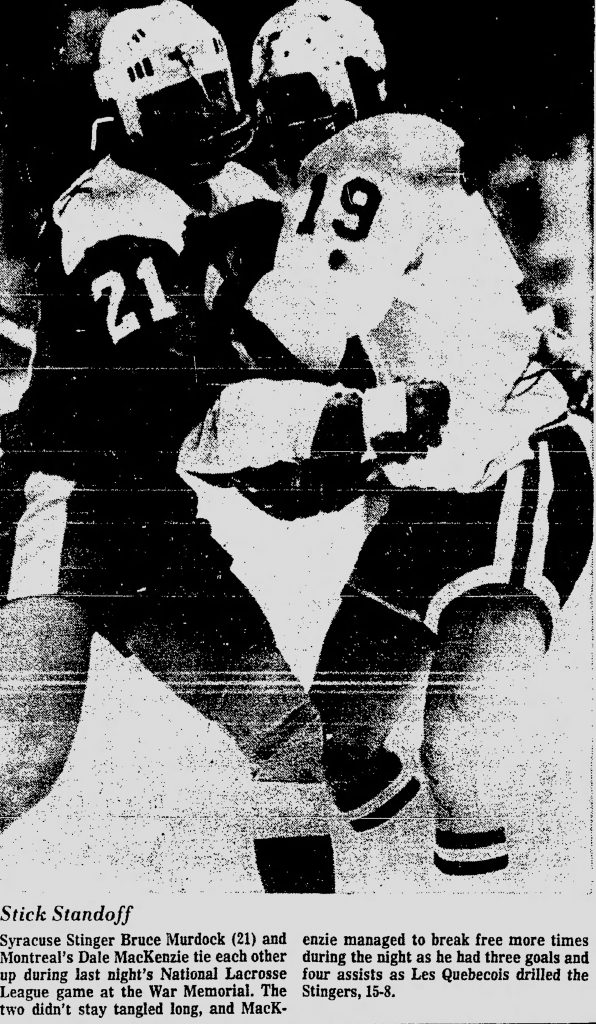 The Syracuse Stinger playoff saga may have run aground of its fairytale ending last night.
The Stingers, badly needing a victory to boost their hopes of gaining ground toward that fourth and final National Lacr­osse league playoff spot, fell to Les Quebecois of Montreal, 15-8, before 3,604 disappointed fans at the War Memorial.
The Stingers played a slugg­ish game on offense, gave goalie Larry Smeltzer and his substitute Rick Palla little help in front of the net. Mon­treal's goalie Ernie Mitchell thwarted enough of the few good Stinger scoring attempts to earn star-of-tbe game desig­nation, and Les Quebecois fleet-footed forwards con­sistently outlegged and out- dodged the Syracuse defense.
The Stingers playoff hopes are by no means dead, but Fri­day's home game with Mary­land is now a do-or-die affair. The Arrows, in the NLL's fourth slot, lead Syracuse by seven points and have two games in hand. Fifth-place To­ronto leads the Stingers by only three points, but has four games in hand over Syracuse.
And the Stingers have only 12 games left on their-regular season schedule.
It took Les Quebecois only 10 seconds to score the game's first goal, as Sandy Lynch was left unchecked in front of Smeltzer, a scene too often re­peated.
By the end of the period, Syr­acuse had tied it at 44, thanks mainly to three power play goals. Montreal was hit with a slashing penalty and when John Ferguson, the fiery coach of NHL fame didn't agree, his loud discussion with the refs turned into a two-minute bench penalty.
Montreal owned a 10-6 bulge after two as Syracuse, looking bruised and missing any con­sistency in its plays, could manage only 13 shots on Mit­chell during the period.
In the third period, when Montreal had hiked its lead to 13-6. Stinger coach Medo Mar­tinello yanked Smeltzer in fa­vor of Palla. Smeltzer couldn't be faulted. He was probably just getting more rest for Fri­day.
The Stingers were hit with four penalties in just over three minutes during the sec­ond period, yet gave up only one Montreal power-play score. Les Quebecois later made amends for that offen­sive lapse by scoring a man down in the third period, some­thing the Stingers' Pat Differ did in the opening 20 minutes.
The Stingers offense consisted of just six scorers—Differ (3-0), Gaylord Powless (2-3), Jim Higgs (1-5), Robbie Patten (2-0), Paul Cioci (0-2) and Smeltzer (0-1).
Thirteen of Montreal's stick­men got on the scoresheet, led by Dale MacKenzle (34), John Davis (34), Dave Litzenberger (2-2) and Serge Loiselle (2-2).
Powless, whose parents were in the stands, hit the 50 goal plateau with his second of the night' in the third period. Patten's goal five seconds lat­er completed the Syracuse scoring for the period, and kept the Stingers from being held to their season's low of seven goals. The Philadelphia Wings tripped Syracuse, 16-8, back in May.
The loss snapped a five- game War Memorial win streak, and even Myra Doch- erty and her rendition of "God Bless America" couldn't pull this one out. The wife of the Stinger director of player per­sonnel did her thing again last night, but the game ended on a sour note for the first time in her seven appearances. The Stingers, who were 5-1 at one point this month, are now 54.
Half of Syracuse's eight goals were on power play situ­ations. Montreal converted three times. The Stingers were nailed for nine penalties, Mon­treal eight. The Stingers had just three 30-second clock vio­lations, Montreal eight.
Montreal outshot Syracuse, 60-50.
RICKOCHETS-Higgs was the game's second star, MacKenzie the third…The Stingers, on a three-game losing streak, fell to under .500 with Martinello at the helm for the first time in quite a while (9-10-1).
Ken Alexander played with a badly bruised right shoulder, and his effectiveness on the floor was cut down as the usu­ally overpowering checker was limited in his movements. Smeltzer and Palla can bear witness.
Powless' father, Ross, is a member of the Canadian Lacr­osse Hall of Fame. Gaylord Is still the team's scoring leader at 50-62-112…Cioci is only three points shy of 100.
Martinello and Ferguson will be part of an eight-man com­mittee that will meet again to- day in Toronto to review NLL officiating. NHL ref Brian Lewis worked last night's game, but Martinello and others have expressed their displeasure. Before the game,' Ferguson was non-commital as to the consistency of the whis­tleblowers, but his constant berating during the game hints otherwise. His pre-game com­ments may have been in­fluenced by the fact that one NLL coach has already been slapped with a $300 fine for too much criticism.