Editor's Note: Our friend at CrosseCheck, Doug Marcus, brought to light a game played between Maryland And Philadelphia that was an offensive dynamo. Upon further research, we discovered two other games played the same night, between Toronto and Montreal, and Rochester and Syracuse, that were barnburners as well. This is a collection of articles, rewritten, from all three games that night, from August 3rd, 1974, taken from the Courier-Post, the Montreal Gazette and the Rochester Democrat & Chronicle. Our thanks to Doug Marcus for bringing the Wings game to light!
Arrows Pierce Wings In Overtime, 27-26 By CRAIG EVANS Courier Post Staff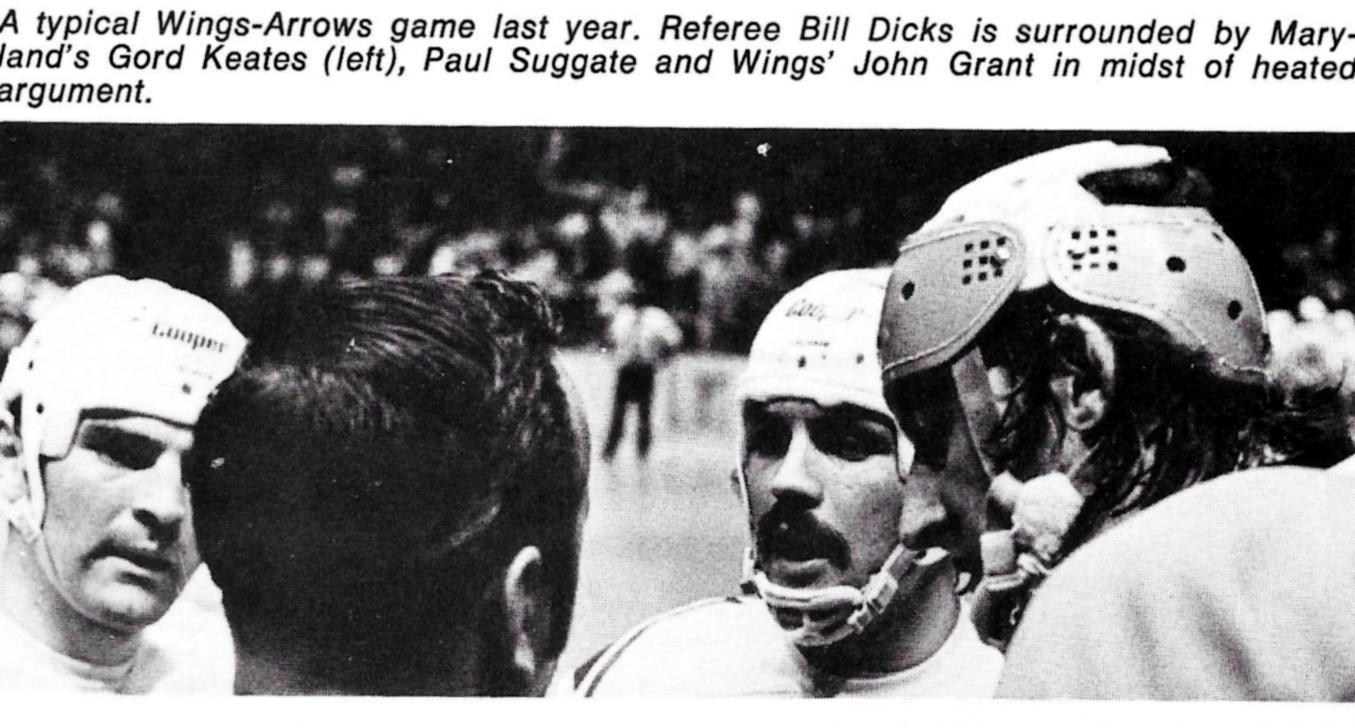 PHILADELPHIA- The Wings played their finest period of the season in the first period of Friday night's game against Maryland in the Spec­trum.
They scrambled, clawed, and fought their way to 14 goals, setting a one-period record for themselves. That's when Wings' coach Bobby Allan started worrying.
"At the end of the first period." Allan said. "I told them the game was like 0-0. "
Actually, the game was 14-5 and. after jumping into that kind of lead, a letdown was inevitable. A letdown? It was like A.J. Foyt leading the Indy 500 by three laps, then running out of gas with 100 feet to go.
The momentum gradually started swinging the other way, and by the end of the evening the Maryland Arrows had pierced the Wings in overtime. 27-26. Defenseman Wayne Granger had scored on a breakaway with just a little over a minute to go in the extra period.
The sad part about it. as far as the Wings were concerned, was that it should never have been that close.
Larry Lloyd, a tall slender forward who had just set a team record for most individual goals with eight, sat by his locker in an atmosphere that resembled a hospital ward. He broke the silence as he tried to explain what happened after the first period.
"It's really odd." he thought­fully reflected. "You just try to block a period like that out of your mind, but some unknown force allows you to sit back."
Larry was far from sitting back as he took penalty shifts, power play shifts, and his regular turns His goal total broke the record held by John 'Tree' Grant, who had six.
"Now it hurts our chances for first. We backed ourselves into a corner I can't even re­member a team putting away a nine-point lead."
The Wings remained in sec­ond place, one point behind Rochester, who lost last night to Syracuse, 19-11. and six ahead of Montreal, which was edged by Toronto. 22-21. If they had won last night, they could have had sole possession of first place.
But you just can't blow nine-goal leads and expect to advance too quickly. A relatively calm Allan thought the referees might have had a little to do with the outcome. "I guess the refs are human, too," he said. "They take a look at the scoreboard now and then."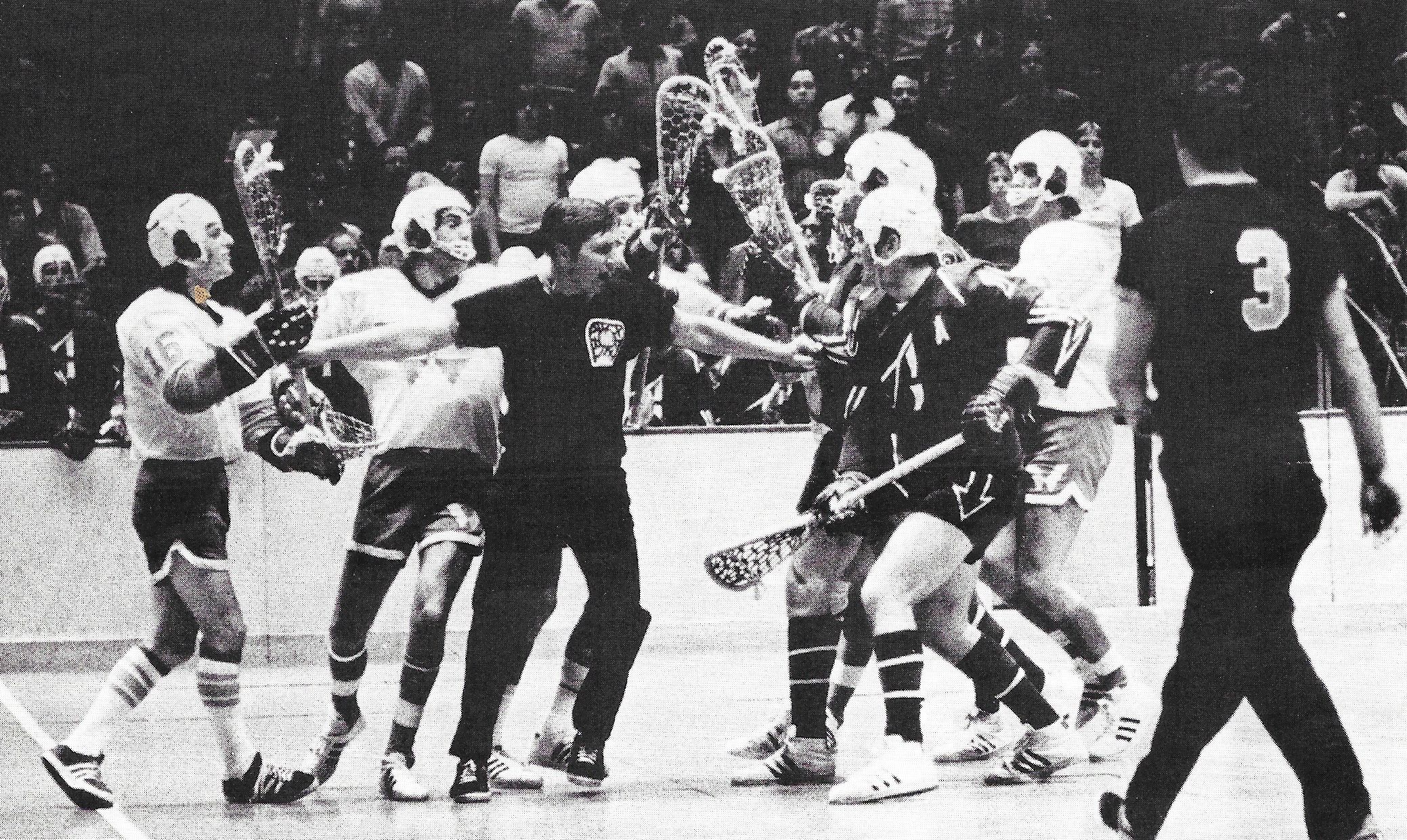 That might explain why the Wings were penalized six times to Maryland's three in the second period. It might also explain why the Arrows were able to take advantage of the tiring Wings, like Lloyd and Grant, who do extra duty. "It takes a hell of a lot out of a man like me," explained Lloyd. "It's not that I'm not in shape, but it's like running a couple of 200-meter sprints back-to- back."
Allan also thought that the refs blew it when Arrow forward Pat Ryan, who fell, bobbled the ball and had it bounce off his chest for the tying goal in regulation time with one second showing on the clock. Allan contended there were too many men on the playing surface.
"It's a shame to lose that way," Allan said . "When the ball got passed off. the guy coming off the floor wasn't even close to the door (to the players' bench)."
It might not have made that much difference, however, as the Wings' defense had failed to cover Ryan effectively. There had been numerous lapses after the first period and the goal­tending was sporadic.
John Hamilton, who was playing in place of Wayne Platt, victim of phlebitis in his leg, would turn in a spectacular save that would have the 9,050 fans applauding one moment, then yield an easy long chance, the kind that kill.
The Wings' effort was just as sporadic.
Unprepared Griffins stung by Stingers By CURT SMITH D&C Sportswriter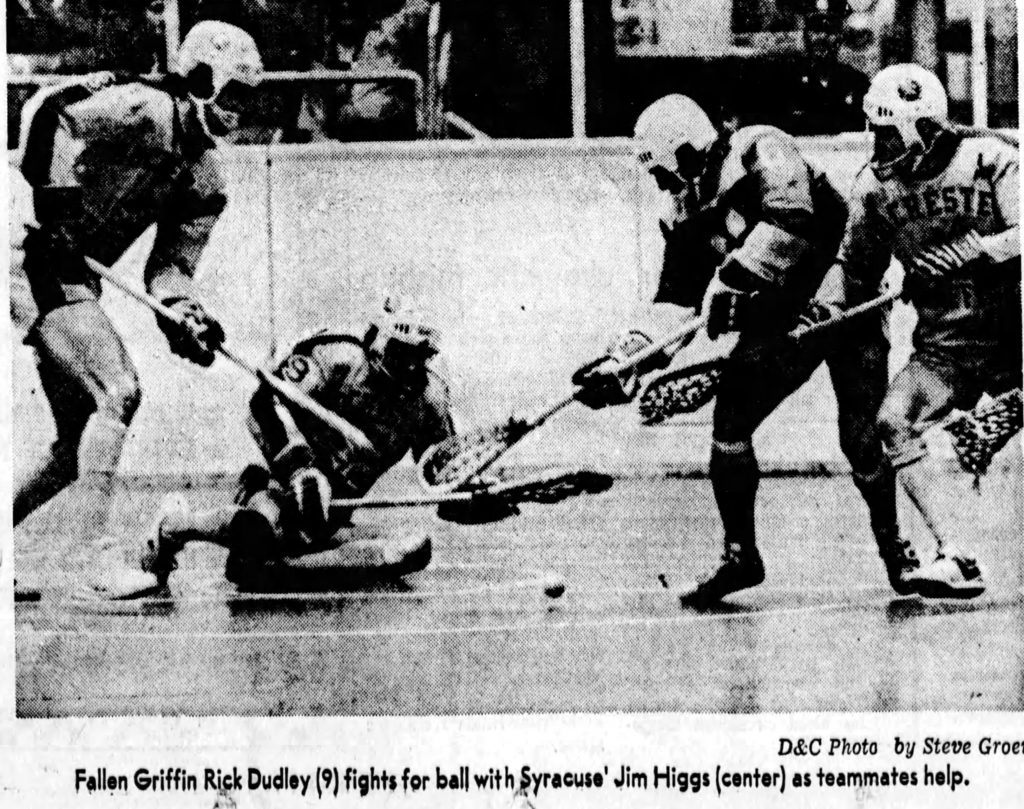 The Rochester Griffins were chiefly distinguished last night by some of their most undistinguished play this season.
"We just weren't mentally ready. That's one of the worst thngs that can happen to a team, and it happened to us.'' said coach Morley Kells after his Griffins stumbled to a 19-11 defeat against Syracuse at the Community War Memorial.
The Griffins' poor showing was espe­cially surprising since it followed Thurs­day's 29-10 rout of Toronto probably Rochester's finest game this season.
That victory had lifted the Griffins into the National Lacrosse League lead. Last night's outcome, coupled with Philadel­phia's win over Maryland, dropped the Griffins back into second place.
The Griffins and Philadelphia's Wings meet at 8 p.m. tomorrow at the War Me­morial with the NLL lead still up for grabs.
"We'd better not be as flat for Philly as we were tonight,'' said Rochester goa­lie Merv Marshall, who was benched by Kells midway through the second period after several Stingers' shots eluded him.
"Our loss was a team effort. I guess we felt that since we'd put it all together against Toronto, we'd just come here and beat Syracuse without much trouble. We just were over-confident, We felt Syracuse would be easy.
Tomahawks edge Quebecois; By DAVE CARTER of The Gazette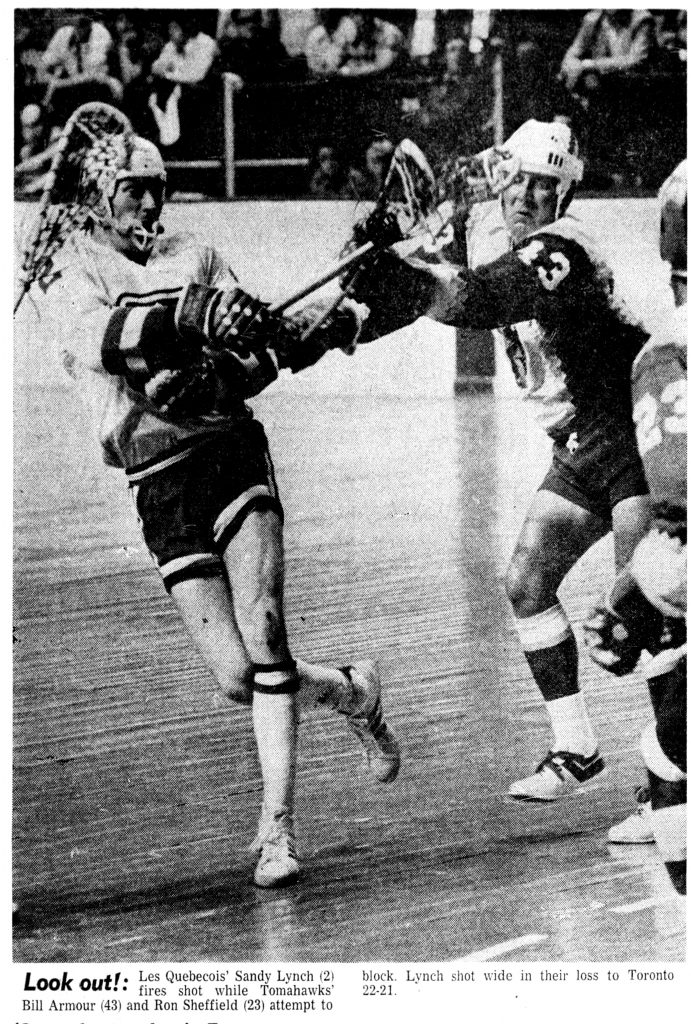 "It's always nice beating Johnny," commented big brother Terry Davis last night after his goal at 18:26 of the third period gave the Toronto Tomahawks a 22-21 squeaker over Les Quebecois — and captain John Davis — before a crowd of 7,638 at the Forum.
The trade which sent Terry Davis to Toronto from Phila­delphia had finally paid off.
"We had a long talk before the game instead of taking our warmup and we finally played well," happy Toma­hawk head oach Jim Bishop explained. "This is the most important victory for us. Ron Harris, a cut from the Syra­cuse team, played great to­night. We picked him up as a free agent and he got seven points."
Les Quebecois led 7-5 at the end of the first period but couldn't hold on in the second. Toronto now trails Montreal by four points.
TIED UP
Blanchard and Sutherland both should get a good kick in the ass." a disgusted John Ferguson complained. "They took stupid penalties and you can't score with a man short. And the referees were aw­ful." and the Tomahawks capitalized on those "stupid penalties."
With the Tomahawks trail­ing by one with just over six minutes remaining, Les Que­becois Wayne Sutherland took a holding penalty and the Tommies tied it 40 seconds later.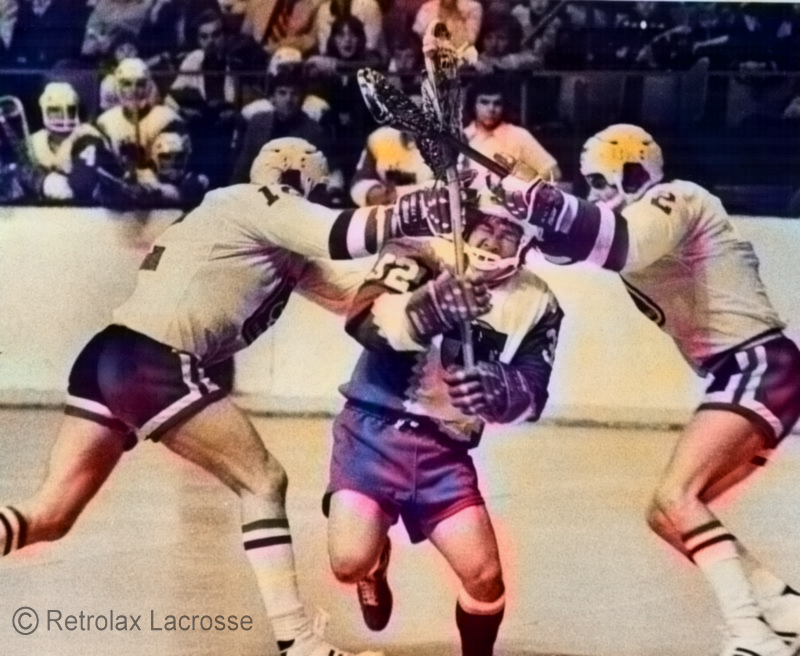 From there Toronto took the lead by a fine effort by Jim Quigg beating Ernie Mitchell on the short side. "They just kept getting the rebounds. I haven't allowed that many goals in my life." Mitchell said. "They're a different team since making those trades. The last time we played Tor­onto they shot in the same place, but this time they would shoot high once, then low the next.
Montreal tied it again when Dale Mackenzie made a great play and fired it past the To­mahawks goalie Bob Ball.
But Terry Davis came back with the winner.
FIRST PERIOD
Brooner John who scored four goals, including his 60th at 5:18 of the first period, scored two more moments la­ter to give Les Quebecois a 6-2 lead.
Bishop then pulled starting goalie Bob McCready for back­up Bob Ball.
"Bob played a good game, and we came from behind to win." continued Bishop. But Sheffield, (the only black la­crosse player in the NLL), Thompson Hill, and Haw did their jobs to."
Both MacKenzie and Jim Lynch scored three goals, in­cluding their 50th. Other goals went to Gord Osinchuk, Gord Floyd and Rob McCarthy with two, while singles went to Bill Sheehan, Wayne Suther­land, Rick Bossley, Serge Loi­selle and Dave Litzenberger.
Ron Haw and Ron Hill each tallied three for the Toma­hawks. Duffy McCarthy, Jim Quigg and Brian Thompson added two. while Jack Kastelein. Chuck Li. Bill Armour, Bill Langley and Tim Heavens had singles.
SCUFFLED
There were two fights and several minor scuffles. In the first period, starting goalie Bob McCready tried to pick up a loose ball in the Toma­hawk corner and Litzenberger took him into the boards. They both came off swinging but it ended fairly even.
In the second. Sandy Lynch was being called for a slash­ing penalty when Kastelein jumped in to help teammate Jim Richardson. Then follow­ed Les Quebecois' Serge Loiselle and the two paired off. Both landed good punches in another close fight.
The loss for Montreal kept them from gaining on the second place Philadelphia Wings, while the win for Toronto kept' them four points behind the Maryland Arrows.
Toronto outshot Montreal 67-43.
Meanwhile the Maryland Arrows moved into a third- place tie with Montreal Que­becois in the National La­crosse League Friday night, upsetting Philadelphia Wings 27-26 in overtime before 9.050 fans. The teams were tied 25- 25 at the end of regulation time. Wayne Granger scored his fourth goal of the night at 8:55 to give Maryland the vic­tory. after each team scored once in overtime.
And in Rochester, N.Y. Syracuse Stingers upset first- place Rochester Griffins 19-11 before 1.688 fans.
It was the first victory of the season for the last-place Stingers over Rochester, and the Griffins' second defeat at home in 14 games.