By DAVE CARTER of The Gazette - Dec. 14, 1974
At approximately this time last year — "to be exact Jan. 22" as Nelson Stoll, part owner of. Les Quebecois puts it — Jim Bishop, Bruce Norris and Morley Kells approached Stoll and John Ferguson to urge them to control one of the franchises in a lacrosse league they were trying to get started.
Ferguson and Stoll, of course, bought the idea and added Les Quebecois to the National Lacrosse League.
Norris owned the Toronto franchise with Bishop as coach and general manager — the same positions Kells held with the Rochester Grif­fins.
Now, both franchises have shifted and so has Jim Bish­op.
Bishop takes over as coach and general manager of Les Quebecois for the 1975 season — and that was the goal of both Fergy and Stoll after the '74 season.
"Bishop sold me the idea of lacrosse," said Stoll. "So I sold him on Montreal. Now we're even." And both sides are happy.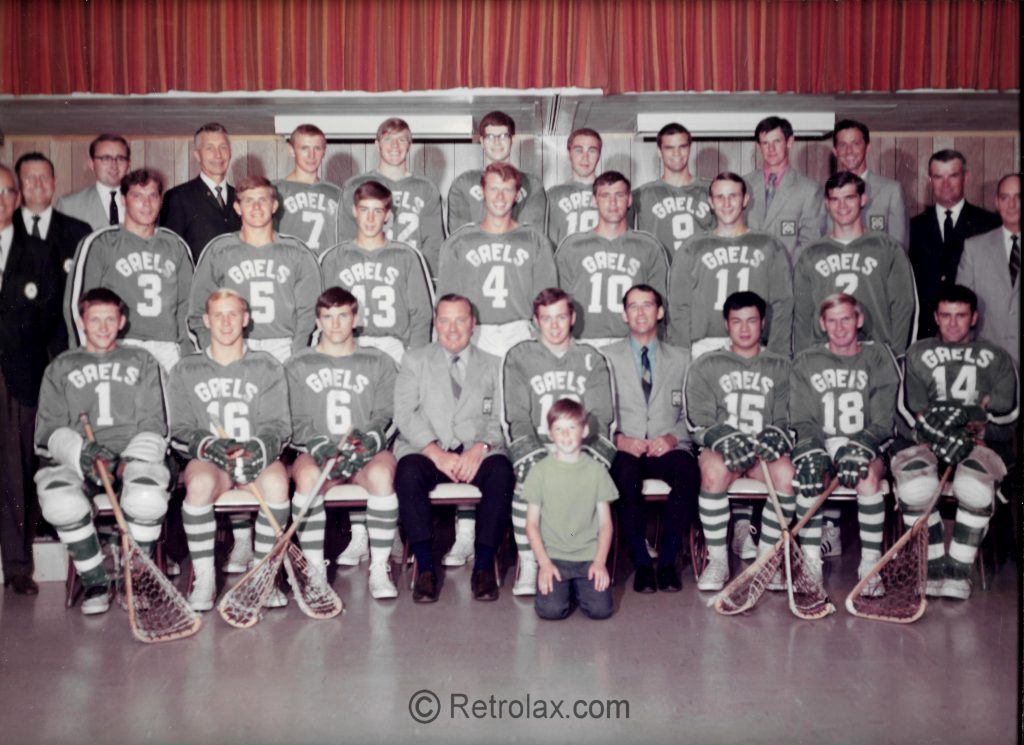 Bishop began coaching in 1946 in the Ontario Minor La­crosse League. In '63 he coached the Oshawa Green Gaels to seven consecutive national junior cham­pionships.
Then Bishop moved on to Windsor where he guided the Warlocks to two consecutive National Senior "B" Cham­pionships. And in '68, the De­troit Olympics won their re­gional title before losing to New Westminster in the final.
Last year with Toronto, Bishop ended out of the playoffs compiling a 17-23 rec­ord in 40 games, four points less than Les Quebecois who won 19 and lost 21.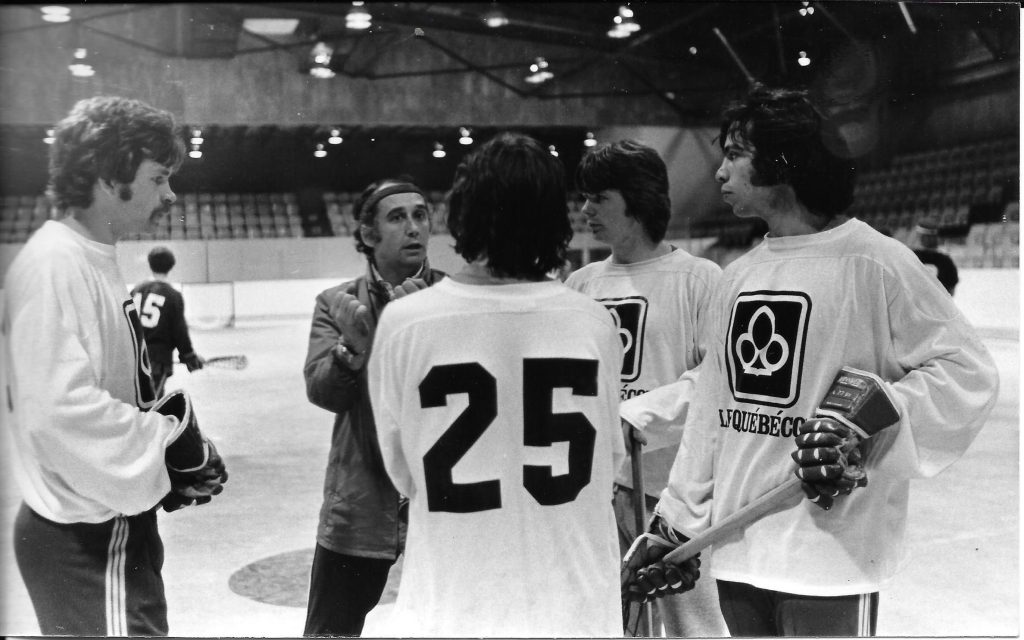 KNEW IT
"I knew Montreal was the city for expansion 11 months ago," said Bishop. "It's come a long long way. What a great first night! (When Les Quebe­cois drew 9.000 fans). It was so electrifying looking up to those people.
"And the last night, when Montreal lost in the sixth game to the Rochester Grif­fins and the team received a standing ovation. "Our projection for this year is to be proud of our rec­ord. In January we'll begin training and try to improve on the first year," Bishop said.
"I want an aggressive, young running team, a team that attacks on defence and is physical. We have a fine group of goaltenders but we need an experienced one. One thing we'll be looking for in the draft will be a right-hand­ed shooter, something that was very weak last year.
It's the most demanding sport of all and all the players should be in top condition. Some players who played last year might not make their spot this year with all the new players coming into the league.
There are 1,400 players graduating from American colleges every year and you could see a few Americans on the '75 team."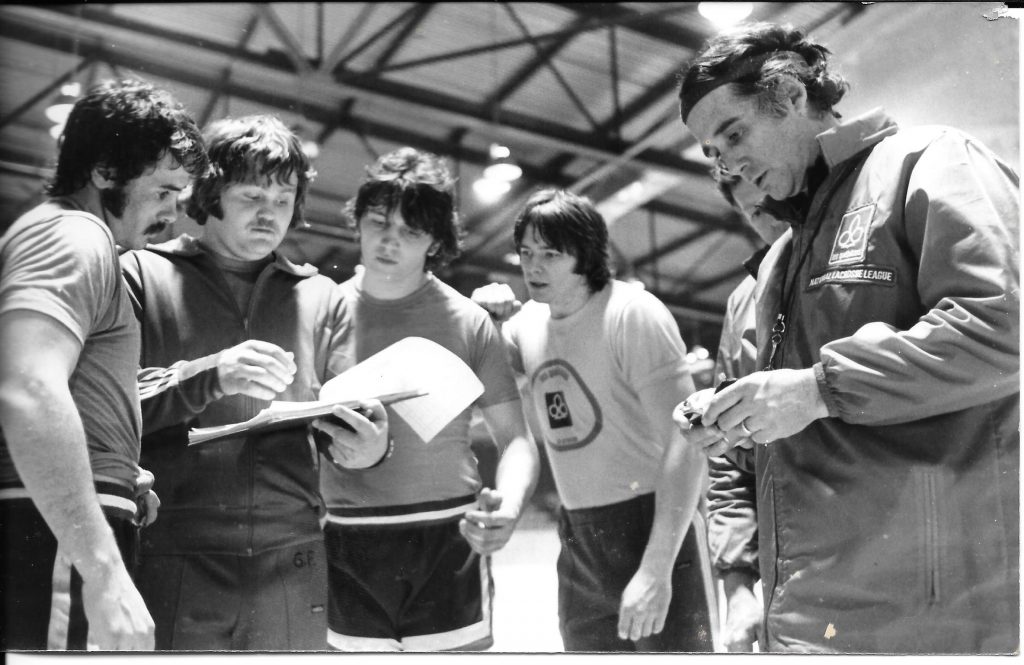 As far as the entire league is concerned, says Bishop, "I think the most positive move was the hiring of Gerry Pat­terson as president. He's a man with broad experience and a man of challenge.
"Syracuse, Toronto and Ro­chester failed but in the busi­ness of Lacrosse there's still hot cities. And lacrosse is going ahead. We are going to get recognition. "Although lacrosse didn't go in Toronto," said Bishop, "it will eventually, but not now. It's not a loss but a set­back."
Fergy has received a call from a promoter in Halifax. "They want us to come down and play two exhibitions there." If Fergy accepts, Les Quebecois will probably play Quebec…
Frank Wilbur who comes from the Detroit organization will be the director of player personnel. Wilbur worked three years as a pro hockey scout and held the same posi­tion with the Tomahawks last year..
Michel Blanchard may end up in Quebec City this season. Both Blanchard and Bill Bradley will have to go into the draft because last year they were signed as free agents. Philadelphia could lose Doug Favell and the '74 champions, Rochester Grif­fins, could lose Rick Dudley, who also plays with the Buf­falo Sabres in the NHL . . .
The club also announced the signing of their team doctor,
Dr. Ben Tissenbaum . . .
With a big smile, Fergy announced that the Olympic Committee has released the third set of Olympic coins. They feature a lacrosse play­er on the reverse. The only thing Fergy didn't mention was that the player has two right feet. 48.000 are being recalled . . .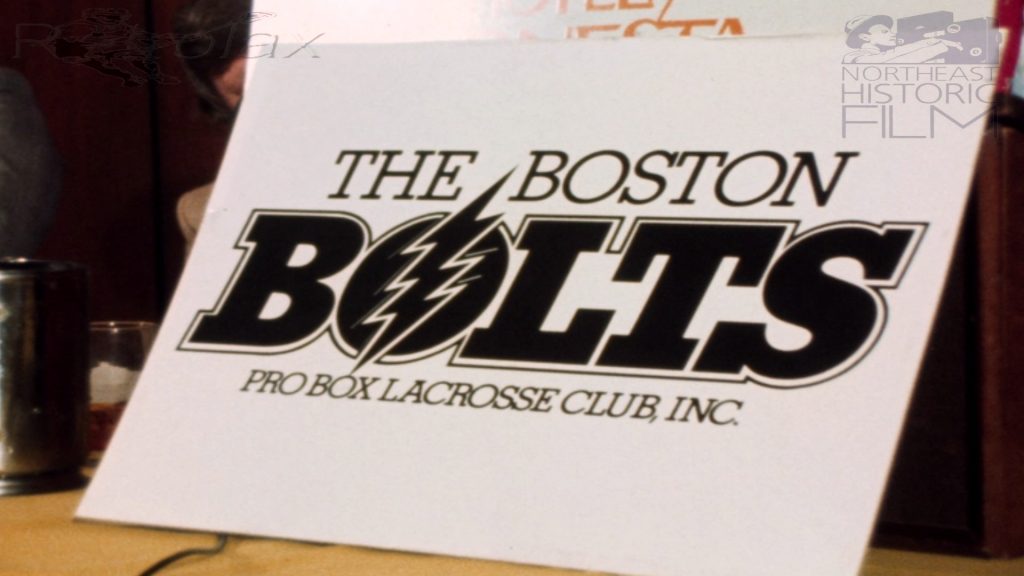 Two new franchises expected
The National Lacrosse League is expected to an­nounce shortly the acceptance of both Boston and Indianapo­lis as the sixth and seventh teams to the league.
Both cities are interested in a franchise and the league had been deciding which to accept. Now, however, it ap­pears that both may receive franchises.
Although Indianapolis is having problems with the WHA Racers, Quebecois pres­ident John Ferguson believes lacrosse would be popular there.
"It was just the owners of the hockey club," Fergy said. "Now they've sold it and it's going fine. It's like the owners of Rochester in our league last year. They wouldn't advertise or do any­thing to promote lacrosse. It would make me mad when we'd play there and there'd be only 1,000 fans."
Nelson Stoll, Fergy's partner likes Boston "because of the Montreal-Boston rival­ry now. They can't play out of the Boston Gardens because there is no air-conditioning but they pian on moving to a smaller arena until the Gar­dens is ready."
Other cities interested in next year's expansion: Cleve­land, Chicago, St. Louis. Kan­sas City and Cincinnati.