8,829 See Larry Lloyd, Grant Each Score 4 Goals
By JOHN DELL Philadelphia Inquirer Staff Writer
"We hustled," Bobby Allan said and it was like Gen. Pat­ton telling people he won becaused he charged.
Allan's Wings had it all over the Maryland Arrows Thurs­day night, 23-7.
"They're a little slow, prob­ably the slowest team in the league." Allan said of the team that had whipped the Wings, 17-14, in Philadelphia's first game.
With Larry Lloyd scoring his fourth straight hat trick in a four-goal night and 6-6 John Grant scoring four more goals, the Wings delighted a Spec­trum crowd of 8,829 by run­ning away from their slower rivals. They didn't do it by fast breaks alone, either.
"We hustled for the loose balls," Allan said. "That's the name of the game. It's hard to get the ball away from a man when he has it in his stick. It's not like basketball where he has to keep putting it on the floor."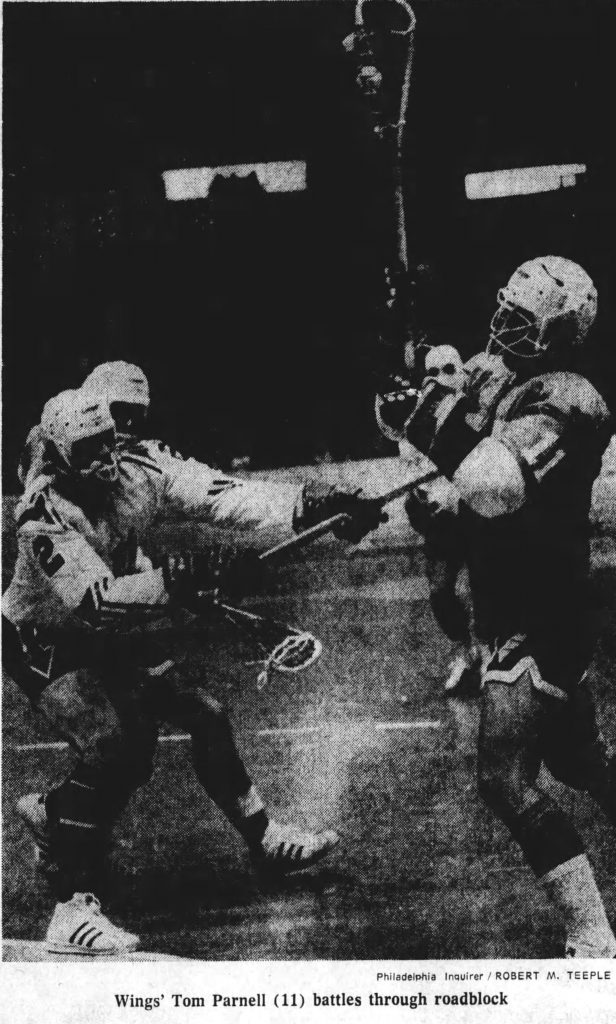 By constantly hacking the ball loose with jarring defen­sive checks, the Wings ga­thered in 82 loose balls. Mary­land got only 48.
"Picking up loose balls, that's my job," said 5-7 Doug Maynard, who ignored the threatening footfalls behind him to pick up four at key times. "I don't play very much if I don't pick up the ball."
Larry Lloyd, who has been a four-goaler in three of his last four games (he got three in the other game), picked up 10 balls and Grant got 12. The Wings had the ball so often that they rained 58 shots on goal, while Maryland had only 36.
Wayne Platt stopped 29 shots, despite painfully bruised ribs that have made him one of Peterborough, Ontario's, ex-mailmen. Because of time lost from work commuting to Philadelphia to play Lacrosse he had to give up his position as a letter carrier.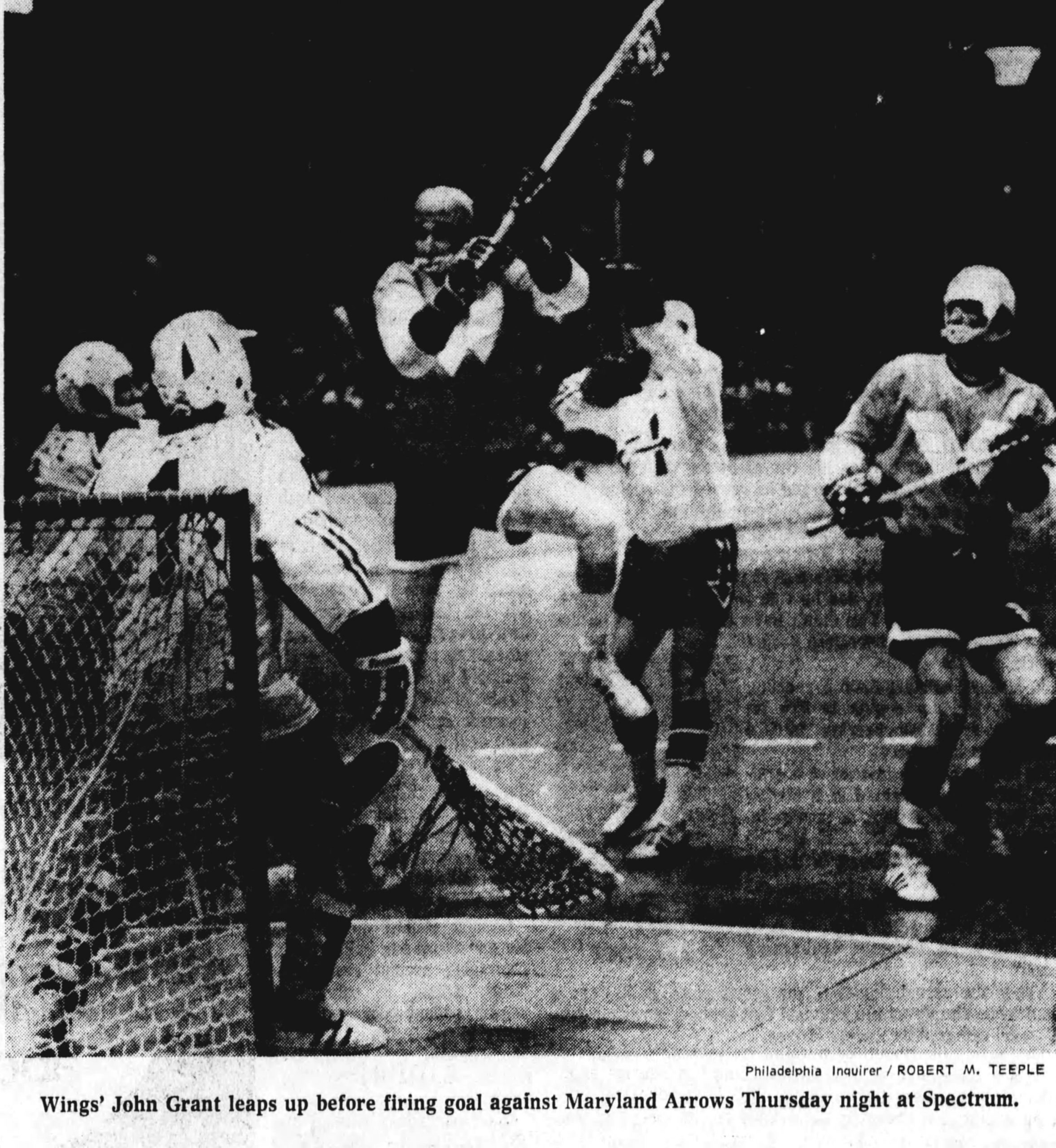 Grant also gave up his job in an outboard motor factory to concentrate on lacrosse. Al­lan said John is doing con­tinually improving work on the floor, now that Carm Collins has been put on his line. ''All John needed was con­fidence," Collins said. "He's a team player, which is good. But he often was looking to pass off when he should have shot. I told him, 'You can do it all. You can run this league.' He just needed a boost."
Grant, a 23-year-old who has been playing lacrosse since he was seven, has learned to fully utilize his height and great reach. Along the way he also learned to intersperse his big. whip-like overhand shots with the league's best backhanded shot. With Collins on his line, as he has been for the past four games.
"He's great defensive play­er," Grant said of Collins. "With his backing you up, you know you can take more chances."
Collins also is the team policeman, but he wasn't called upon for order-keeping as the Wings got a 4-0 start, with Grant's short-handed goal be­ginning it all. Instead, Doug Favell, of ice hockey fame, became the preserver of life and limb.
When Greg Marchen took a seat astride Glen Ferguson's chest and began pounding it black and blue in the second period, Doug rushed in, un­seated Marchen and got a game misconduct for his act of rescue. The rules say the third man in shall be banished.