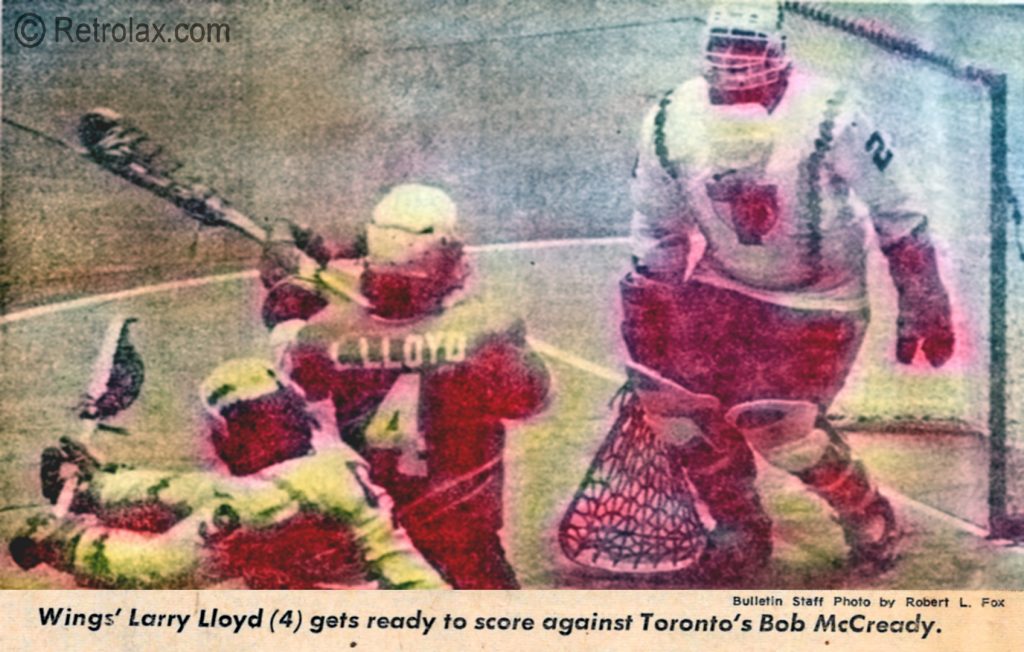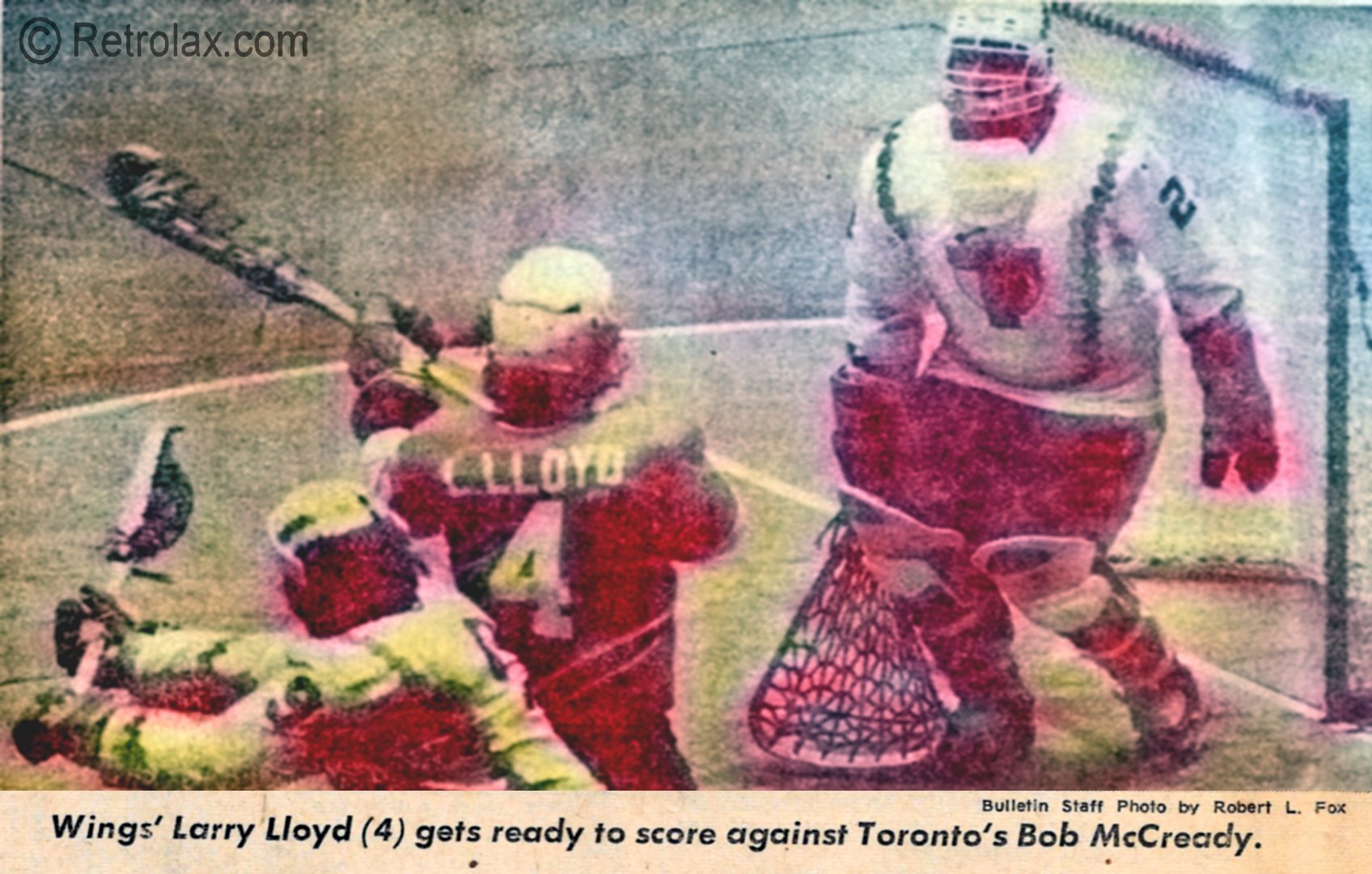 Larry Lloyd had his first contact with Jim Bishop 10 years ago when he was an impressionable 16-year-old starting to play competitive lacrosse with the Oshawa Green Gaels. The memory of a near leg­endary figure who coached seven Minto Cup junior cham­pions haunted the muscular Wings' forward after a 16-14 loss to Toronto before 8,851 at the Spectrum last night.
"LET'S JUST SAY we're one and one," said Lloyd, whose personal achievement of four goals and an assist were wiped out. '"We won in Toronto. I really like to stay on top of the old Bish'. Out­side of this year, he's the only coach I've ever had."
Bishop, an executive vice president with the Detroit Wings and founder of the Na­tional Lacrosse League, has helped develop several Wings. He has coached Larry and Terry Lloyd, Bob Goulding, Joe Krasnaj and Terry Rowland.
"His teams are always su­perbly-conditioned," said Wings coach Bobby Allan. "When Rochester runs a fast break on you, they usually send two-three men up the floor. Toronto sends five." Usually they are not big­ name players. Bishop does not believe in a star system.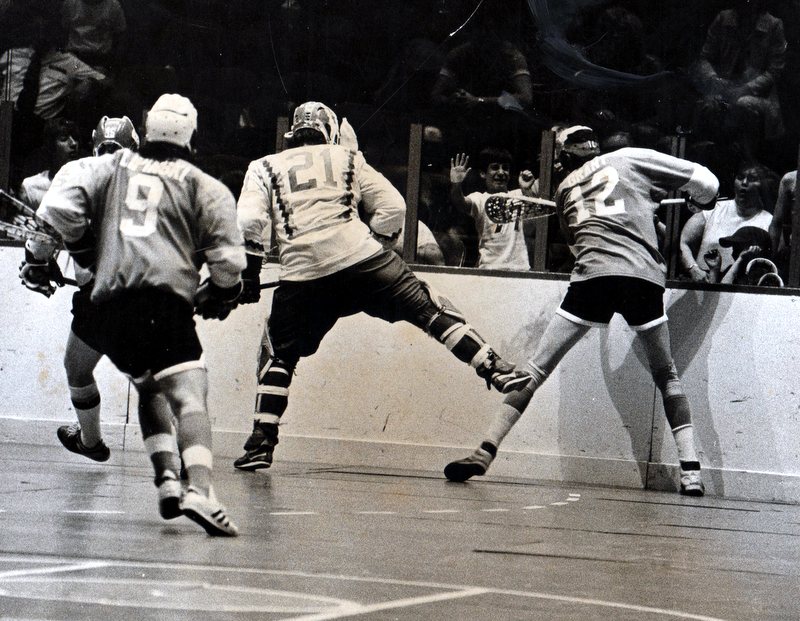 #9 Zeny Lipinski(L), #21 Bob McCready of Toronto and #12 John Grant of the Wings battle for a loose ball at the Spectrum
Goalie Bob McCready, who had 37 spectacular saves for the game's Number One star, is doing a lot to change that. McCready was obtained by the Tomahawks (9-4) six games ago in a trade with the Syra­cuse Stingers. "I LIVE IN St. Catherine's,' he said. "I have a job working as an inspector with General Motors. We practiced near my hometown in pre-season and I was in pretty good shape. Then, after the season began, practices shifted to Syracuse and my timing went because one couldn't take workouts."
Since the trade, McCready has been able to adjust much better. "St. Catherine's is only 60 miles from Toronto," he said. "It took me two weeks but I feel good now. You'd bet­ter be in shape if you want to play for Bishop."
McCready, 34, spends most of his time flacting out of the goal mouth and actually be­coming a sixth attacker on offense. "THAT'S THE WAY I like it," he said. "I almost scored two goals in our last game against Montreal."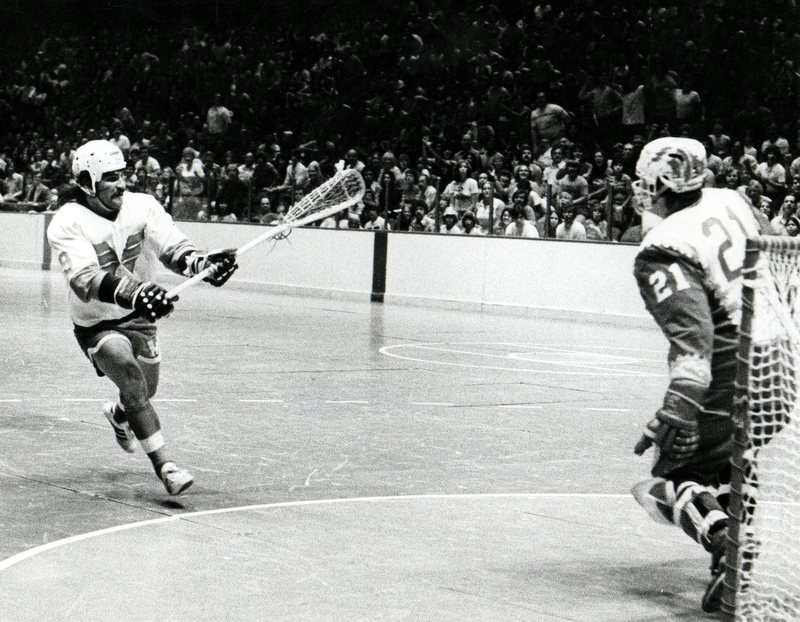 Last night, he came up with a key assist to Jim Quigg at the end of the second period to give the Tomahawks a 12-10 lead. Quigg's score at the buzzer, a five-foot bouncer past Wayne Platt, drained the Wings (7-5).
The energy level might have been down anyway. "I feel we just didn't re­spond to the crowd tonight," Lloyd said. "I don't want to use this as an excuse but the traveling really gets to you. "After a game you're still up. You'd like to get down but you can't get down on some of the plane rides we're taking. Some flights seem to last for two days. It's the mallard duck scene from here to Peterborough."